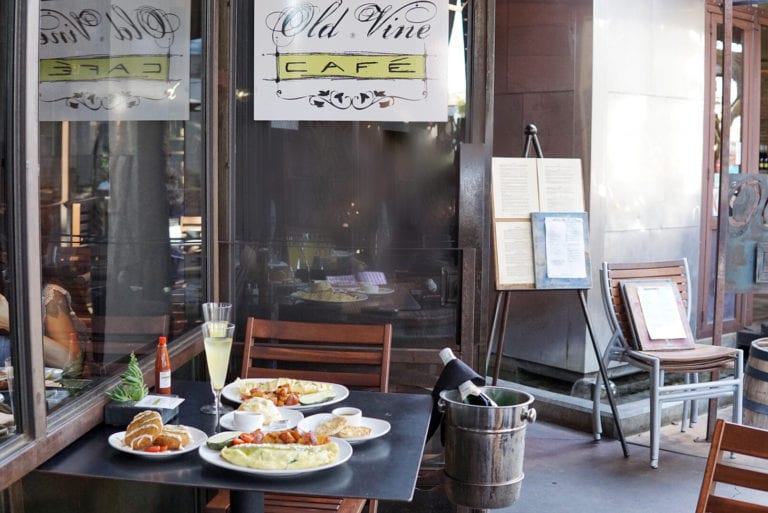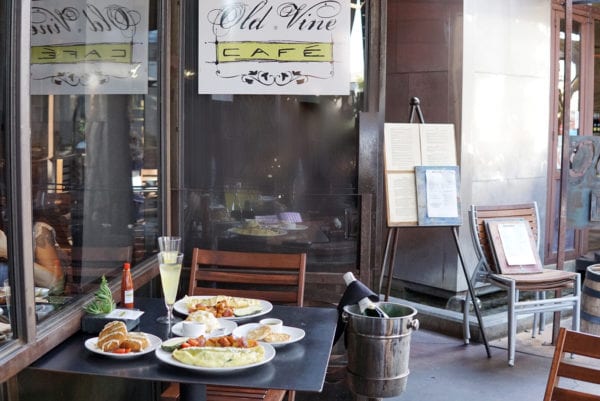 Old Vine Cafe in Costa Mesa is a quaint rustic hipster equivalent spot located at The Camp in Costa Mesa. The Camp is like a more luxurious version of Silverlake in LA with cute trendy restaurants and boho shopping boutiques. It's also home to one of the best brunch spots in Orange County. While Old Vine Cafe has a casual and cozy vibe, Chef Mark Mcdonald's cuisine brings incredible flavor and quality. The award-winning restaurant serves breakfast, lunch, dinner, and the most fabulous weekend brunch.  The menu features items that reflect a combination of traditional brunch favorites with unique one of a kind twists.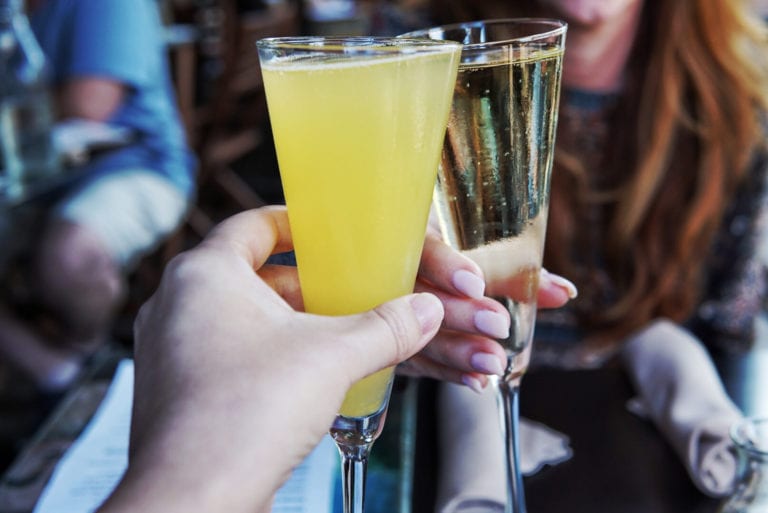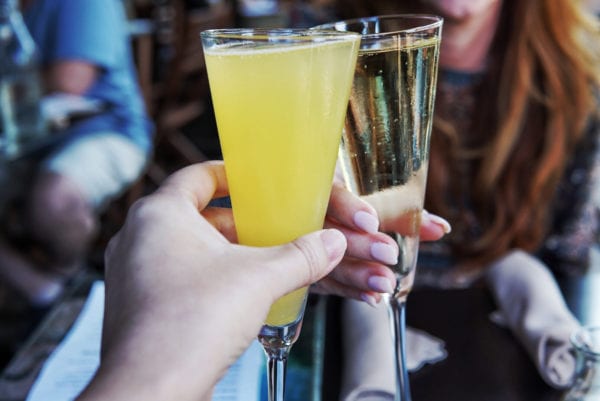 McDonald runs his restaurant with the philosophy set forth by his favorite Italian phrase: "Buon Viaggio". This phrase is used in Italian to wish someone a happy voyage and when you visit Old Vine Cafe that is exactly what you"ll get. Sit back and enjoy our voyage at one of the best brunches in Orange County, Cheers!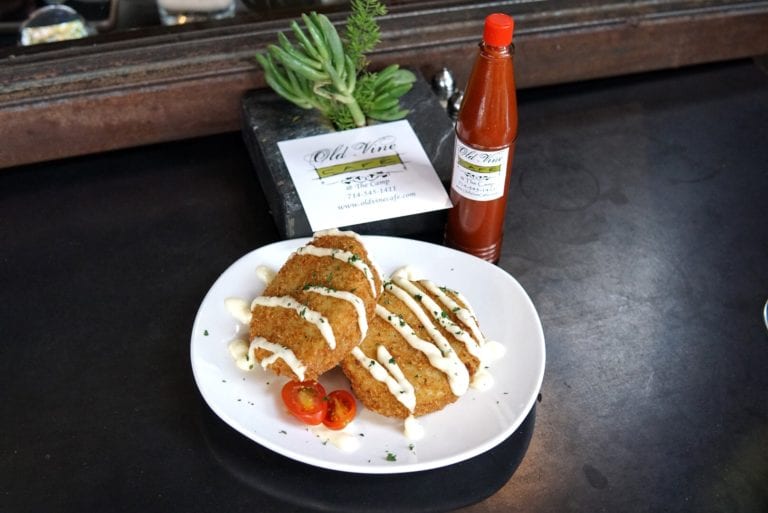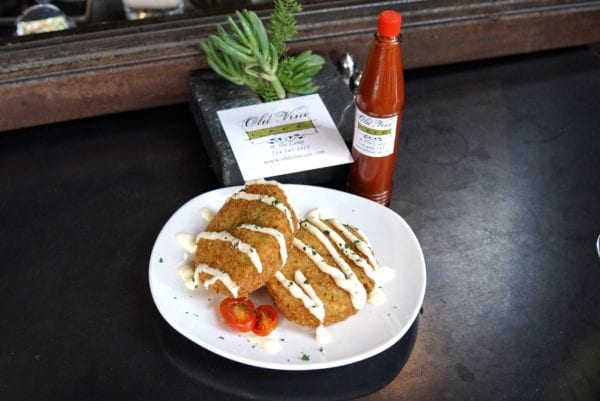 Once you settle in with your mimosas you"ll want to start your brunch with their lightly panko crusted Fried Green Tomatoes. These tomatoes are dressed with a creamy tarragon dressing that elevates this dish to a whole new level. They were reminiscent of a flavor I might experience at a local fair. There is just this unique flavor that comes with perfectly fried fair food. Except since these are technically two giant slices of tomatoes I somehow feel less guilty and can enjoy every last bite.
If you've been following us for a while, you know how much I love fried green tomatoes and I will always order them every chance I get.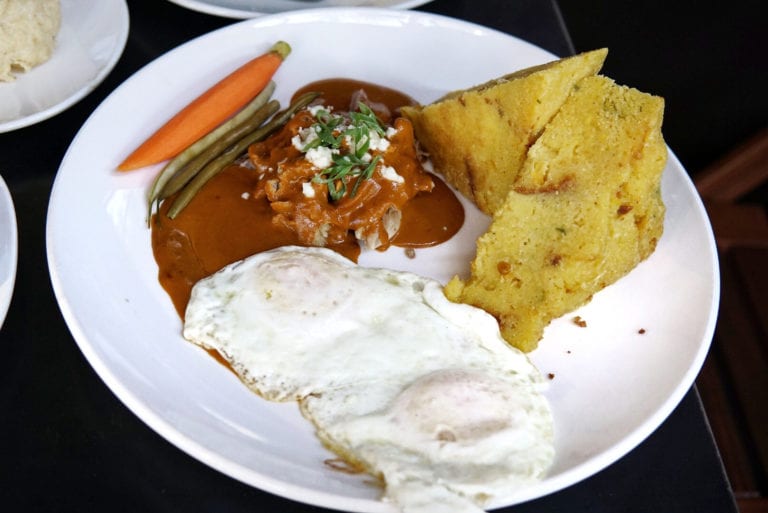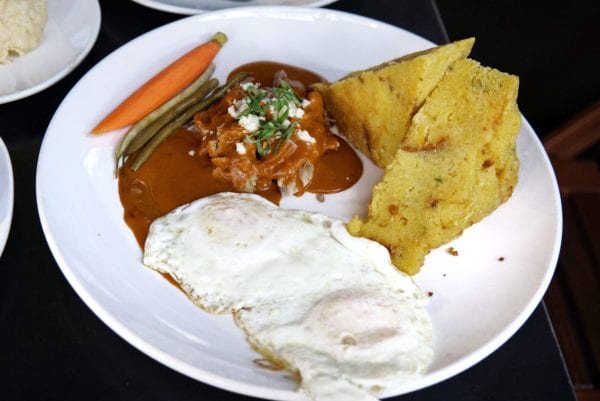 The Rabbit Mole is one of my favorite brunch dishes throughout all of my dining experiences. The dish comes with a house-braised rabbit in a pasilla chile and cashew mole sauce, with two over easy eggs. Accompanying the dish is two giant sides of homemade cornbread, perfect for soaking up every last drop of mole. You"ll experience a lovely bite from the pasilla chile and enjoy the addition of cashews used to thicken the sauce. This dish is a showstopper when it comes to flavor, but luckily it is not the only standout dish at this restaurant.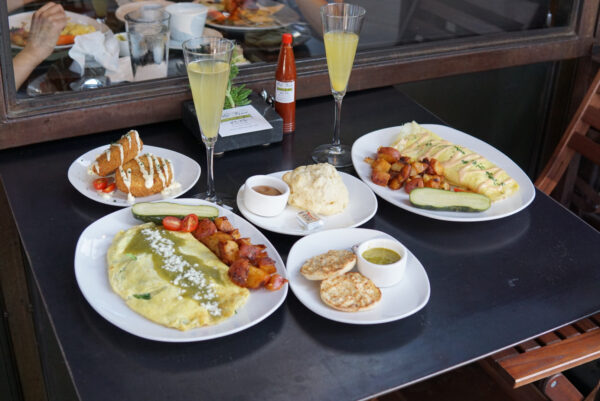 At Old Vine Cafe in Costa Mesa, you can expect to find classic brunch dishes with a surprising and delightful twist. Take their Rueben Omelet which features artisan cured pastrami, cave-aged gruyere, sauerkraut, and Russian sauce. Reubens are one of my favorite sandwiches, but who knew they could be so amazing as an omelet? I'll admit I am typically not an omelet person. I always go straight for the eggs benedict, but I could not resist trying this dish. It far exceeded my expectations. I also assure you that their housemade Russian sauce is better than any thousand island dressing you've ever had.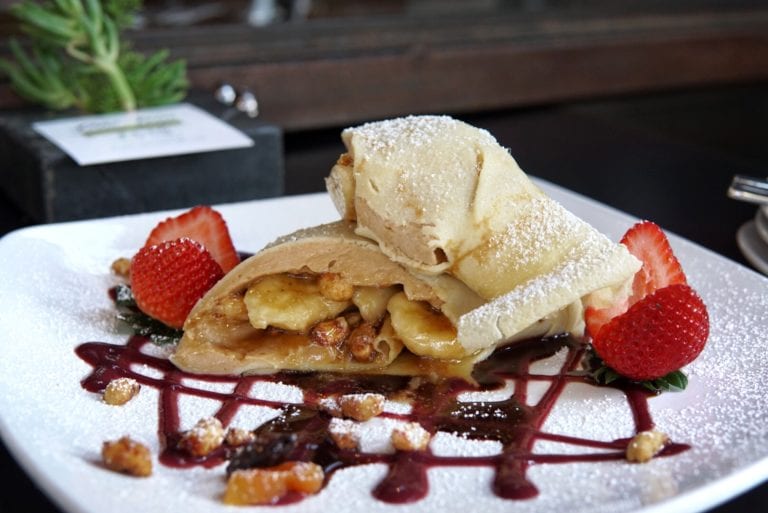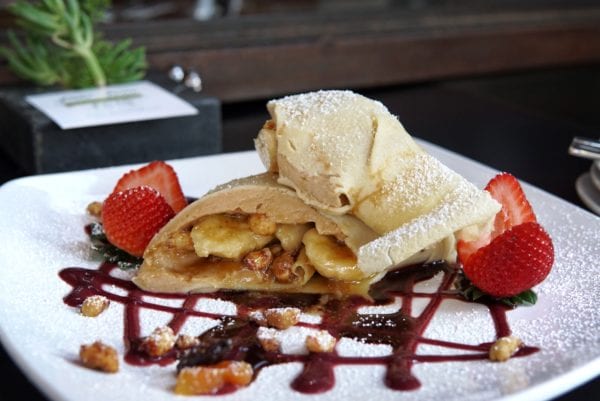 Of course, after all the savory brunch dishes, It was time to sample something sweet.
If you're fancying something sweet you will find an array of tempting crepe and french toast options. We absolutely loved the Banana Pecan Crepes. The filling of caramelized banana, ricotta mousse, and roasted pecans is decadent, sweet, and delightfully creamy. Each bite is more addicting than the last. No matter how full you might be, there is always room for dessert, especially when it involves caramelized bananas and crepes. The creamy ricotta mouse and crisp shell from the caramelized sugar was almost reminiscent of a creme brulee.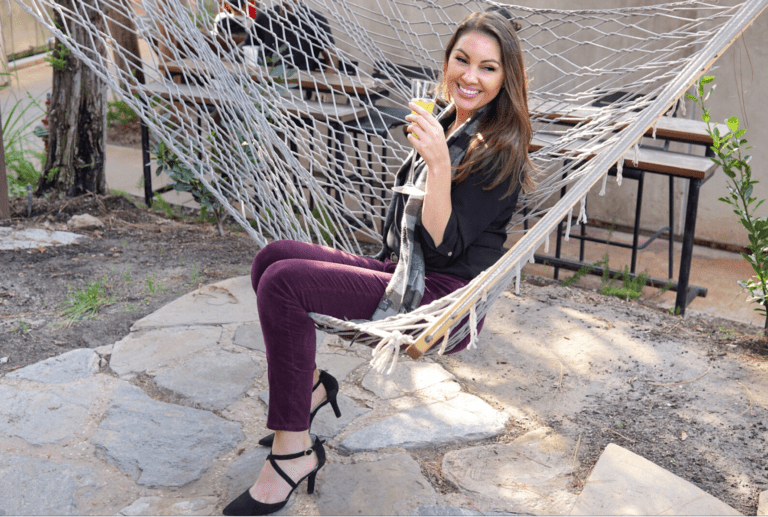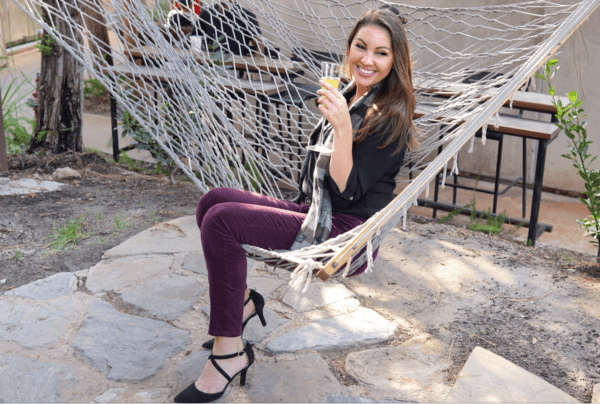 If you need a nap after all that delicious food you can even relax in the hammock across the restaurant.
When it comes to finding the best brunches in Orange County, Old Vine Cafe in Costa Mesa delivers. Each dish is unique, decadent, and brimming with flavor. I love the imagination that Chef Mark brings to his menu and his delightful personality really shines in all he creates. If you are looking for homemade, rustic cooking, Old Vine Cafe in Costa Mesa is your new favorite brunch spot. I'm looking forward to returning for dinner to experience his Italian roots and vast wine selections.
Old Vine Cafe in Costa Mesa
2937 Bristol St. Suite A-102
Costa Mesa, CA 92626SaveSave
SaveSave