Posts may contain affiliate links. Read our full disclosure policy here.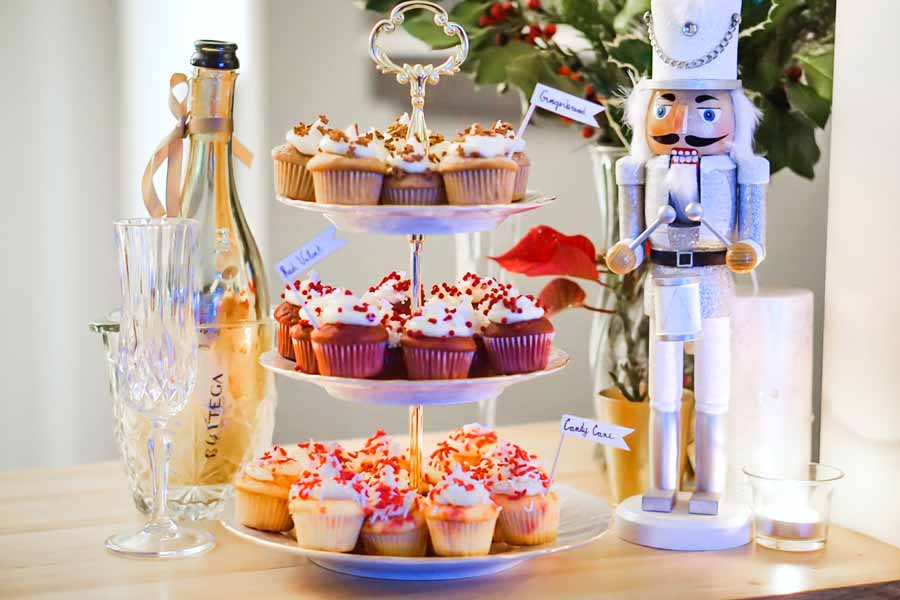 You'll love this modified recipe which makes any boxed cake mix taste homemade. Then you can divide the batter and make numerous different flavors from one box.
---
Sometimes when you're hosting you might want to have a variety of flavored cupcakes without buying 3 different boxes, so I'm going to show you how easy it is to make 3 different flavored cupcakes using only 1 box of vanilla cake mix.
Last Sunday we decided to celebrate an early Christmas. I had these adorable Christmas cupcake sprinkles I wanted to use so I decided to make a variety of mini cupcakes. I wanted to show you all how easy it is to split up your box of vanilla cake mix and make several different flavors. This is such a great trick for when you don't want to make several entire batches of cupcakes for each flavor. I also am including my technique for making boxed cake mix taste like it came straight from a bakery.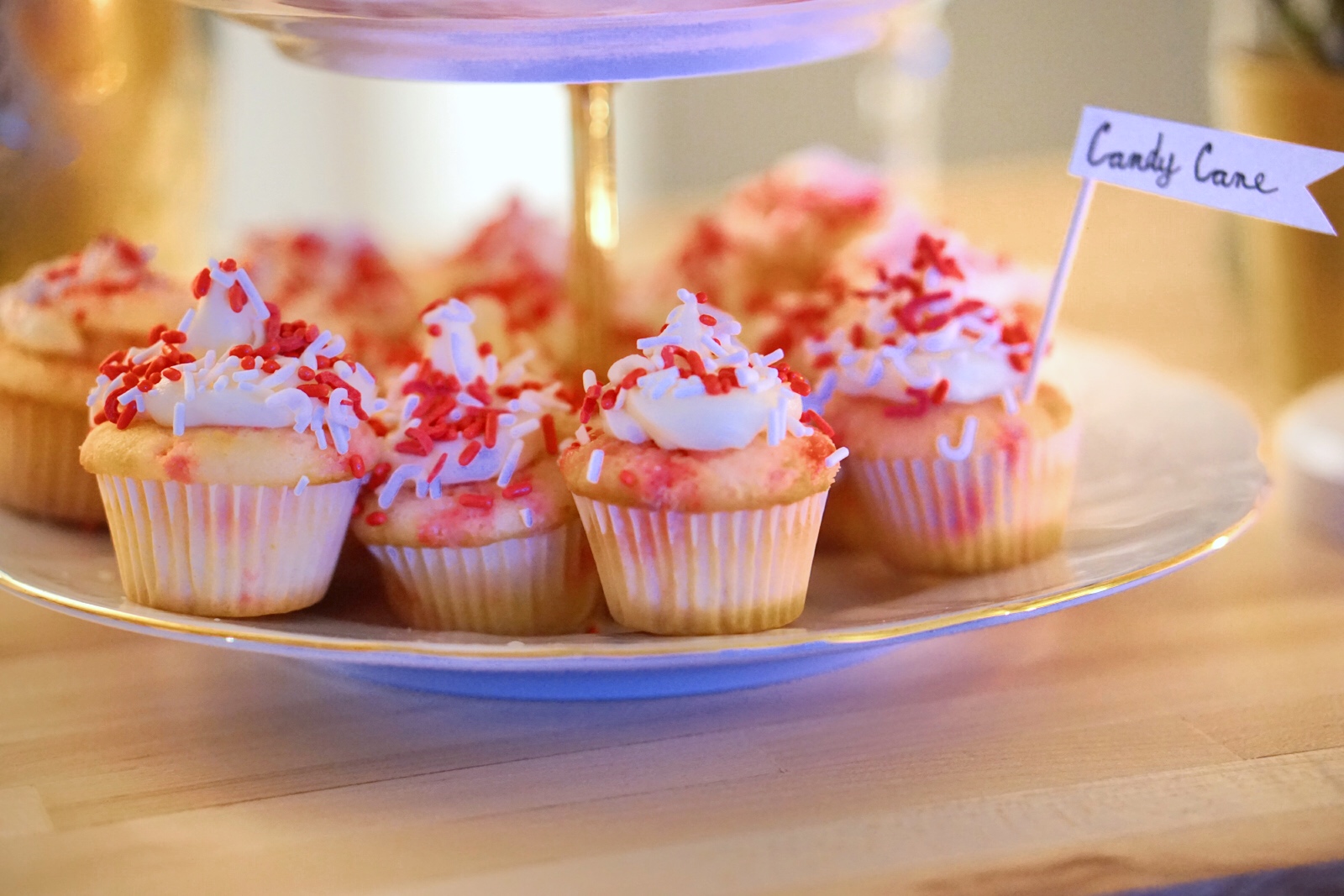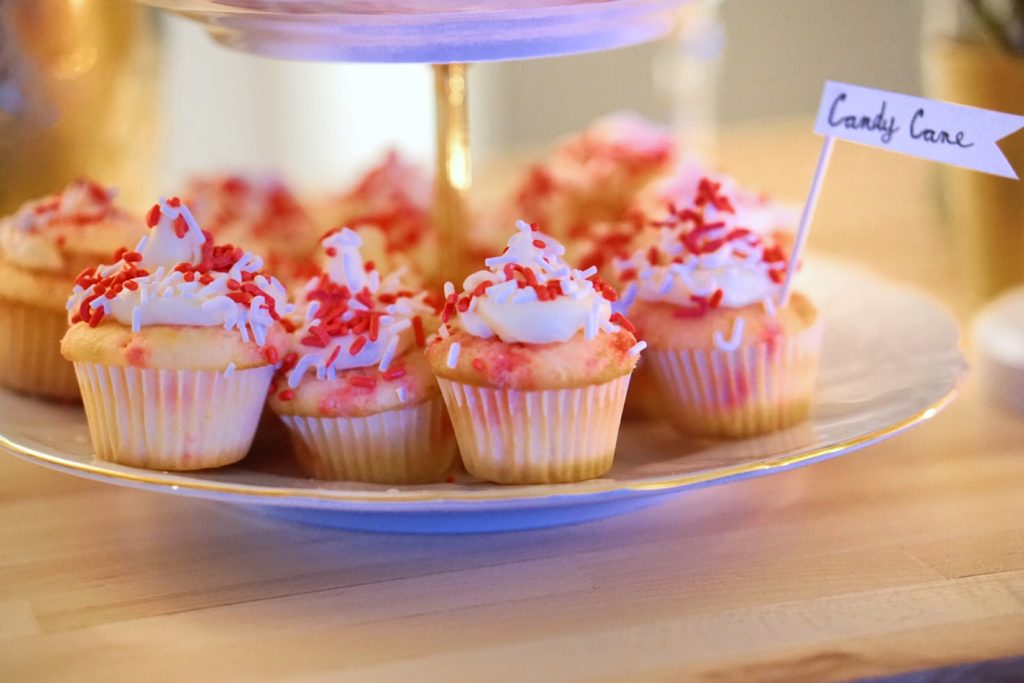 Since I was hosting for Christmas, I decided to go with gingerbread, candy cane, and red velvet for my flavors. I'm also going to include some other variations that are also super simple to make. After this post, you will never need to buy a flavored cake mix again. In fact, I actually prefer this method because then I can really customize each flavor and use better ingredients. First, let's start with the directions for modifying your box of vanilla cake mix. It basically involves adding an additional egg, changing the oil for twice the amount of butter, and changing the water with milk instead.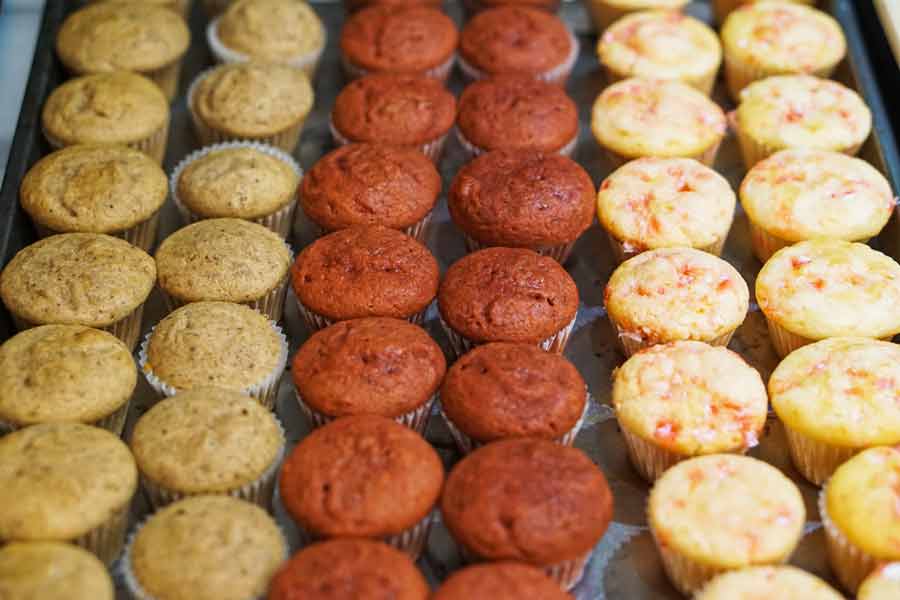 Next, you are going to divide your cake batter into 3 smaller bowls. This is approximately 1 1/2 cups per bowl. You will be just fine if the measurements aren't perfect.
Gingerbread Cupcakes: add 2tbs cake spice and 1/4tsp fresh grated ginger (cake spice is best because it contains a perfect combination of ginger, cinnamon, nutmeg, and allspice)
Red Velvet Cupcakes: add 2tbs cocoa powder and 1/4tsp red food coloring
Candy Cane Cupcakes: take 1-2 large candy canes and crush into small pieces. Add to batter and save about 1/4cup to sprinkle on top of the batter right before placing in the oven. Also, I recommend doing your batch of candy cane cupcakes first before the candy melts. This way your cupcakes will have cute red dots throughout like a confetti cupcake. If it has already melted just sprinkles some extra candy cane pieces right before you add them to the cupcake pan.
Below you'll also find a step by step video to show you exactly how we make 3 different flavored cupcakes using only 1 box of vanilla cake mix.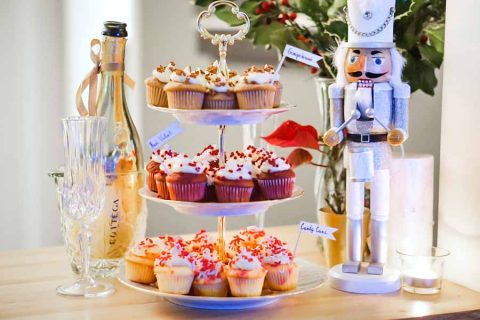 How to Make 3 Different Flavor Cupcakes With 1 Box of Vanilla Cake Mix
You'll love this modified recipe which makes any boxed cake mix taste homemade. Then you can divide the batter and make numerous different flavors from one box.
Ingredients
1

box

vanilla cake mix

4

eggs

1

cup

butter

melted

1

cup

milk
Optional
1

candy cane

1

tbsp

cocoa powder

¼

tsp

red food coloring

1

tbsp

allspice

or pumpkin spice
Instructions
Combine all ingredients into mixing bowl and whisk until there are no more lumps. Then divide batter into three smaller bowls.

For Gingerbread add 1tbsp all spice or pumpkin pie seasoning

For Red Velvet add 1tbsp Cocoa Powder and 1/4 tsp red food coloring, you can add more for a deeper color if needed

For Candy Cane crush up 1 cane and add to batter

Bake for 14-15 minutes at 350 degrees. Since these are smaller cupcakes, they will bake quicker.
Video
Notes
You can use this recipe for numerous other flavors. Try adding blueberries, strawberry preserves, peanut butter, lemon with poppyseeds, or chocolate chips. Get creative!
Nutrition
Serving:
1
cupcake
|
Calories:
168
kcal
|
Carbohydrates:
19
g
|
Protein:
2
g
|
Fat:
10
g
|
Saturated Fat:
6
g
|
Cholesterol:
49
mg
|
Sodium:
232
mg
|
Potassium:
45
mg
|
Fiber:
1
g
|
Sugar:
10
g
|
Vitamin A:
292
IU
|
Vitamin C:
1
mg
|
Calcium:
67
mg
|
Iron:
1
mg
Below Are Other Additional Cupcakes You Can try
Strawberry Shortcake, Blueberry, or Cherry Jubilee: You can either add diced pieces of the fresh fruit, or you can create preserves and lightly swirl in 2tbl. A preserved will have more of that fruity flavor.
Chocolate Chip: Simply mix in 1/4 cup chocolate chips. You can also get creative and add 1/4 cup chopped pieces of your favorite candy bar, reese's pieces, or chopped peanut butter cups.
S'more: simply push 1-3 mini marshmallows in the middle of the batter. Then sprinkle with graham cracker crumbles and top with chocolate frosting.
 Another great tip is that you can freeze these cupcakes. If you make too many or just want to save some for later, these cupcakes freeze very well. You'll just take them out overnight to defrost them and then add icing!
This was one of the first recipes I added to my site, I hope you found it useful. Please don't hesitate to comment if you have any questions!
Check Out Our Other Recent Recipes & Articles
Find Delicious Recipes By Category