If you're looking for the very best Korean BBQ in Orange County, as usual, we have you covered. Irvine has become one of the best spots to find amazing authentic Korean BBQ and Baekjeong exemplifies what exceptional quality Korean BBQ should be.
The restaurant holds true to traditional Korean BBQ standards while offering quality dishes, sauces, and prime meat selections. Whether you order the ribeye, beef tongue, or intestines you can be sure that you are receiving the best Korean BBQ Orange County has to offer.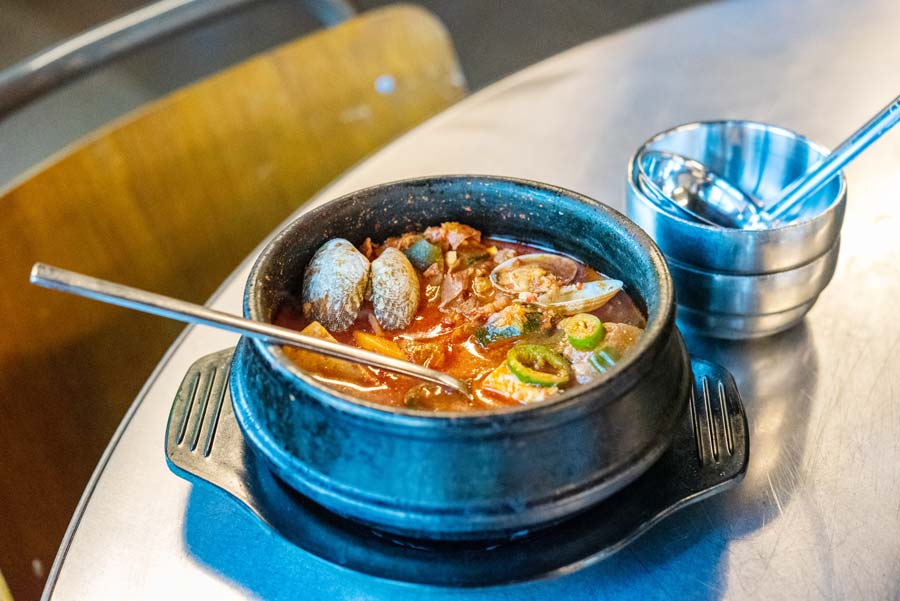 Beef Brisket Soybean Paste Soup
Most people who read this article, are here because they are familiar with Korean BBQ. However, if you are not familiar, or are looking to take a friend to try Korean BBQ for the first time, Baekjeong in Irvine is where you want to take them.
When you first order, there are several noteworthy starters I recommend before diving into all the meaty Korean BBQ goodness. First, the Beef Brisket Soybean Paste Soup is loaded with brisket, tofu, clams, soybeans, and zucchini. It is incredibly flavorful and perfect to enjoy with a side of rice. Also worth mentioning is while the soup may appear like it's going to light you on fire, it is actually only moderately spicy.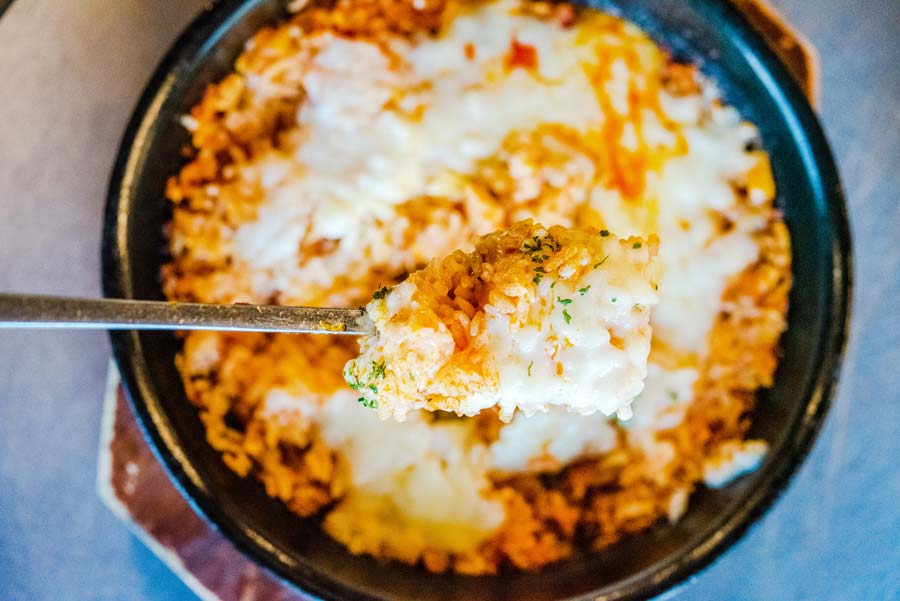 Cheese Mountain Tripe Fried Rice
Another popular dish is the Cheese Mountain Tripe Fried Rice. If you've never tried Tripe before, let me warn you it is incredibly chewy, basically like rubber. However, the Tripe in this rice is so finely diced you would barely notice its presence so don't be afraid to give it a try.
The flavors in this rice are also very mild despite its beautiful red coloring. It's perfect to enjoy alongside your various grilled meats.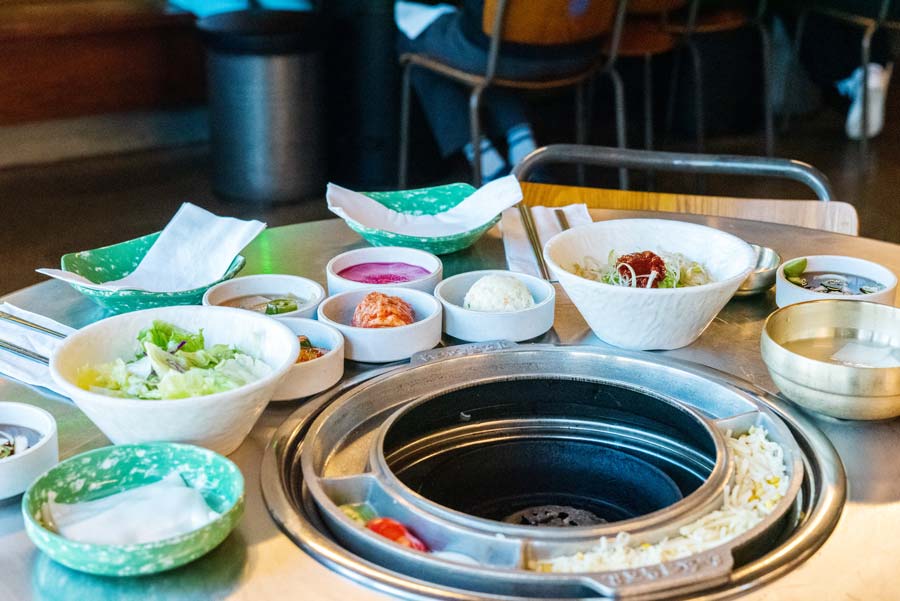 All of the Korean BBQ Sides
When you first begin your Korean BBQ experience your table will be filled with all of the accouterments you know and love. The little sides are part of what makes Korean BBQ such a fun and memorable experience.
There is really no right way to enjoy all the sides and everyone has their own personal preferences. Some like to use the radish and rice wraps to wrap around their meats, while others enjoy pairing each bite with a piece of kimchi or pickled radish. I usually eat all of the spicy cucumbers and potato salad before the meat has even arrived.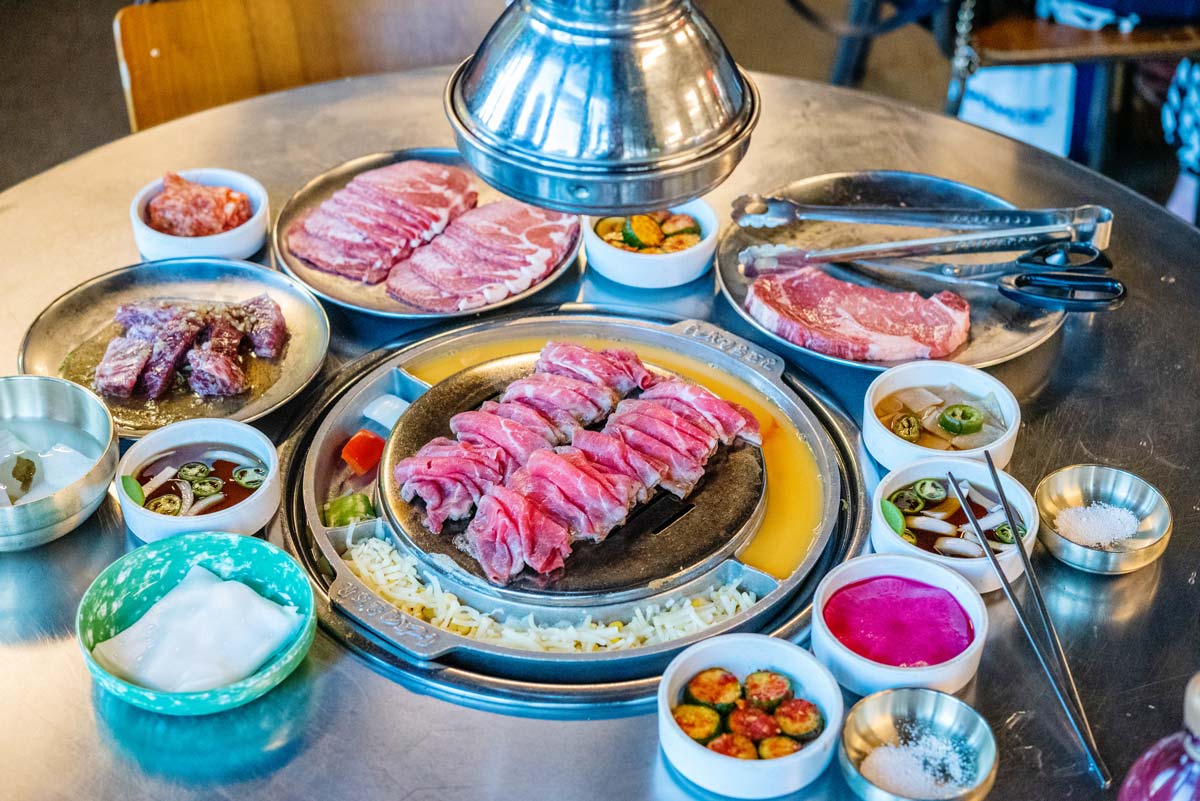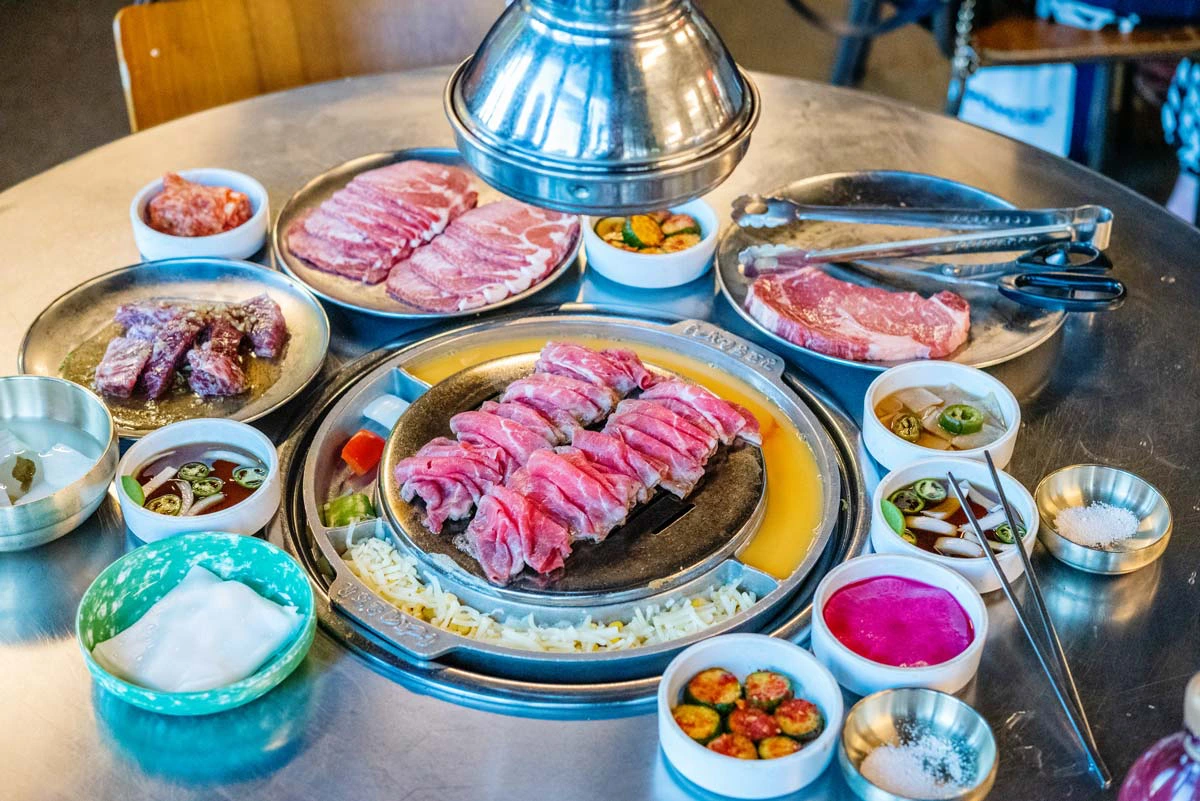 Combination Beef with Beef Briskey, Marinated Short Rib, and Ribeye
The most popular dish at Baekjeong is the Combination Beef which is a full ribeye steak, thinly sliced beef brisket, and marinated short rib. Each meat is of the highest quality and at Baekjeong, they take their service a step further by cooking at your table.
Aside from the marinated short rib, both the brisket and ribeye are completely unseasoned and let the quality speak for themselves. Once your meat is finished cooking you can choose to sprinkle on a little salt, dip it in sauce, or just enjoy it as is.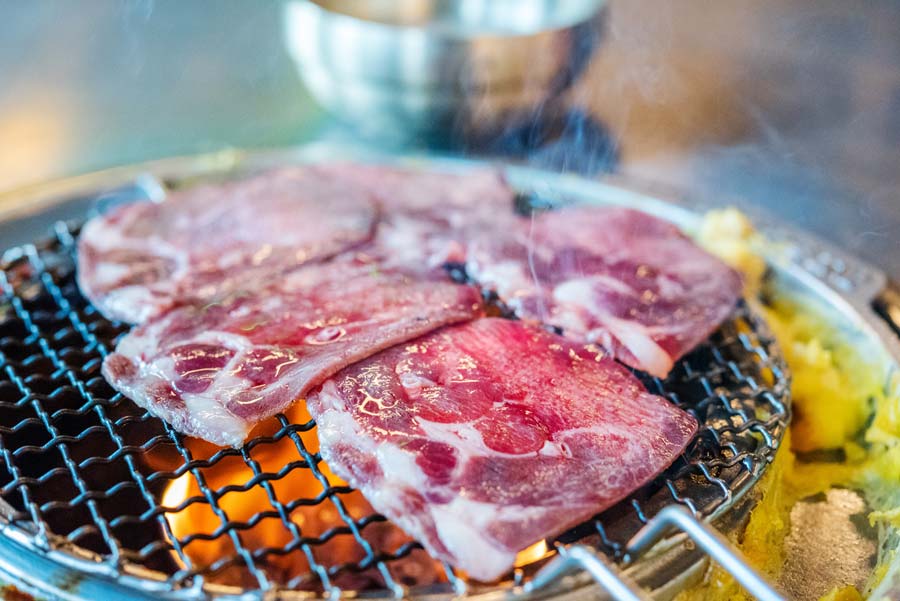 Beef Tongue
One of the main reasons Baekjeung is the best Korean BBQ in Orange County is its selection of traditional Offal, or "variety meats", such as beef tongue and intestine. In Korean culture, all parts of an animal are consumed. Gopchang (intestine) can even be more expensive than traditional cuts of popular American beef such as sirloin.
If you're on the fence and interested in trying a more authentic cut of meat, I recommend the Beef tongue which has a slightly chewy, but meaty texture with a tad bite of gaminess.
Best Korean BBQ in Orange County & L.A.
Baekjeong has locations in Irvine, Buena Park, Korea Town, Torrance, Rowland Heights, and New York. While they are the best Korean BBQ in Orange County, I would also argue they are the Best Korean BBQ in Los Angeles as well!
Do you agree Baekjeong is the best Korean BBQ in Orange County? Comment below and let us know your thoughts!
14160 Culver Dr, Irvine, CA 92604
Discover more Cultural Cuisine in Orange County