Posts may contain affiliate links. Read our full disclosure policy here.
Social Huntington Beach recently rebranded to Social Cocina y Tequila and I have to admit, all the new dishes and cocktails are mouth watering. Executive Chef Jackie Salazar has outdone herself by creating a delicious new menu that infuses her South Mexican roots with Southern California coastal cuisine. You'll find traditional Mexican ingredients, inventive sauces, as well as amazing craft cocktails. Here is a list of 10 drool-worthy Eats & Drinks that will have you heading to Social Cocina y Tequila by the time you finish reading this article!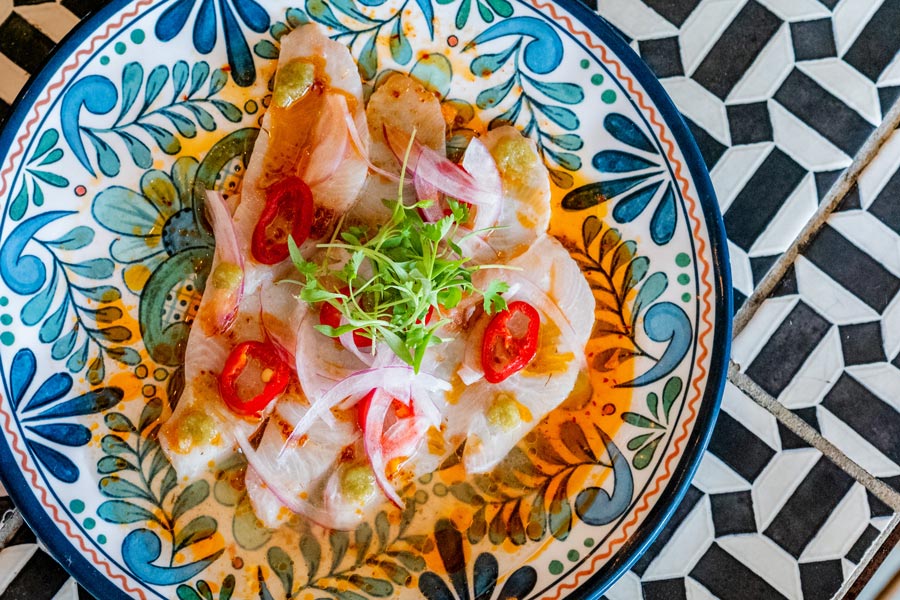 1. Hamachi Crudo
This Hamachi Crudo is probably one of the best I've had and tops even those served at most sushi restaurants. The flavors of tomato ponzu, red fresno, yuzu kosho, cracked chili, onions, and micro cilantro are the perfect blend of citrus and spice. This is an absolute must order when you visit!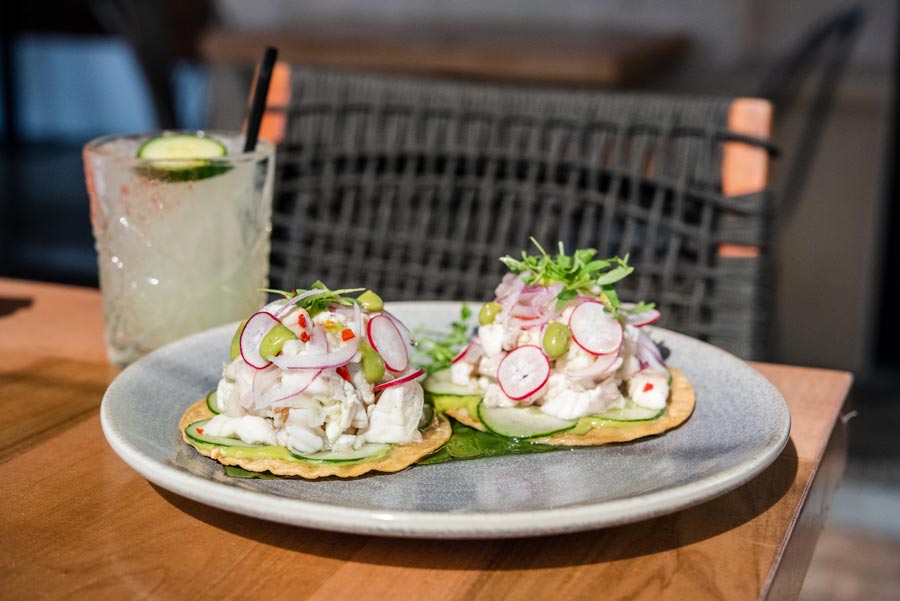 2. Ceviche Tostadas
This ceviche is an incredibly generous portion of fresh marinated shrimp and white fish. I think what's even more impressive is that it's also available on their happy hour menu for only $7, Sunday – Friday from 4pm – 6pm.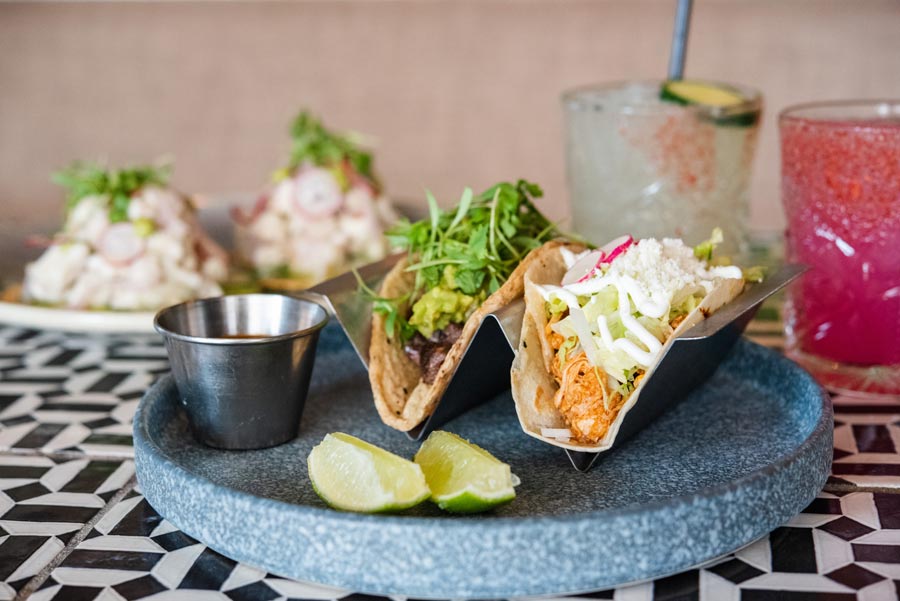 3. Tacos
Speaking of happy hour, we of course need to talk about their awesome tacos. The Wagyu Skirt Steak Taco is covered in Oaxaca Cheese, Crema, Guacamole, and served with the chef's secret Japanese salsa. The steak is so tender it melts in your mouth and the sauces created by Chef Salazar are out of this world delicious.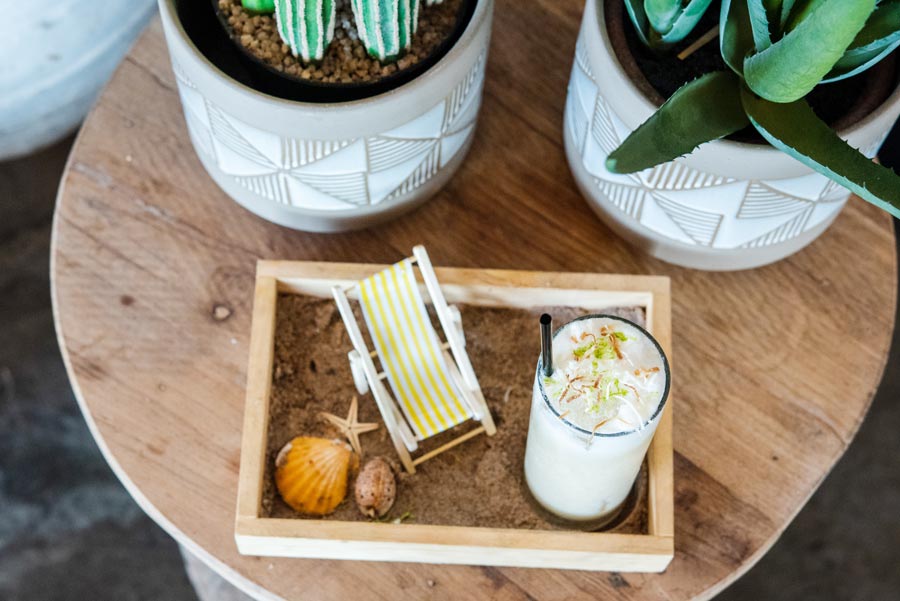 4. Lil Beach
Not only is this cocktail Insta-Worthy with it's sandbox presentation, it's also creamy and delicious. This is one of the only cocktails I've ever enjoyed that contains Mezcal. I'll openly admit, I hate Mezcal. It reminds me of drinking a campfire. However, the Lil Beach is made with a coconut infused Los Javis Mezcal made in-house by roasting coconut until golden, then soaking with the Mezcal for 24 hours, and straining. The result is a flavorful infused Mezcal with balanced smokiness that is not overpowering and pairs perfectly with the cream of coconut, lime, and cardomon bitters.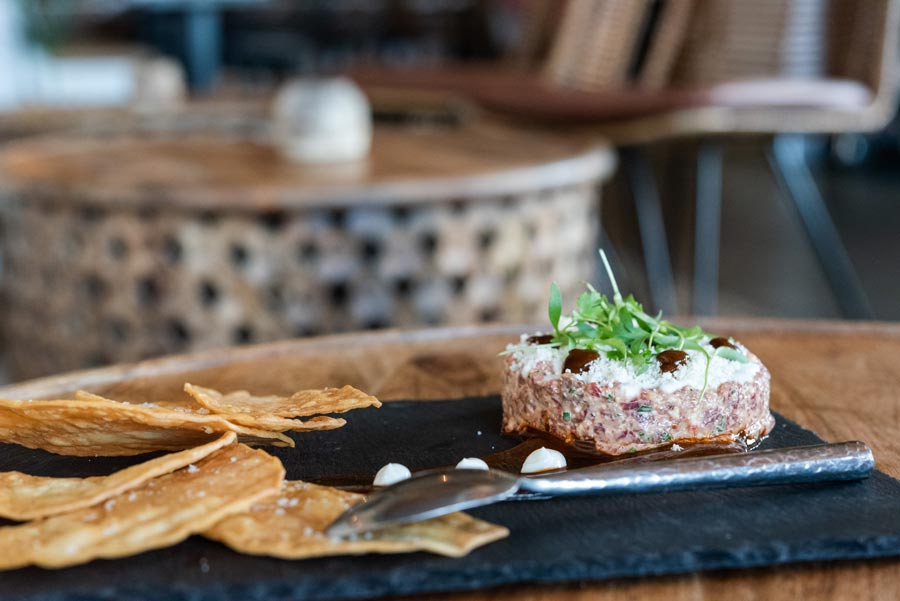 5. Wagyu Steak Tartare
I kept trying to deconstruct the Salsa Negra and finally the chef revealed her key ingredient was prunes! Yes prunes! How she could take one of the lamest foods on the planet and turn it into a swoon-worthy sauce is nothing short of astonishing.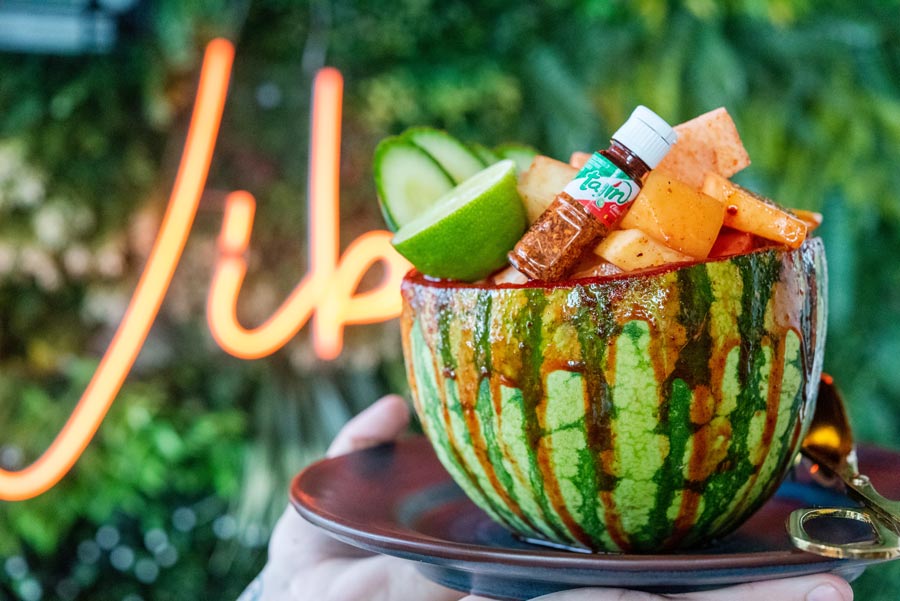 6. Fruit Cart
Nothing feels more nostalgic than eating fresh fruit like watermelon and mango's, covering in Tajin. This massive fruit cart fills the entire half of a watermelon with fresh watermelon, mango, pineapple, jimica, and cucumber with tajin syrup and lime. It even comes with your own mini bottle of extra tajin. On a hot summer cali day, this is the most delicious way to cool down.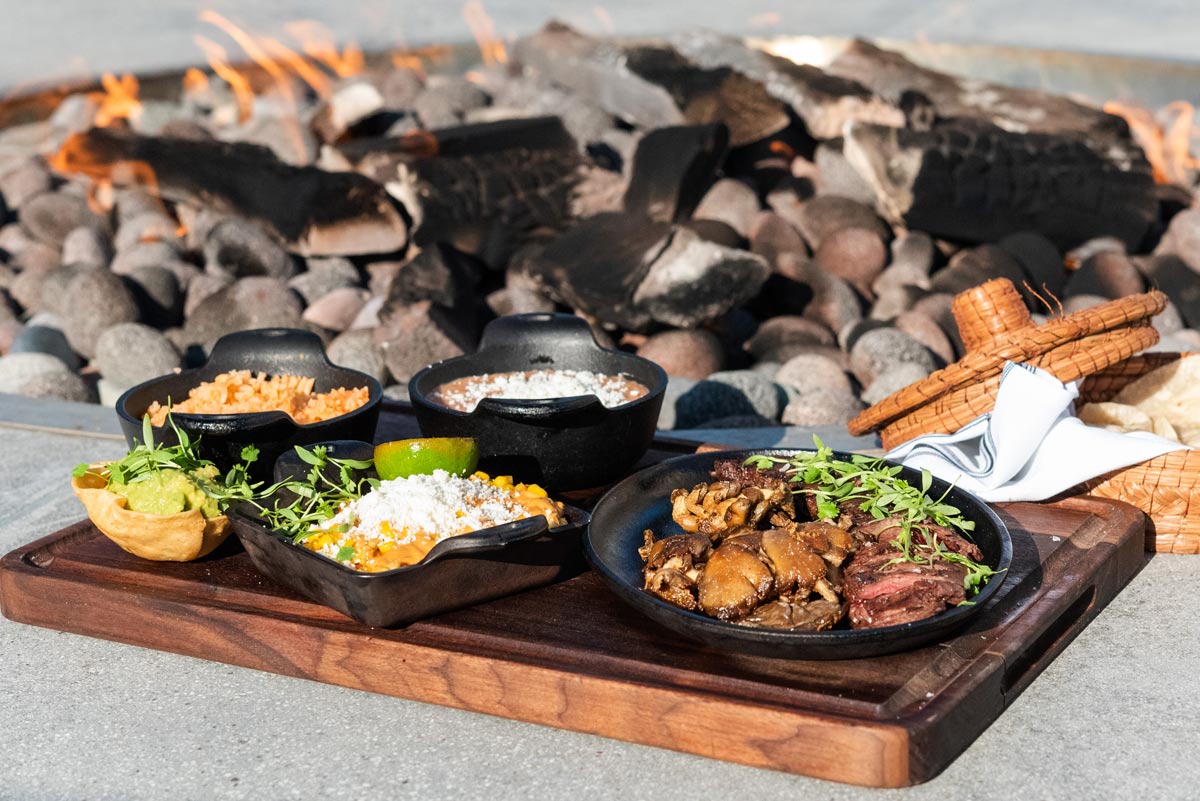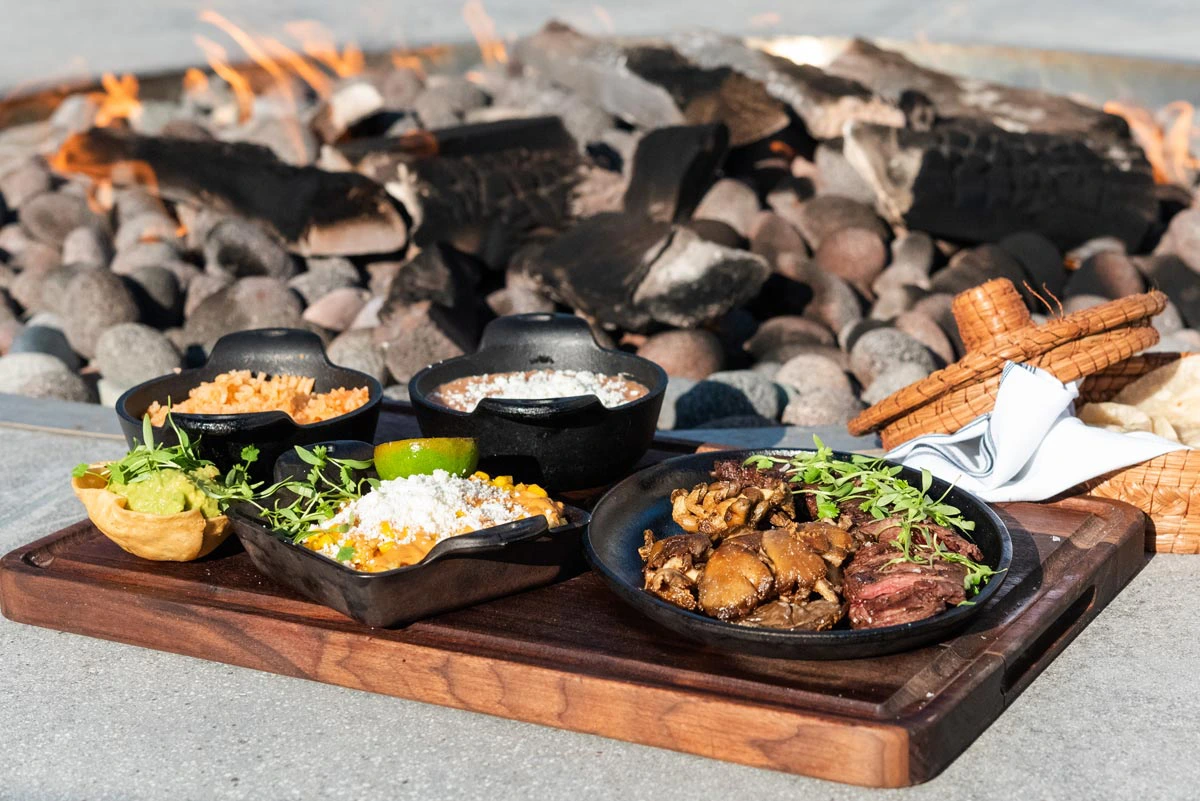 7. Para La Mesa
These entrees are meant for sharing which ties in Social's original concept. If you are headed to Social Huntington Beach, you'll definitely want to order one for the table. Pictures above is the Wagyu Skirt Steak served with Mexican street corn, rice, beans, and oyster mushrooms. They also have a whole branzino coming to the menu, as well as carnitas and mojo de ajo (shrimp). For larger parties they have an enormous platter that comes with steak, carnitas, and shrimp!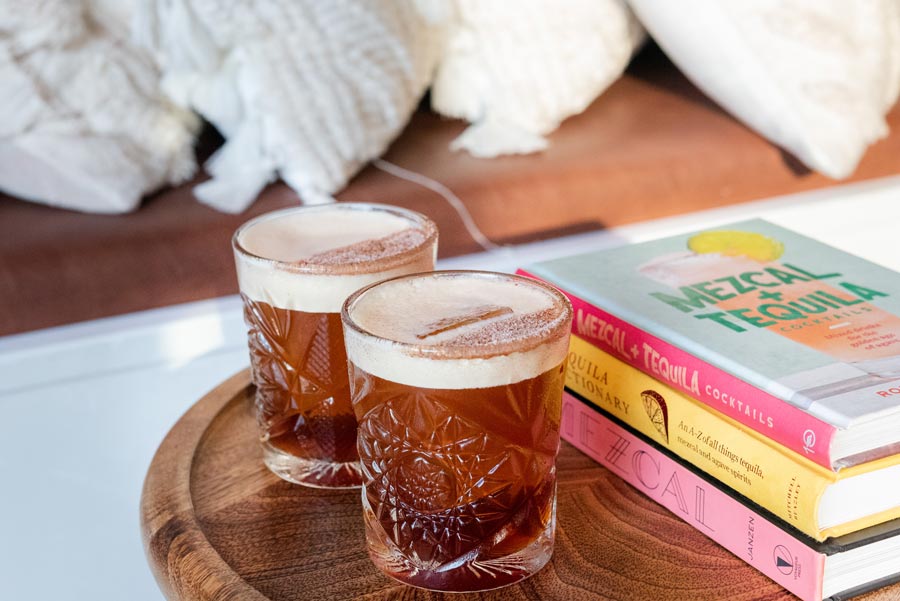 8. Carajillo
The Carajillo is a popular after dinner Spanish cocktail popular in Mexico. This was my first time seeing this cocktail on a menu and it will blow your espresso martini out of the water. The Carajillo at Social Coccina y Tequila is made with espresso, liquor 43, coffee liquor, and topped with fresh bitter Mexican chocolate shavings. It is absolute perfection.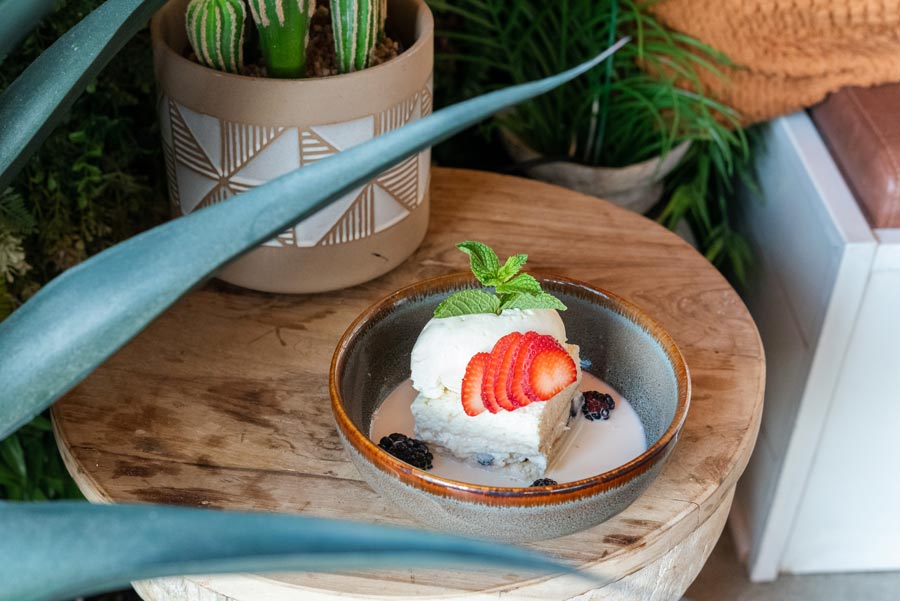 9. Tres Leches
Nothing is worse than when you are eagerly waiting for your Tres Leches and a dry piece of vanilla cake comes out instead. Luckily you will not experience this at Social. Their Tres Lechese arrives soaked in milk and is perfect.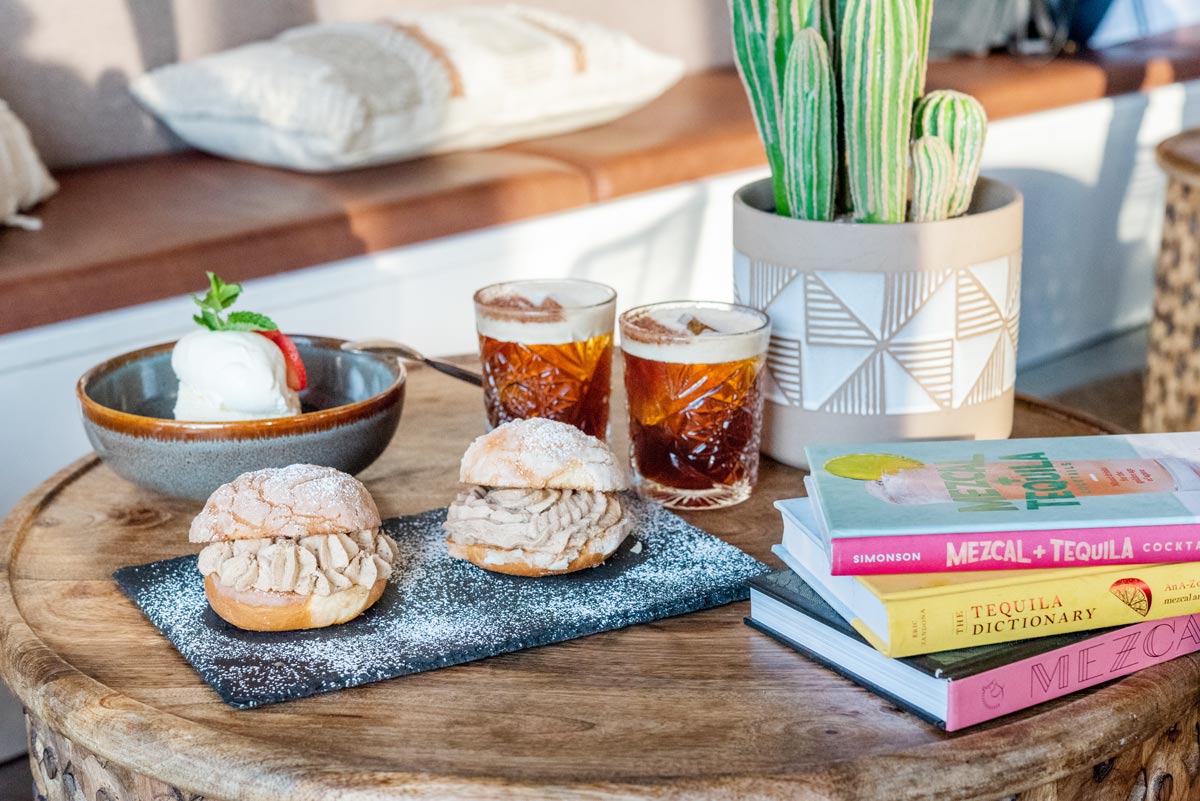 10. Pan con Cafe
I've saved the best for last. I love sweets and this creative dessert uses Mexican sweet breads filled with an irresistible cappuccino mouse. Chef Salazaar did such a wonderful job incorporating unique traditional Mexican ingredients into the menu at Social and these sweet breads rarely ever show up on a menu. In fact, you typically only find these at authentic Mexican bakeries. Enjoying this dessert with a Carajillo is a match made in heaven.
Are you ready to head to Social Cocina y Tequila yet? Also check out our coverage of Social Costa Mesa.
21214 Beach Blvd. Huntington Beach, CA 92648