Posts may contain affiliate links. Read our full disclosure policy here.
*Updated October 2022
This guide to the best Disneyland food isn't going to have your typical turkey leg and churro suggestions. This is the real deal food guide for all those foodies out there that have exceptional palettes and think themselves to be real food snobs. Every Disneyland food guide I see is always full of the typical fair-style food, but I wanted to create a guide that represents the really amazing food at Disneyland that no one is telling you about.
I go to Disneyland several times a month and have a SoCal Imagine Key, so I consider myself a Disneyland food expert at this point. Here are the best Disneyland food items available in Disneyland and California Adventure. Since the menu items can change often, I like to update this list every month to replace items that are no longer available or add new items.
Check out all of our Disneyland Food Hauls on our Instagram @CuisineandTravel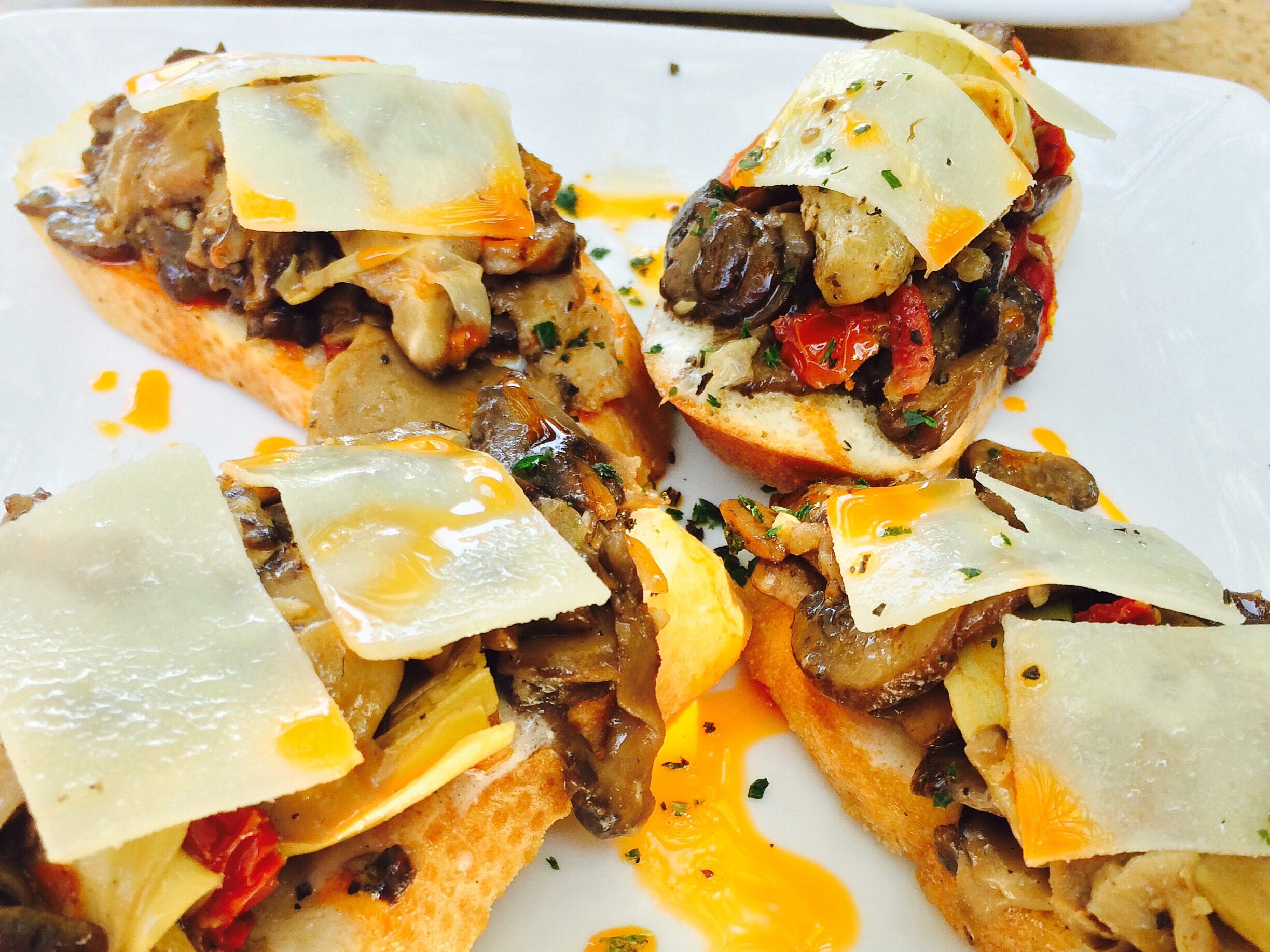 1. Rustic Bruschetta at Wine Country Trattoria
I cannot live without this rustic bruschetta, it is so incredibly tasty. I even make a Wine Country Trattoria lunch reservation every time I go to Disneyland just so I can enjoy this appetizer. In fact, the Wine Trattoria is easily the most underrated restaurant in the entire park. The food is fantastic and I have not been disappointed by any item I've tried there.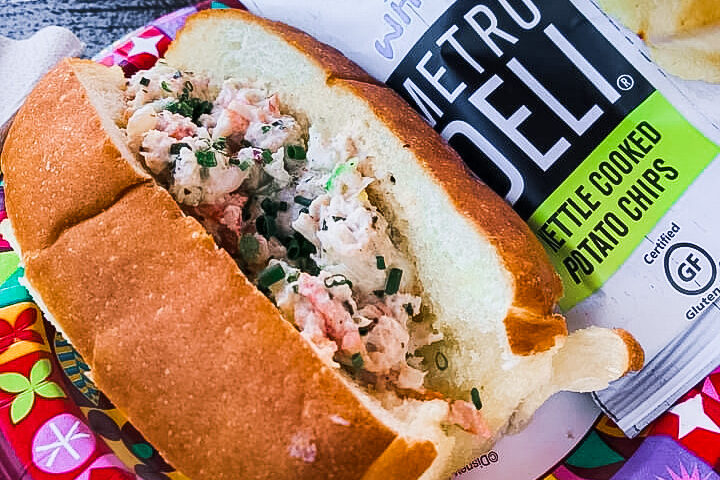 2. Lobster Rolls at Harbor Galley
Not many people know that you can get a Lobster Roll at Disneyland. Right in front of The Haunted Mansion is Harbor Galley which offers Lobster Rolls and even Lobster mac and cheese served in a fresh-baked sourdough bread bowl.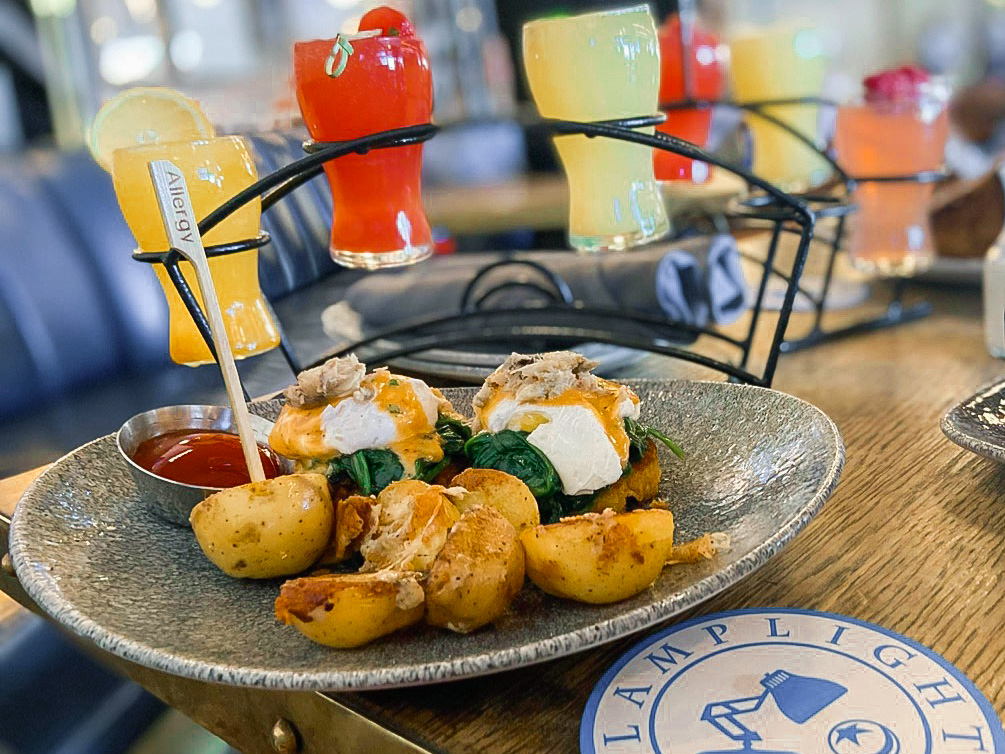 3. Crab Cake Benedict at Lamplight Lounge
I highly recommend making brunch reservations at Lamp Light Lounge if you plan on visiting during the weekend. The Crab and Potato Cake Benedict is served with sautéed spinach, soft poached eggs, chipotle hollandaise, and fresh fruit. Pair it with a fabulous mimosa flight and you have a brunch fit for even the most selective foodie.
In addition to their Crab Cake Benedict, they also offer some amazing entrees like the Potato Flautas or Egg White Frittata Bake which features hen of the woods mushrooms, spinach, tomatoes, roasted peppers, onions, smoked salmon, goat cheese sour cream, avocado, and confit potatoes.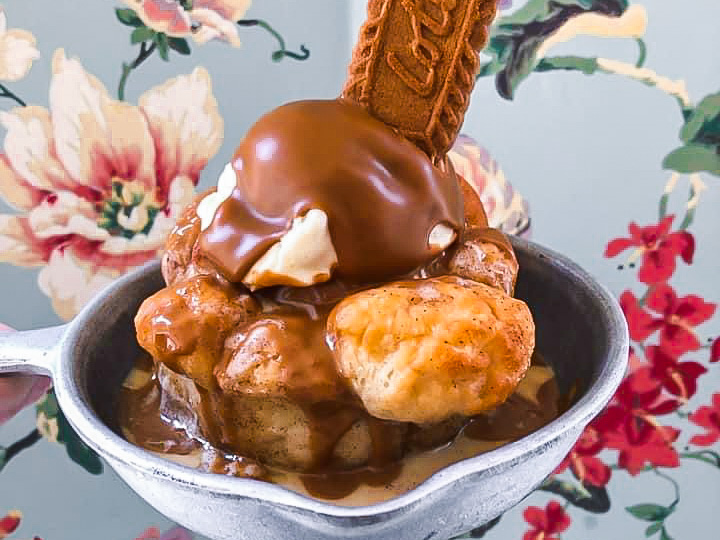 4. Monkey Bread at River Belle Terrace
Guests who are "in the know" rave about the Seasonal Monkey Bread found at River Belle Terrace. In fact, don't be surprised if you find yourself checking the menu regularly and making reservations just to enjoy this amazing dessert. In my Disnleynad groups, I see magic key holders constantly ask about the seasonal monkey bread flavors being offered. The Pumpkin and Cookie Butter Monkey Breads are amazing and I love checking in to see what's new. Sometimes the best Disneyland food is also the best dessert!
5. Ronto Wrap at Ronto Roasters
Maybe it's the New Yorker in me, but my favorite addition to the best Disneyland food list is the Ronto Wrap from Ronto Roasters. I love a good hot dog and this is unlike anything I've ever had. Whoever created the Ronto Wrap deserved some major props. This is something I would have normally never ordered, but my friend gave me a bite of theirs and now I'm addicted! The Ronto Wrap is a grilled pork sausage with thin slices of roasted pork, peppercorn sauce, and tangy slaw wrapped in soft Pita.
If you're a vegetarian, I have also heard the plant-based Ronto Wrap is even better!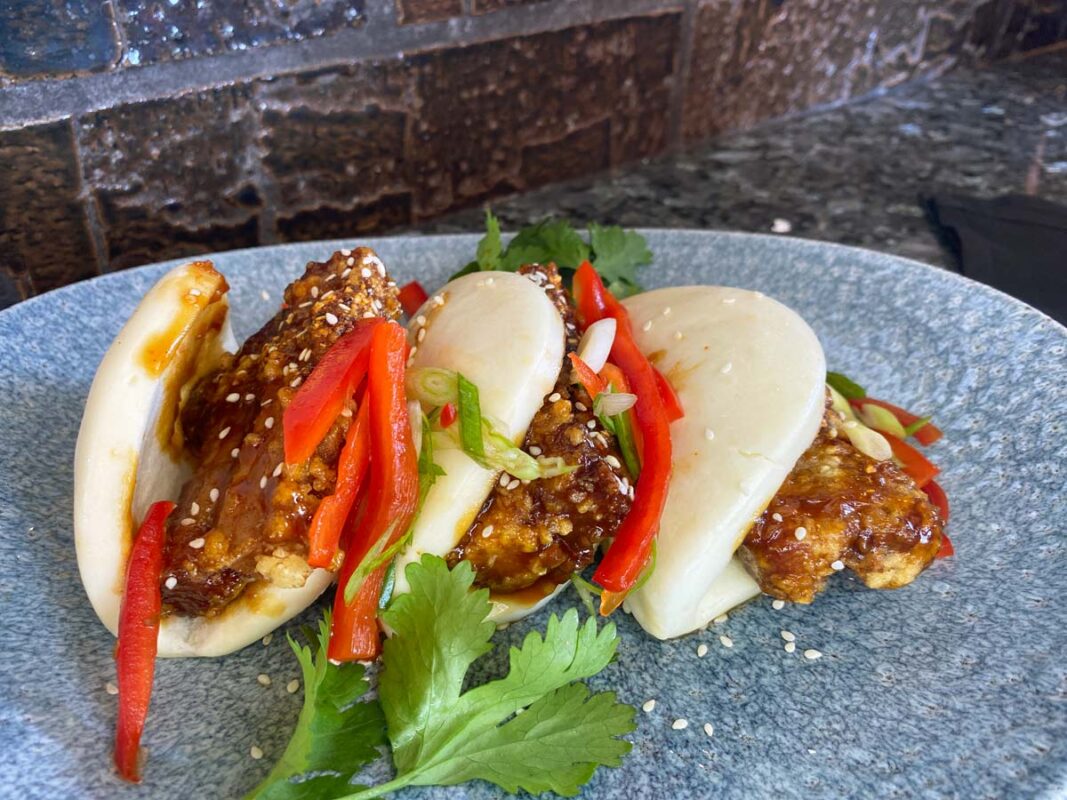 6. Kung Pao Bao at Lamplight Lounge
*new
Lamplight has introduced a new Kung Pao Bao on their fall menu and they are outstanding. This new appetizer features soft fluffy bao buns stuffed with succulent strips of pork belly coated in a kung pao glaze. While pork belly can often be fatty, I found these Kung Pao Bao to be incredibly meaty and crispy. Take note, however, they are also spicy!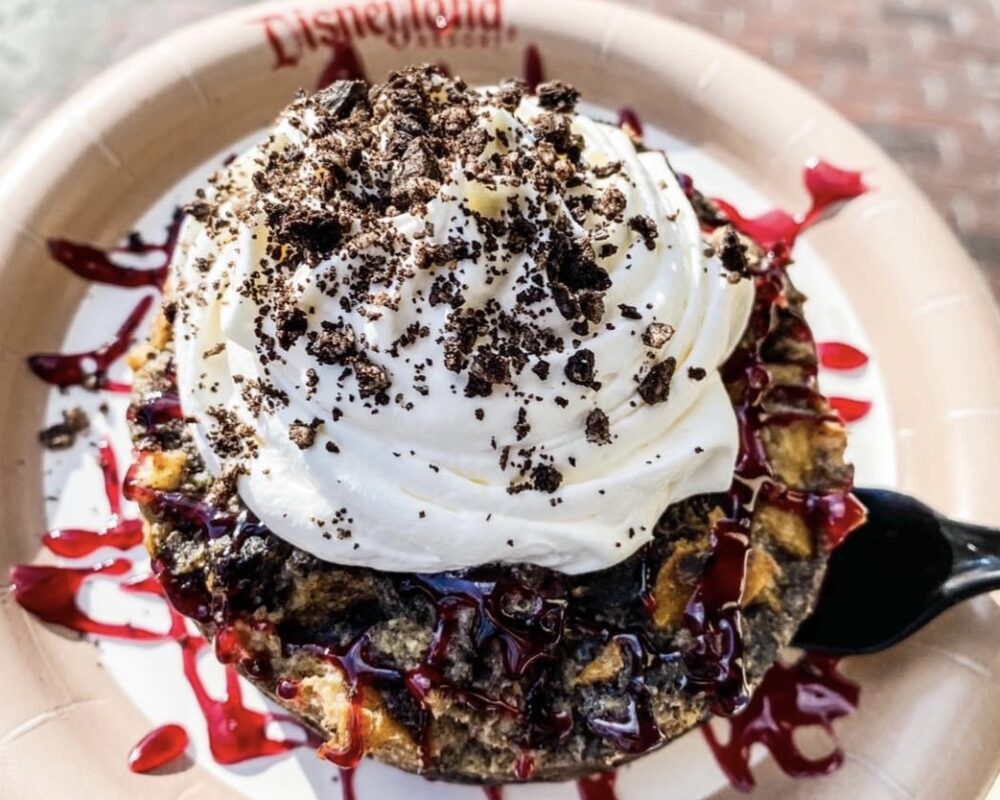 7. Seasonal Bread Pudding at Pacific Warf Cafe
The seasonal bread pudding can be found at Pacific Wharf Cafe at Disneyland California Adventure. Currently, Cherry Cheesecake Bread Pudding is being offered and it is amazing. I discovered this dessert because so many guests raved that this is the best Disneyland food item and they aren't wrong. I never even knew I was a fan of bread pudding until I tried the Disneyland bread pudding. The Oreo Cookie bread pudding was my absolute favorite!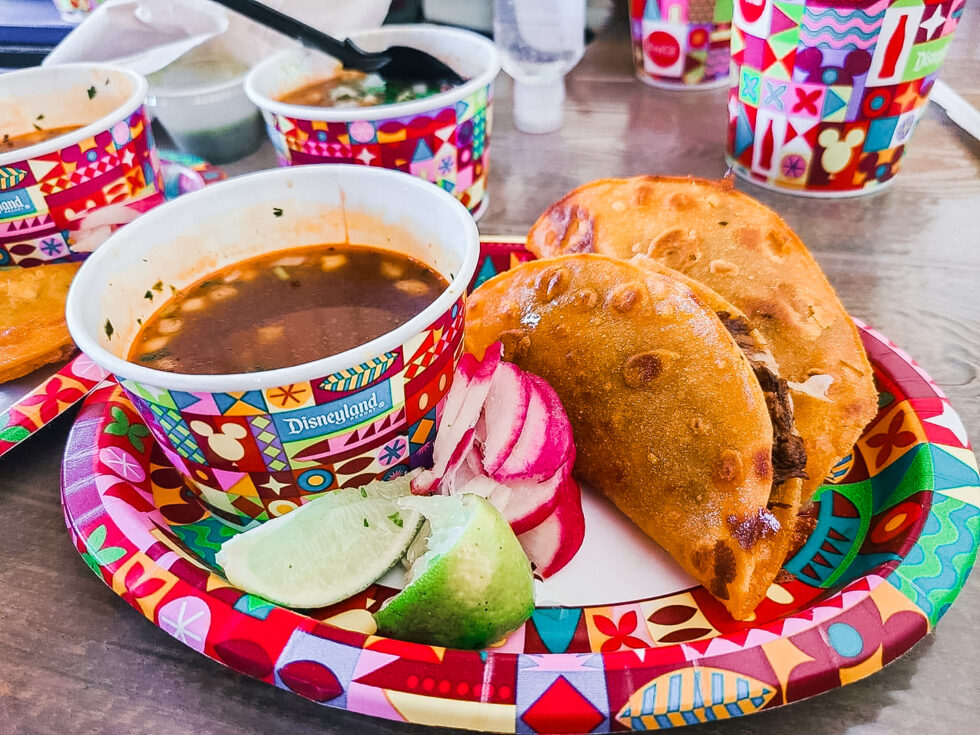 8. QuesaBirria Tacos at Cocina Cucamonga Mexican Grill
In Southern California, we are known for having the best tacos, and park-goers rave about the QuesaBirria Tacos at Cocina Cucamonga Mexican Grill. In fact, they are so popular you can only order 2 per transaction! Each taco is filled with tender braised beef, cheese and served with tomatillo salsa and Birria consomé.
What is the difference between Birria and Barbacoa?
Barbacoa means BBQ and is cooked in a hole in the ground until it becomes extremely tender and juicy. Birria, however, is the same process as Barbacoa but it is submerged in a delicious sauce. You will oftentimes see this sauce served with the Birria such as the Quesabirria Tacos from Disneyland.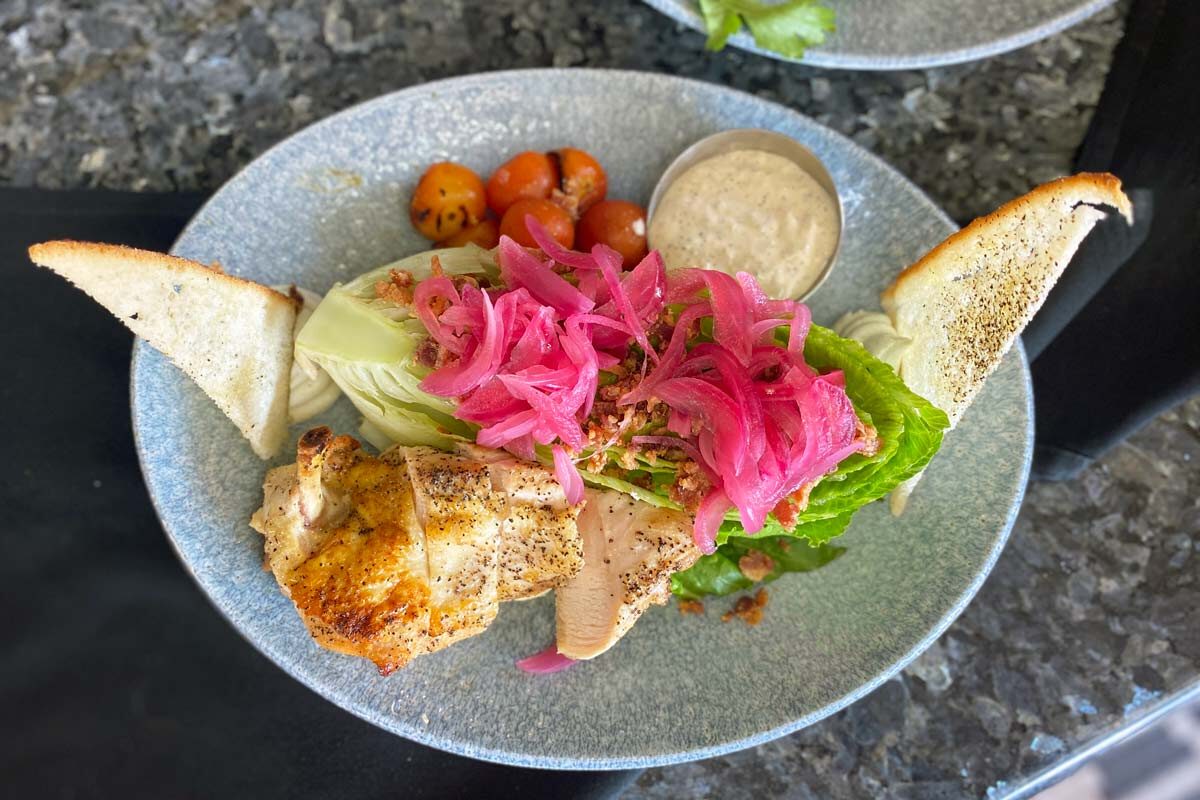 9. House Specialty Salad at Lamp Light Lounge
I'll be honest, I have never been one to order a chicken salad. The description of this salad sounds completely boring, but it is nothing of the sort. This salad is delicious and crave-worthy. I only first tried this salad because my girlfriend ordered it, but now I am hooked. I order the House Special salad almost every visit.
The House Specialty Salad is a cradle of baby gem lettuce and roasted chicken breast with house-made charred shallot ranch, blistered tomatoes, crispy bacon bits, pickled onions, and house-made garlic croutons with whipped blue cheese
10. Batuuan Beef Pot Roast
This entree, found at Docking Bay 7, has to be included as the best Disneyland food for the mere fact that it looks like it belongs in a fine dining restaurant. This braised beef pot roast is incredibly tender and served over a bed of Cavatelli pasta with wilted kale and mushrooms.
If you're looking for vegetarian options, everyone also raves about the Felucian Kefta & Hummus Garden Spread. The Dewback Chili Noodles are also very popular with a spicy kick. Dock Bay 7 is also where you'll find one of my favorite Disneyland Drinks, the Cold Brew Black Caf.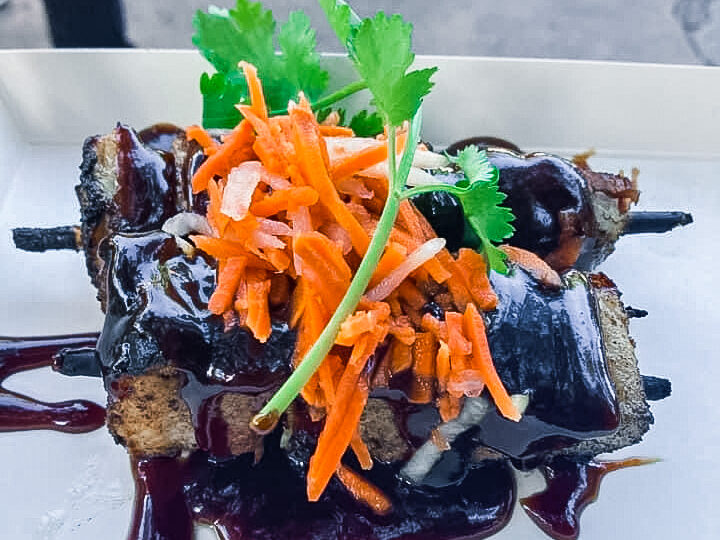 11. The Skewers From Bengal BBQ
These skewers are especially good if you're following any type of keto, low carb, or gluten-free diet. Bengal BBQ offers a variety of different meat skewers all topped with a variety of special sauces. Everyone seems to have an opinion on which skewers they love the most. Guests rave about the Pork Belly Skewers with Hoisin sauce, pickled carrots, daikon, and cilantro. If you like your meat a little leaner, the hot & spicy Banyan Beef Skewers are tender and delicious.
12. The Pork Chops at Lamplight Lounge
There is a pork chop entree at both Carthay Circle and Lamplight Lounge. However, the consensus agrees, the Al Pastor Pork Chops at Lamplight Lounge is the winner. This dish features a bone-in pork chop over Oaxaca cheese polenta with pineapple relish, charred onions, roasted chili butter, and green chili sauce. This entree will have you feeling like you're in a Southwest Mexican-inspired fine dining restaurant.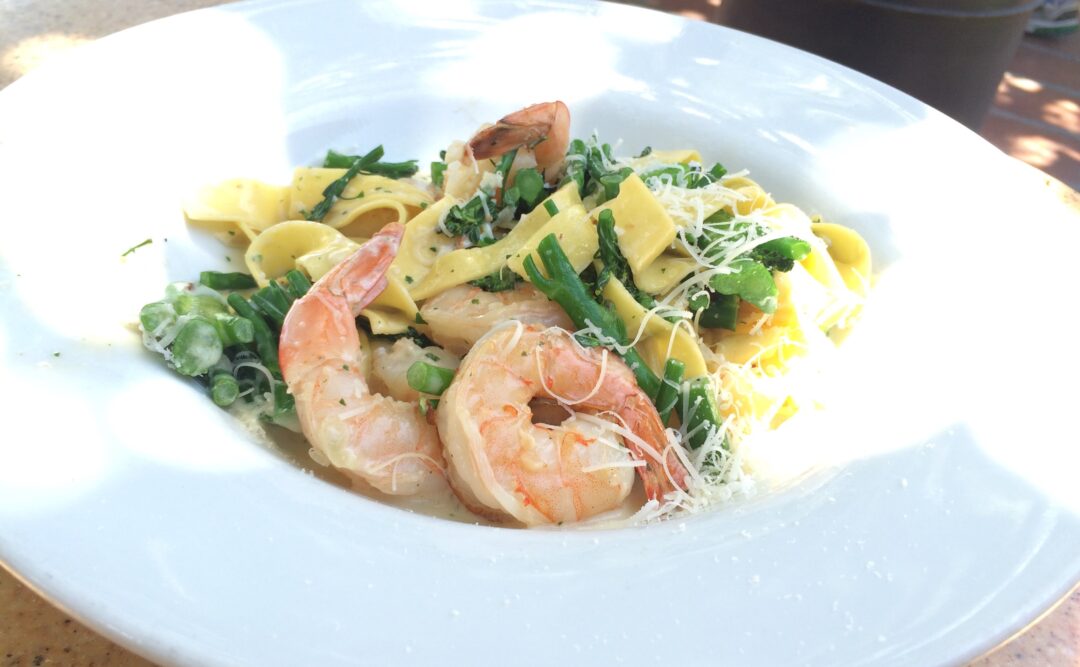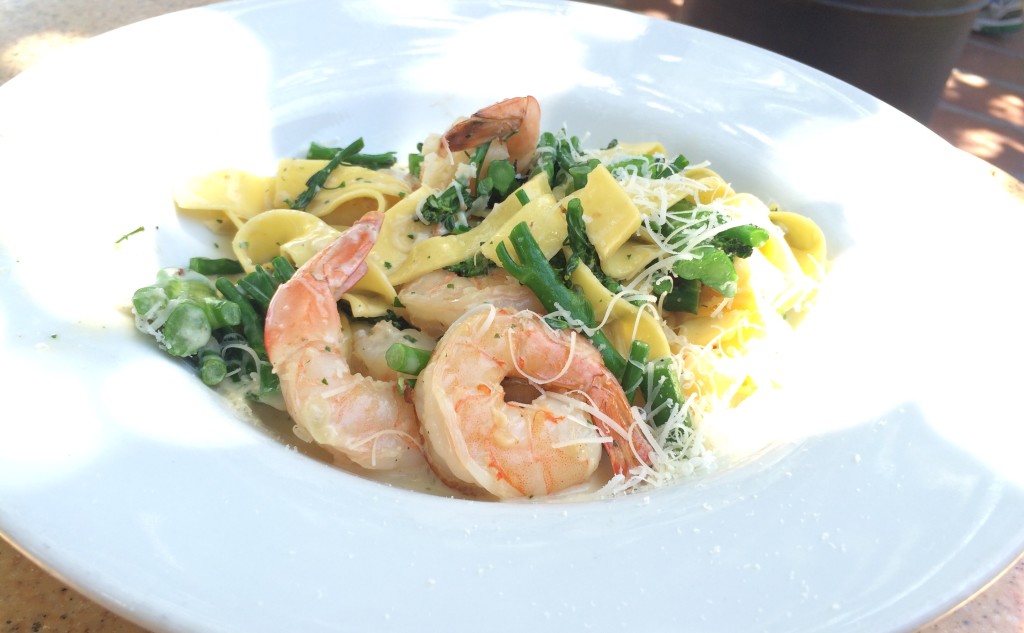 13. Shrimp Scampi at Wine Country Trattoria
Wine Country Trattoria always has a delicious shrimp scampi or shrimp alfredo on their menu and it is fabulous. I also add broccolini to my shrimp scampi to make it more nutritious. It is really a fantastic dish just like you would find at any wonderful Italian restaurant.
Pro Tip: Wine Country Trattoria actually makes their fettuccini noodles in-house and you can ask for fettuccini regardless of the pasta your dish is supposed to come with.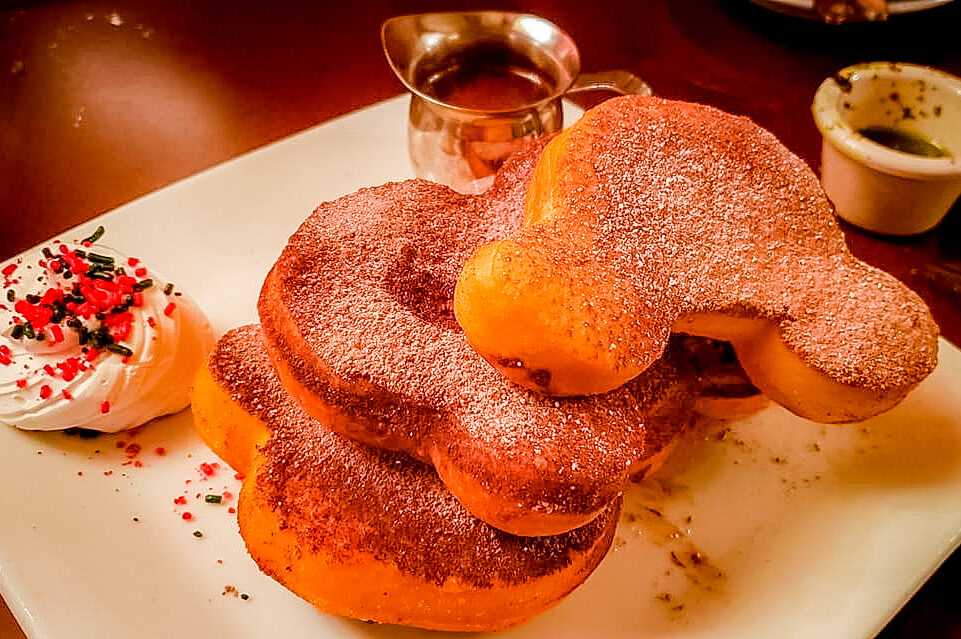 14. The Beignets at The Mint Julip
One of my favorite Disneyland treats is the beignets from Mint Julip and the New Orleans Square restaurant. I actually prefer these beignets over the ones from Ralph Brennan's Jazz Kitchen. You'll find that the beignets inside the park are a little lighter and fluffier, which I really enjoy.
My favorite part about the Disneyland Beignets is their seasonal offerings. For example, this month they have cookie butter beignets with a cookie butter dipping sauce. In the photo above you'll see the popular Hot Chocolate Beignets from New Orleans Square. This is one Disney food item that even the pickiest of eaters will enjoy.
Pro Tip: The Mint Julip beignets can now be mobile ordered to avoid those long lines!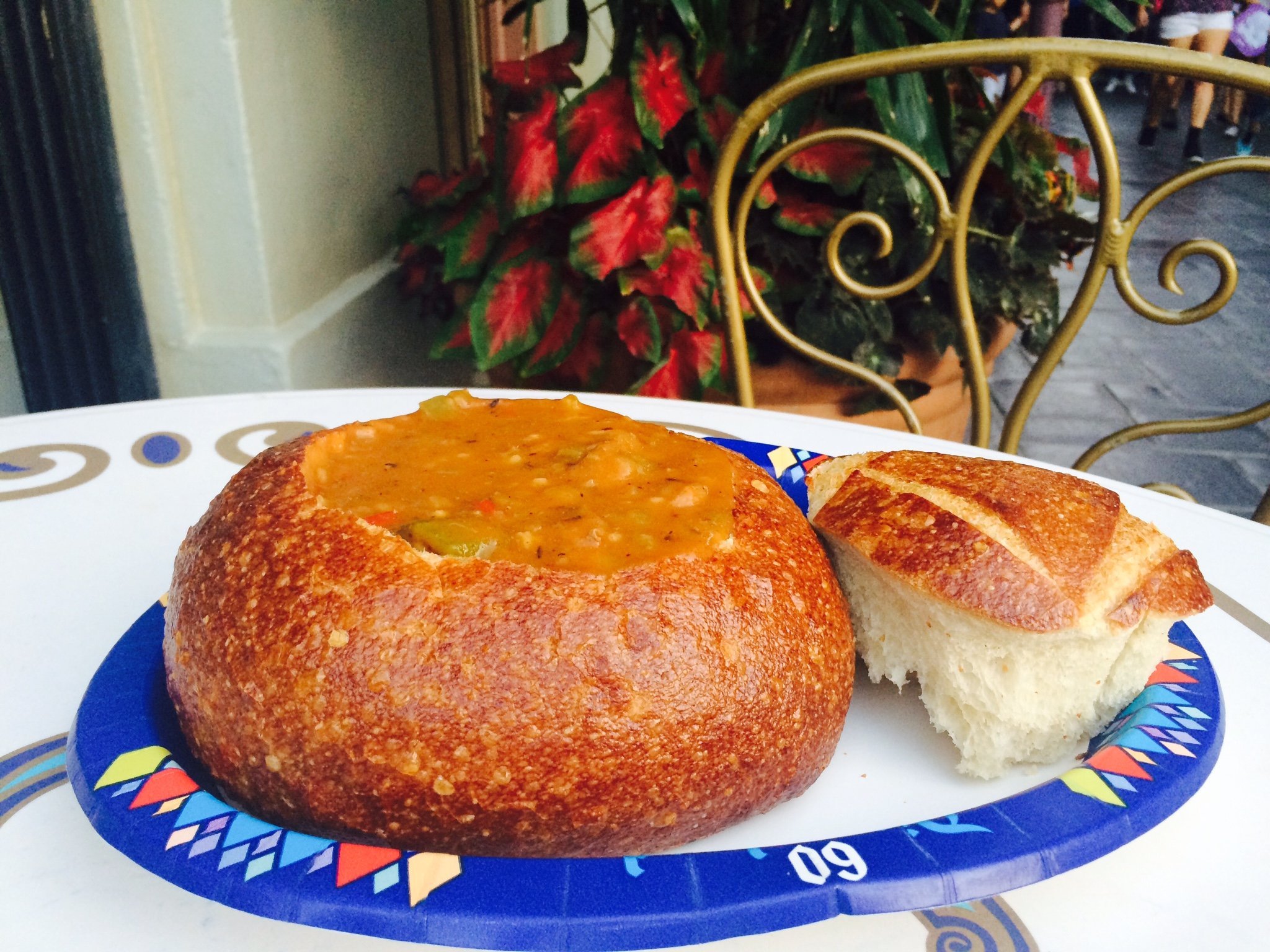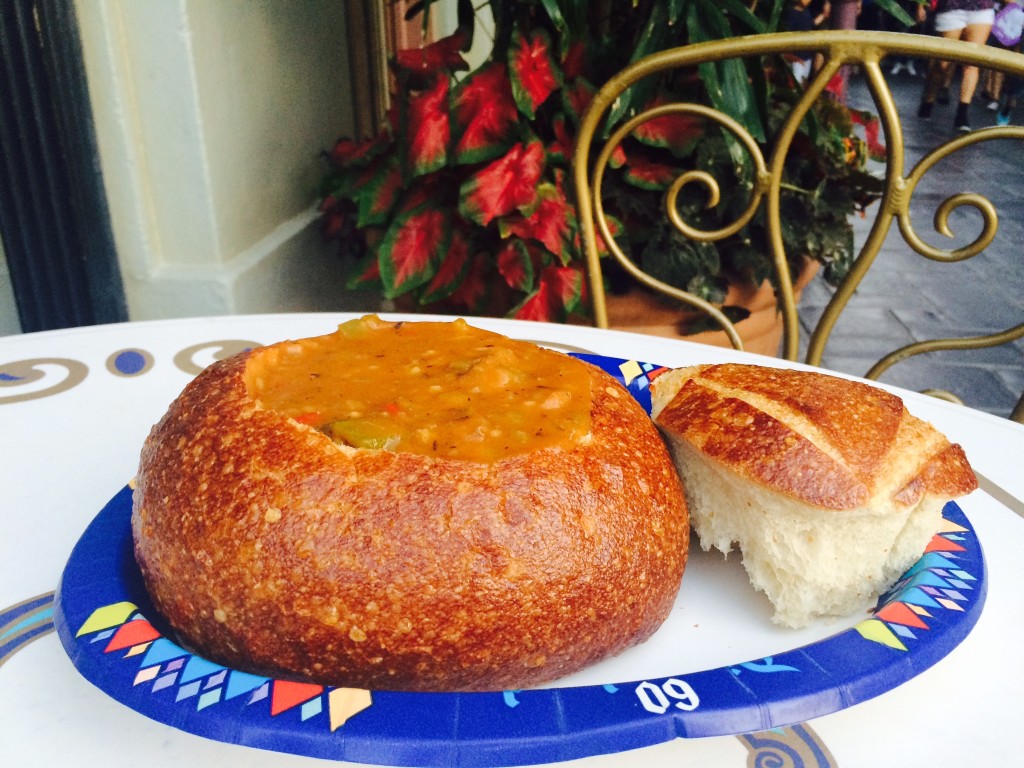 15. Steak Gumbo in a Sourdough Bread Bowl from Royal Street Veranda
Last but not least is the steak gumbo which you can get in a freshly made Boudin Bakery bread bowl at Royal Street Veranda. The gumbo is terrific with lean chunks of steak and slices of okra. The bread bowls are fantastic and made fresh each morning from the on-site Boudin Bakery which can be found in California Adventure. You can even venture into the bakery and watch them make the bread bowls fresh.
More articles from our Disney Travel Guide…..