The Disney 100th Anniversary Celebration officially begins on January 27th. This event will introduce all new entertainment, decor, merchandise, food, and even a brand new attraction at Disneyland. Here is everything you need to know about this momentous occasion.
About
The Disney 100th anniversary will be called "Disney 100 Years of Wonder" and it will be the largest cross-company global celebration in the 100-year history of The Walt Disney Company. The anniversary celebration will officially kick off Jan. 27, 2023.  
ABC News Studios will present a once-in-a-lifetime documentary event to commemorate the anniversary of one of the world's most beloved companies. Disney: 100 Years of Wonder will take viewers on a journey that started in 1923 and whose future is not yet written.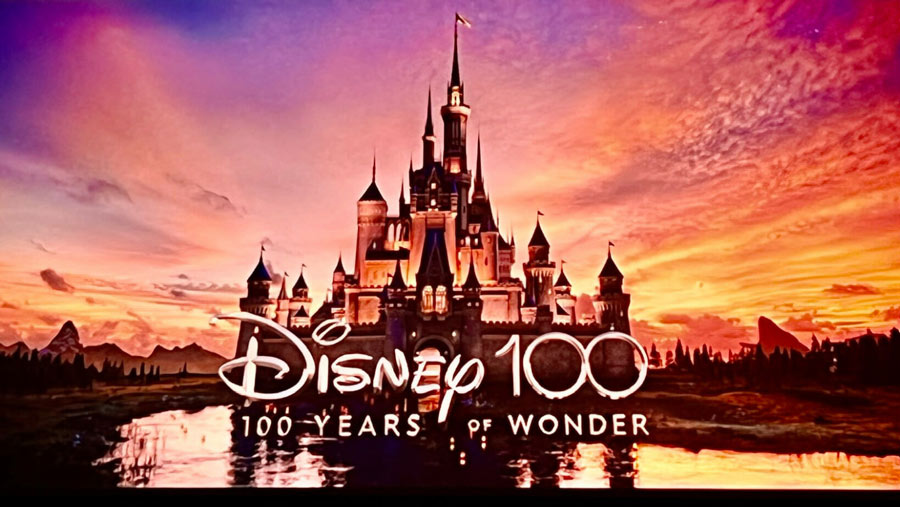 New Disneyland 100th anniversary Decor
At Disneyland park, Walt Disney's original Sleeping Beauty Castle will be dressed in style for the anniversary. Celebrating wonder, the castle will be adorned with elegant platinum banners and bunting, accented by a magnificent cabochon featuring the three Good Fairies who illuminate it with their shimmering pixie dust.
Two majestic water fountains will grace either side of the moat, while a beautiful wishing star will sparkle from the tower above.
Both Disneyland and Disney World will feature new platinum decor. Mickey and Minnie will debut fancy new platinum outfits as well as a few of their friends!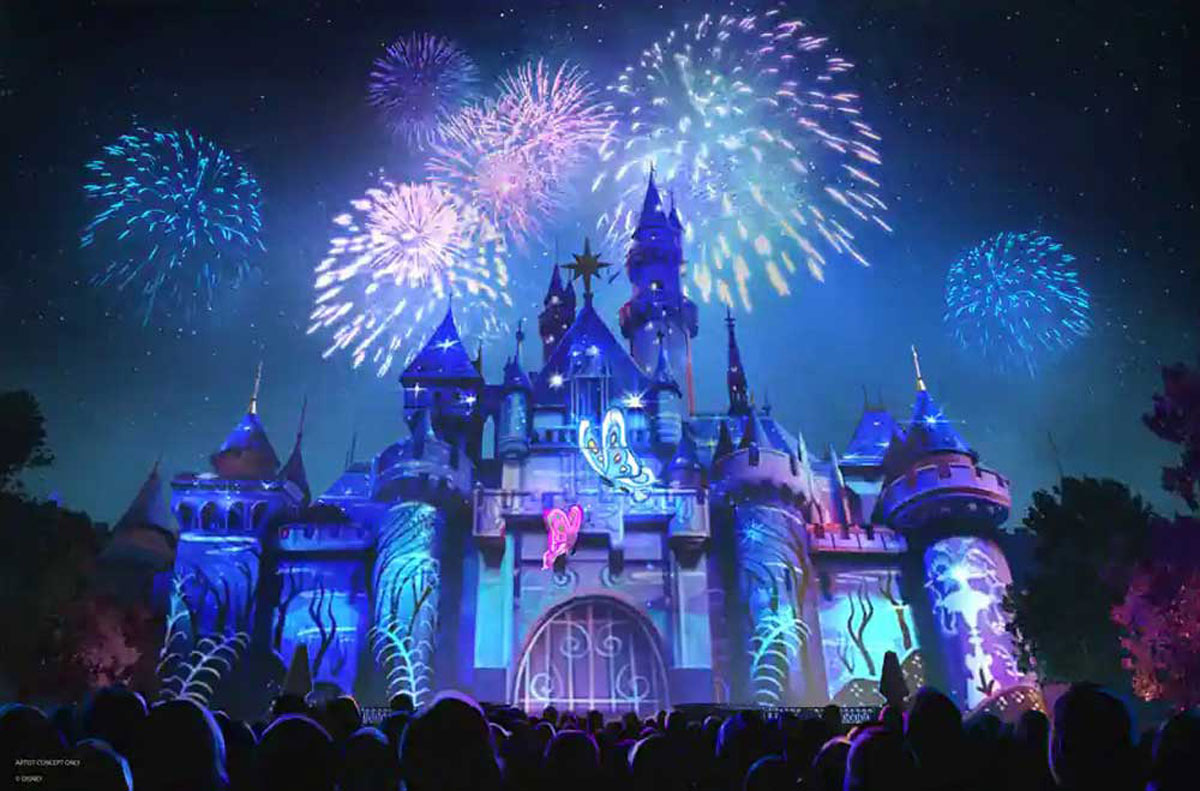 Disney 100th Anniversary Entertainment
Both parks will feature new entertainment to celebrate the 100th anniversary.
Disneyland Entertainment
At Disneyland, guests will be delighted with two new shows. First, "World of Color " at Disney California Adventure park will celebrate the storytelling legacy started by Walt Disney a century ago. It will tell a new story of how a single action, like a drop of water, creates a ripple that can grow into a wave of change. It brings some of the most courageous, loving and inspiring characters to life in new ways. The show will also feature a new original song, "Start a Wave." 
Then, Walt's original magic kingdom will become a magnificent canvas with "Wondrous Journeys," a new nighttime spectacular that will ignite the wonder in all of us. On select nights, "Wondrous Journeys" will go even bigger with the addition of sparkling fireworks in the sky above Disneyland. This spectacular will also feature an incredible new song, "It's Wondrous."
Disney World Entertainment
In late 2023 a brand new nighttime spectacular will come to the World Showcase Lagoon at EPCOT.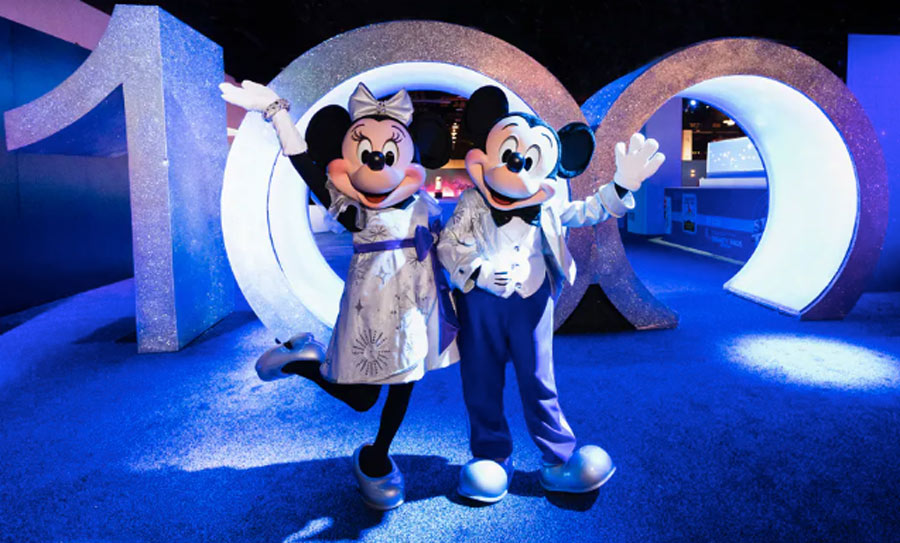 Disneyland's New Ride
 In celebration of Disney's 100th anniversary, the debut of Mickey & Minnie's Runaway Railroad will debut early. On January 27th, 2023 guests will be able to hop on Disneyland's latest ride.
The darling duo are taking a leisurely drive to a picnic in their sporty roadster—with Engineer Goofy's train following merrily along. Plot twist—you get to go, too! Climb aboard a runaway railway and embark on a whirlwind ride through a world where the rules of physics don't apply. Prepare for unexpected twists, slapstick gags and mind-boggling transformations at every turn, as Mickey and Minnie try to save the day.
January Disneyland Reservations Suspended
Due to the 100th anniversary and new ride, Disneyland has temporarily paused all January reservations past January 8th. Disney has said the reservations will re-open in the coming weeks.
New Disney 100th Anniversary Merchandise
Much of the new anticipated new merchandise for the Disney 100th anniversary premiered at d23 and is currently available. There will be a new popcorn bucket, spirit jersey, platinum dripped ears, amazing 100th anniversary Disney books box set, Disney 100 Years of Wonder Coffee Table Book, there will be two different minnie ears available, a commemorative statue, travel tumbler, a watch, platinum pins, and charm necklace. Here is a little sneak peek we found.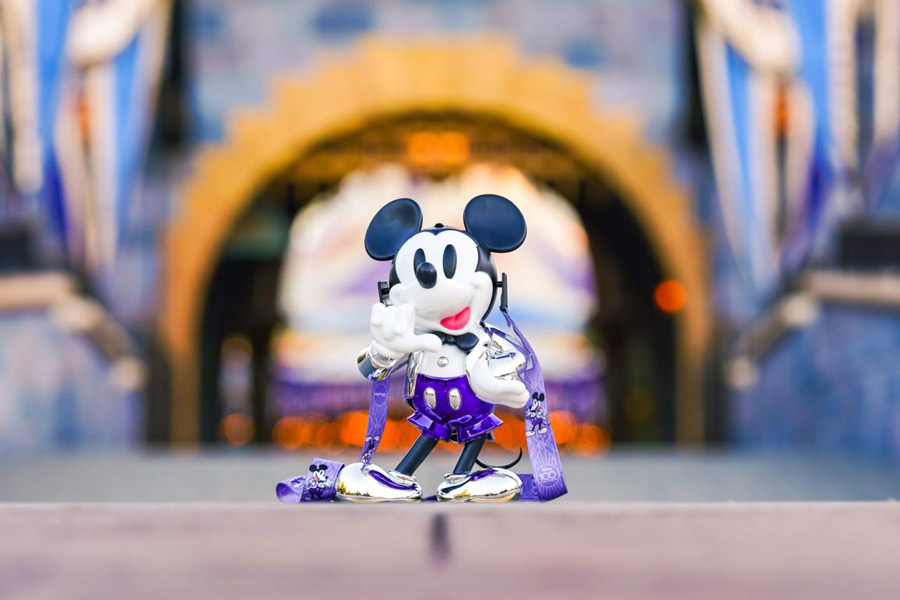 100th Anniversary Food
We are still waiting to see what the food offerings will be. Disney is still in the middle of their awesome fall food offerings, then we will have holiday food offerings and the Festival of Holidays will be returning to Disneyland on November 11th, 2022. Stay tuned and subscribe for more updates as they become available!
Discover More Disneyland News