Knotts Boysenberry Festival returns to celebrate the delicious berry that started it all. On March 20th through April 19th visitors at Knotts Berry Farm will be able to enjoy over 75 unique boysenberry-inspired food and drink items throughout the park. In addition to unique food and drink offerings, the Knotts Boysenberry Festival offers a wide selection of daily entertainment, live music and fun activities for guests of all ages to enjoy.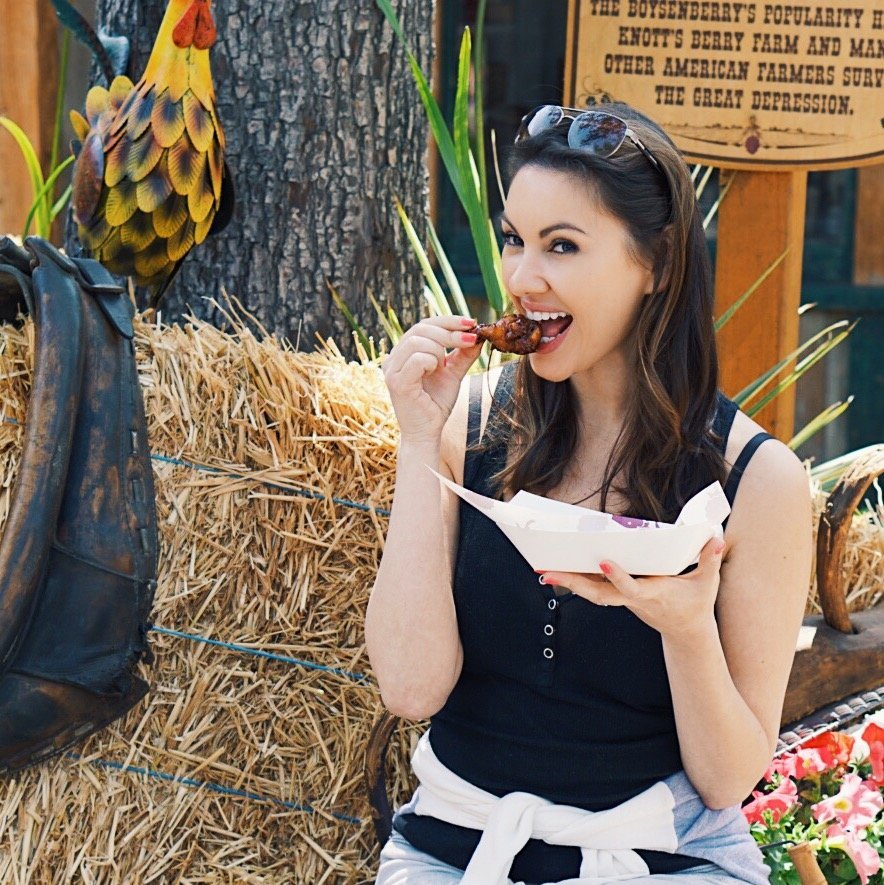 This year's Boysenberry Festival 2020 has an array of new items I couldn't wait to sink my teeth into. Each year seems to get better and better as the Knotts Berry Farm culinary team thinks up new clever ways to introduce the boysenberry into creative dishes. Guests arriving to the park will be able to purchase a Food tasting card for $40 and Wine & Craft Beer Tasting Cards for $35. Below is a list of all the Berry Bites that will be available with your tasting card.
Knotts Boysenberry Festival 2020 Food Items
$40–Tasting Card (8 choices of the 26 options)or $38 with a 2020 Season Pass
$35–Craft Beer and WineTasting Card
Tasting Card Items
Boysenberry Mimosa(NEW!)
a.Wagon Wheel
Boysenberry Basil Lemonade(NEW!)
a.Sutter's Booth
Boysenberry Beer Cheese Soup topped with a Boysenberry Drizzle and Brown Butter Croutons(NEW!)
a.Wilderness Dance Hall
Brussel Sprouts topped with a Boysenberry Balsamic Dressing and Bacon(NEW!)
a.Pemmican Pickle Booth
Beef Tips with Boysenberry Mashed Potatoes(NEW!)
a.Spur's Chophouse
Boysenberry Chicken Mole on Cilantro Rice(NEW!)
a.Wagon Wheel Pizza
Boysenberry Sangria(NEW!)
a.Wilderness Broiler
Boysenberry Cajun Shrimp over Grits(NEW!)
a.Spurs Chophouse
Boysenberry BBQ Chicken Drumsticks(NEW!)
a.SpursBooth
Boysenberry Steak Chili with a Boysenberry Cornbread Muffin(NEW!)
a.Pemmican Pickle Booth
Samosa's with Boysenberry Chutney(NEW!)
a.Wagon Wheel Pizza
Pork Bao Bun Dumpling with Boysenberry Kimchi and Nam Pla(NEW!)
a.Spurs Chophouse
BoysenberryShrimp Ceviche with Tortilla Chips(NEW!)
a.Wilderness Broiler
BoysenberrySmoothie(NEW!)
a.Silver Bullet Booth #2

Homemade Chips with Boysenberry Onion Dip(NEW!)
a.Wilderness Broiler

Boysenberry sausage on a Buna
a.Wilderness Dance Hall Booth

Elotewith Boysenberry Mayo, Cotija Cheese, and Boysenberry Tortilla Crumbles
a.Chow House Booth

Mac and Cheese Bites with Boysenberry Ketchup(NEW!)
a.Calico Fry Co.

Glazed Donut Holes with Boysenberry Ice Cream and topped with a Boysenberry Coulis(NEW!)
a.Ghost Town Bakery

Boysenberry Bread Pudding topped with Boysenberry Coulis and Crème Anglaise Sauce(NEW!)
a.Wagon Wheel Pizza

Pastrami Sandwich on a Pretzel Bun topped with Boysenberry Mustard(NEW!)
a.Wilderness Broiler

Boysenberry Macaron(NEW!)
a.Ghost Town Bakery

Churro rolled in Boysenberry Sugar(NEW!)
a.Silver Bullet Booth #1

Boysenberry Cookiewich(NEW!)
a.Silver Bullet Dip n' Dots

Boysenberry Beer
a.Sutter's Booth

Boysenberry Wine
a.Sutter's Booth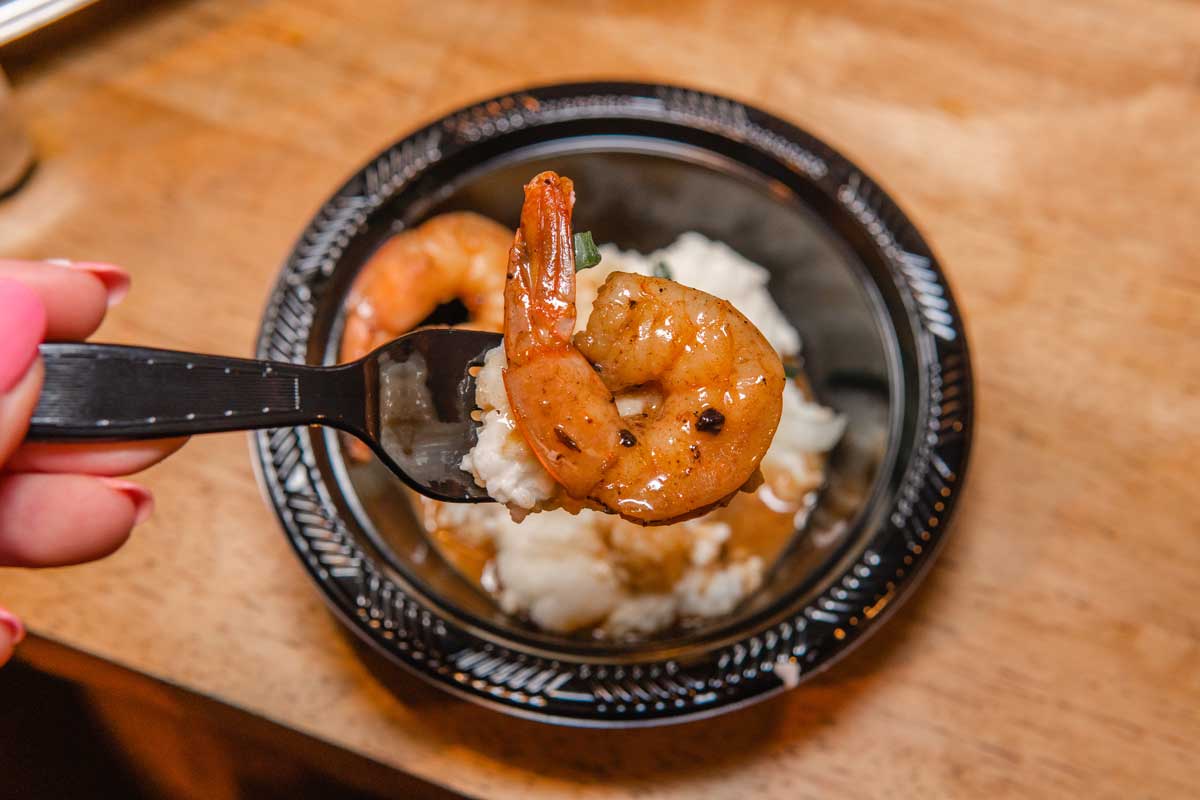 Luckily we were able to get an early preview of many of the delicious food and dessert items headed to Knotts Boysenberry Festival this year. You'll notice there are a ton of new selections to choose from. Let's start with my personal favorite new item, the Boysenberry Shrimp & Grits. I love southern cuisine and this item was a pleasant surprise. This will make up for them not having the gumbo which was my favorite item from last year's festival.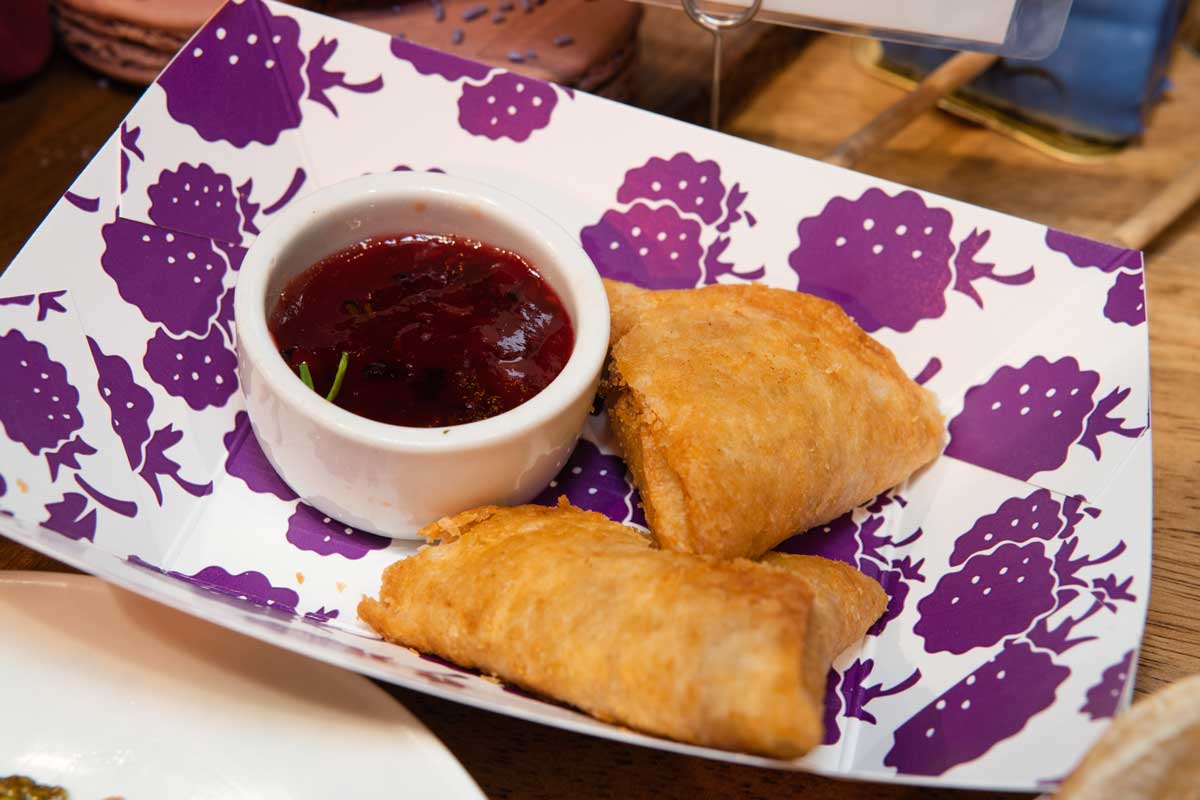 The new Boysenberry Samosas were also a favorite of mine and guests will be happy to know they are vegan. Now don't get me wrong, I love my meat, but it is nice that the Knotts Boysenberry festival has options for everyone. These Boysenberry Samosas are stuffed with veggies and are very tasty!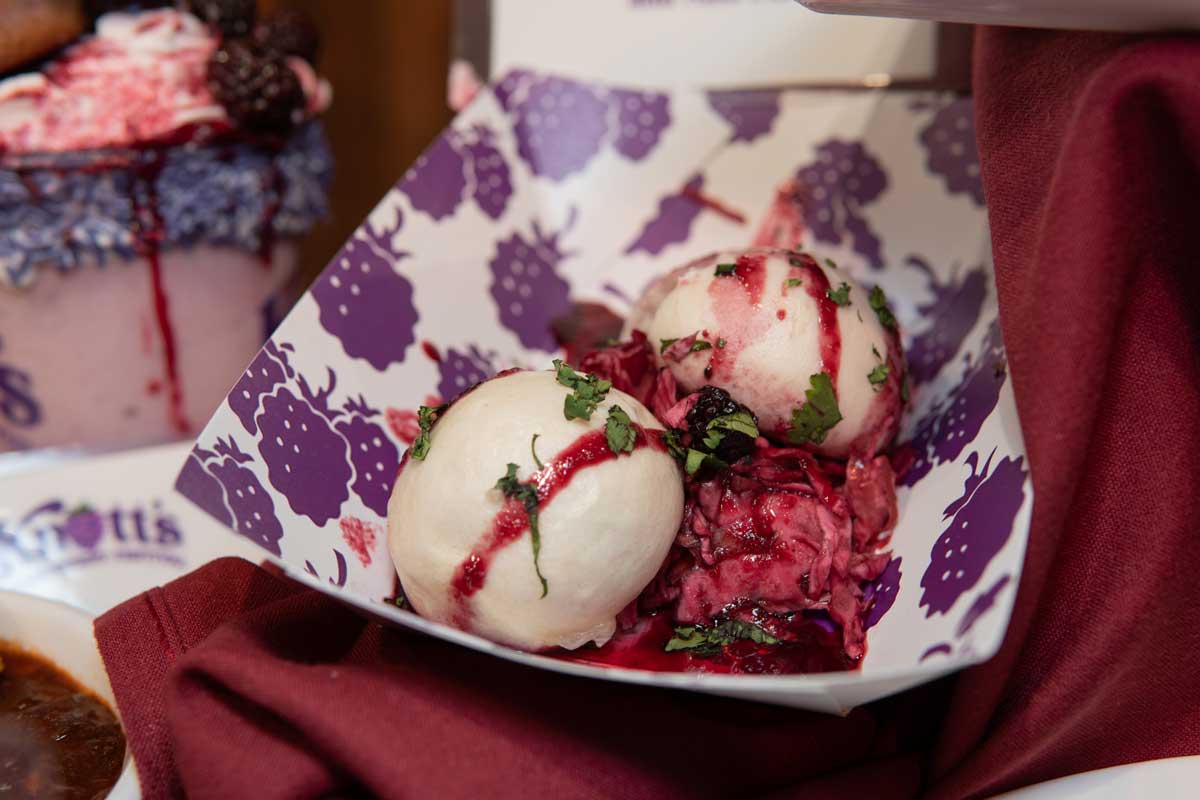 One of the most clever items was the Pork Bao with Boysenberry Kimchi. For warning that this item is spicy but so good. Who would have guessed Boysenberry Kimchi could be so good.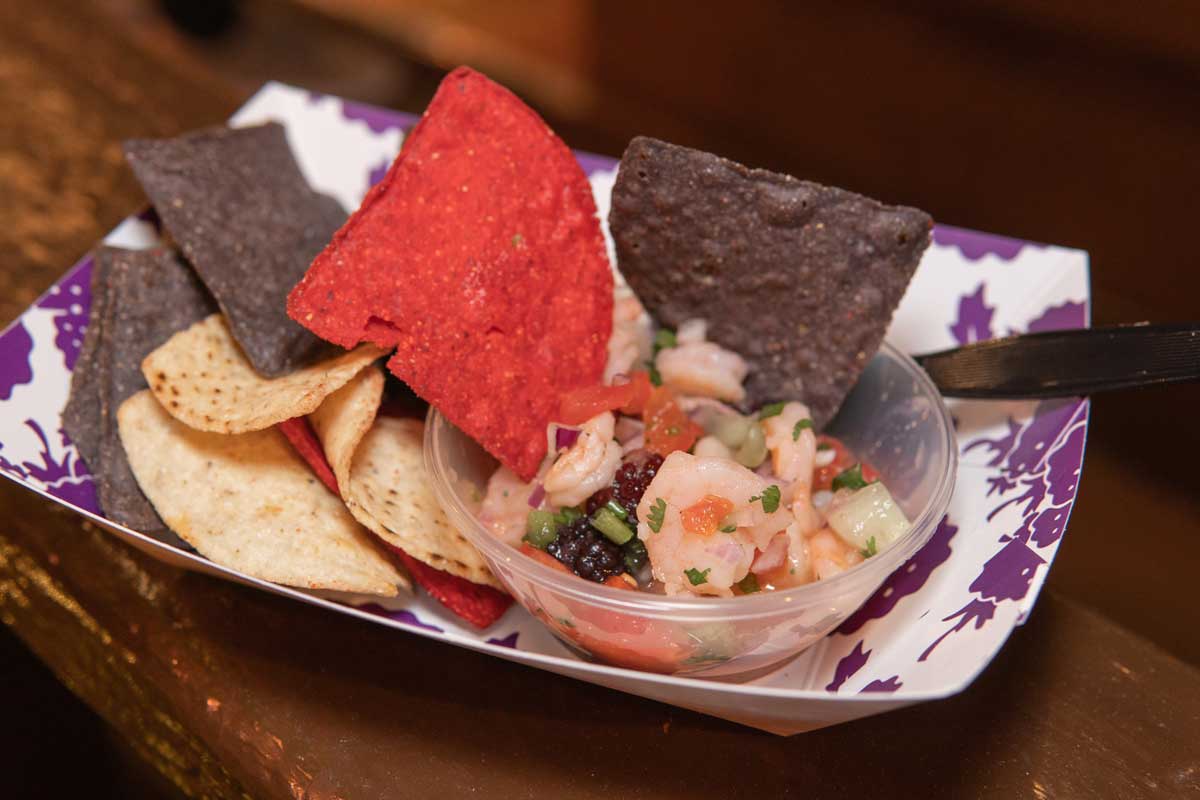 I also enjoyed the new Boysenberry Shrimp Ceviche. It was incredibly citrusy and refreshing.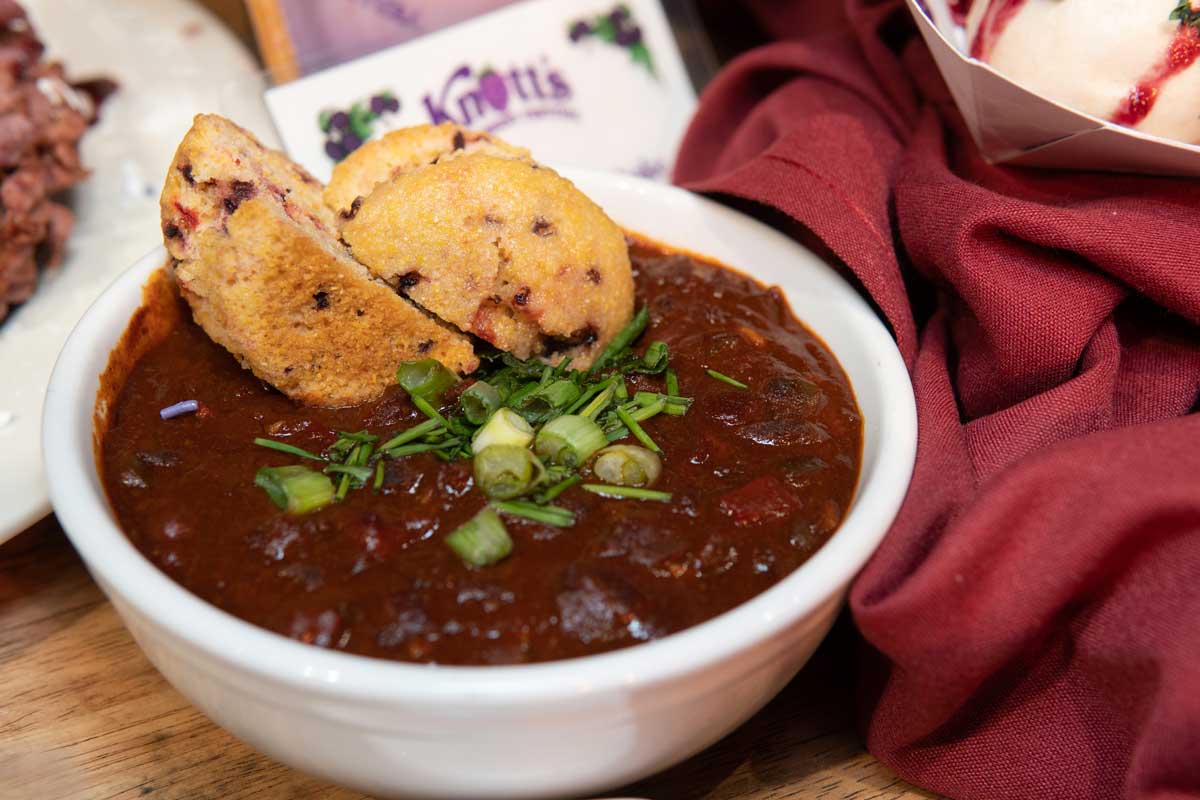 The Boysenberry Steak Chili with Boysenberry Cornbread is another new item this year. My favorite part was actually the Boysenberry Cornbread. I need this recipe for the holidays!
Another new item I see being incredibly popular is the Boysenberry Brussel Sprouts. This item is genius, as we all know that crispy Brussel Sprouts go great with a sweet glaze like balsamic, so adding boysenberry just makes perfect sense!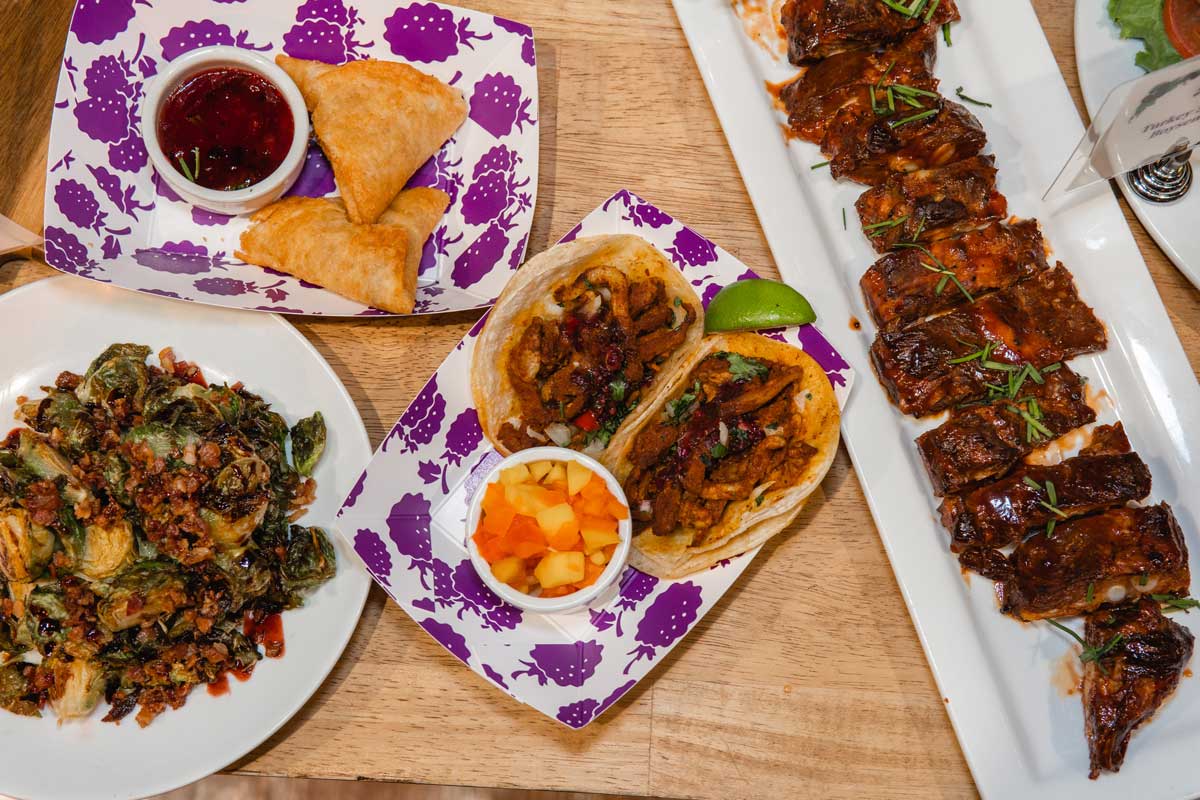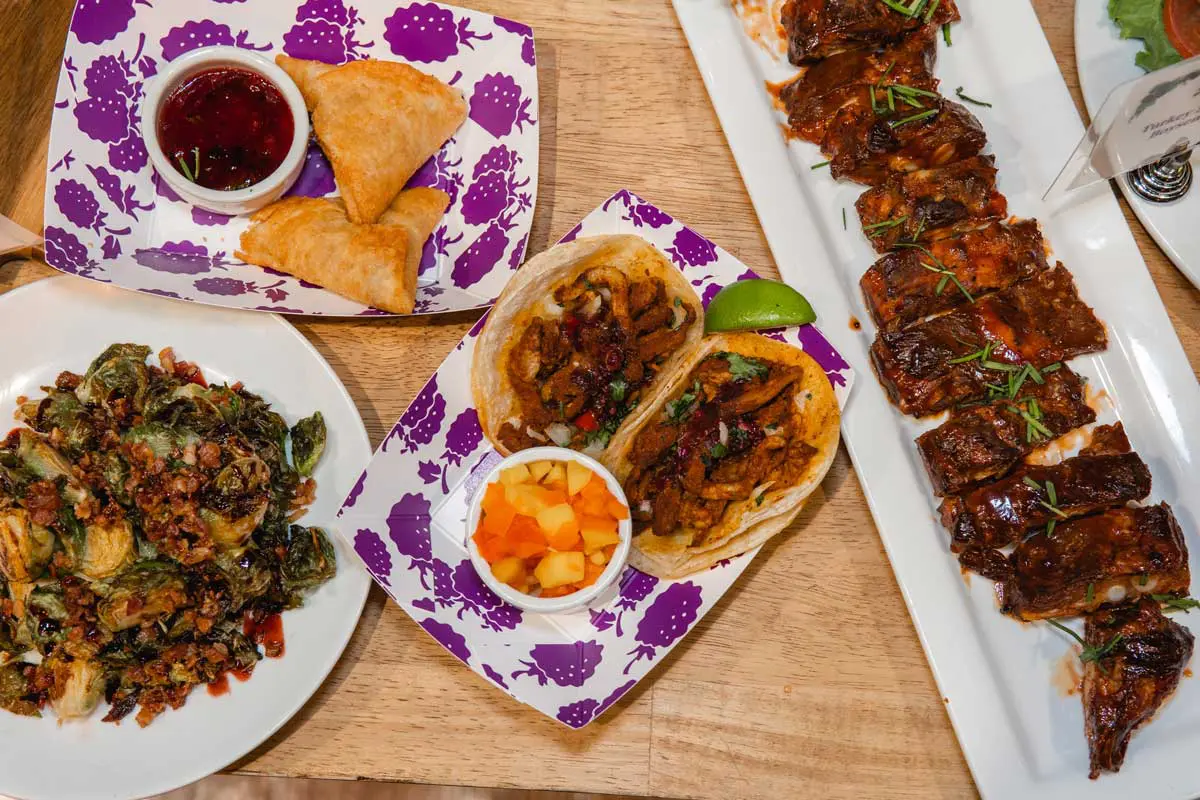 In addition to all the items available on the tasting ticket, there are also numerous other boysenberry items spread throughout the park. At the Spurs Chophouse, you can find the popular Boysenberry Cheesecake on a stick. Then at the Ghosttown Grill, you can find items like the new Boysenberry Philly Cheese Steak and enormous Boysenberry Cheese Burger Patsy which could easily feed a family of 6! At the Cable Car Kitchen, you can find a Funnel Cake topped with a stuffed donut with boysenberry icecream and boysenberry whipped cream. If you're looking for crazy instaworthy creations, the Knotts Boysenberry festival does not disappoint.
For more information visit Knotts Boysenberry Festival