Posts may contain affiliate links. Read our full disclosure policy here.
Cilantro Chimichurri sauce is an excellent variation of regular chimichurri for your South Western, Latin, and Mexican meals. This recipe is incredibly easy to make. With only a few simple ingredients, you'll have a restaurant-quality sauce in only 2 minutes!
Cilantro Chimichurri is a delicious variation of regular chimichurri for Latin, South Western, and Mexican cuisines. The best part is this classic sauce uses just a few simple ingredients and takes only 2 minutes to make!
I love to use this sauce on everything from a simple steak to fajitas, or as a dip for bread. One thing is for certain, this sauce is so delicious you will want to drink it! Also check out our Baked Lamb Chops with Mint Chimichurri, Homemade Pozole Verde, and Cheese Shell Taco Bowls!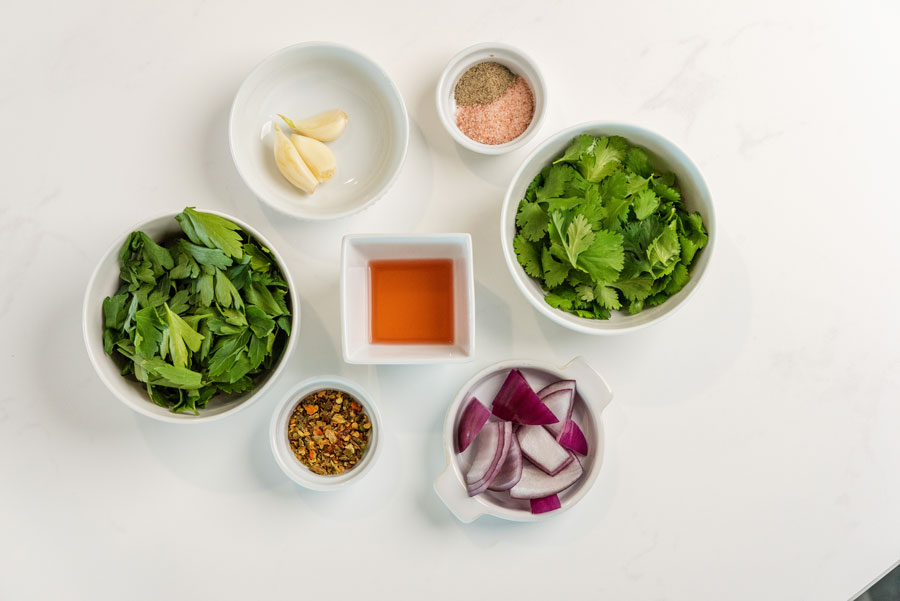 Special Ingredients
One of the key ingredients for making Cilantro Chimichurri is, of course, fresh cilantro. However, there are a few other ingredients that really make this sauce stand out. One of the signature ingredients of a good chimichurri sauce is red pepper flakes, but you can also use a small red chili or different types of red pepper flakes. For this sauce, I found a hatch chili with red pepper flakes from Trader Joes.
I also prefer to use red onion over shallots because the flavor of red onions has a little extra zip and spice to them.
What is Chimichurri Sauce made of?
Traditional chimichurri sauce is made of olive oil, parsley, red wine vinegar, garlic, red onions or shallots, red chili flakes, salt, and pepper. Other variations can be made by adding different herbs such as oregano, cilantro, and mint.
When it comes to the oil you use, make sure that it is a good quality extra version olive oil. Another alternative is avocado oil. I always keep avocado oil in my home because it is surprisingly great for sauteing. Avocado oil has a very high smoke point and will not burn under high heat the way olive oil will. It is especially great for searing meat under very high heat and frying.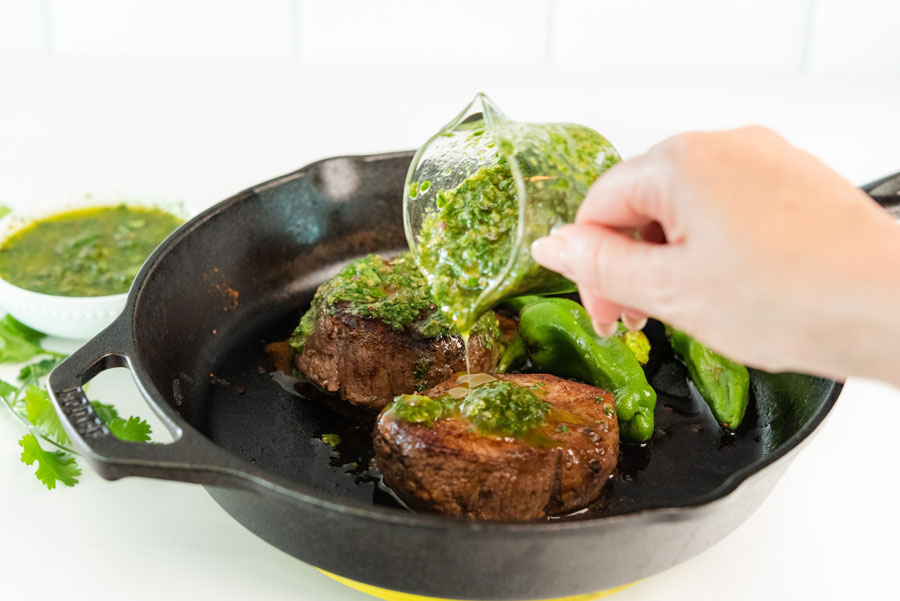 Ways to use Cilantro Chimichurri
This cilantro chimichurri has so many great uses. It is one of my favorite sauces to make at home because I absolutely love Mexican and South Western food! Below is a list of suggestions, but really the possibilities are endless.
topping for fresh fish like snapper, branzino, tilapia, sea bass, halibut, and salmon
topping for steaks, pork chops, chicken, pork tenderloin
as a garnish on pureed soups such as creamy tortilla, Mexican Carrot, Pumpkin, and Butternut Squash
Fajitas
drizzle onto corn on the cob
use as a topping on bowls
Arepas, Tacos, and Tamales
chilaquiles
as a dipping sauce for empanadas
use as a dip for fresh bread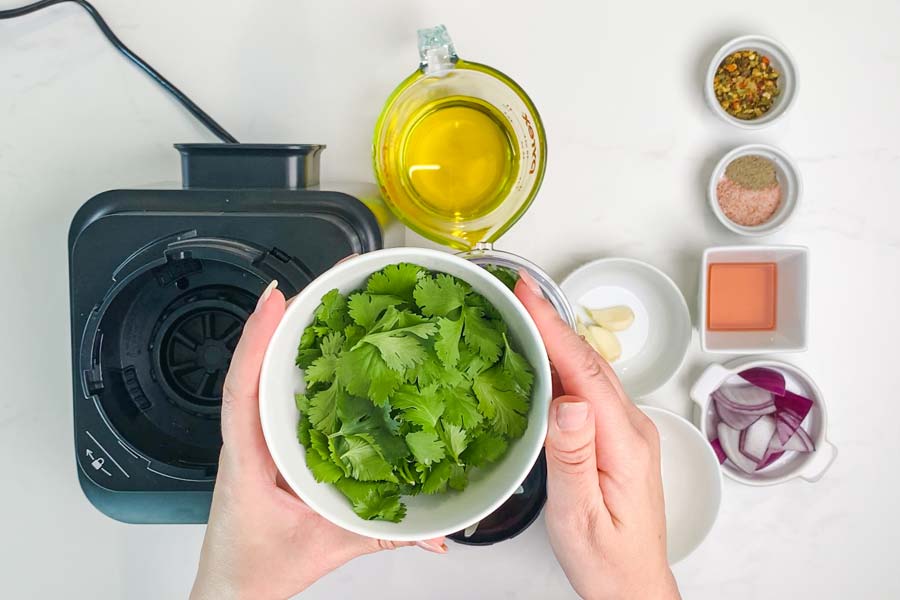 How to make Cilantro Chimichurri
Making this Cilantro Chimichurri is so easy and only takes 2 minutes, maybe even less! You can make this in a food processor or even a magic bullet. I love the Ninja Food Processor set because it comes with multiple attachments. For this recipe, I use one of the individual cup attachments instead of the large food processor attachment.
First, you want to prep your ingredients. I spray my herbs in a large Tupperware container which has an optional hole for draining at the bottom. I use a special fruit and vegetable spray I found which even helps them last longer in the fridge. We own 18 fruit trees, herbs, strawberries, and blueberries so this is something I never go without. Give your herbs a spray, add a little bit of water, slosh everything around, then pop the drain at the bottom and rinse.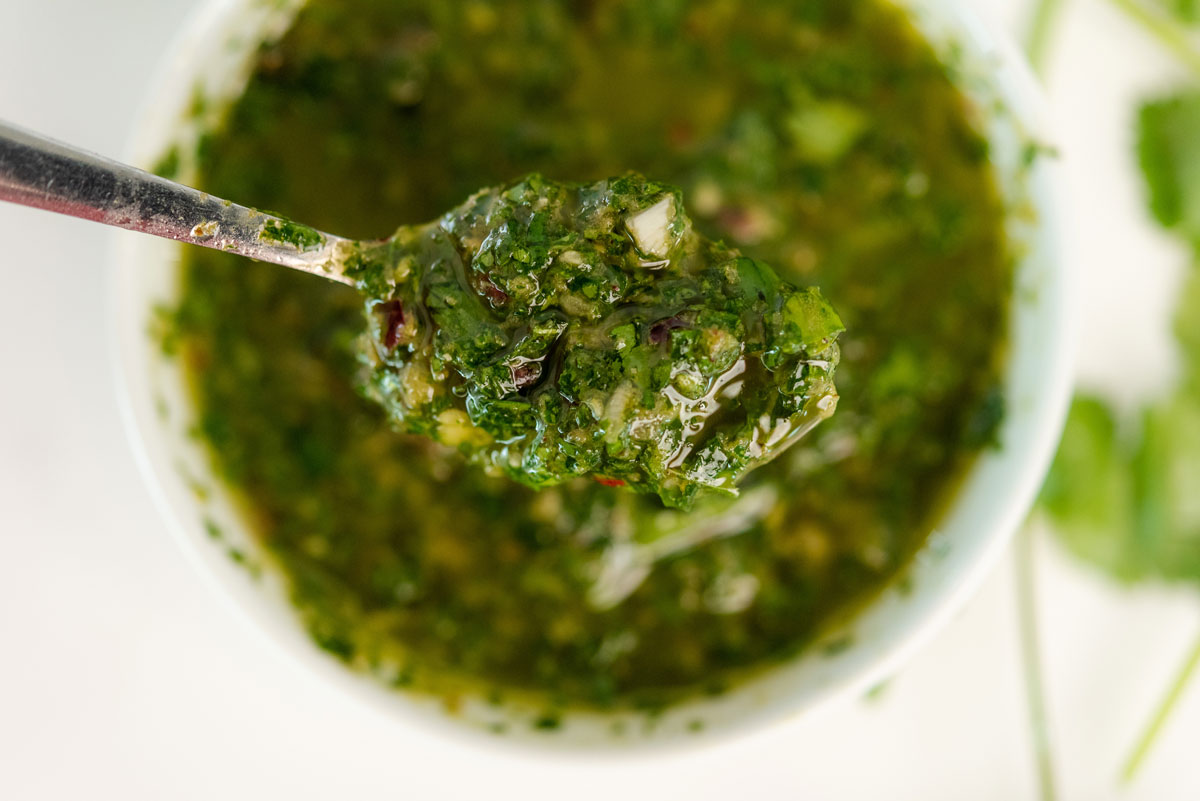 Whatever herbs I do not use, I put them back in the dried Tupperware container which is also designed to help produce last longer. I swear by these produce containers and have two sets. They keep the produce from sitting in moisture and allow for better circulation while controlling the humidity.
Then, peel 3 cloves of garlic, and a wedge of red onion about the size of a fourth cup. There is no need to chop or dice the red onion and it does not have to be an exact measurement.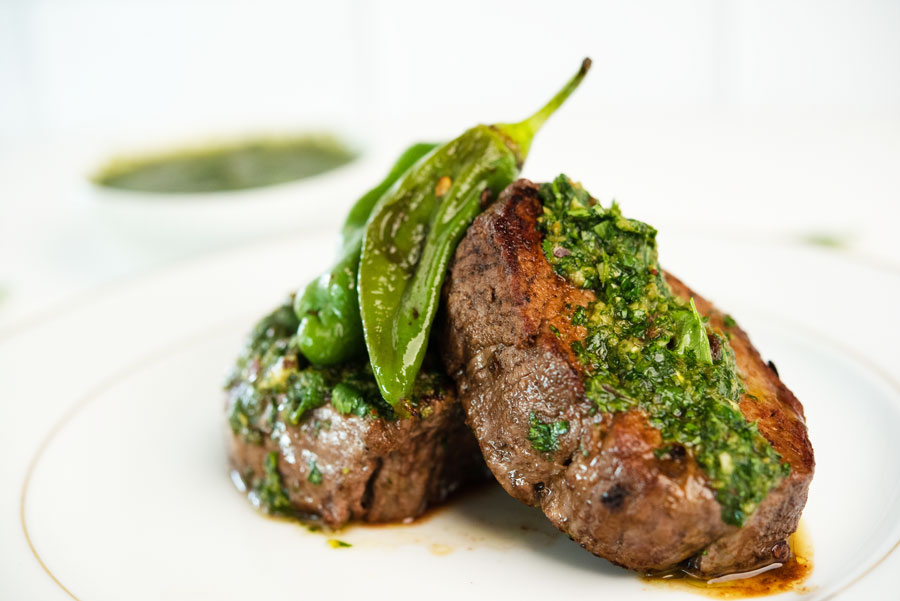 In your cup or food processor add the oil, cilantro, parsley, garlic, red onions, chili pepper flakes, red wine vinegar, salt, and pepper. Give everything a few quick pulses and you're done. You want to make sure not to over blend the ingredients or they will become a paste. A few quick pulses are all your need.
Enjoy More Delicious Recipes
Substitutions
One of the great things about Chimichurri sauce is that once you have the regular recipe down, you can change it up as we did for this Cilantro Chimichurri. Below are a few easy substitutions you can make.
Regular Chimichurri: substitute the cilantro for all parsley
Argentinean Chimichurri: 1 cup parsley with 1/8 cup fresh oregano
Our Mint Chimichurri recipe with lamb chops.
You can use red pepper flakes, small red chili, or mixed pepper flakes like our hatch chili
Olive Oil can be substituted for Avocado Oil or Flax Seed Oil
Storage
Chimichurri sauce will actually last in the refrigerator for 8 – 10 days which is a pretty long time. My favorite trick, however, is freezing the chimichurri in small freezer-friendly containers. Chimichurri will last 3-4 months in the freezer. To defrost, just take it out the day before you want to use it. If you have an herb garden, making chimichurri is a great way to preserve your extra herbs.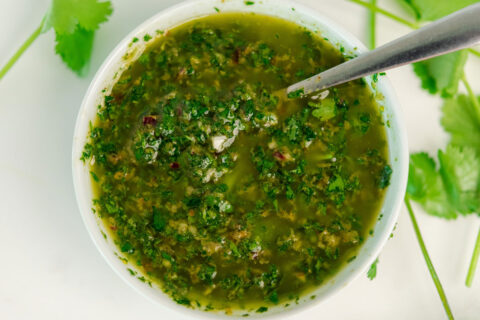 Easy 2-Minute Cilantro Chimichurri
Cilantro Chimichurri is a delicious variation of regular chimichurri for Latin, South Western, and Mexican cuisines. The best part is this classic sauce uses just a few simple ingredients and takes only 2 minutes to make!
Diets:

Gluten Free

,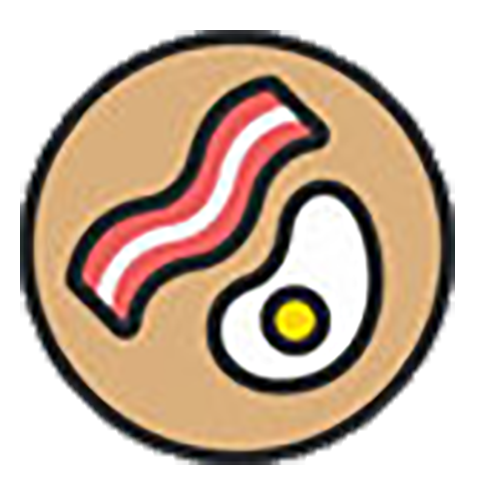 Keto

,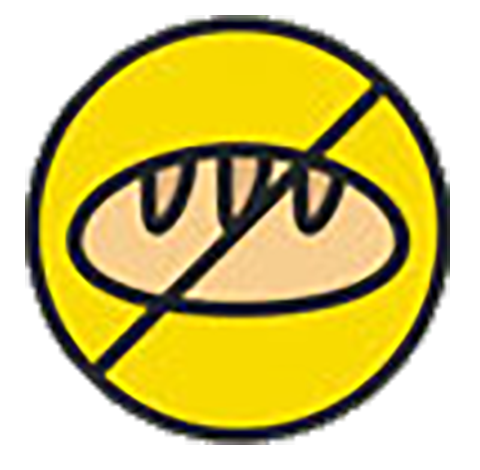 Low Carb

,

Vegan

,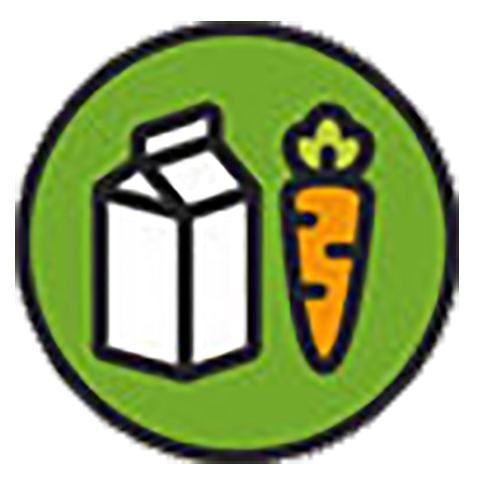 Vegetarian
Ingredients
½

cup

olive oil

or Avocado Oil

3

tbsp

red wine vinegar

½

cup

Italian Parsley

fresh

⅔

cups

Cilantro

fresh

¼

cup

red onion

3

cloves

garlic

2

tsp

red pepper flakes

or one small red chili

1

tsp

salt

sea salt

½

tsp

black pepper

ground or cracked
Instructions
In a food processor or magic bullet, add olive oil, red wine vinegar, garlic, red onion, red pepper flakes, salt, pepper, and cleaned cilantro and parsley.

pulse around 5 times until ingredients are chopped. Do not over blend or it will become a paste
Notes
You can use Olive Oil or Avocado Oil
A small red chili pepper can replace the red pepper flakes
do not over blend, use small pulses
Nutrition
Serving:
1
tbsp
|
Calories:
102
kcal
|
Carbohydrates:
1
g
|
Protein:
1
g
|
Fat:
11
g
|
Saturated Fat:
2
g
|
Polyunsaturated Fat:
1
g
|
Monounsaturated Fat:
8
g
|
Sodium:
242
mg
|
Potassium:
43
mg
|
Fiber:
1
g
|
Sugar:
1
g
|
Vitamin A:
444
IU
|
Vitamin C:
5
mg
|
Calcium:
10
mg
|
Iron:
1
mg
|
Net Carbohydrates:
1
g