Posts may contain affiliate links. Read our full disclosure policy here.
If you're searching for the best traditional French restaurant in Orange County, Bouillon in Newport Beach will deliver all of the classics. When I first learned Chef Laurant of Moulin was opening a new restaurant focused on classic French dinner fare, I knew his cuisine would exceed all my expectations.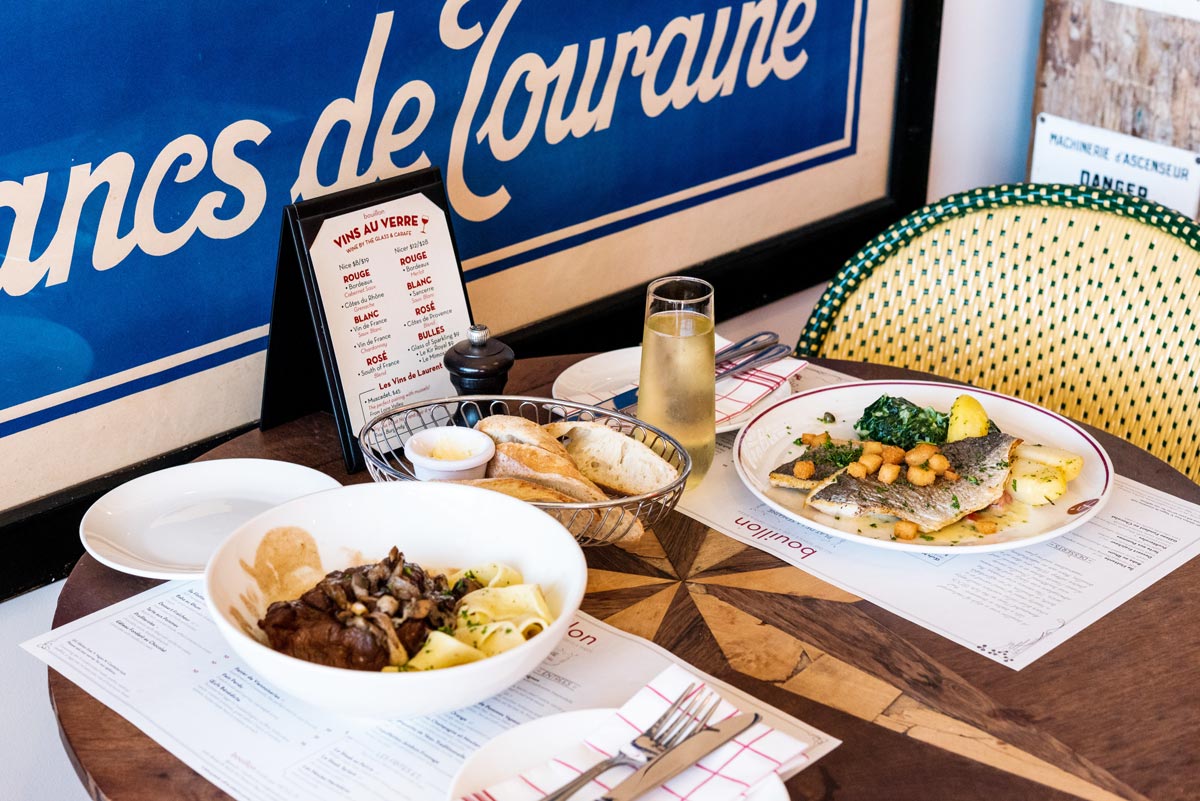 Bouillon is the newest addition to Moulin Bistro
I still remember my first visit to Moulin 5 years ago when there were only two locations. It was one of the first restaurants I covered when I moved to Orange County. Now it is no surprise that Moulin has 6 locations throughout Orange County. My first experience at Moulin was like a Parisian culinary adventure with a menu of traditional French breakfast and lunch options, amazing pastries, and even a French Market. It was only a matter of time before restaurateur Laurent Vrigand expanded his culinary offerings.
Bouillon offers delicious traditional french cuisine in a casual festive atmosphere.
A "Bouillon" was a type of restaurant in France that represented the working and offered delicious, yet affordable cuisine such as meat served in a broth also known as a bouillon. When you visit Bouillon in Newport Beach you can expect the same casual festive atmosphere with traditional hearty French dishes. Meals are delicious, reasonably priced, and perfectly prepared.
Classic French Onion Soup
The menu features all of the classic French cuisines you know, love, and crave. Their French Onion Soup is served in a warm crock with a rich flavorful broth, crust of bread, and golden gruyere cheese. Even on a warm summer day, it's hard to resist not ordering this classic soup, but I especially want to return on an overcast day. Nothing is more comforting than enjoying a warm crock of French Onion Soup with a glass of red wine on a chilly day.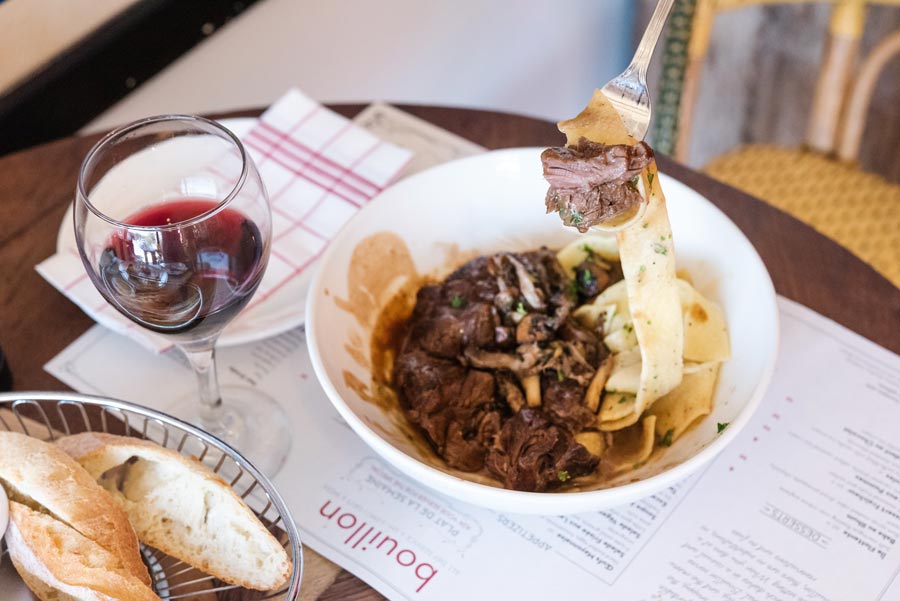 Hearty Boeuf Bourguinon with Pappardelle
The entrees at Bouillon are pleasantly predictable and exactly what I would hope to find at a traditional French restaurant. You won't find any fancy coursed-out meals or tiny portions that leave you still hungry. Instead, you'll be welcomed with hearty Boeuf Bourguinon featuring chunks of tender meat, flavorful broth, wild mushrooms, and filling pappardelle noodles.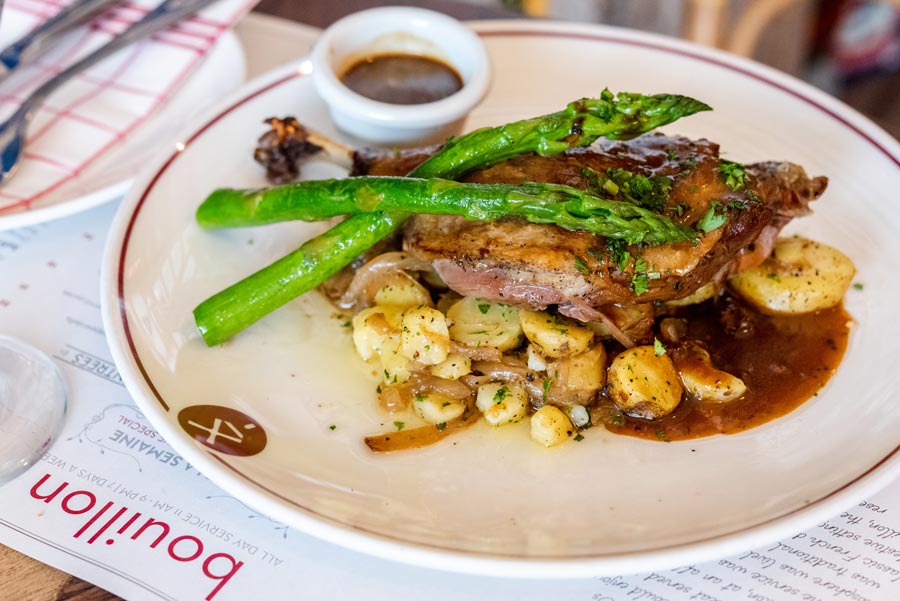 Succulent Canard á L' Orange (Duck Confit)
The Canard a´ L' Orange or Duck Confit appears to be a simple dish until you enjoy your first bite and realize its complexity of flavors. The duck is tender, flavorful, juicy, and perfectly seasoned. The orange sauce is subtle, not overtly sweet, and like a succulent gravy. The duck is so flavorful that all other components in the dish are mere accents, as they should be.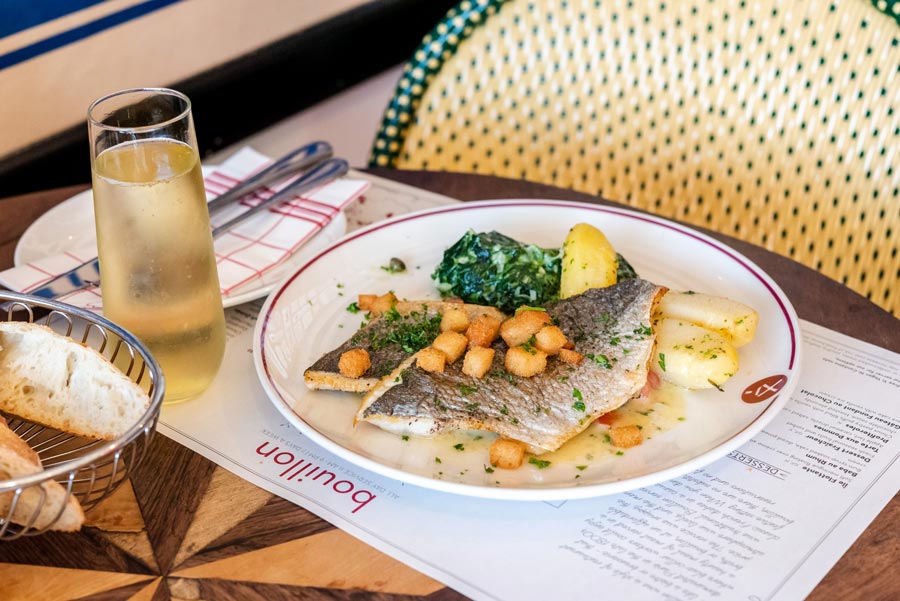 Filet de Daurade with Beurre Blanc
I debated my third entree for several minutes trying to decide between another classic French dish, the Coq au Vin, or going with my craving for the Filet de Daurade. Eventually, my craving for their pan-seared fresh sea bream filet won. The sea bream arrived resting in a light beurre blanc sauce, crispy skin side up, with capers and diced tomatoes.
For each bite, I searched the plate for a crispy buttery crouton to add to my fork and was even saddened when I realized I'd finally eaten them all. Though I'm not even a fan of spinach, Bouillon managed to decipher the perfect preparation that resulted in spinach with texture and flavor, unlike the slimy masses I was so used to consuming in other dishes. Even the simple boiled peeled potato was an enjoyable addition and confirmed I should always follow my cravings.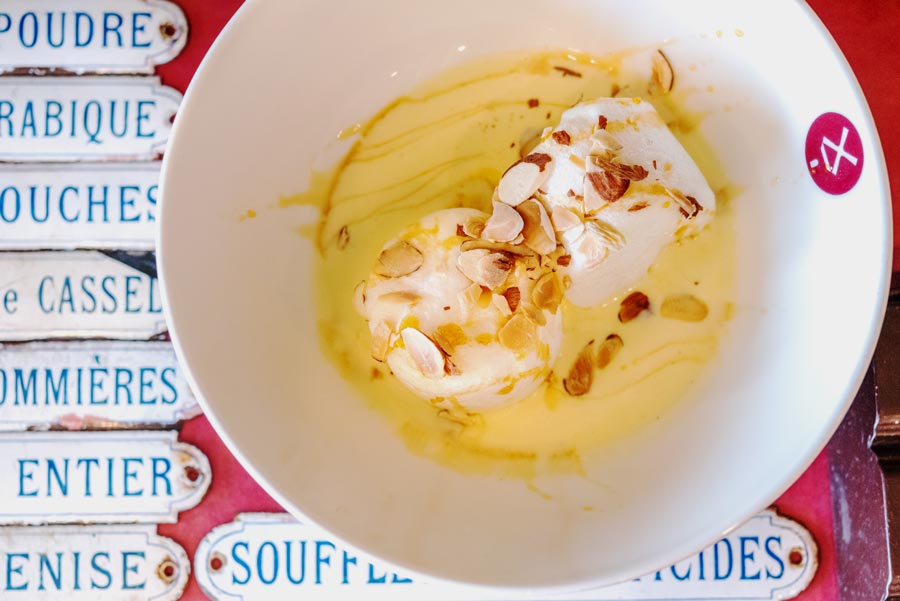 Ile Flottante ( The Floating Island Dessert)
As I gazed towards the dessert section, I instantly recognized the Ile Flottante, a rare treat that seems to escape almost all French menus. I remember years ago when I still lived in Los Angeles, my good friend told me this was his all-time favorite dessert. We searched the entire city and eventually ended up at a Russian Restaurant clear across town.
At the time, I could not understand why anyone would love this dessert. But for nostalgia's sake, I wanted to order it again. I soon discovered what all the fuss was about. The soft meringue is meant to be light and fluffy with a foamy texture like biting into a cloud. The dessert is simple, disappears way too quickly, and is too delicious to share. There is no French restaurant in Orange County that serves the Ile Flottante, except Bouillon!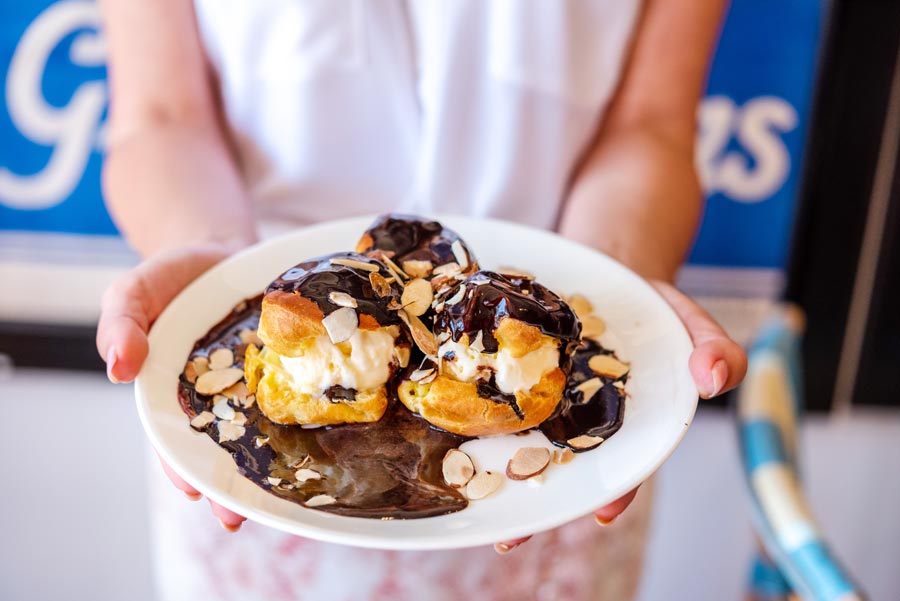 Classic French Profiteroles
One would absolutely expect the best French restaurant in Orange County to have Profiteroles on their dessert menu. I couldn't imagine coming to Bouillon and not ordering these delightful puff pastries drenched in chocolate and filled with vanilla ice cream. Profiteroles are the perfect decadent ending to any classic French meal.
Boullion is the best traditional French restaurant in Orange County
Bouillon is not only the best french restaurant in Orange County, but they also make our list as one of the best restaurants in all of Orange County. As I write this article, I am already planning my next visit. I recommend bringing a group so you can enjoy all of the amazing traditional French dishes this amazing restaurant has to offer.
1000 Bristol Street North, Suite 11
Newport Beach, CA 92660
Directions
Open Daily 11am – 9pm
No Reservations