Posts may contain affiliate links. Read our full disclosure policy here.
The new Billy's at the Beach happy hour just launched and immediately transported me back to my days living in Hawaii. Everything from the food to the decor and fabulous ocean views will make you feel like you're on a tropical vacation. I was thrilled when I saw they had released a new happy hour menu and couldn't wait to check out all their delicious island eats!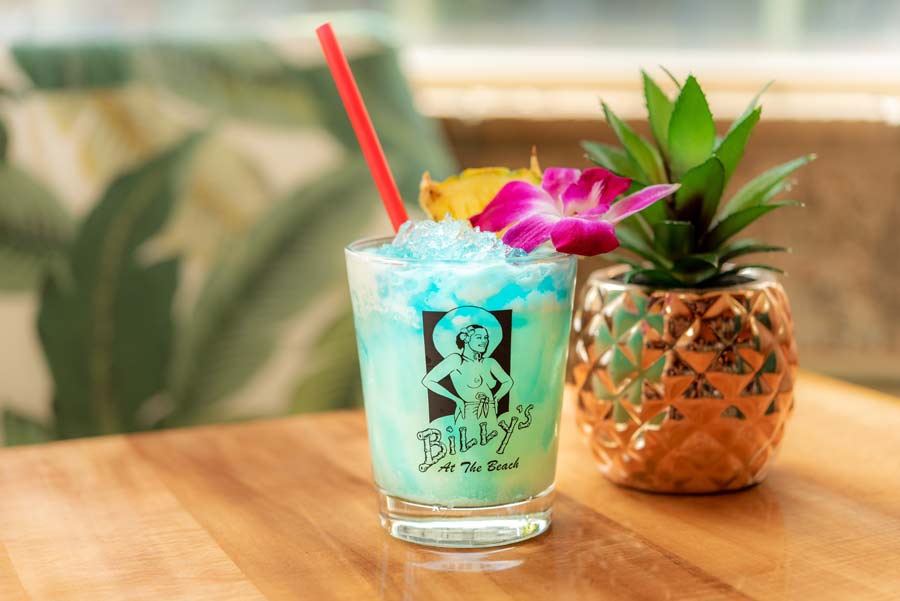 Billy's at the Beach Happy Hour is available from 3pm until 6pm every day of the week!
To start off our visit we had to order some fun tropical cocktails. We ordered both the Blue Hawaiian and Sunset Martini. There is also a Lemonade Luau, Sauvignon Blanc, and Cabernet all available for only $8. I first enjoyed the Blue Hawaiian which was made with vodka, Malibu rum, cream of coconut, pineapple, and lime. Then they top it with a beautiful Orchid and a slice of pineapple. This cocktail is like a Hawaiian vacation in a glass and the perfect way to get the evening started.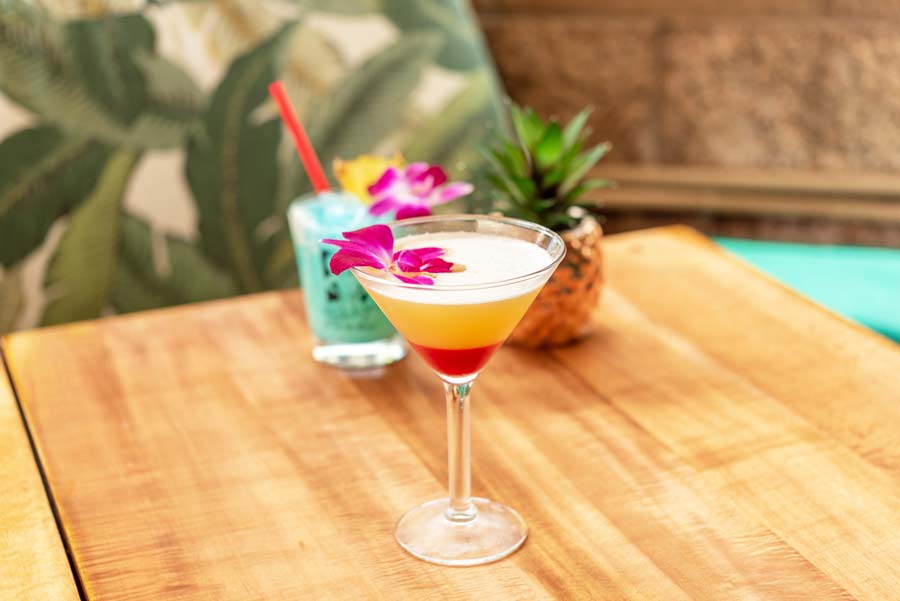 Happy Hour Cocktail Selections and Wine are offered for only $8
We also ordered the Sunset Martini which was so beautiful with its vibrant red and yellow layers. This martini was made with vodka, orange curacao, pineapple, orange juice, and a splash of grenadine for that fun layer. Both cocktails were fantastic and the perfect start to our delicious island adventure.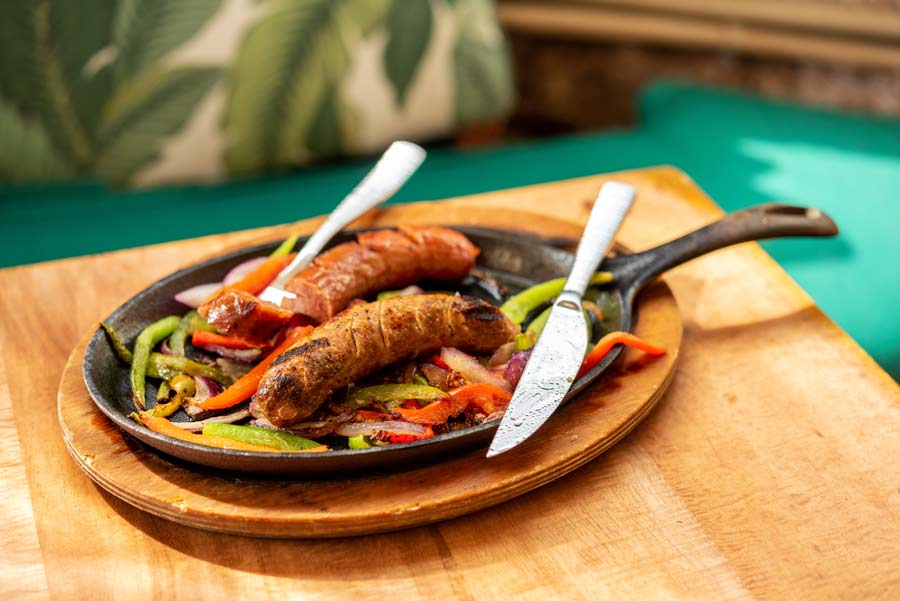 The Grilled Sausage Platter arrives on a sizzling cast iron pan over a bed of peppers and onions.
For appetizers, we immediately started with the Grilled Sausage Platter. How could we possibly resist a large cast-iron skillet loaded with two large sausages, onions, and peppers that arrives sizzling to perfection? As the server arrives, the aroma of fresh sausage, peppers, and onions immediately fills the air. The platter features both a chicken garlic sausage and tri-sausage. It is definitely a flavorful dish with more than enough to share.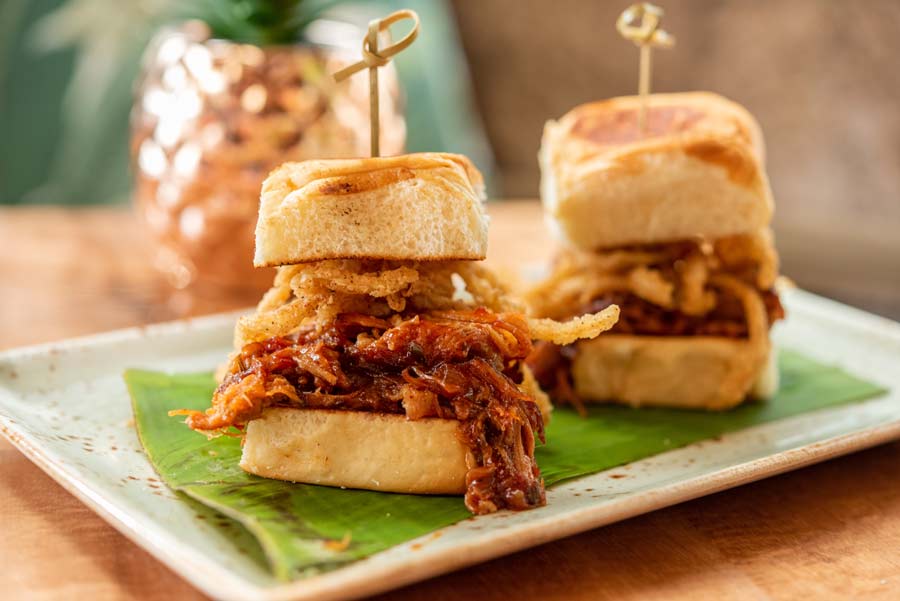 Kahlua Pulled Pork Sliders on a sweet Hawaiian roll with crispy onions
Next, we enjoyed a few of the Kahlua Pulled Pork Sliders. Billy's at The Beach stuffs a sweet Hawaiian roll with BBQ pulled pork and crispy onion rings. They even toast the Hawaiian rolls so that there is a nice crisp edge to the slider. My favorite part is always the crispy onions. I am a sucker for crispy onions on everything!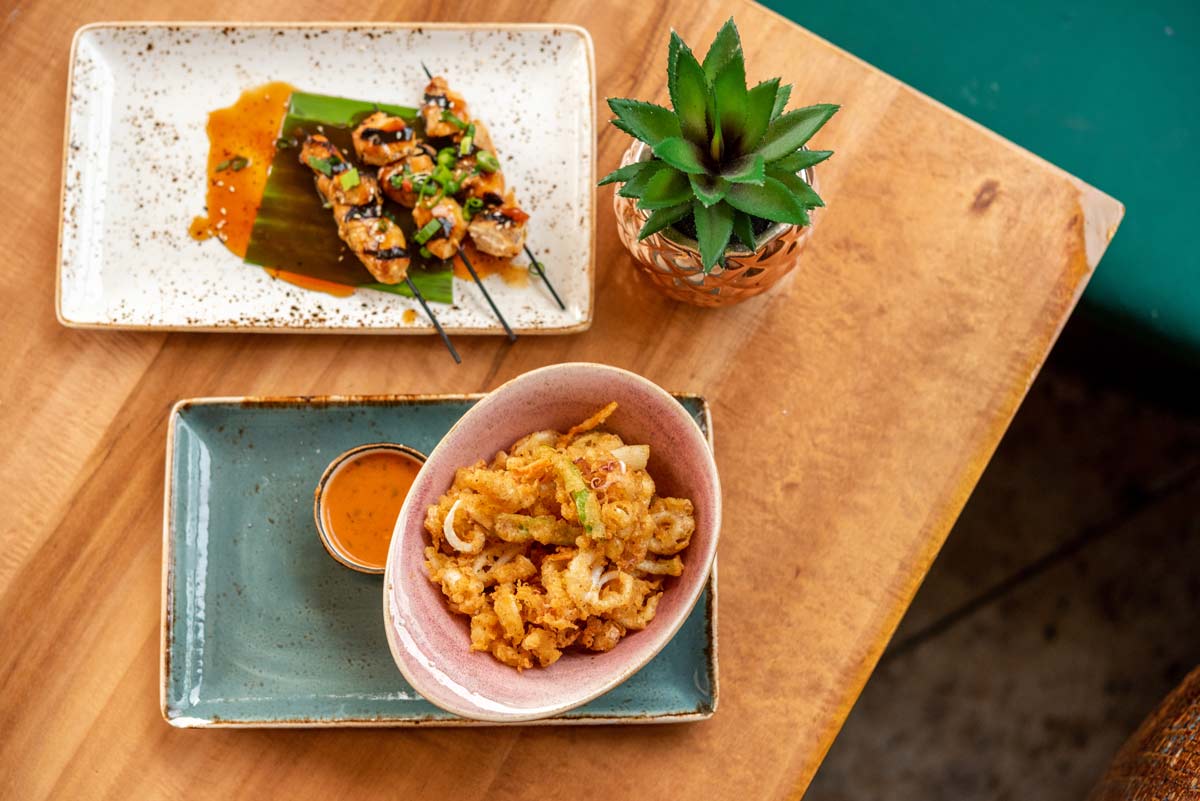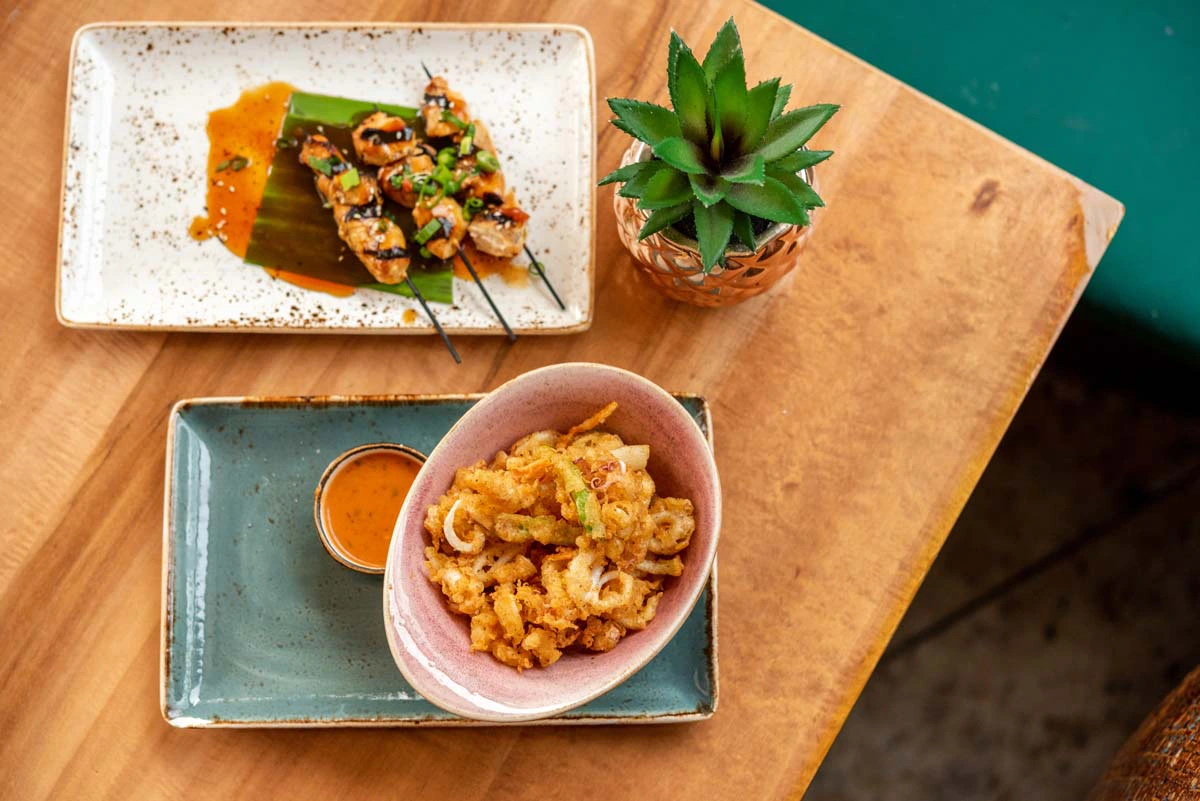 My favorite appetizer on the Billy's at the Beach Happy Hour menu is the Tempura Battered Calamari with Kimchi Sauce.
The Billy's at the Beach happy hour featured one of my favorite appetizers on their menu, the calamari with kimchi dipping sauce. Their calamari is always light, crispy, and perfectly seasoned. The real star, however, is the kimchi dipping sauce which is bold, tangy, with a slightly spicy kick. This appetizer is a must-order every time I visit.
Three Chicken Skewers marinated in teriyaki sauce with sesame seeds and green onions.
As if we weren't already stuffed, we also order the Chicken Skewers. These arrive as three skewers marinated in tangy teriyaki sauce, sprinkled with sesame seeds, and garnished with green onions. They were the perfect combination of savory and sweet.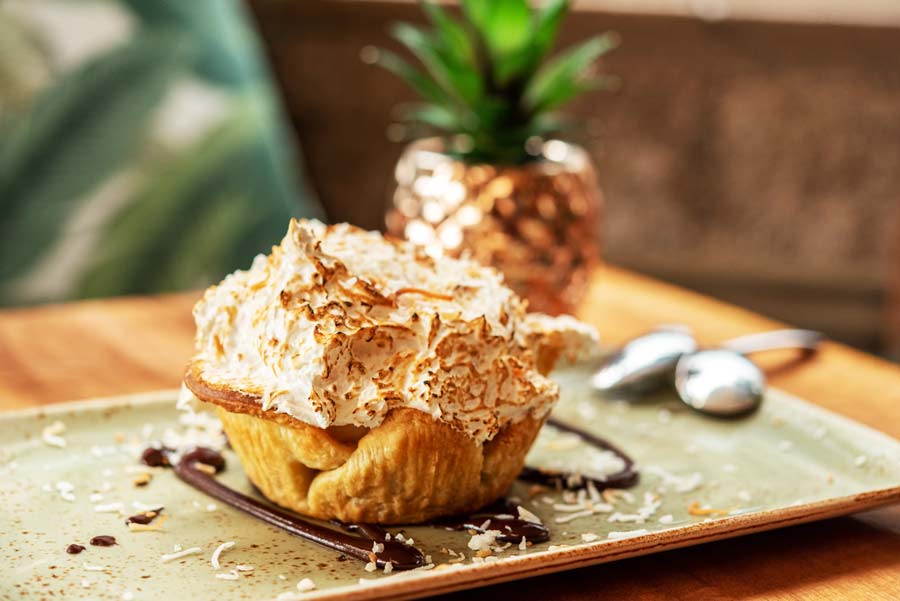 The "soon to be famous" Coconut Cream Pie is already famous in our book!
Finally, we ended our Billy's at the Beach happy hour with their "soon to be famous" Coconut Cream Pie. They certainly were not lying when they called this dessert famous, it was amazing! A visit to Billy's at the Beach will never be complete without a slice of this pie!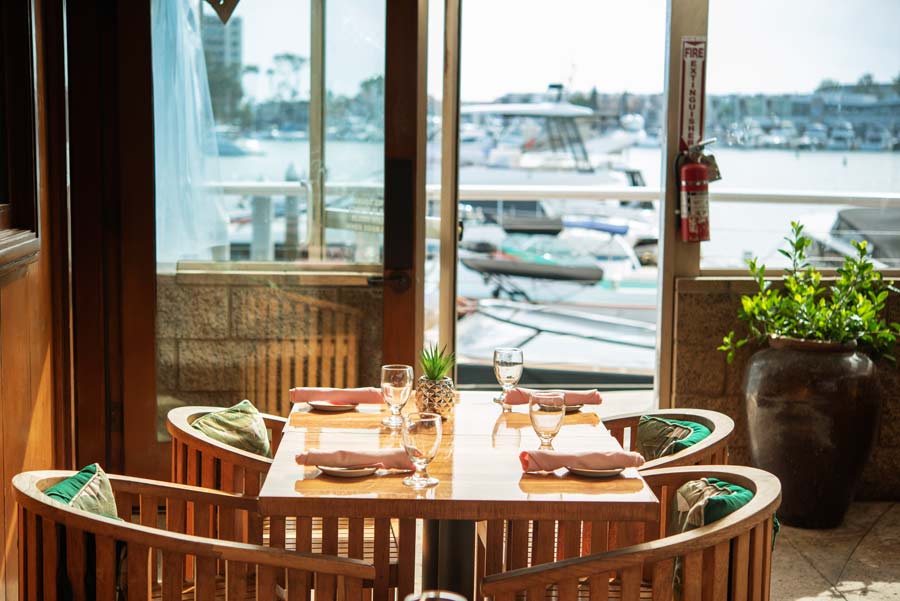 Billy's at the Beach happy hour is available every day of the week from 3pm-6pm.
2751 West Coast Highway, Newport Beach CA 92663
Enjoy Our Other Favorite Newport Beach Restaurants