The Hideaway in Long Beach is a casual yet classic restaurant. Their high-quality cuisine is comparable to even the classiest of steakhouses! During our day out in Long Beach, we decided to grab a nice brunch here before heading off to the Long Beach Aquarium. Although The Hideaway is normally a steakhouse, but we were pleasantly impressed by all of the flavorful brunch dishes! The ambiance takes after their dinner service with dim lighting, in a quiet setting that focuses on the food with a mellow relaxing atmosphere.
This modern chophouse was once nothing more than a vision to restaurateurs Geoff and Karna Rau. In collaboration with Chef Ryan Morrison, they opened The Hideaway in December of 2019. The owner's vision for Hideaway is a combination of classic Hollywood glam meets the California desert.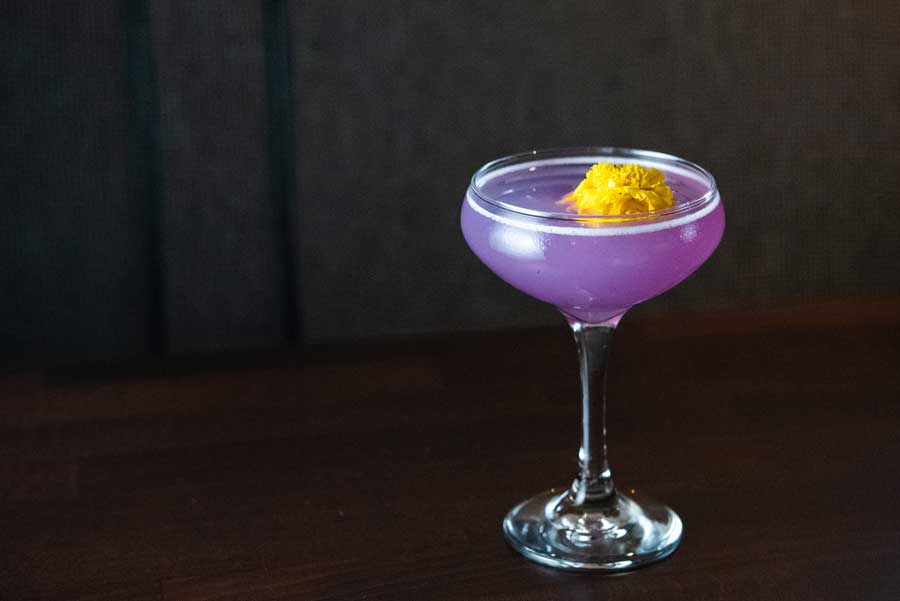 You can't have brunch without enjoying some cocktails!
We began our dining experience with some of their fabulous signature cocktails. First, I enjoyed the Beverly 13. This contains vodka, empress 1908 gin, lemon, elderflower, and bubbles. It's even garnished with a decorative flower!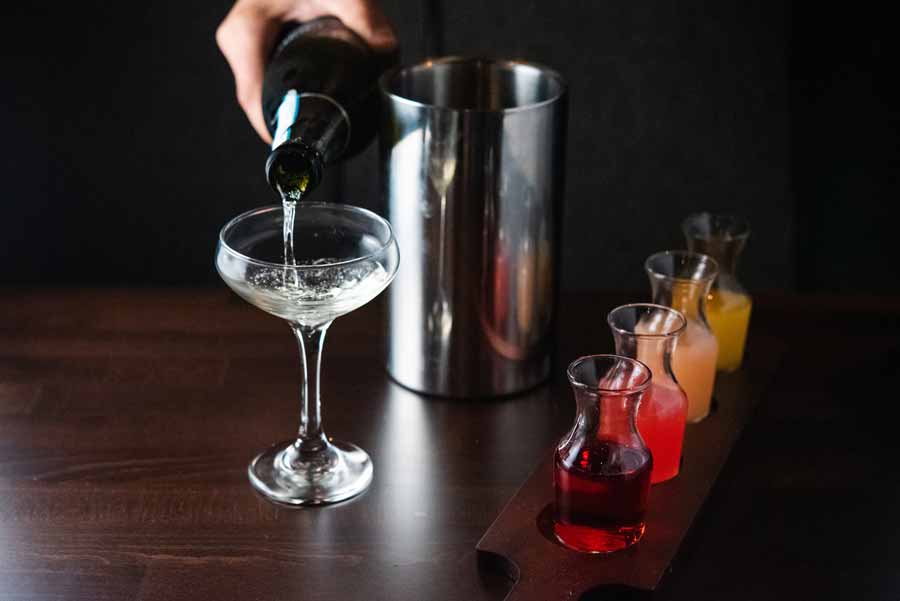 Next, we ordered the mimosa flight, which came with watermelon, peach, cranberry, and mango juice. These delicious drinks were a light and refreshing version of your typical mimosa! The Hideaway has so many cocktail options. From their brews, wines, champagnes, and extensive back bar, there is certainly a drink for everyone.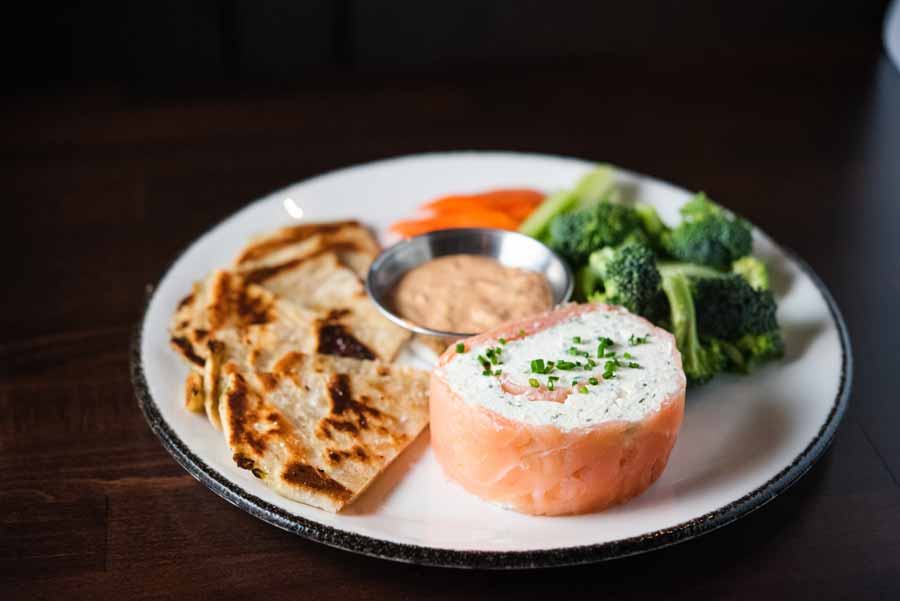 The Hideaway in Long Beach offers a light yet filling smoked salmon and crab roulade.
The Hideaway's smoked salmon and crab roulade is light and delicious, making it the perfect seafood option for brunch. We thought it was reminiscent of salmon canapés. So for those of you who enjoy a good canapé, you might like this! It comes with cream cheese, chives, and crudité. We especially enjoyed the scallion pancakes that also came with this appetizing dish.
Try their delicious signature Hideaway Benedict packed with short rib.
The Hideaway Benedict was definitely our favorite dish from our visit. This tasty breakfast contains a potato pancake, braised short rib, eggs, chipotle hollandaise, roasted tomatoes, and a greens salad. We especially loved the use of trading a traditional English muffin for a potato pancake instead. Guests may also enjoy their other benedict options, like the traditional or wild mushroom benedict.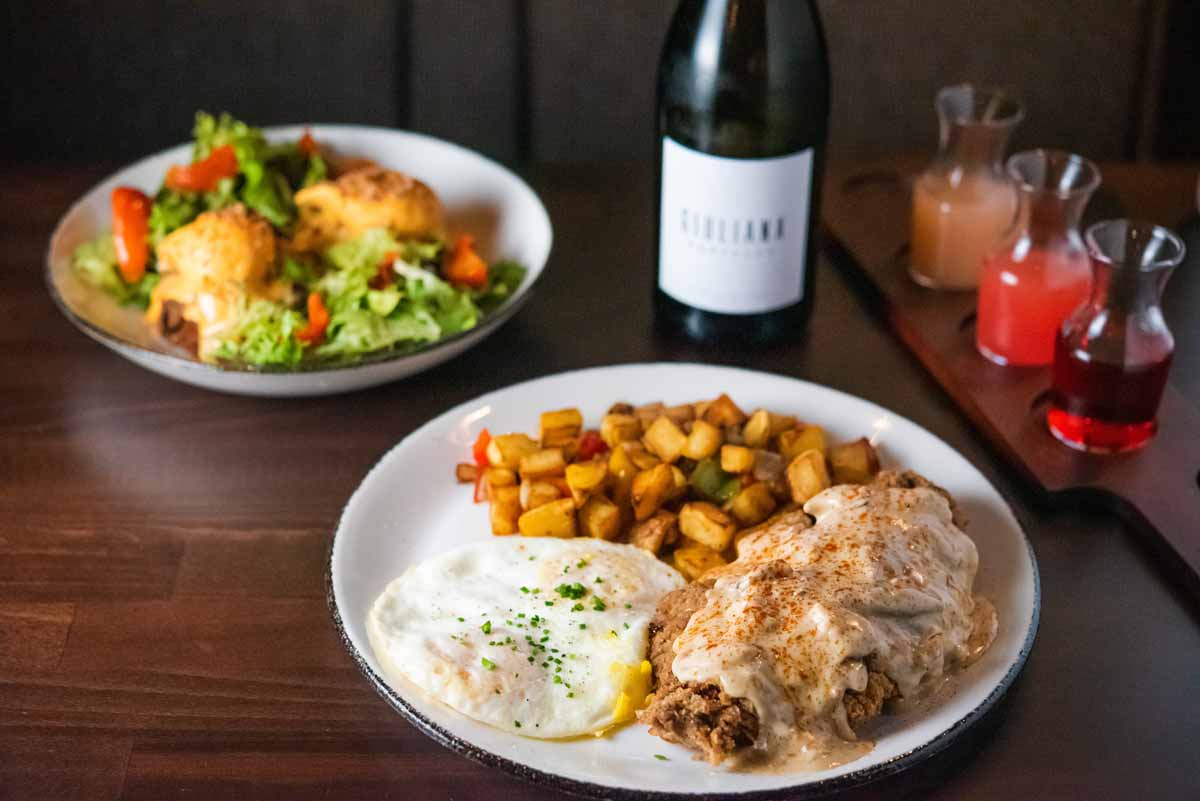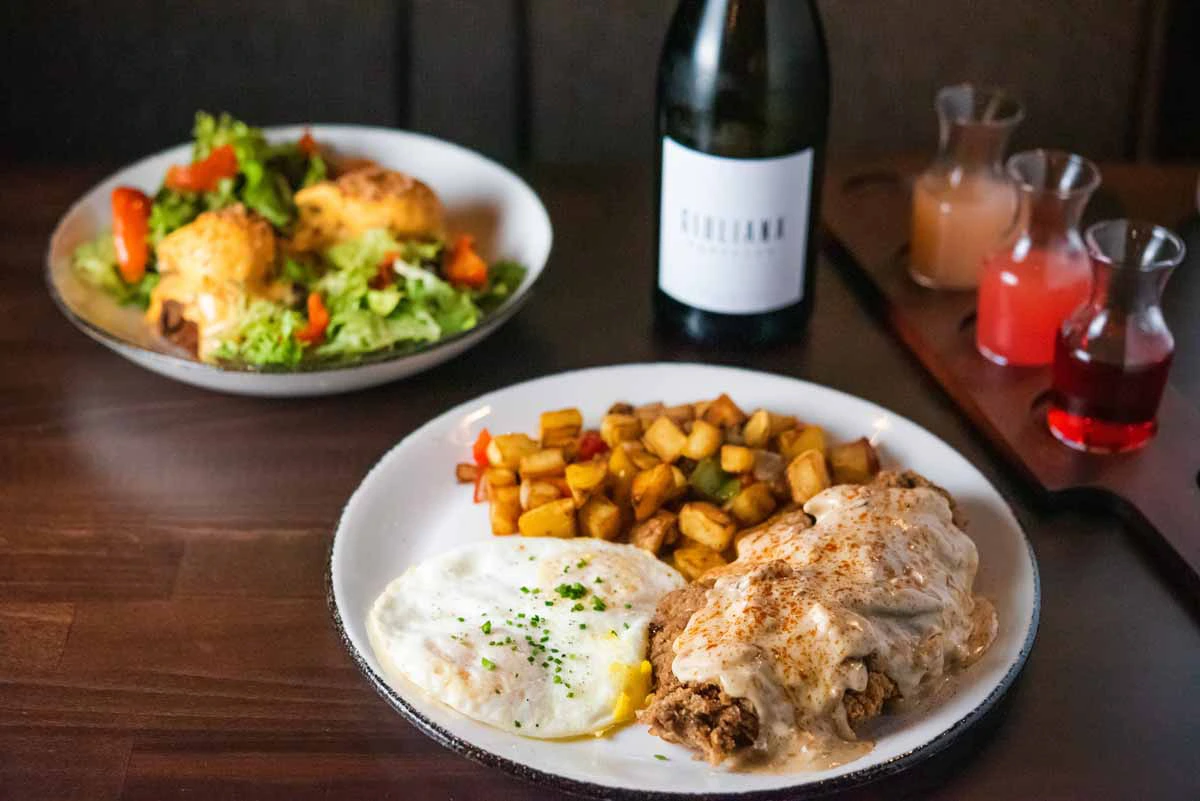 The chicken fried flat iron steak is famously known as a guest favorite.
During brunch, we chatted with the bartender, who told us that the chicken fried flat iron steak is known as a guest favorite. It comes with two eggs, home fries, and mushroom gravy. The chef let us know that The Hideaway is actually known for their decadent mushroom gravy, which our chicken fried steak was smothered in. This dish is delicious and reminiscent of filling homestyle cooking. We enjoyed every bite!
The Hideaway in Long Beach offers signature steakhouse dishes along with creative twists on familiar items. This is definitely the place where you can try something new while also enjoying one of your classic favorites. Check out The Hideaway for its warm and inviting atmosphere, fresh and locally sourced ingredients, and delicious dining!
4137 E Anaheim St., Long Beach, CA 90804
(562) 343-5630
Hungry for more? Check out these other delicious restaurants in Orange County!