Located high in the mountains above Calistoga, California, Sterling Vineyards overlooks the scenic views of Napa Valley. The winemaking team at Sterling Vineyards craft their wine with the hopes of expressing true varietal character. Striving to accentuate the aroma of each individual wine, the team uses only freshly Napa-grown grapes and gentle techniques to create exceptional quality.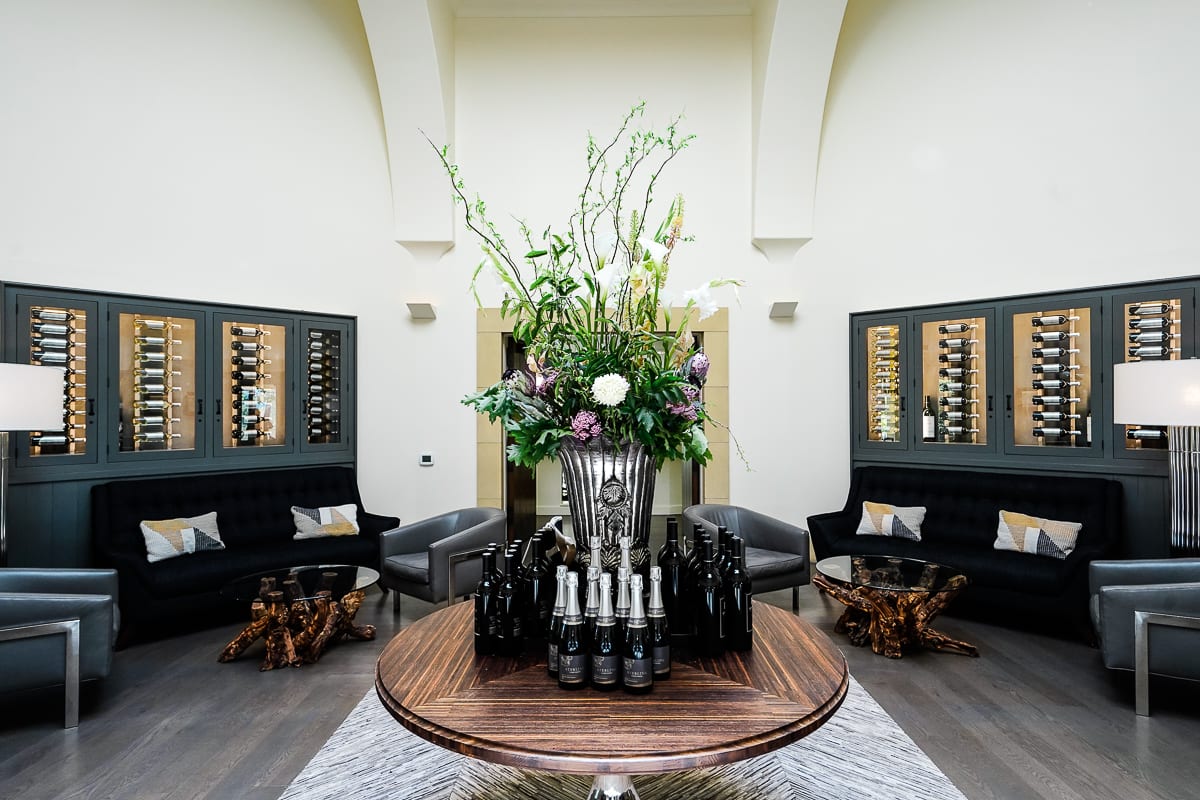 Peter Newman founded Sterling Vineyards in 1964. Since then, it has become a prominent fixture in the Napa Valley community. By means of white stucco, the design of the vineyard features nods to Mykonos from where Newman originated. Sterling Vineyards has three indoor rooms available for guests. These include the Platinum Reserve, Silver Experience, and Club Room. All of the rooms feature a collection of floral arrangements and open floor plans. Incorporated throughout the property are wood accents adding to the rustic ambiance. Polished wood tables and wine barrels act as ideal minimalistic decor.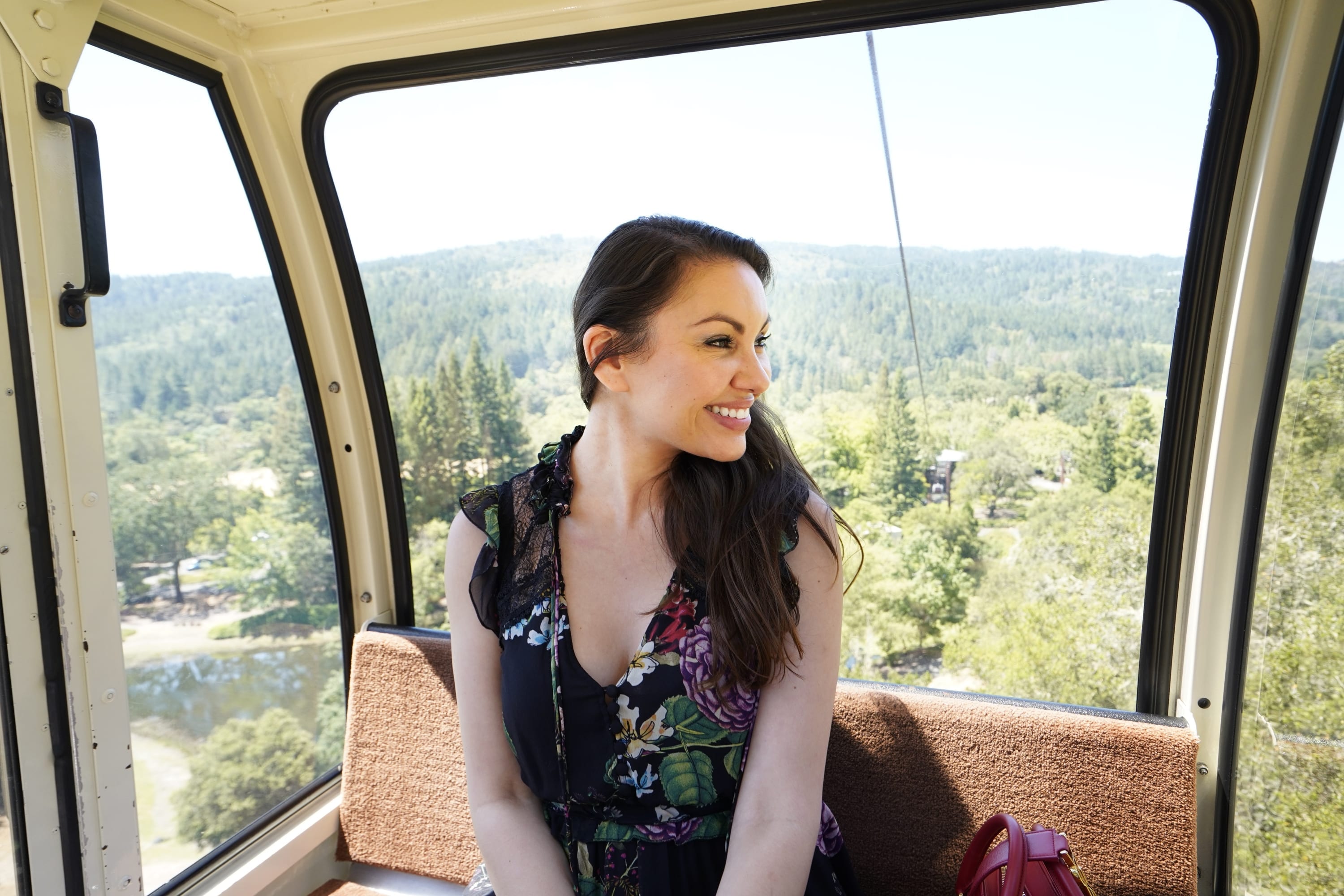 In order to make our way to the wine tasting, we took a sky gondola ride 300 feet into the mountains.
This is the only vineyard in the Napa area that offers such a one-of-a-kind experience. During our ride we were able to take in the breathtaking views of the surrounding trees and valley. Upon stepping off the sky gondola, we were treated to a panoramic view of the valley from the vineyard's patio.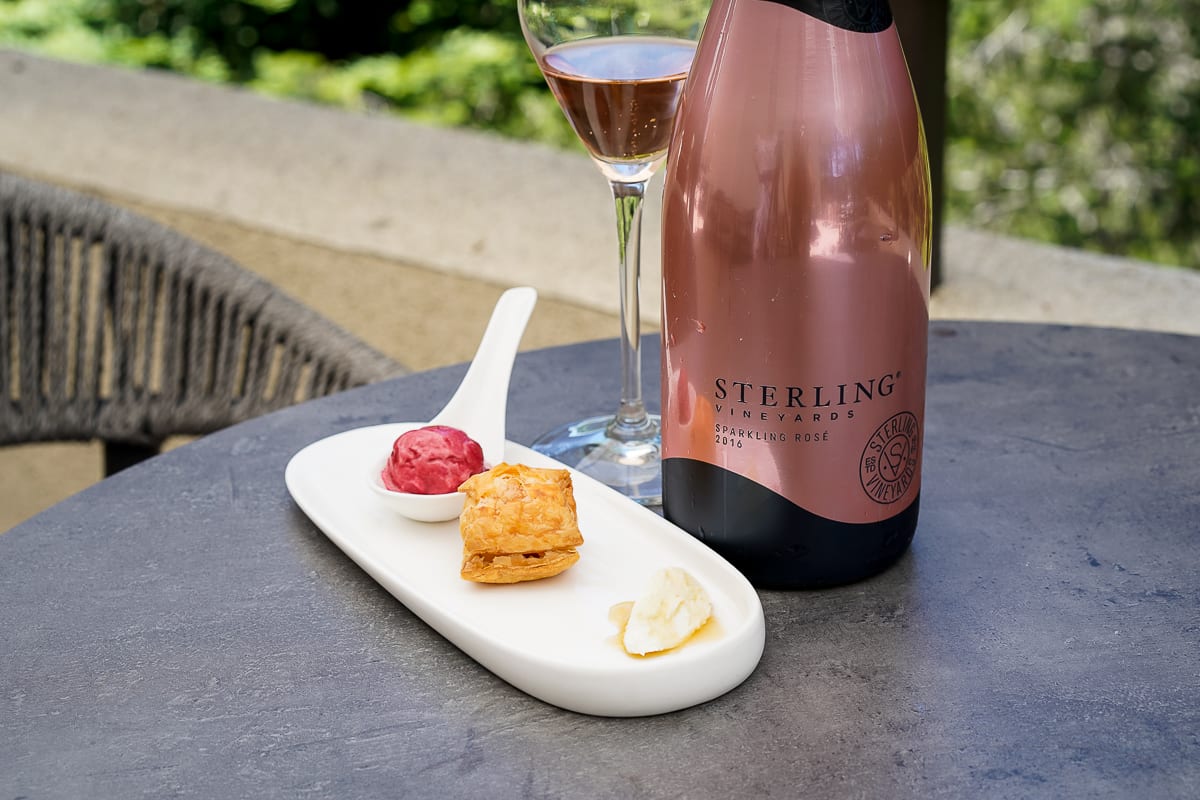 Once we took in the breathtaking views, we began our wine tasting event. We were able to participate in two of Sterling Vineyards' offered wine experiences. Following recommendations from the culinary team, we decided to start with the Bubbles Experience. This tasting allowed us to sample four Sterling sparkling wines along with an assortment of amuse-bouches crafted by the Culinary Team.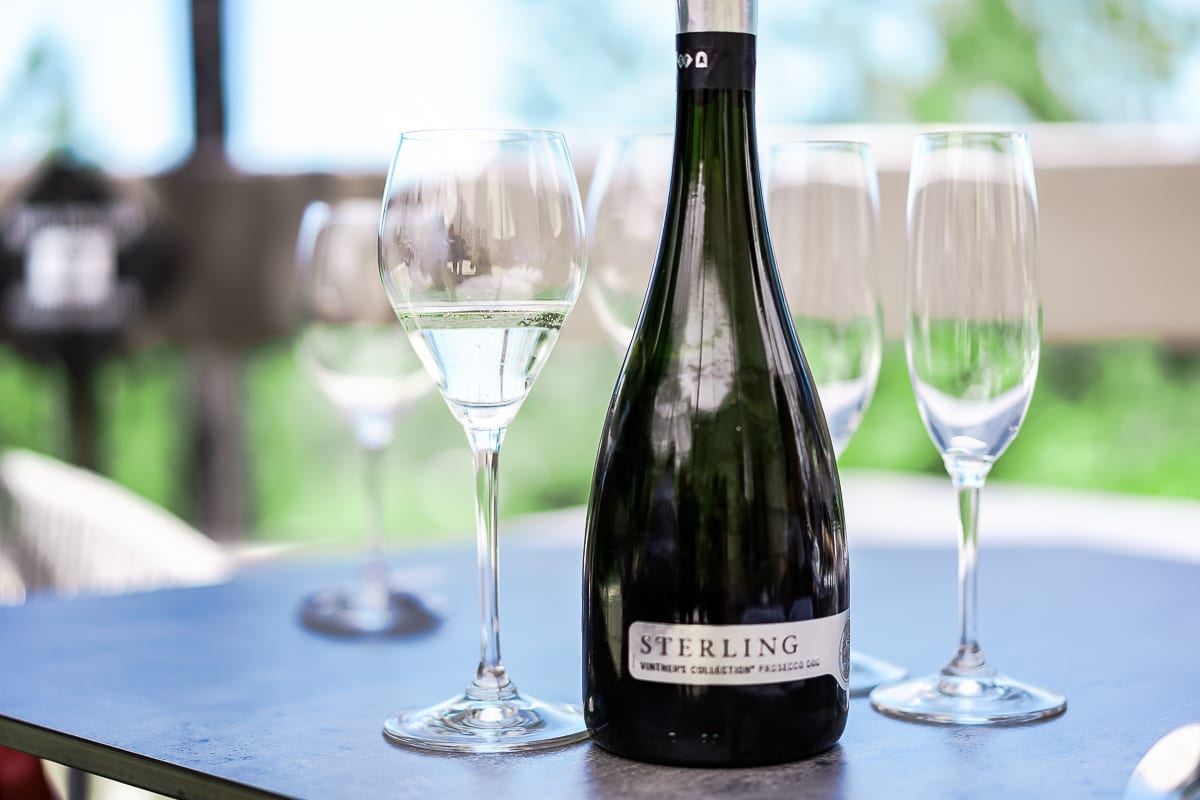 We began the Bubbles experience by toasting to the Sterling Prosecco DOC.
It offered aromas of white peach, honeydew, and juicy pear. The crisp flavors were perfect for ringing in the approaching summer season. We followed the Prosecco with a 2016 Sparkling Rose paired with a sweet raspberry sorbet. This Rose was accompanied by hints of strawberry, cherry blossom, rose petal, and apple. Our second to last wine was a 2016 Blanc de Blanc which paired nicely with a delicate puff pastry. It housed aromas of green apple, lemon citrus, pear, and lemon cream. The final wine of the Bubbles Experience was a 2012 Vintage Brut served with soft creamy goat cheese and honey. The Brut stood out due to its enchanting smell of orange peel mixed with bright lemon zest. The bubbles experience was the perfect beginning to our Napa Valley girls trip!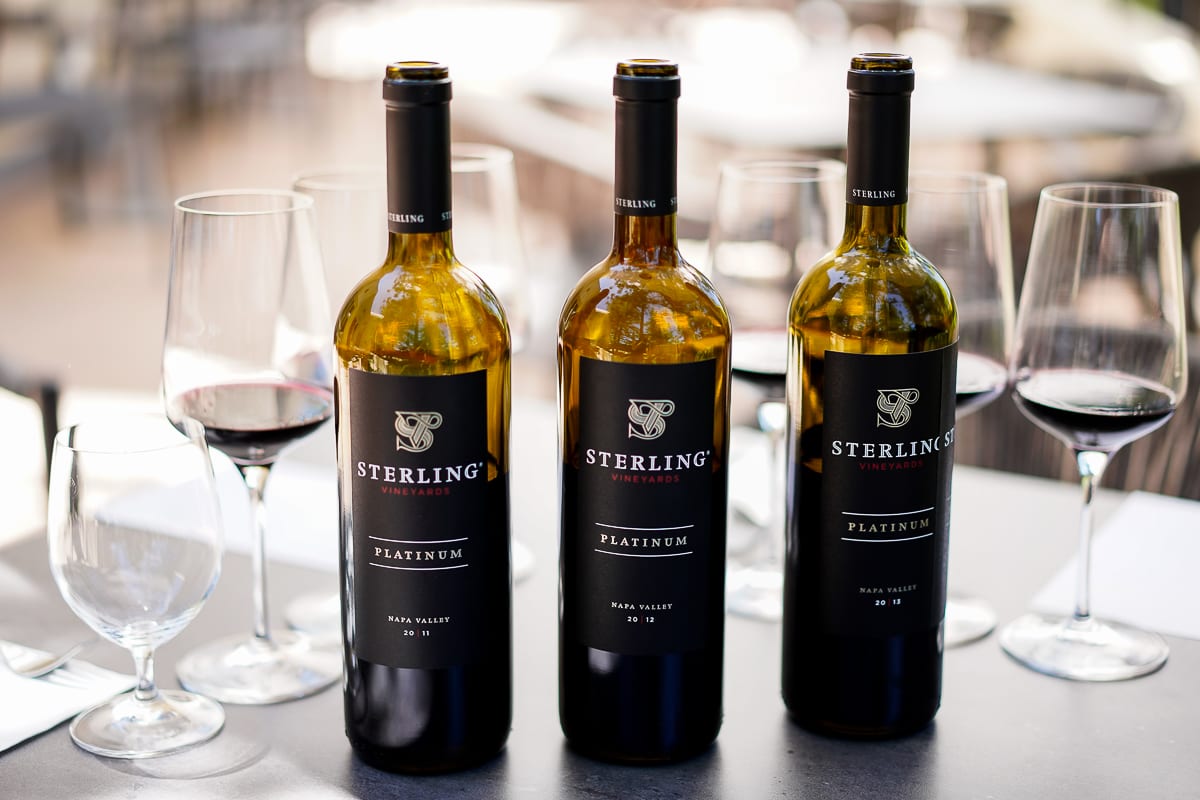 In addition to the Bubbles Experience, we were treated to the Platinum Red Experience.
The Platinum Red Experience offered exquisite wines paired with deliciously savory food pairings. We were provided three red wines, including a 2011 Sterling Vineyards Platinum, 2012 Sterling Vineyards Platinum, and 2013 Sterling Vineyards Platinum. To begin we enjoyed the 2011 Platinum paired with a coriander and cardamom roasted winter squash with duck confit. This perfectly paired wine had an invigorating floral aroma, tart undertones, and savory finish.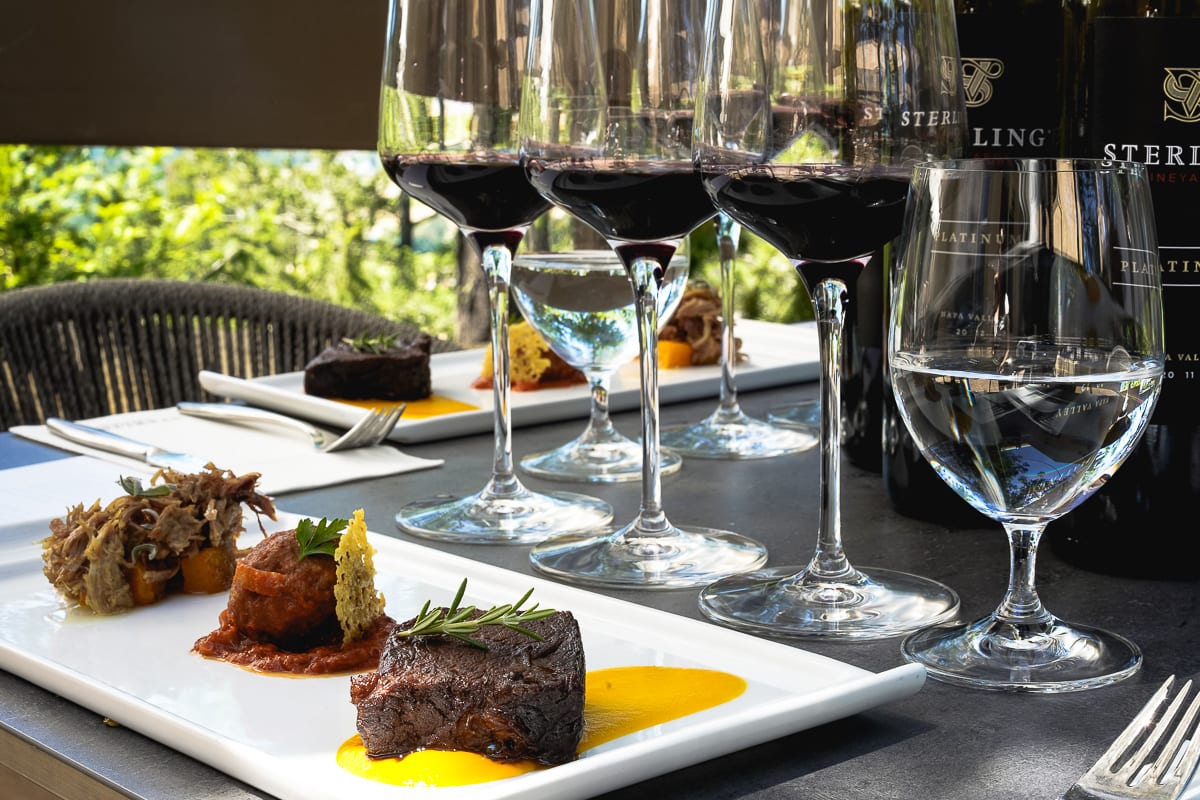 Meanwhile, the second wine offered more balance in flavors and acidity. The 2012 Platinum was paired with a lamb meatball, leek, fennel tomato sauce, cheese crisp, and parsley. The pairing accentuated the wine's captivating notes of blackberry and cassis. Our final wine was the robust and tannic 2013 Platinum. During this year California was in the midst of a drought which led to the production of smaller, yet sweeter grapes. This bodes well for wine quality and the taste is evident. This was by far my favorite wine of the day and even of the entire trip. The vibrant flavors of black cherry and blueberry paired marvelously with a braised beef short rib over carrot thyme puree.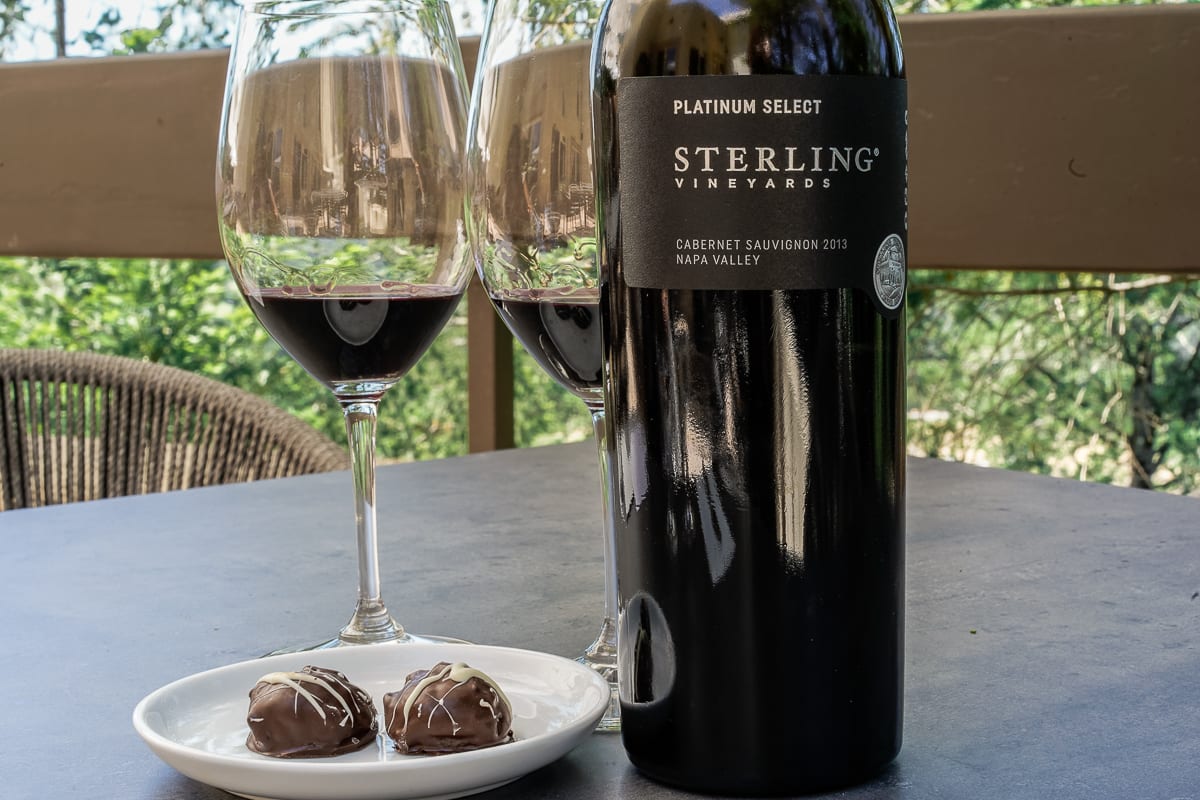 As the two experiences came to an end, we were then treated to house-made truffles and their platinum select 2013Cabernet Sauvignon.
Sterling Vineyards makes all their truffles in-house to pair perfectly with their wines. Sterling does not add any refined sugars to their truffles and also adds a hint of sea salt which helps bring out the flavors of their delicious red wines.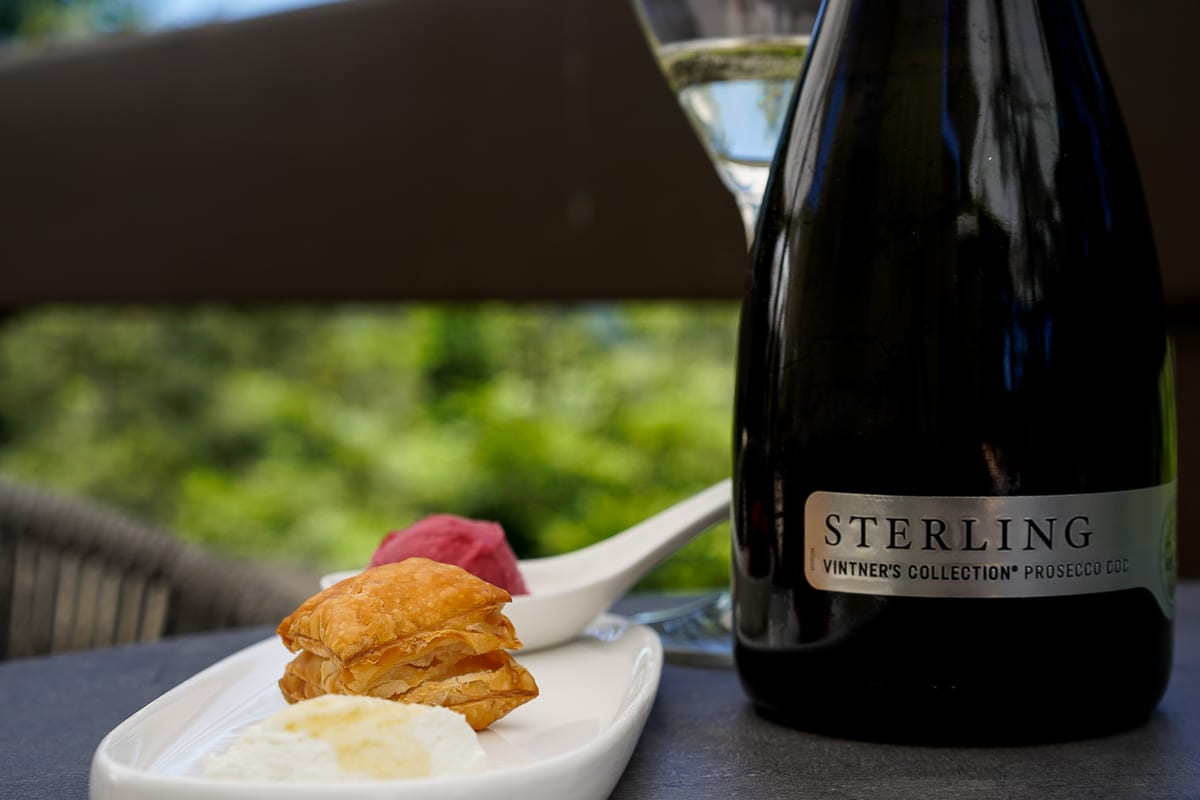 If you're traveling to Napa, it's no doubt you will want to utilize your time wisely by visiting the best wineries in the region. Sterling Winery is one of our top picks with their unique sky gondola, gorgeous views, delicious food pairings, and outstanding wines. You won't leave disappointed.
Sterling Vineyards
1111 Dunaweal Lane
Calistoga, CA 94515
The Platinum Experience is $75 and available Thursday through Sunday.
The Bubbles Experience is $55 and available Thursday through Sunday at 10 A.M. and 11 A.M.
To make reservations for either of these two experiences or to visit the Sterling Vineyards visit https://www.sterlingvineyards.com/ or call (800) 726-6136. The winery is open daily 10 A.M. – 5 P.M.