I'm beyond excited that Fig and Olives Menu has been updated with all new delicious offerings. During covid, Fig and Olive featured a reduced menu and many of our favorite selections were no longer available. My taste buds are very happy to report that we have your first look at some of the amazing new selections on Fig and Olives menu.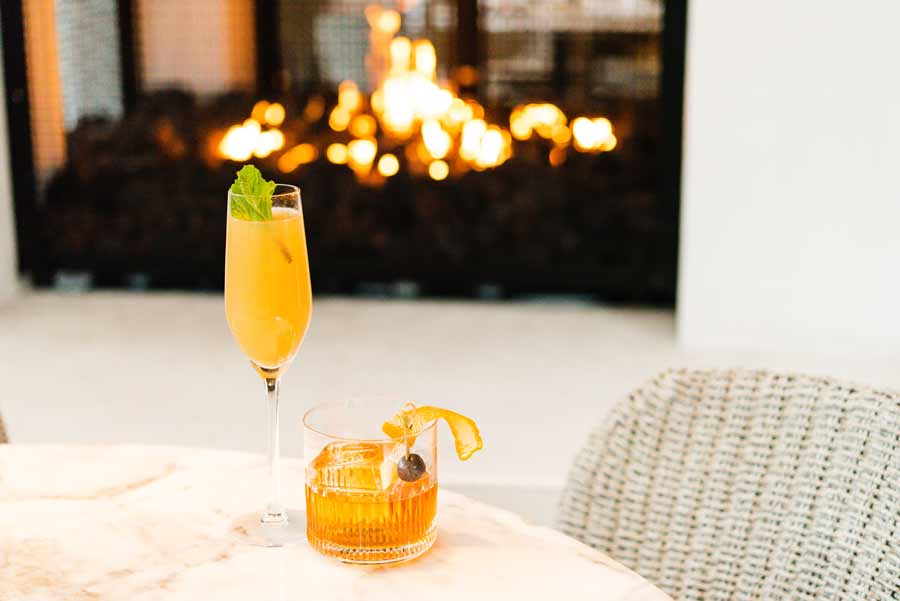 The Fig and Olive Newport Beach location at Fashion Island holds an extra special place in my heart. It is where I got engaged and we frequented this location regularly. We even used to have our own table. We always start every visit with our regular Bellini and Old Fashioned.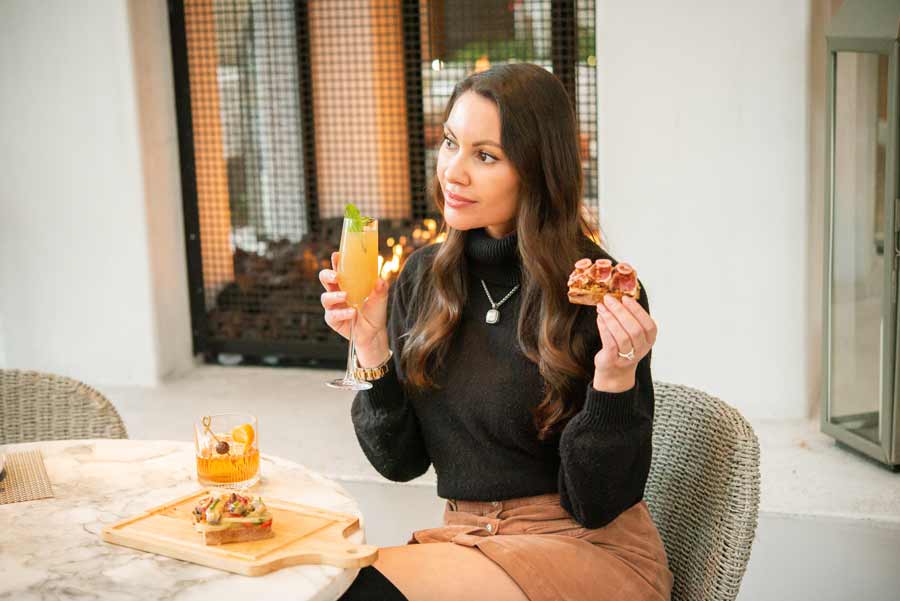 If you're headed to Fig and Olive, you should definitely order a variety of crostini for the table. Fig and Olives menu always offers a variety of delicious creative crostini's. One of my favorites, which I'm enjoying above, is their signature Sliced Beef Crostini featuring seasonal mushrooms, fava beans, crispy shallots, and mustard sauce. This crostini is reminiscent of delicious beef carpaccio.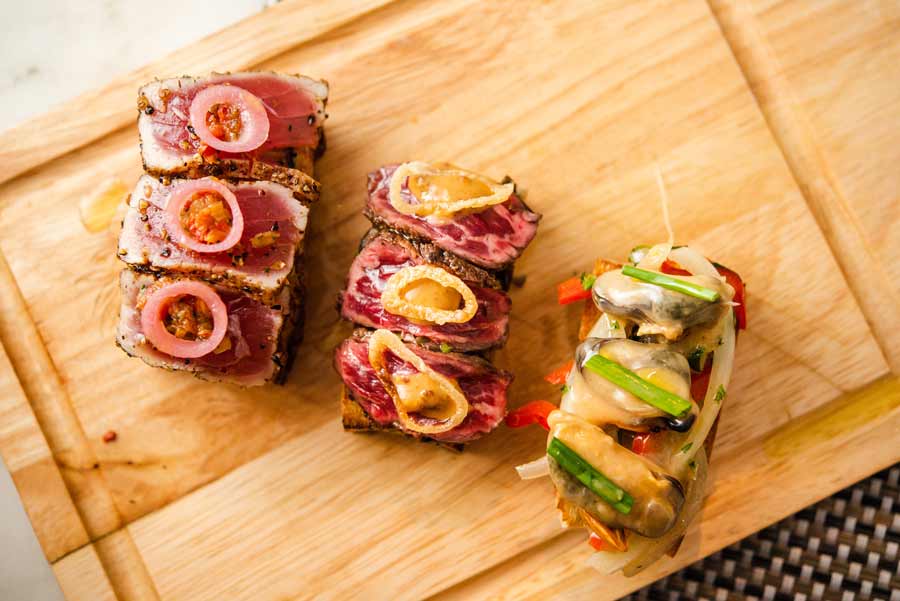 Fig and Olive is known for their delicious signature crostini's.
In addition to the Sliced Beef Crostini, Fig and Olive offers two additional "Signature Crostini's" as well as a variety of other crostini such as the popular Burrata and Lemon Ricotta Crostini. Pictured above you'll find another of my personal favorites, The Seared Tuna Crostini with chickpeas, artichokes, pickled red onions, and Riviera sauce. Seafood lovers will also appreciate the Mussels Escabechef Crostini with fennel, peppers, onions confit, almonds, and tarragon.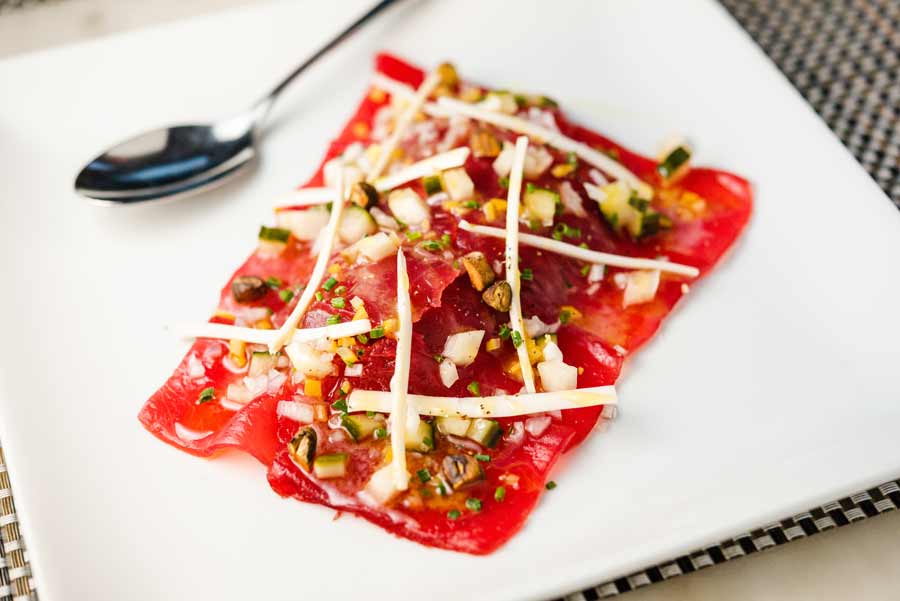 One appetizer we were eagerly waiting to return was their amazing crudo's. In the past, they have had numerous different crudo's such as their citrus hamachi crudo. They are always outstanding and my fiance's favorite. The Fig and Olive menu now features a phenomenal Yellowfin Tuna Crudo with avocado, pickled fennel, cucumber, heart of palm, preserved lemon, toasted pistachio, and lemon oil. It is so fresh and tender, it melts in your mouth.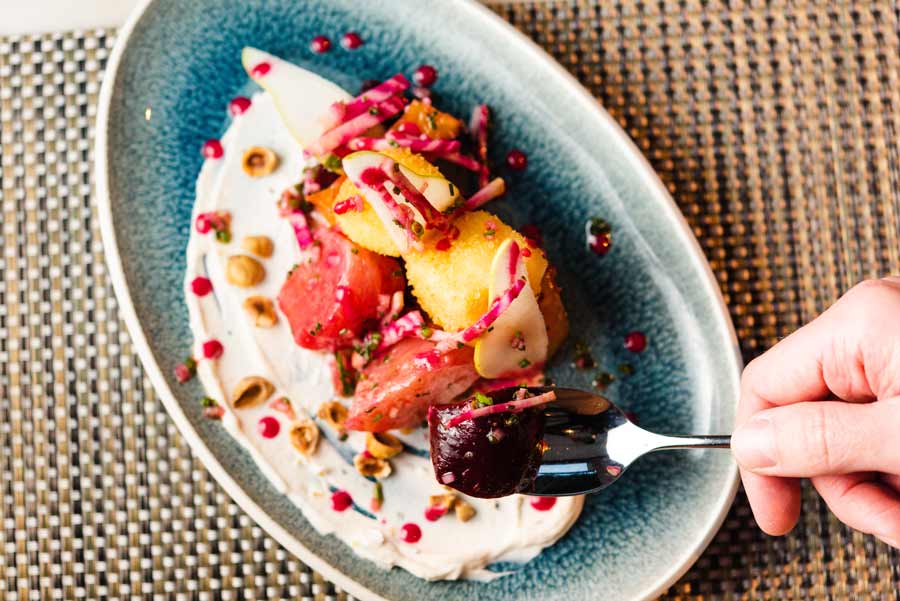 Fig and Olives new yellow and purple beet salad with crisp Taleggio cheese is phenomenal.
Fig and Olives menu almost always features a signature beet dish which I always order every time I visit. I absolutely loved the combination of red and yellow beets with mildly sweet Anjou pears and coated crispy Taleggio cheese. If you enjoy fresh beets, this appetizer is a must-try. The presentation is so beautiful and colorful.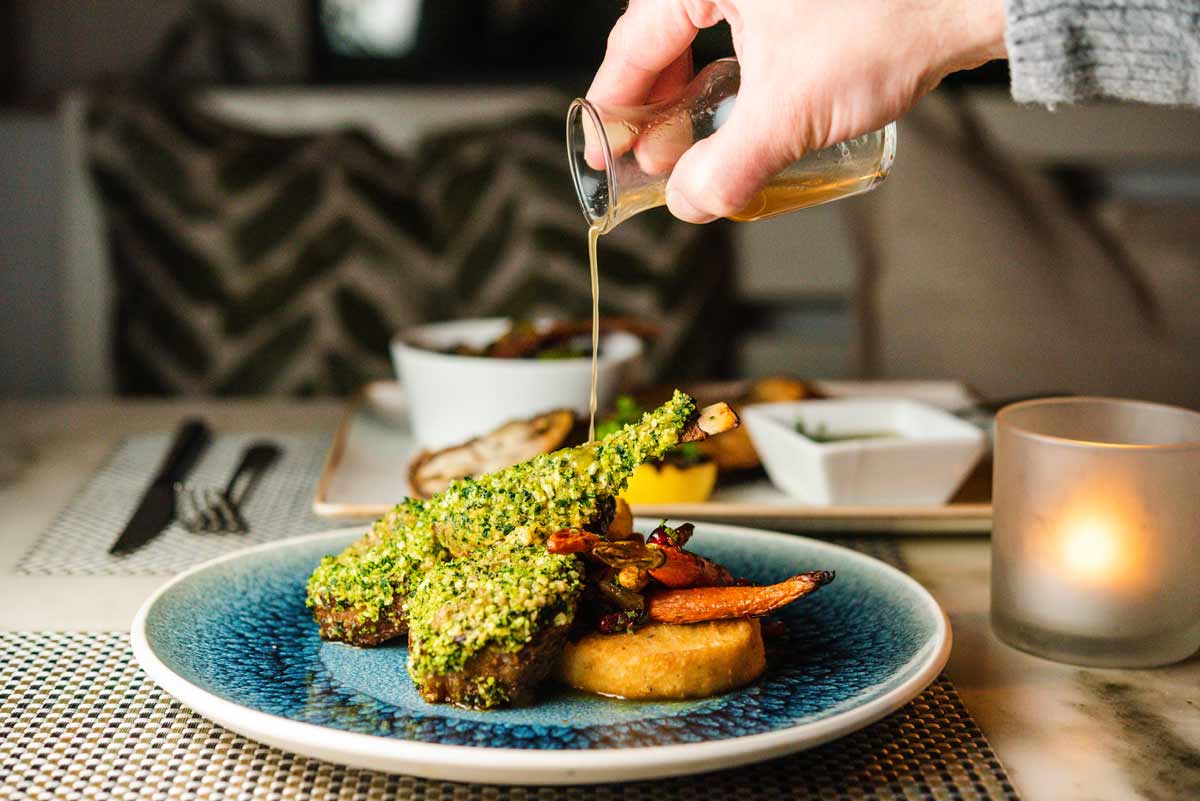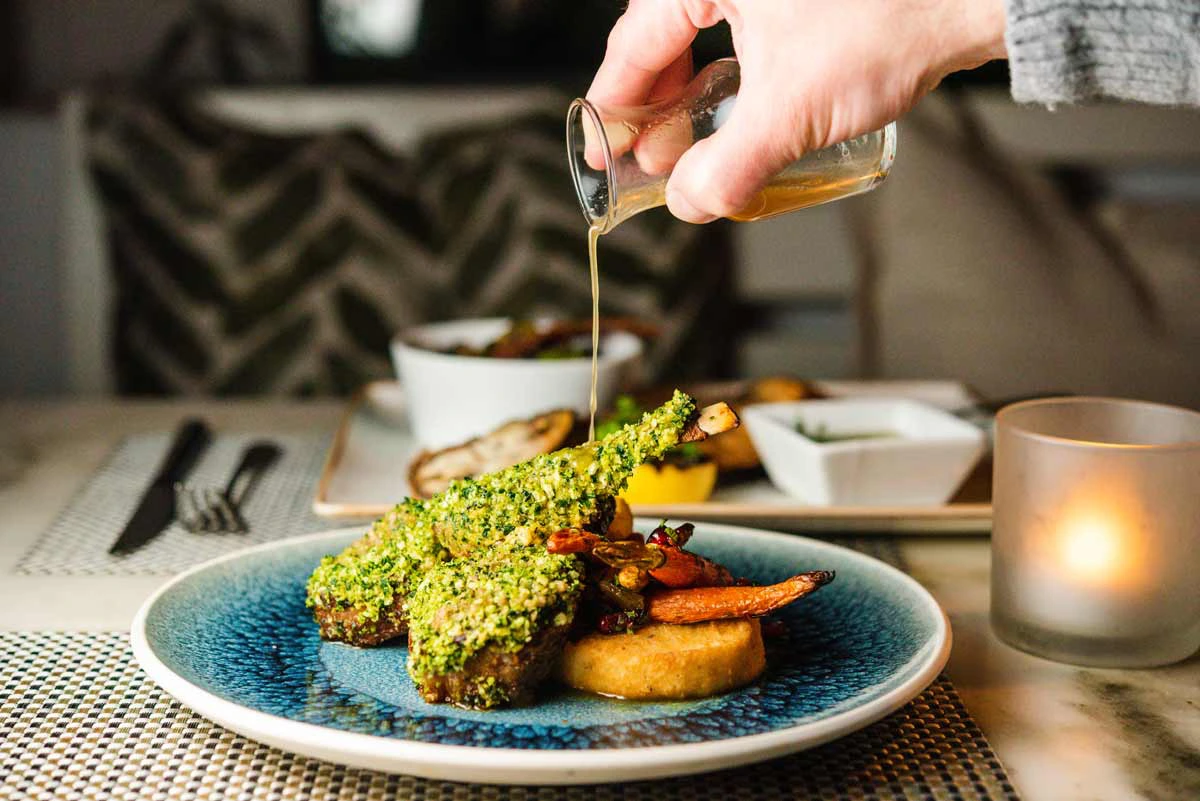 Don't miss the new Herb Crusted Lamb Chops.
For entrees, diners will be excited to see that two very popular dishes have returned. My fiance and I both love a good lamb dish and Fig and Olive always has the best I was so excited to see that Fig and Olives menu is now featuring a new herb-crusted lamb dish which is outstanding. It arrives with a flavorful lamb au jus, harrisa and honey carrots, roasted cauliflower, toasted pistachios, and crispy rosemary polenta.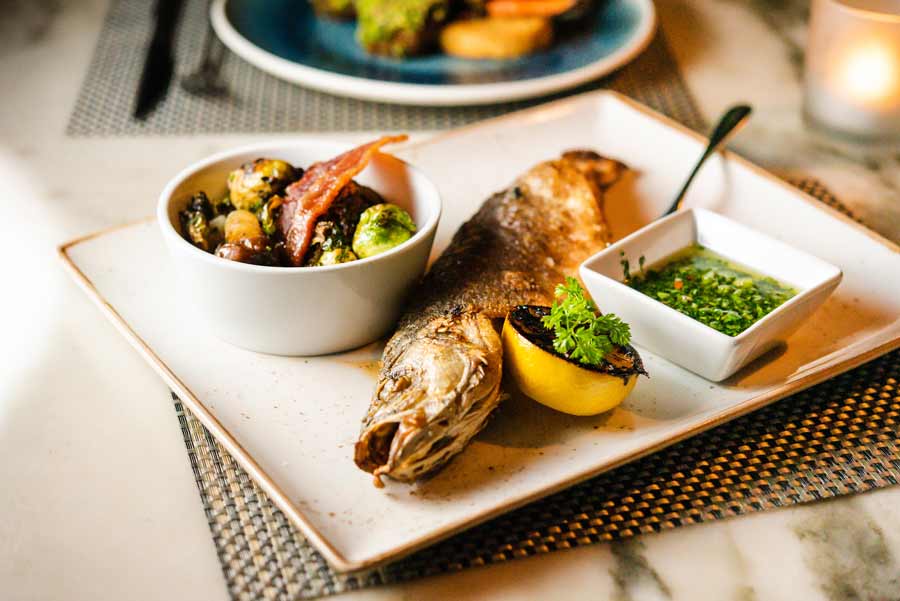 A new "La Plancha" single serve Branzino returns to Fig and Olives menu
The second entree I've been anticipating is Fig and Olives famous Branzino. The new "Whole Branzino A La Plancha" is even better because it is now a single entree instead of the previous Branzino for Two. Since my fiance is more of a meat-eater, this was perfect. Branzino is one of my favorite dishes and the new branzino from Fig and Olive is one of the best I've ever had. The skin is so perfectly crispy with tender flaky fish (there was not one single bone). The new Branzino is served with a wonderfully flavorful chimichurri sauce which had less oil with more herbs, and vinegar. I am already planning my next visit so I can order this again!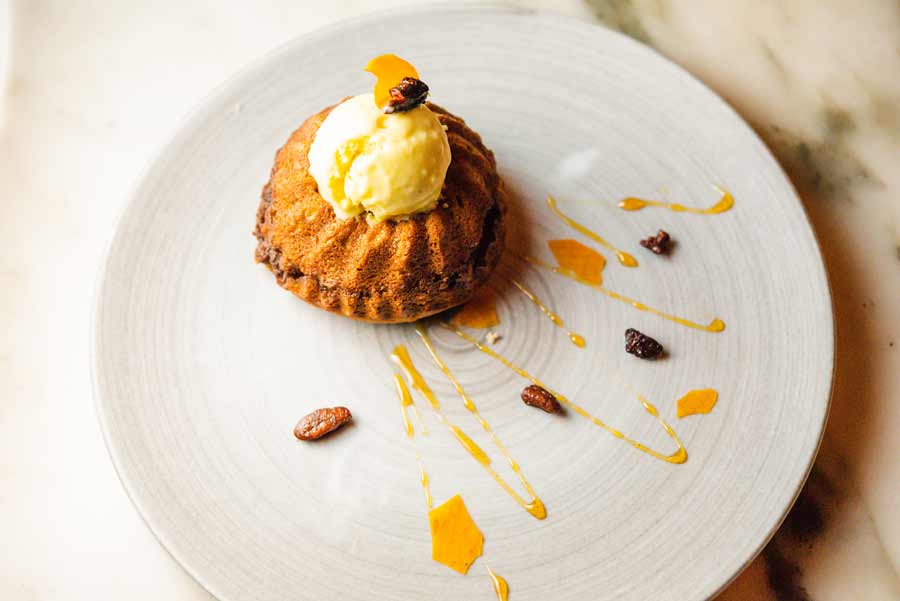 For dessert, I opted for the new seasonal Pumpkin Bundt Cake. I devoured the entire cake by myself. The new Pumpkin Bundt Cake features an olive oil semifreddo, milk crumb, candied pecans, honeynut squash chips, and is drizzled with an apple cider caramel. I highly recommend getting to Fig and Olive before this delicious seasonal dessert is taken off the menu.
You can view the entire menu from Fig and Olive Newport Beach here.
Check out our other favorite Newport Beach Restaurants