Posts may contain affiliate links. Read our full disclosure policy here.
Outpost Kitchen in Costa Mesa just launched a drool-worthy new dinner menu after previously offering only brunch and lunch. We could not wait to try their fantastic new menu inspired by locally sourced organic ingredients reminiscent of the owners' Gold Coast upbringing. When enjoying the new dinner menu at Outpost Kitchen you can expect to experience a little piece of Australian cuisine in the heart of Orange County.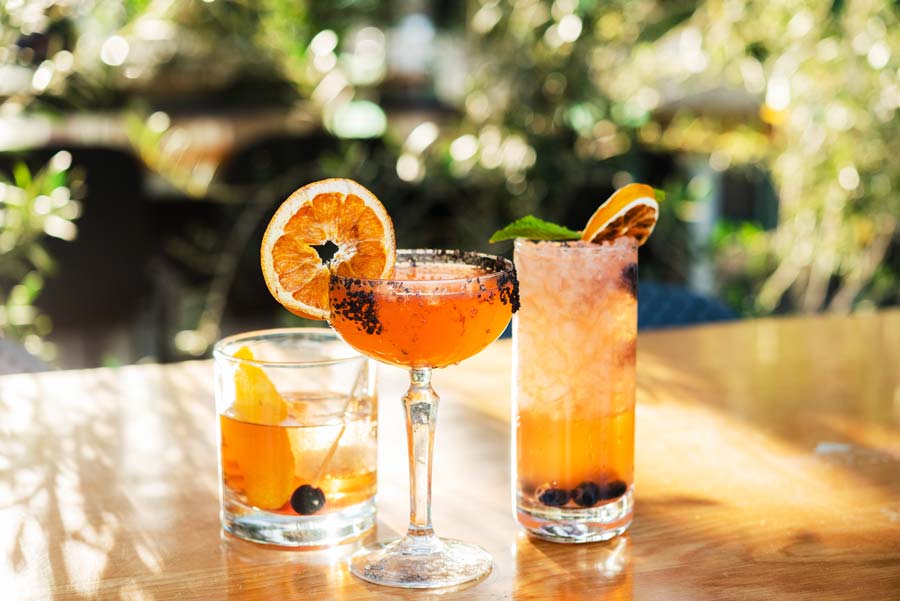 Outpost Kitchen cocktails featuring the Tequila in Fashion, Lost Highway, and The McCracken.
To begin our dinner we ordered several of the most popular cocktails from Outpost Kitchen. Pictures above you'll find the Tequila in Fashion (like an Old Fashioned, but with tequila), Lost Highway, and The McCracken. The beautiful Lost Highway was a showstopper and featured Dos Hombres Mezcal, Green Chartreuse, Aperol, lime and rimmed with volcano salt with a slice of dehydrated orange.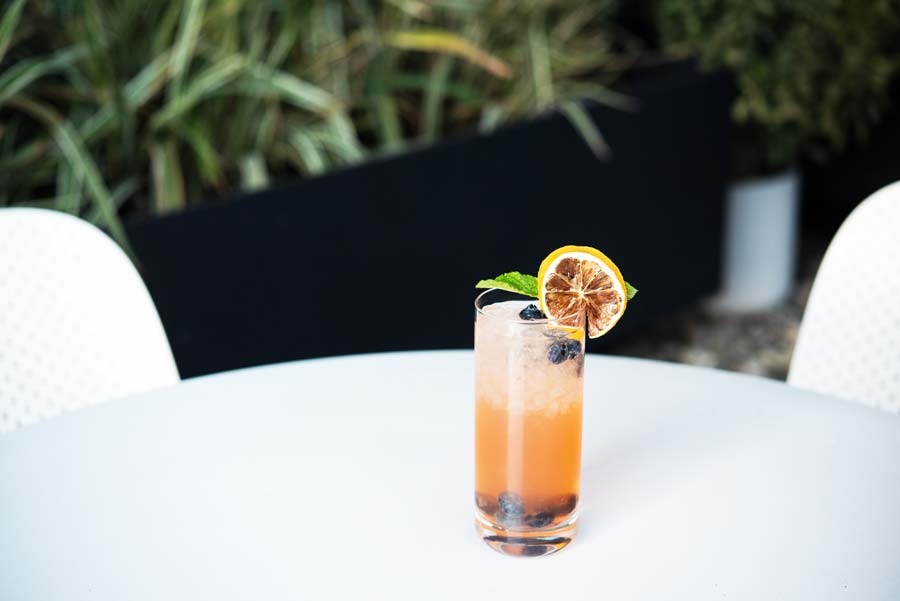 The McCracken was another beautiful summer-ready cocktail with Ezra Brooks Bourbon, Pomegranate Liqueur, lemonade, and blueberries garnished with a dehydrated lemon slice and sprig of thyme. All of the cocktails from Outpost Kitchen are exceptionally crafted and almost too beautiful to drink!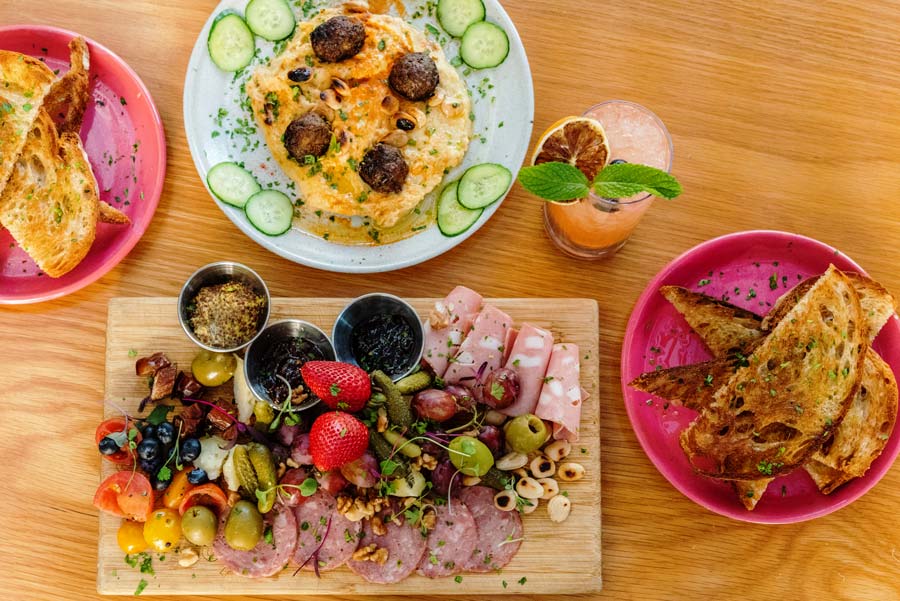 New appetizers are meant for sharing.
Next, for appetizers, Outpost Kitchen has introduced several new selections including the Hummus & Meatballs and wonderful Charcuterie Board. Both appetizers are served with a plate of crispy oil and herb-soaked bread which was perfect for dipping into the delicious lemon garlic hummus with veal meatballs.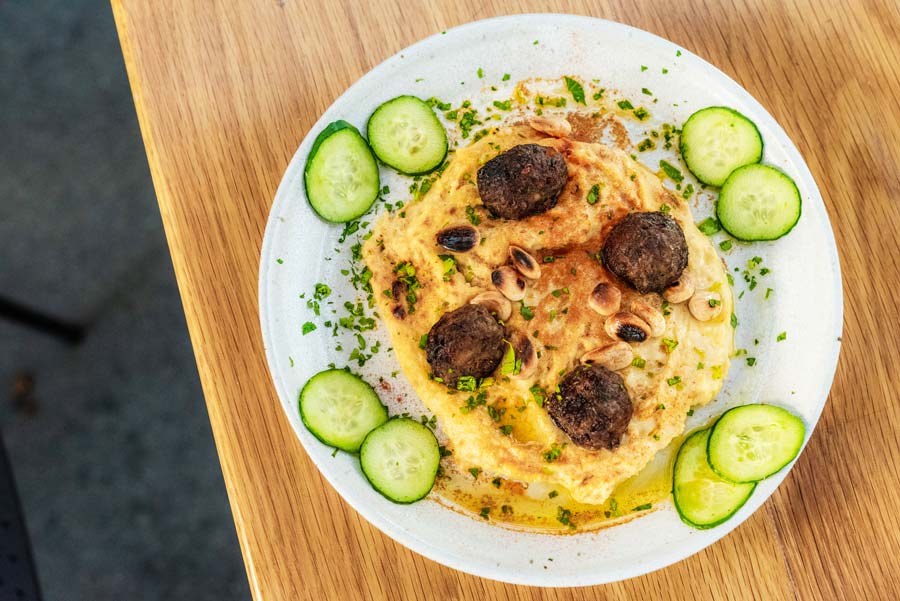 The Lemon Garlic Hummus with Veal Meatballs
The Hummus & Meatballs features a lemon garlic hummus that is made in-house with rosemary-infused lemon oil It is then sprinkled with paprika, garnished with thinly sliced cucumbers, and topped with delicate veal meatballs.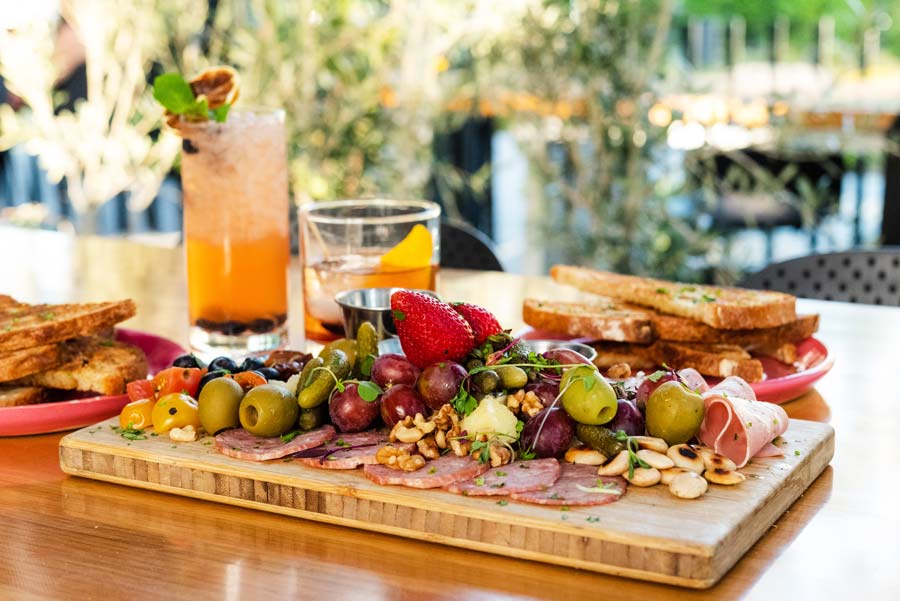 Fully-loaded Charcuterie Board perfect for sharing.
A fantastic appetizer for sharing is their fully loaded Charcuterie Board which is a personal favorite of mine and something I always order whenever I see it on a menu. It comes with Piccolo Mortadella, Molinari Salami, imported cheese, housemade jams, olives, cornichons, and fruits all on a wooden board.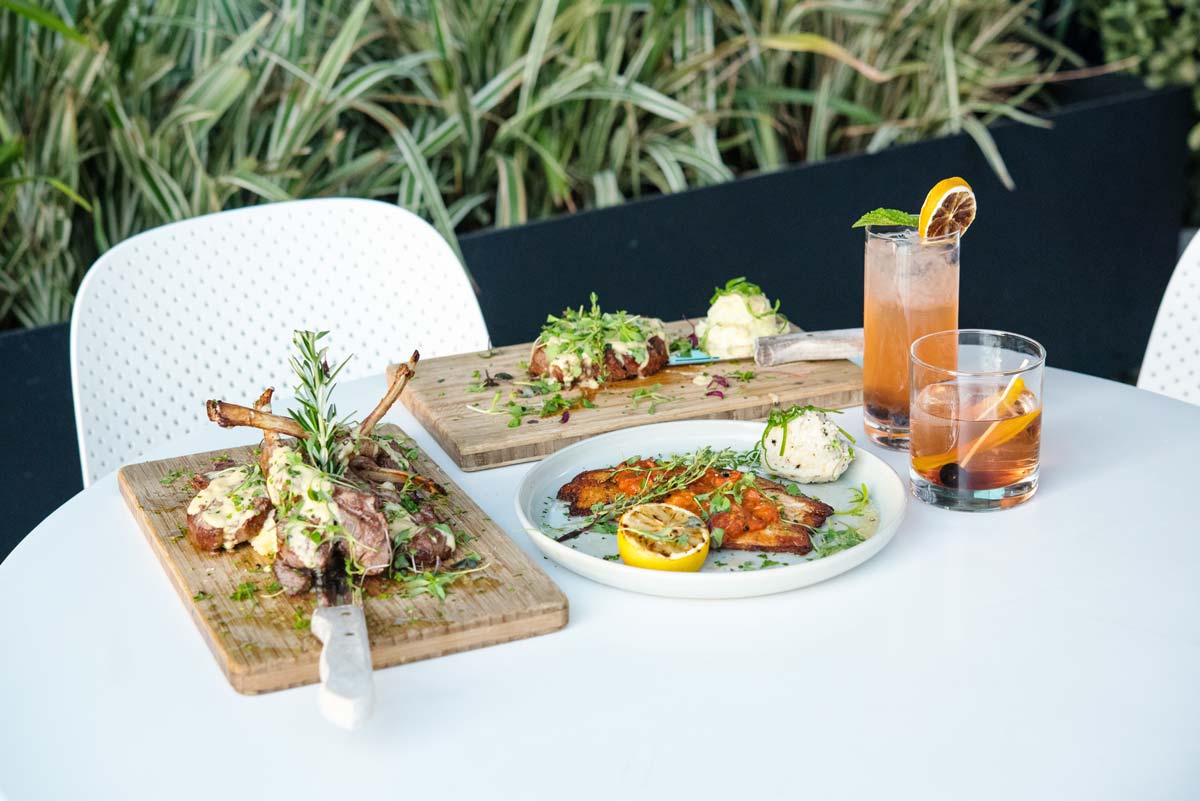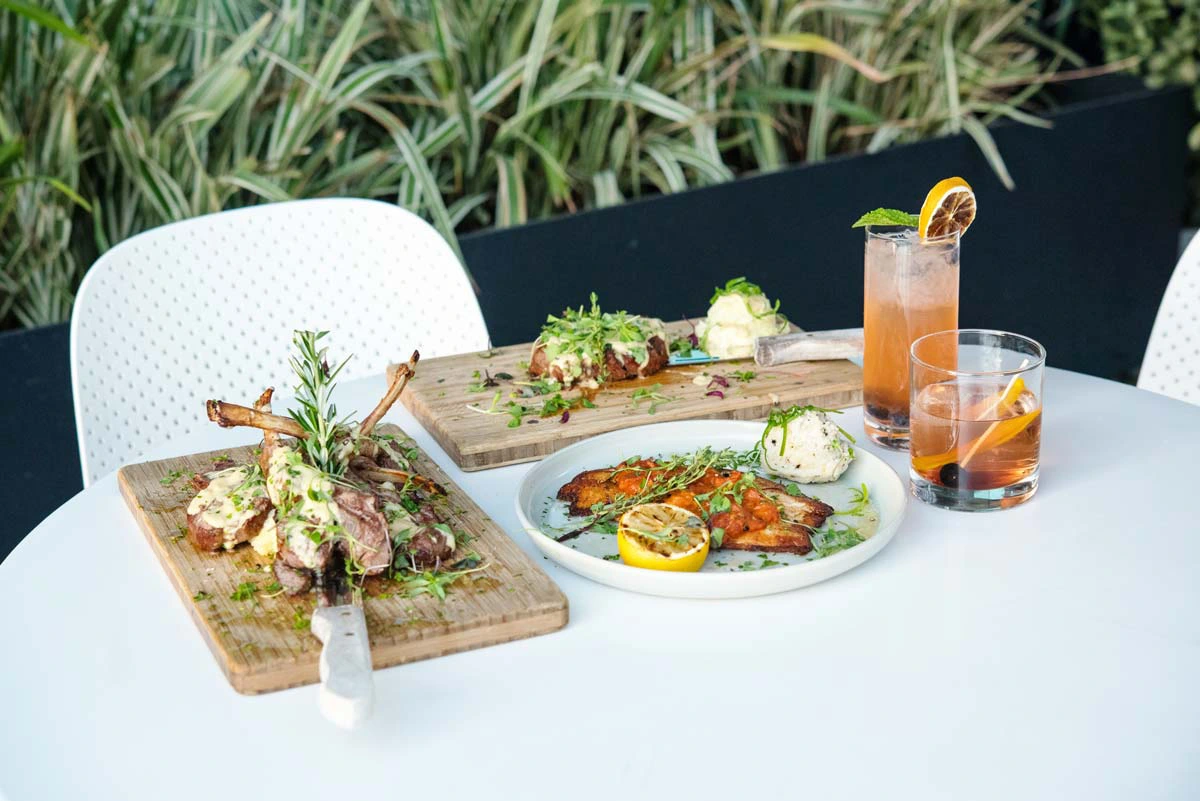 Outpost Kitchen in Costa Mesa newly launched dinner entrees.
Next, we struggled to pick our entrees from all the amazing options that Outpost Kitchen has to offer on their new dinner menu. We finally decided to go with the Australian Barramundi, the 8oz Filet Mignon, and the 14oz Australian Rack of Lamb.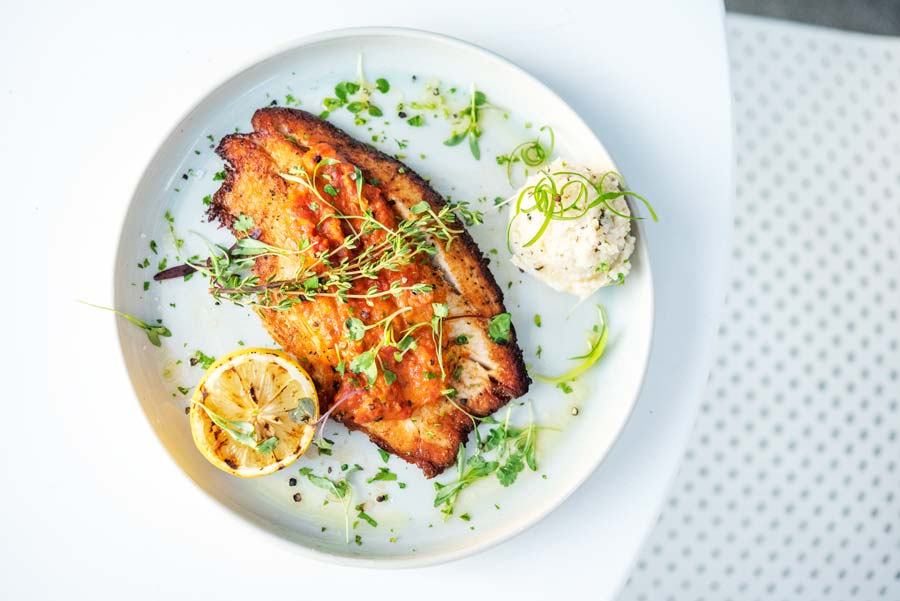 Australian Barramundi with tomato chutney
First, we started off with the Australian Barramundi which came with tomato chutney, light lemon cream, and a medium-bodied white wine sauce. The Barramundi was highly recommended by Outpost Kitchen because of its light flavor and beautiful presentation. The Barramundi was plated with a scoop of rice that was similar in texture to sticky rice and roasted lemon. The tomato chutney was swiped across the fish and had a nice savory flavor.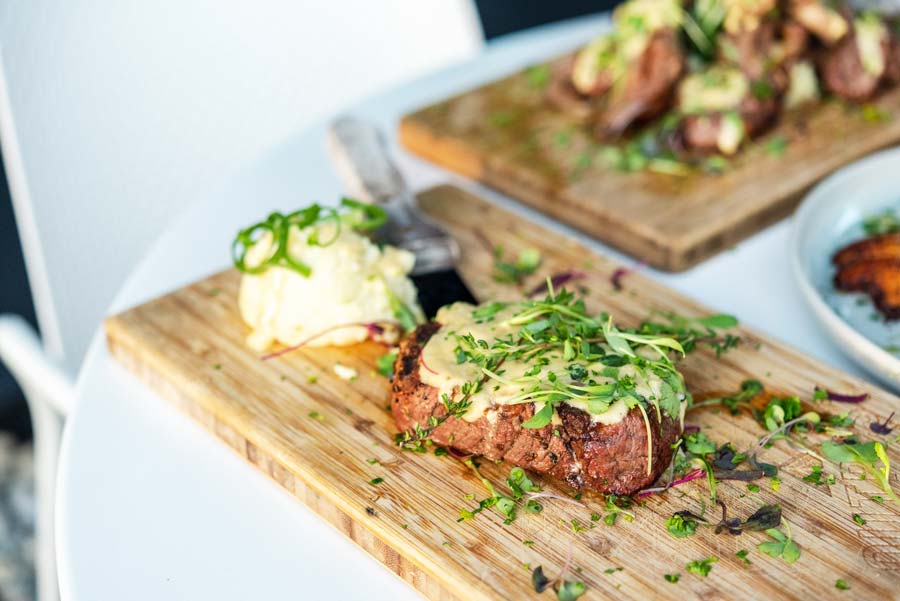 Tender 8oz Filet Mignon with Dijon cream sauce.
Then, we sliced into their tender 8oz Filet Mignon which arrives plated on a custom Outpost Kitchen wooden board with a generous layer of dijon cream garnished with thyme and a side of mashed potatoes. The Filet was flavorful and juicy as to be expected.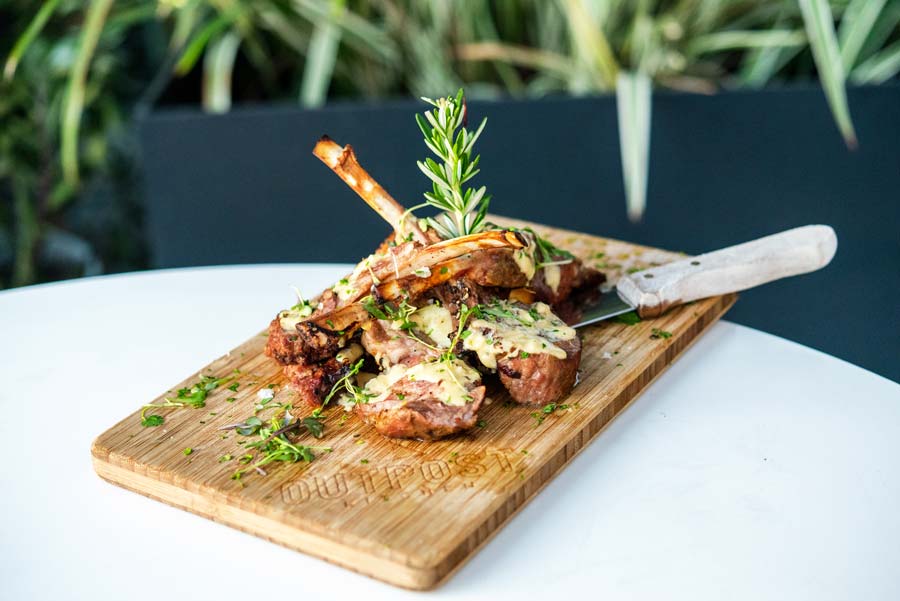 The generous 14oz Australian Rack of Lamb
My favorite entree of the night had to be the 14oz Australian Rack of Lamb. I could not believe how generous the portion was. Their signature wooden board came piled high with the most succulent lamb chops drizzled in their signature dijon sauce and also served with mashed potatoes.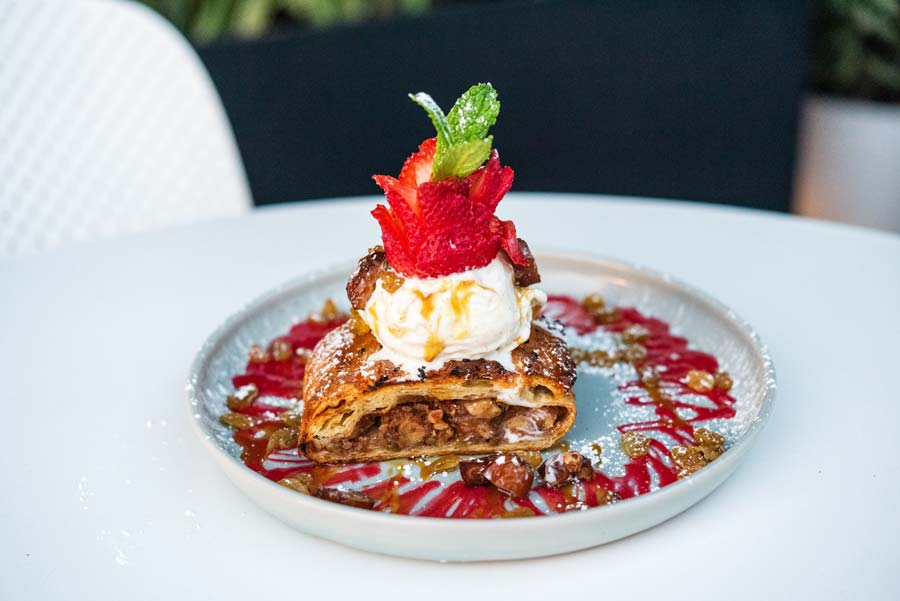 The beautiful Bourbon Strudel with Mcintosh Apples.
Finally, you know I can never leave without dessert and the new offering at Outpost Kitchen did not disappoint. The Bourbon Strudel, pictures above, is made with Mcintosh Apples, Golden Raisins, walnuts, dates, and was paired with vanilla bean ice cream with a strawberry glaze drizzle. The pastry was so crisp and flaky which perfectly balanced the soft sweet apples. Not only was the Bourbon Strudel delicious, but it was also plated beautifully.
Outpost Kitchen in Costa Mesa across from South Coast Plaza
Outpost kitchen is right across the street from the luxury Mall, South Coast Plaza. They're located at 3420 Bristol St, Ste 104 in Costa Mesa and are open on Sunday to Wednesday from 9am-3pm and then Thursday to Saturday from 9am-10pm. They also have Happy Hour from 3-6pm on Thursday to Saturday. Reservations can be made on their website or by phone at (714) 852-3044. 
Enjoy More Fantastic Costa Mesa Restaurants