Pitfire Pizza in Costa Mesa is a modern industrial restaurant, but what makes this place especially unique is their attached speakeasy called Pie Society. During our time here, I wanted to check out Pitfire's new summer menu and their exclusive speakeasy. Pitfire Pizza has other locations in Los Angeles, Pasadena, Manhattan Beach, and more, but their Costa Mesa restaurant is the only one with Pie Society! If you're looking to enjoy some fabulous cocktails with delicious summer-themed cuisine, head to Pitfire Pizza for a casual lunch or dinner.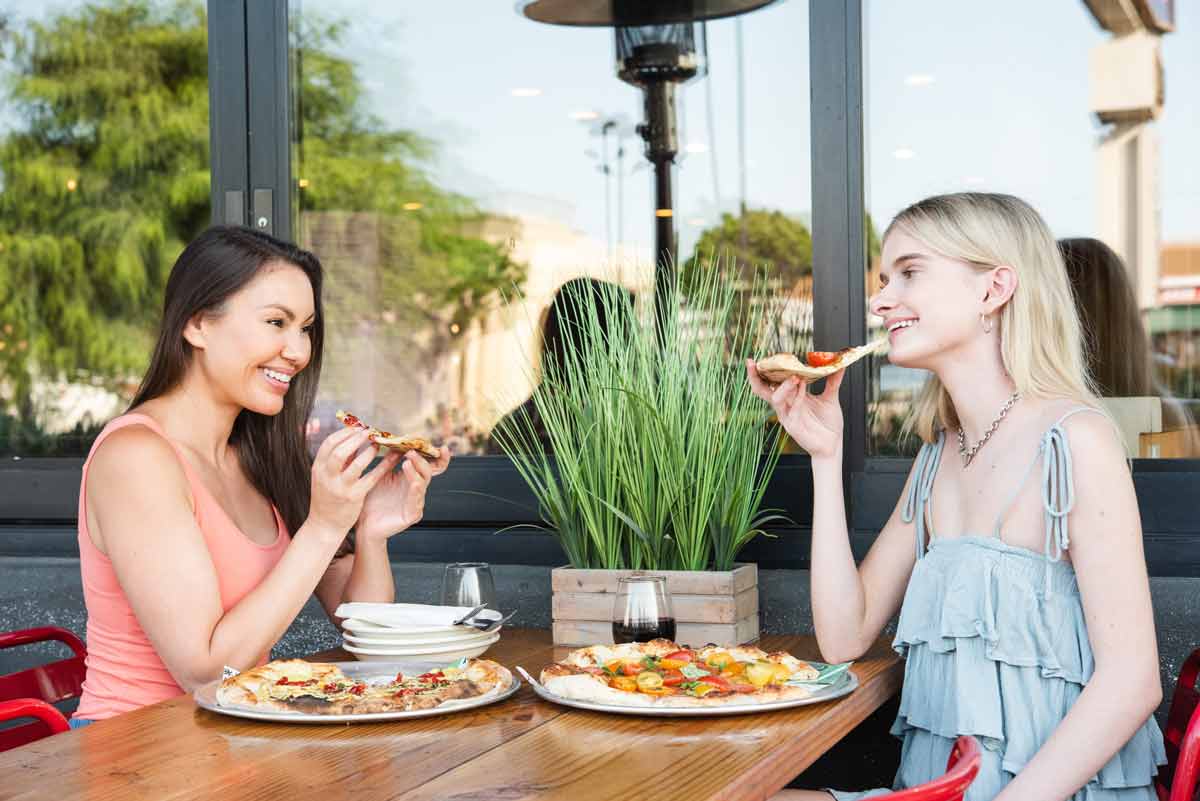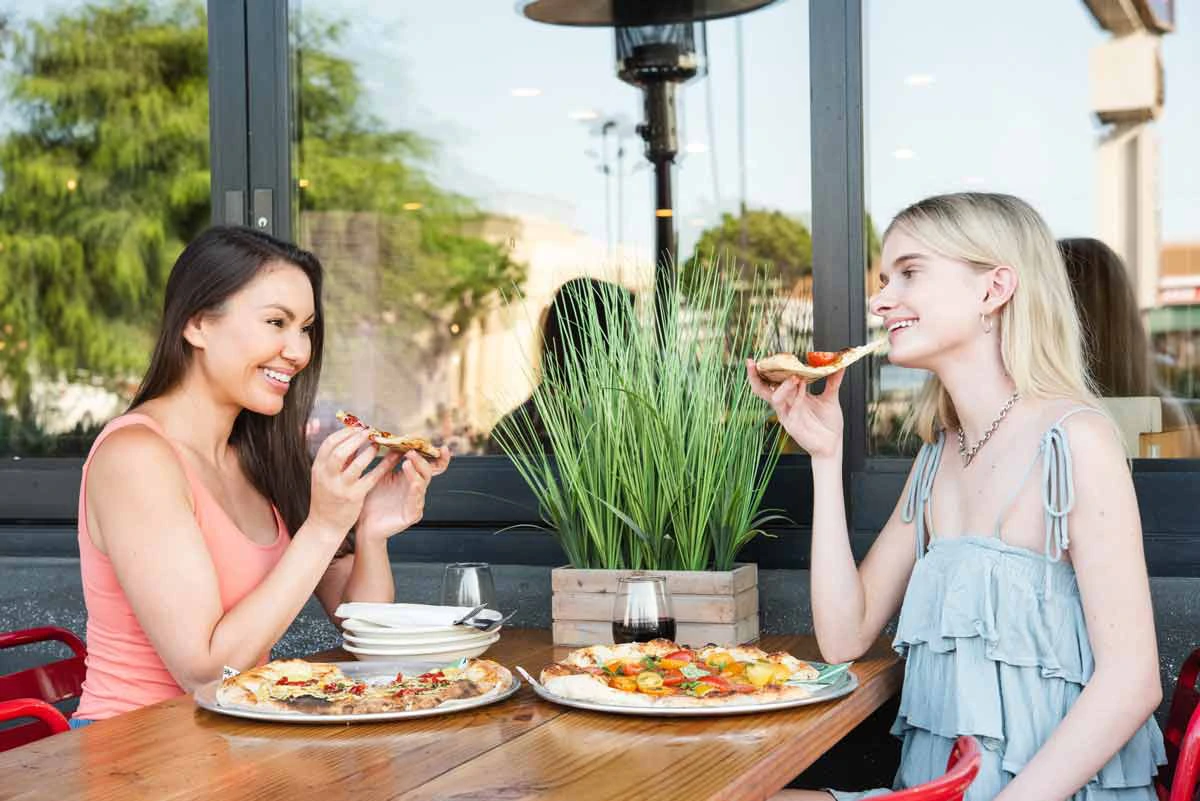 Hospitality and high quality ingredients are key to the Pitfire experience.
Jamie Boalbey, director of operations, was especially kind and accommodating to us throughout our dining experience. Since she joined the Pitfire family, Jamie has instituted larger pizzas and popular, well-loved dishes into the menus. Most importantly, she has seen the amazing customer loyalty of Pitfire patrons. Jamie has made it a priority "to go above and beyond to have high-quality ingredients" for every dish. In fact, this is one of the reasons why Pitfire in Costa Mesa has a scratch kitchen! Transparency is key to ensuring that customers know that their food is being prepared ethically and with care.
"If our tribe is happy, then we're happy."

– Jamie Boalbey, Director of Operations at Pitfire Pizza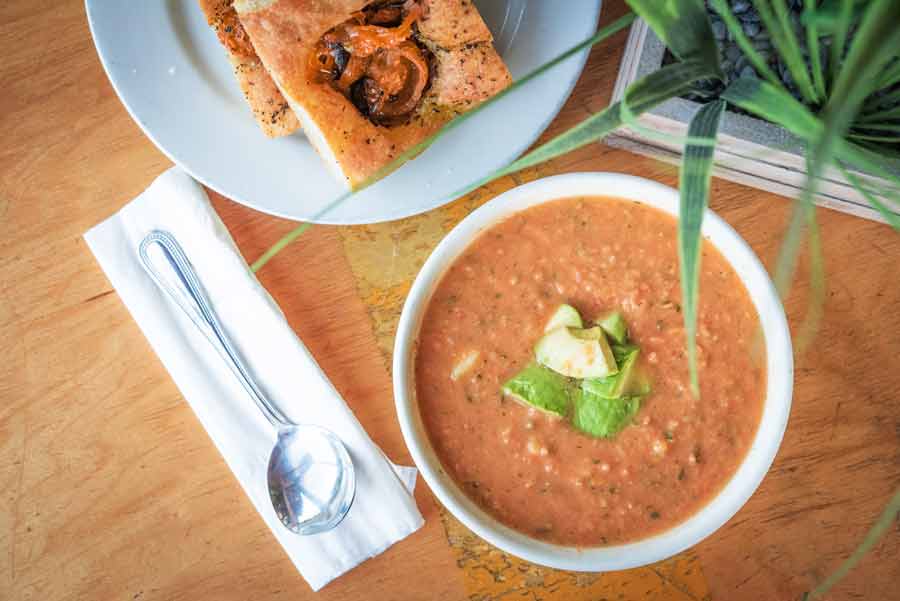 The heirloom tomato gazpacho is flavorful and refreshing for those hot summer days.
To start, we ordered the heirloom tomato gazpacho which is exclusive to their summer menu. It's made with avocados, diced cucumber, olive oil, and red onions. Jamie further explained that their recipe is seasoned with dill, parsley, basil, red wine vinegar, cumin, cayenne pepper, and garlic. Their gazpacho is definitely a great choice during this hot and humid weather! The chunky avocados add texture and a cool flavor to this spicy yet refreshing dish. It even comes with bread which is seasoned with their wonderful spices and tomatoes.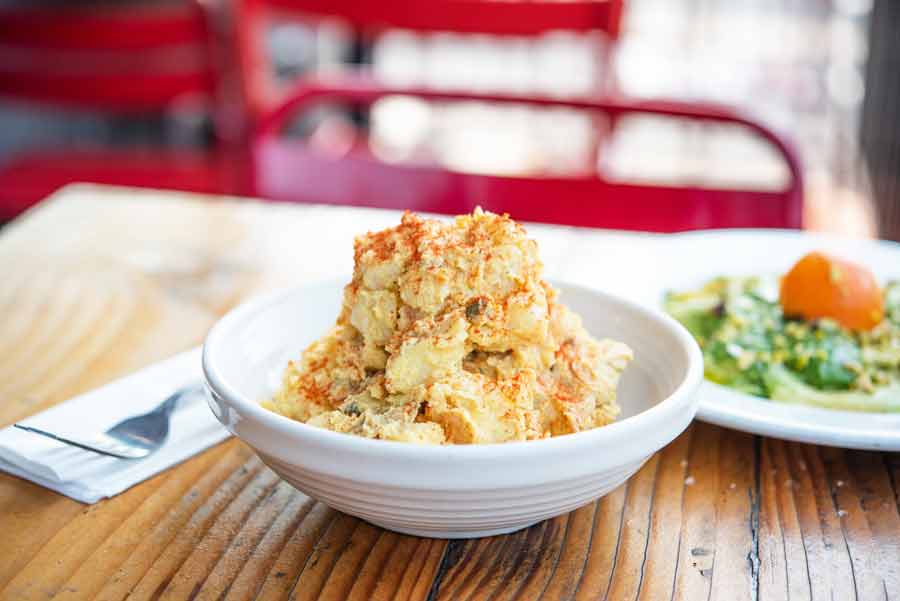 It feels like you're at a summer barbecue when you try the Yukon gold potato salad.
The Yukon gold potato salad is a summer selection of Pitfire's vegetable menu. It contains fresh dill, yellow mustard, capers, red bell peppers, paprika, mayo, salt, and pepper. I usually make potato salad with capers, so I loved how this was reminiscent of my recipe. The potatoes were soft, and the smooth texture and flavorful spices added a small but appreciated kick to this dish. I actually felt like I was at a summer barbeque while eating this!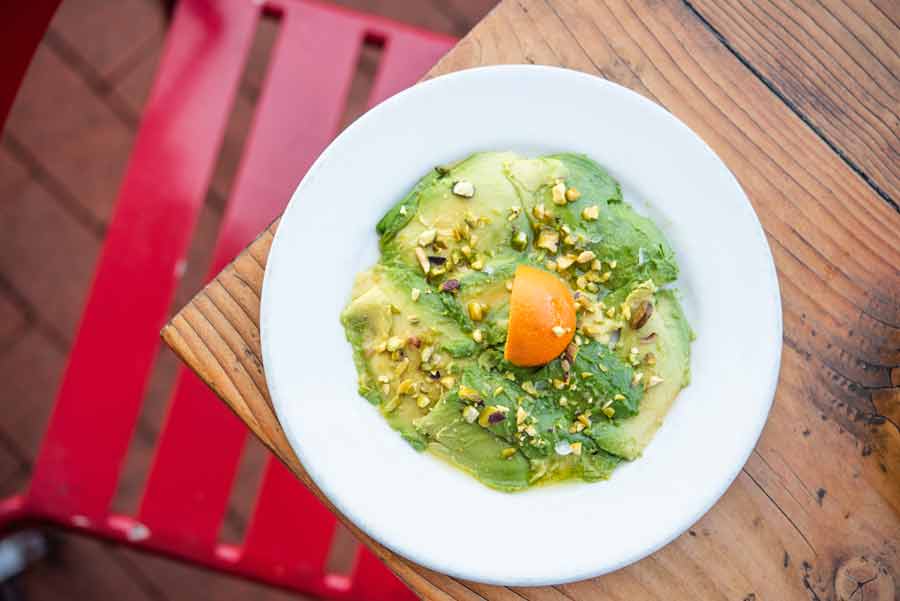 Pitfire Pizza brings new meaning to dressed avocados!
You might be wondering how fancy an avocado can really get. Well, the dressed avocado, which is a summer menu item, is pretty simple. It comes with tangerine, pistachios, and Maldon salt. Don't let its simplicity fool you because this starter was sensational! It's a marvel how Pitfire can turn something so plain into an appetizer which I'm still dreaming about.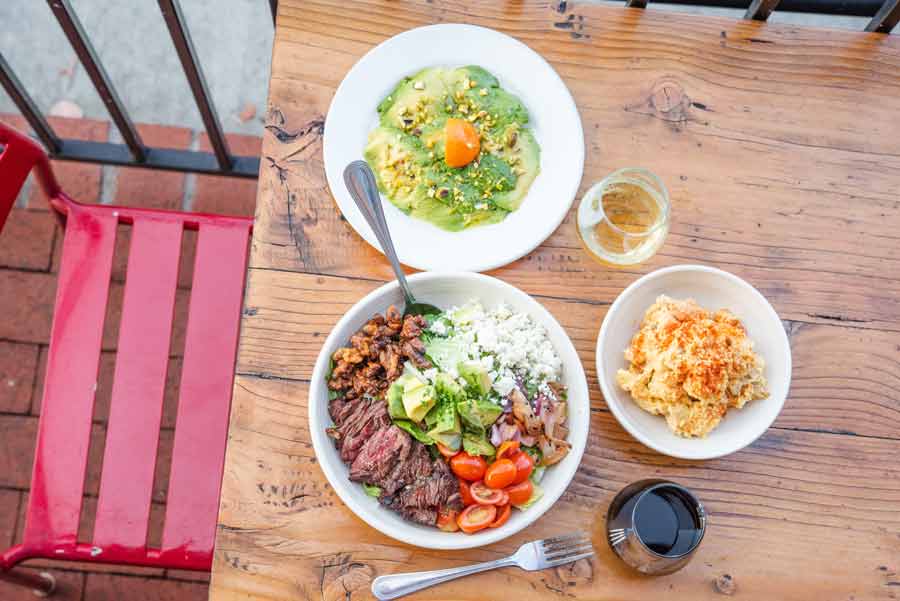 Their delicious steak salad is perfect for sharing.
Next, we had their fabulous steak salad which comes with blue cheese, avocado, onions, walnuts, and shallot vinaigrette. Although this dish is not from Pitfire's summer menu, I knew it would pair well with our other starters. The steak was tender and juicy, and I loved how this was light enough to save my appetite before the main course! I recommend sharing this starter especially if you're with a larger group.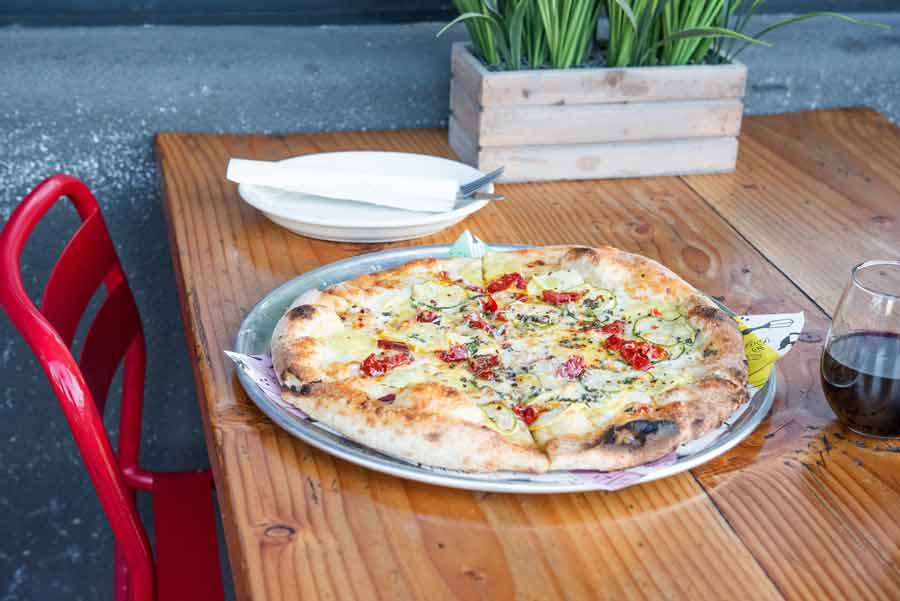 Indulge in the summer harvest with Pitfire's summer squash and Calabrian chili pizza.
If you try one item from Pitfire's summer menu, I definitely recommend their summer squash and Calabrian chili pizza. It's made with shredded mozzarella and pecorino cheese, fresh mint, and garlic. This is a great way to incorporate the season's ripe squash into your favorite foods. Once you take a bite into this delicious creation, you'll love how well the fresh veggies pair with the spicy kick of the chili.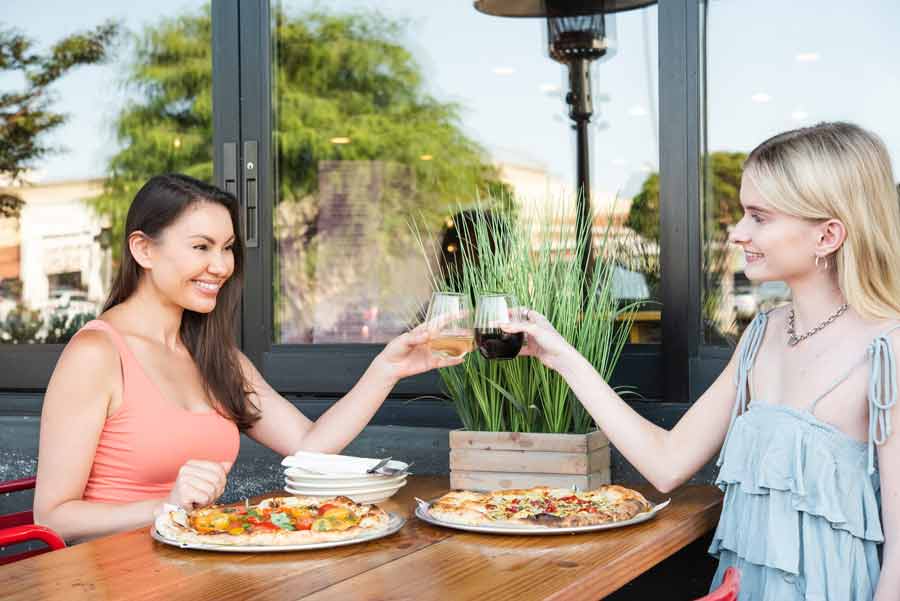 Check out their simple yet delectable heirloom tomato pizza.
After enjoying the summer squash and Calabrian chili pizza, we had another selection from the summer menu: the heirloom tomato pizza. It's a rather simple dish that has ricotta, basil, and olive oil. But this pizza is filled with flavor and fresh, juicy tomatoes which are perfect for celebrating the summer season!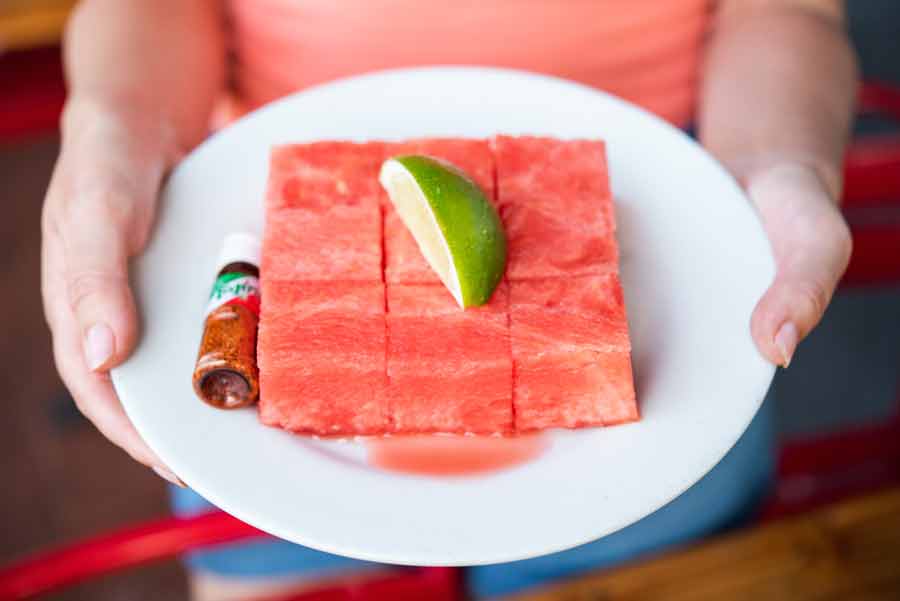 Enjoy LA style watermelon right from Orange County!
To finish off our naughty pizza indulgences, we ordered Pitfire's LA style watermelon. This was a brilliant addition to their summer menu. It's a light treat that is perfect for cooling off from the humidity. Our fruity dessert came with lime slices and a cute, tiny bottle of Tajin for everyone to share. The LA style watermelon would be great to enjoy with a friend while sipping a delicious and refreshing cocktail!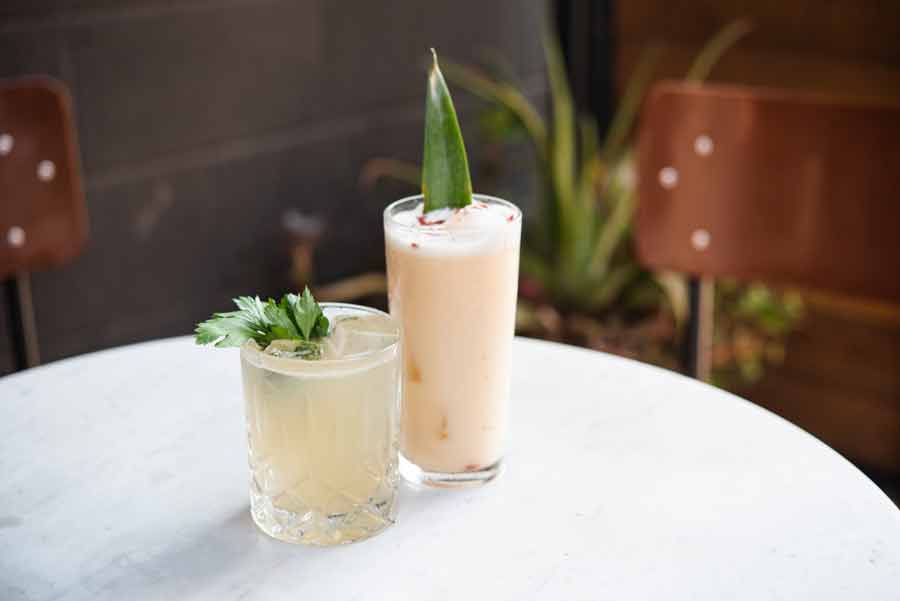 Don't leave Pitfire without trying their fabulous cocktails.
Next, we walked back to Pitfire's Pie Society speakeasy. It's located in the back of the restaurant, and you even have to go through a mysterious door before finally entering. We had their Pretty Bird cocktail, which has rum, mezcal, chili, pineapple, coconut milk, dehydrated strawberries, and egg whites. Then, we tried the Everybody Wants Some cocktail. This has your choice of tequila or mezcal, elderflower, jalapeño honey, and lime. Pie Society offers anything but your typical cocktail, which makes Pitfire Pizza even more unique.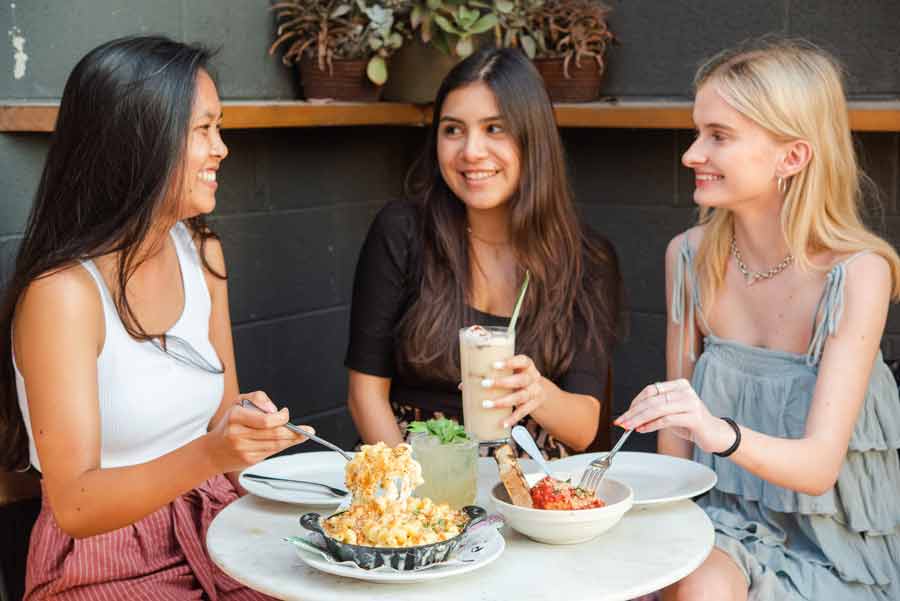 Their baked mac and cheese is the perfect comfort food.
We couldn't indulge in Pie Society's cocktails without pairing them with some tasty appetizers! Their baked mac and cheese is made with five different kinds of cheese. To top it off, it's sprinkled with a generous amount of breadcrumbs. If you ask me, mac and cheese just isn't complete without a bit of breadcrumbs.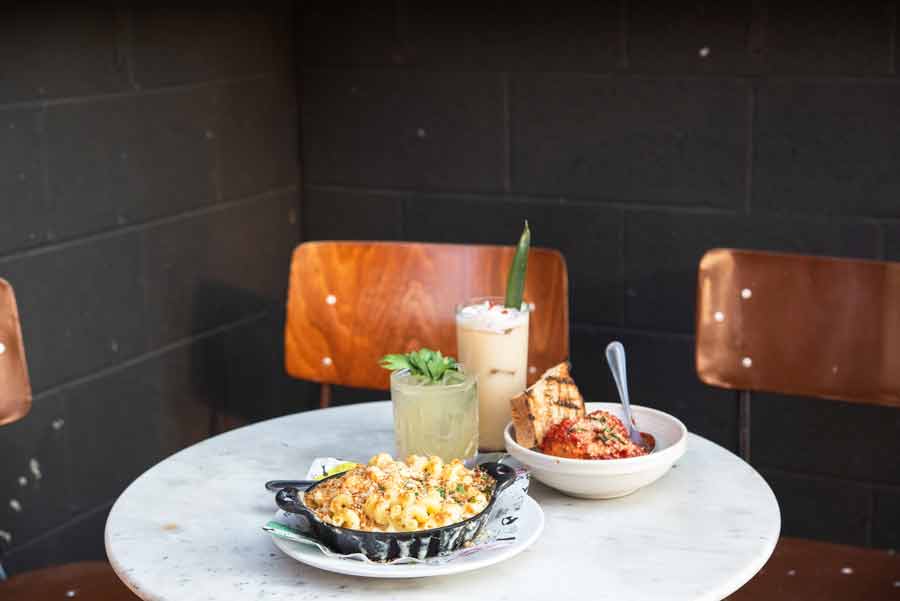 Pitfire Pizza offers a unique take on traditional meatballs.
Instead of meatballs made with ground beef, Pitfire Pizza takes a unique spin on their meatballs by using chicken instead. I was pleasantly surprised by how the delicious flavor and texture of these unique meatballs were preserved. My favorite part was that these chicken meatballs were still moist and super light!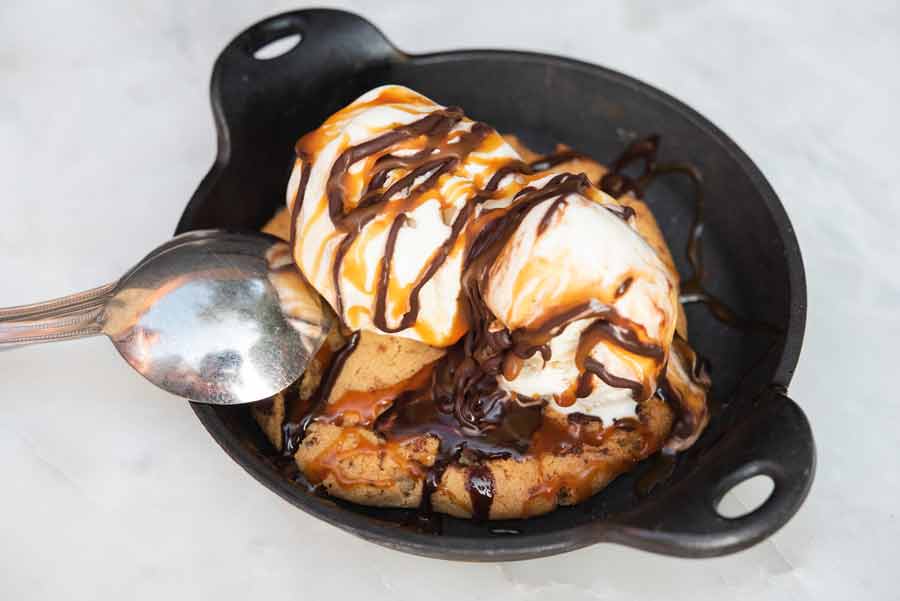 Their smothered cookie with ice cream is straight from heaven!
Finally, we ended our meal with their smothered cookie with vanilla ice cream. It's served in a small cast iron and comes with plenty of spoons to share! While I did let the rest of the table indulge, I would have gladly enjoyed this dessert all to myself!
Pitfire Pizza is a fast and casual restaurant where you can try something new and flavorful, especially with their new summer menu. The addition of the Pie Society speakeasy makes their Costa Mesa location unique with its 1920s inspired casual bar vibe. Their incredible staff is friendly and focused on providing customers the best dining experience possible. If you'd like to see how Pitfire Pizza captures the hot summer season in appetizing cuisine, check out their Costa Mesa location for their newest summer selections!
353 East 17th St., Costa Mesa, CA 92627
(949) 313-6333
Check out these other casual and delicious restaurants in Orange County.