Posts may contain affiliate links. Read our full disclosure policy here.
Urban Plates is a fast casual restaurant, but with a fine dining menu. They have numerous locations throughout California and offer dishes you typically wouldn't expect like fresh seasonal fish, Moroccan braised chicken, and grass fed steak with fresh chimichurri. This is where you go when you want quality food, but with the convenience and price of a casual restaurant.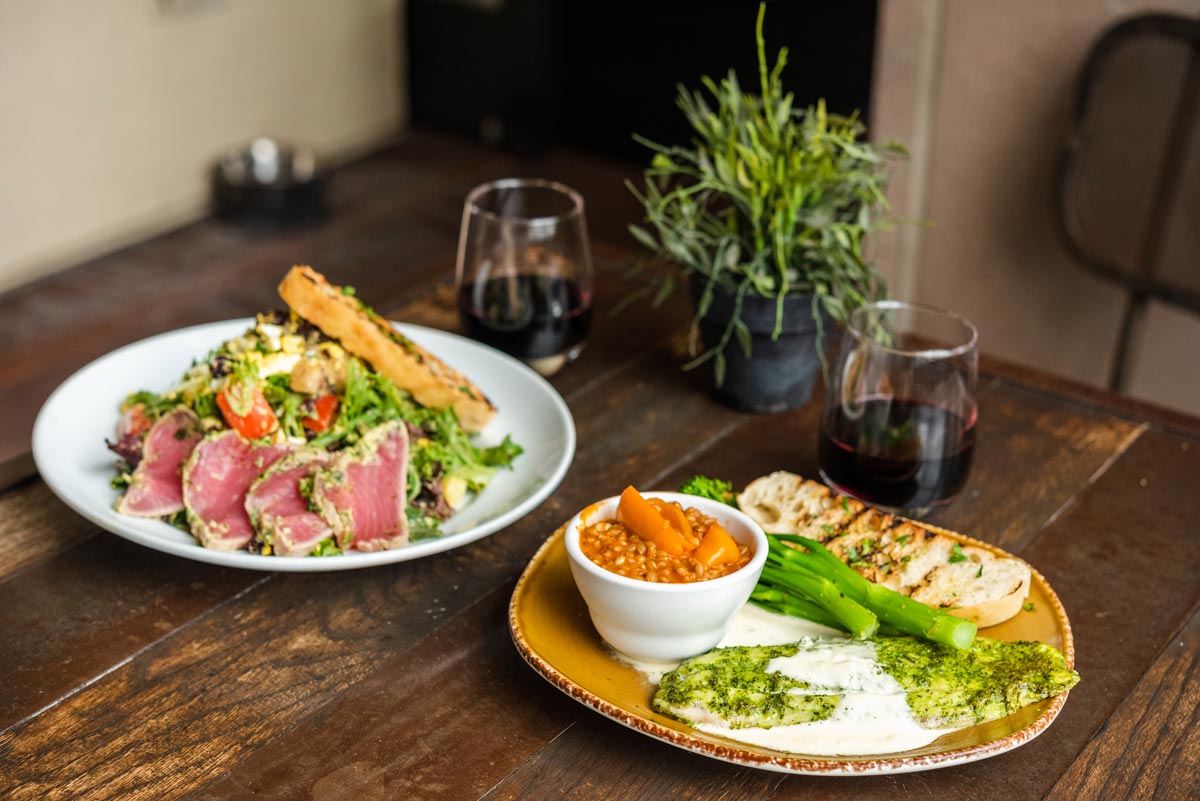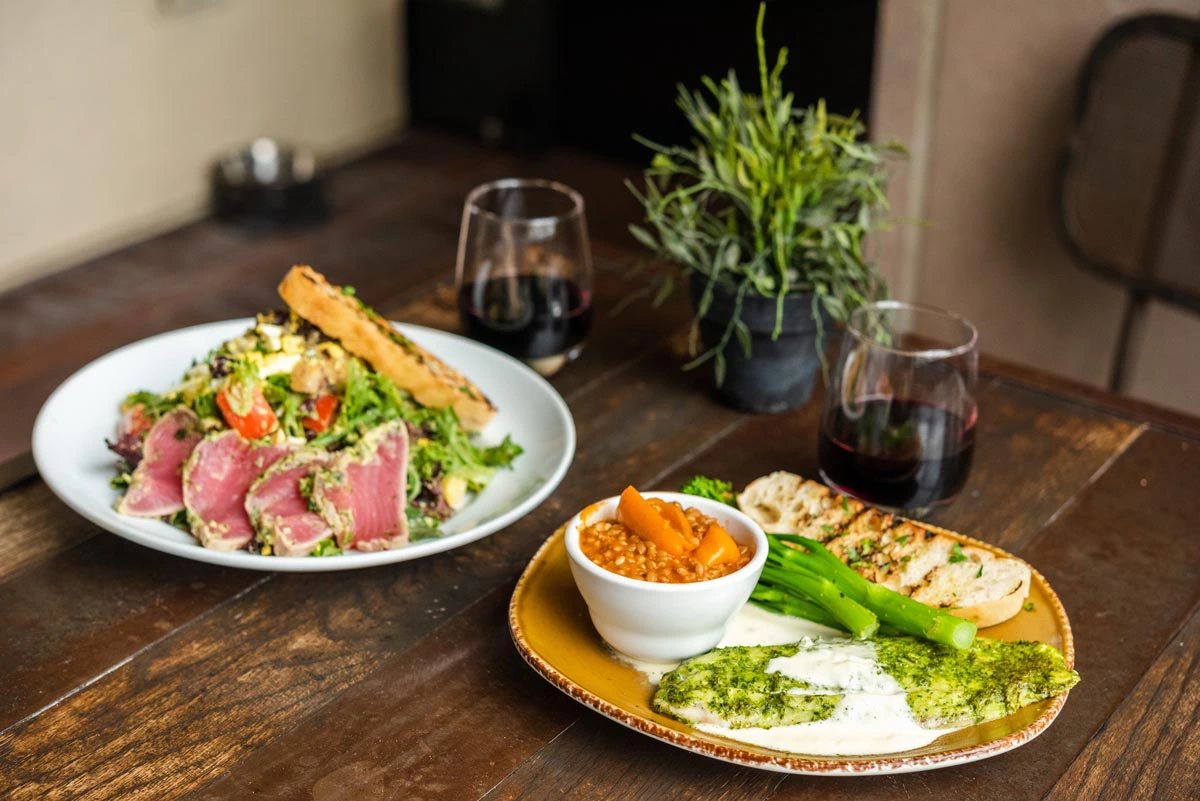 I probably eat at Urban Plates in Irvine 1-2x per week. Their menu is so expansive, that I never get bored. More importantly, however, the cuisine is always of excellent quality, prepared well, and elevated. You can even enjoy a glass of wine and finish your meal with a fresh pastry made in-house!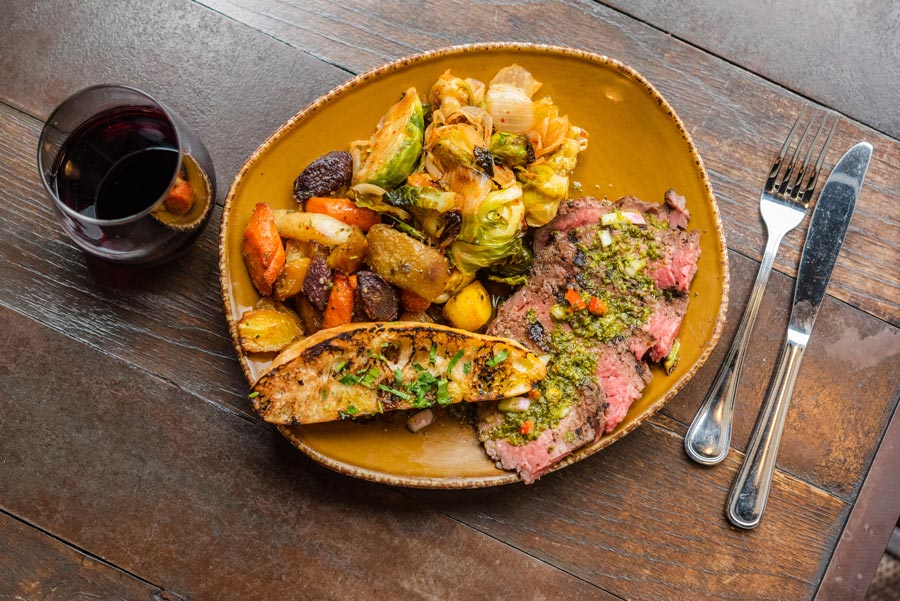 Grilled Grass Fed Steak with Chimichurri
One of the most popular menu items is their Grilled Grass Fed Steak with Chimichurri. I am a huge fan of chimichurri and even make my own Cilantro Chimichurri at home. The Chimichurri at Urban Plates is so good you'll want to drink it. The steak is always lean, tender, and cooked perfectly. They have a wide variety of side dishes you can customize with your meal. Pictured above are their roasted Brussels Sprouts.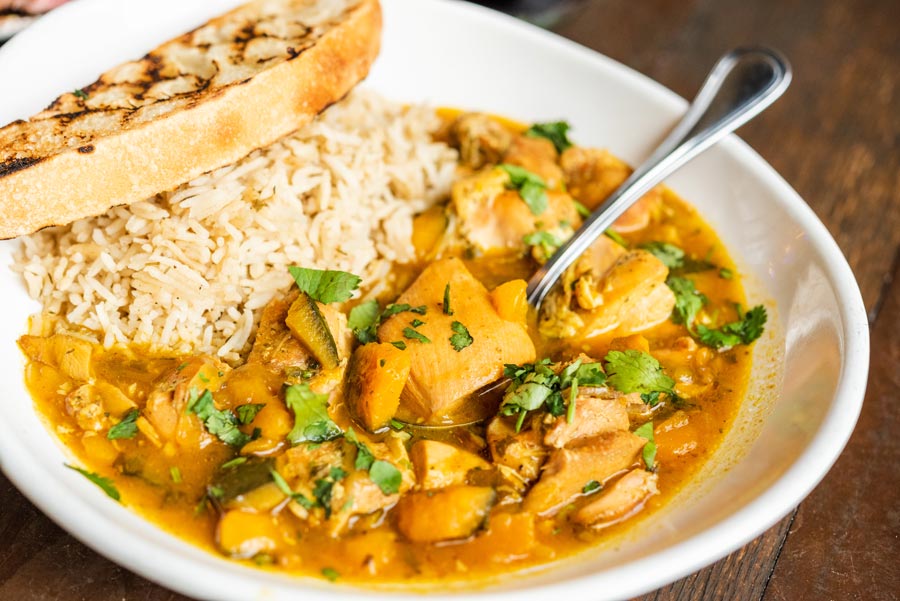 Moroccan Chicken Braise
Another signature dish I'm incredibly impressed with is their Moroccan Chicken Braise. If you follow my recipes, you might know that I am Moroccan and actually have a recipe for my Moroccan Lemon Chicken which is an authentic family recipe. The ingredients and preparation of the Moroccan Chicken Braise from Urban Plates are surprisingly traditional. They use signature ingredients like preserved lemon, turmeric, and fresh ginger, all of which are included in my own recipe. I'm not going to lie, mine is better. However, theirs is delicious and extremely impressive to find, especially at a fast casual restaurant.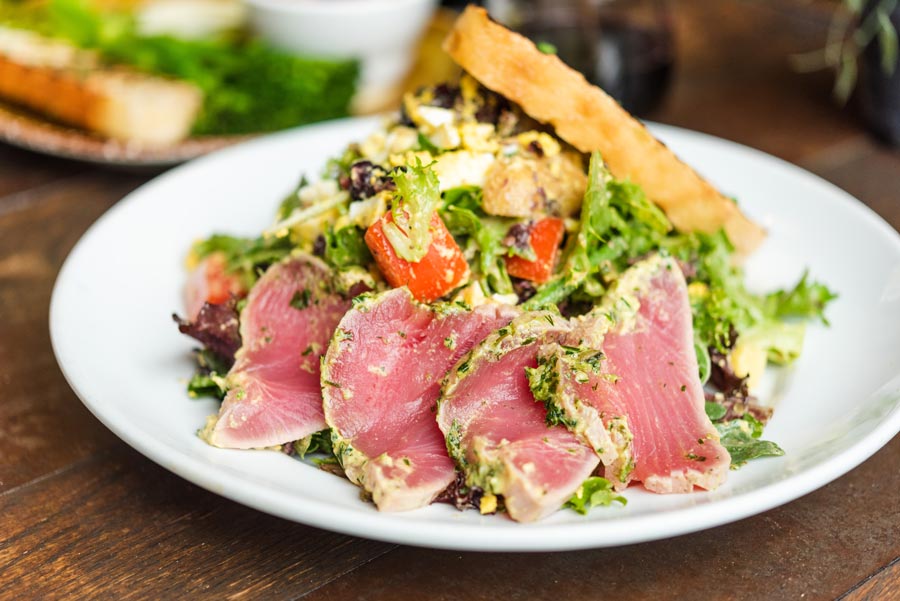 Urban Plates Seasonal Menu
In addition to their regular menu favorites, Urban Plates also rotates an impressive seasonal menu. The current selections happen to be some of my all-time favorites. I am a huge Tuna Nicoise fan and it happens to be my favorite salad. The Tuna Nicoise from Urban Plate's seasonal menu is perfect. It features fresh sliced seared Ahi, potatoes, green beans, kalamata olives, capers, hard boiled eggs, and an amazing dijon vinaigrette.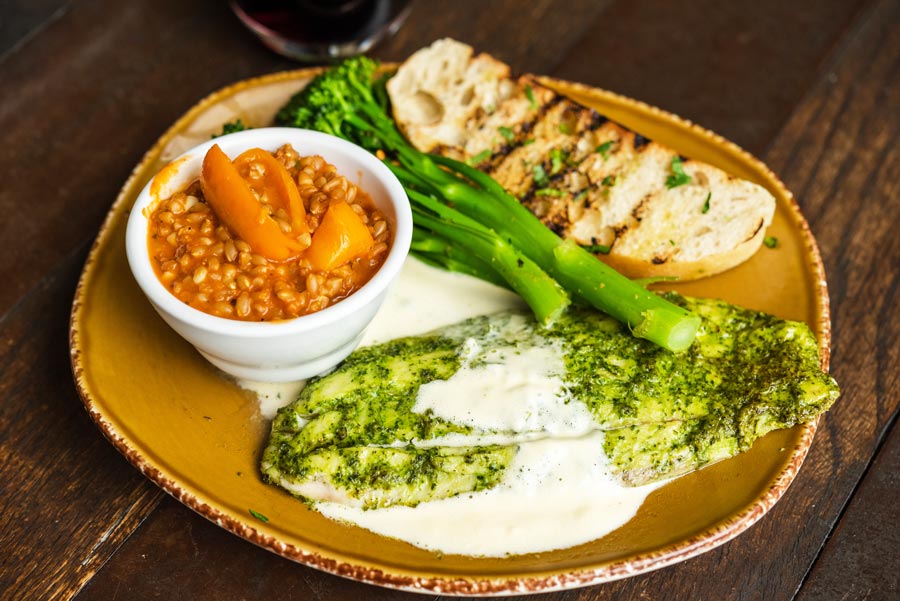 Herb-Crusted Fresh Barramundi Sea Bass
Their seasonal herb crusted fresh Barramundi Sea Bass is also terrific. It is so tender and so flaky it literally melts in your mouth. It is also topped with a creamy lemon hollandaise sauce. I ordered their seasonal Farro salad with my Barramundi and really hope they keep it on the menu. Farro is one of the healthiest grains, high in both fiber and protein.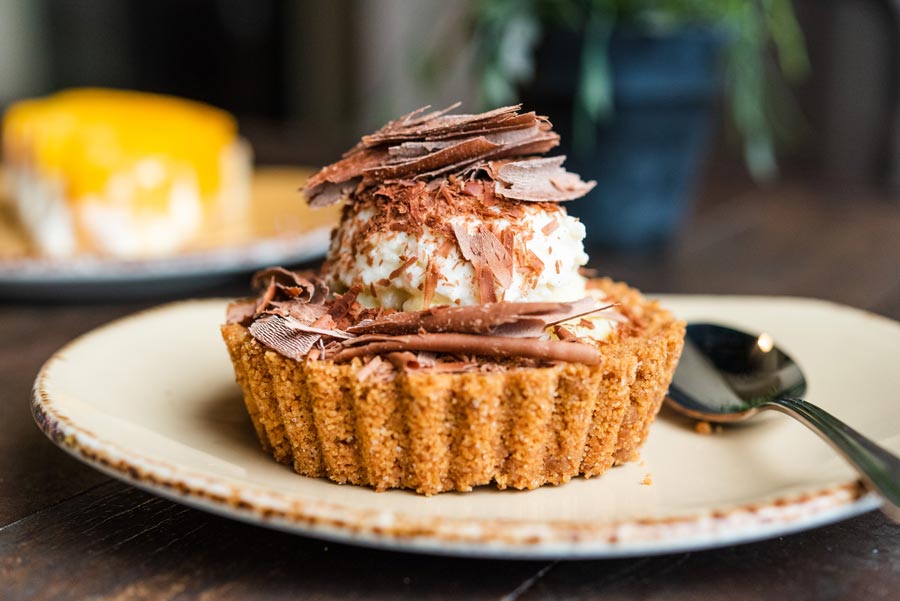 Fresh Pastries Made In-House
Finally, it is nearly impossible for me to leave Urban Plates without a pastry. I am obsessed with their mini Banana Cream Pie which is engulfed in a butter graham cracker crust. Just trust me when I tell you that this dessert is beyond amazing. I still can't believe they train their employees to make all of these desserts in-house. I for sure thought they ordered them from a pastry shop and had them shipped in each morning. That's how good they are!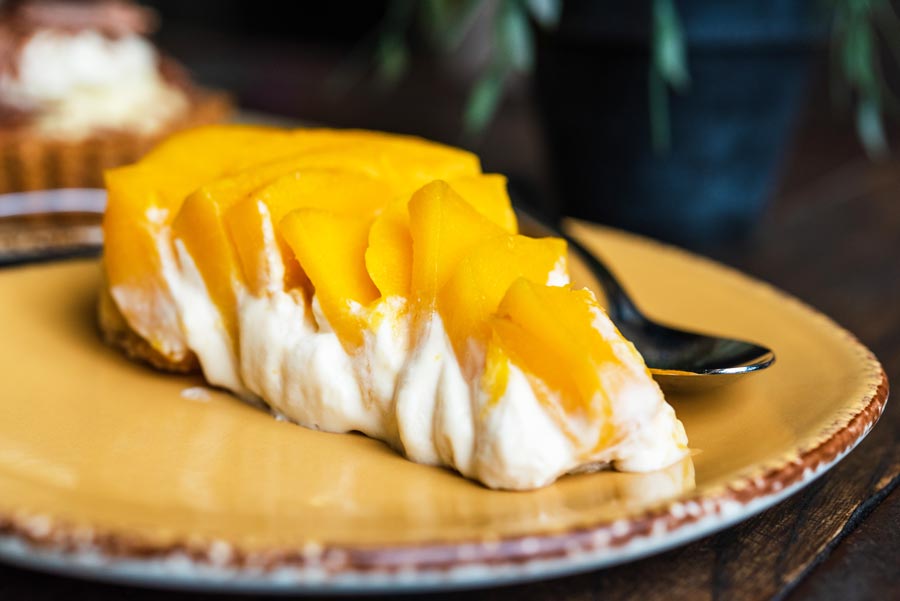 My girlfriend decided to try their mango tart, which I've always wanted to try. I was incredibly impressed with how fresh the mangos were. Kent, the manager at the Urban Plates Irvine location, informed me they receive fresh ingredients each morning from their local distributors who source the best quality ingredients.
If you enjoy exceptional cuisine but are looking for delicious quick meals during the week, a great place to grab lunch, or even delicious at home delivery, Urban Plates gets my official seal of approval! I frequent the Irvine location after my Target run, but they have locations all throughout California. Find the closest Urban Plates locations near you.
Find More Delicious Orange County Restaurants