Solstice in Irvine is a new, seasonally driven restaurant that has just made its new home in Orange County. The creation of their menu is ingredient-driven, fresh, and vibrant. Solstice Seasonal Kitchen and Bar is the perfect restaurant to visit if you want to enjoy creative flavorful dishes that focus on farm to table.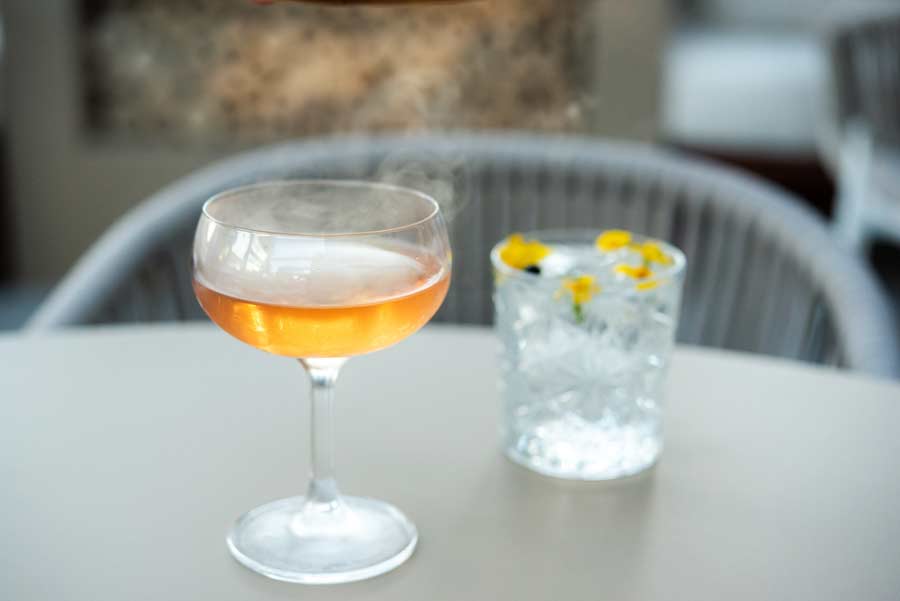 Solstice in Irvine offers fresh, seasonally crafted cocktails.
To start off our evening at Solstice in Irvine, we tried several cocktails including the Rum Cocktail 1.2, Tequila Cocktail 2.1, and Whiskey Cocktail 5. Solstice in Irvine prepares all of its juices, syrups, and garnishes in-house and from scratch.
In their Rum Cocktail 1.2, there is Appleton Estate Jamaican Rum, Apricot Masala Mix, and pistachio powder. This drink surprised the whole table with how well the pistachio powder and rum mixed. My favorite Solstice drink had to be the Tequila Cocktail 2.1. It is made with Altos Plata Tequila, strawberry-chili shrub, lime juice, Combier, and then garnished with a dehydrated lemon wheel.
Lastly, the Whiskey Cocktail 5 is sure to be a crowd pleasure and is made with Suntory Toki Whiskey, Lillet Rose, Cherry Blossom Green Tea, Peychauds, and cherry smoke. This cocktail arrives infused with cherry smoke that makes for a visual presentation.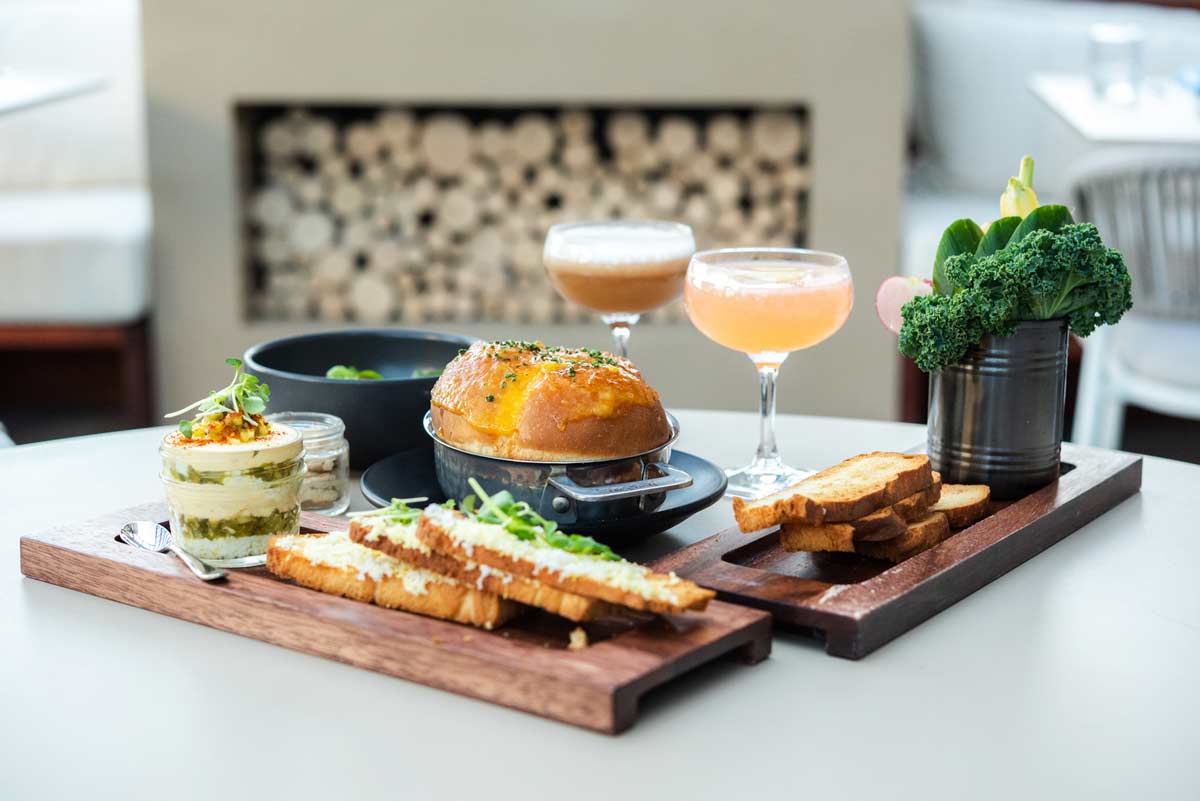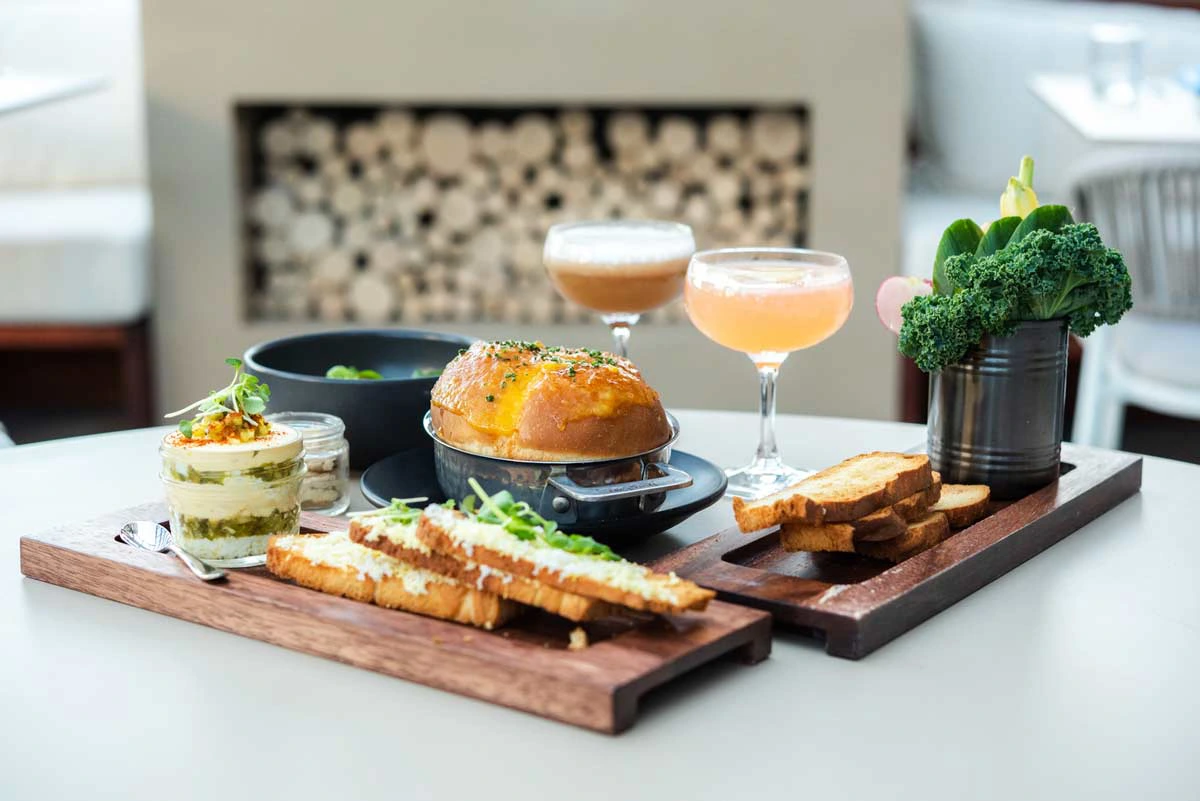 New Appetizers and Social Hour
Solstice has a variety of new seasonal appetizers and a fantastic Social Hour 3pm – 5:30pm Monday through Friday. We began the evening with a variety of new spring appetizers including the Parker House Rolls, Spring Pea Hummus, and the Deviled Egg Mason Jar.
The Parker House Rolls were extremely light, fluffy, and super addicting. The addition of Apricot Jam which lightly coated the top of the rolls brought out the natural sweetness in the bread and paired perfectly with the Allspice Butter.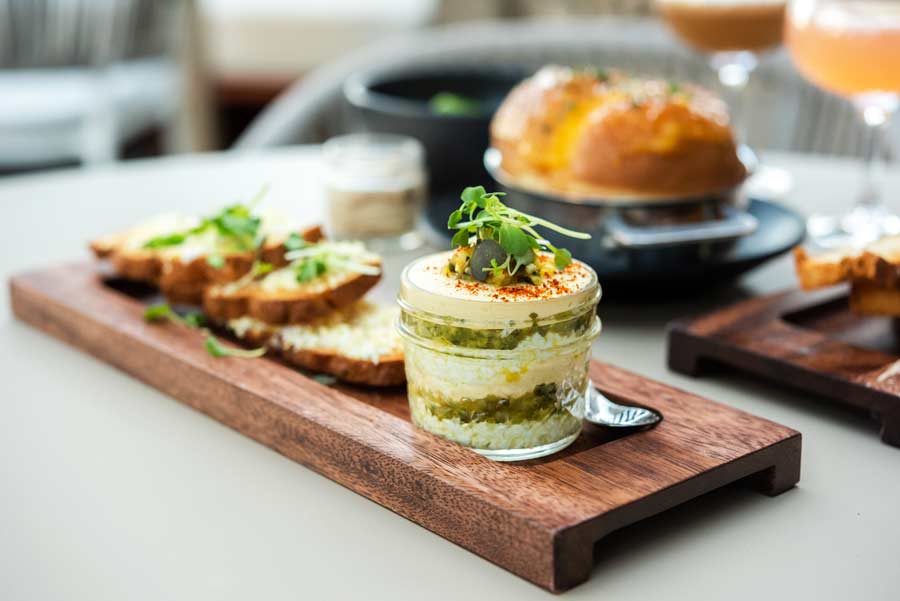 These aren't your grandma's deviled eggs
The deviled egg mason jar from Solstice in Irvine is an instant crowd-pleaser. This appetizer is presented as a deconstructed deviled egg with layers of housemade relish and served with homemade focaccia. Diners can also enjoy this fun twist on a classic favorite during their Social Hour.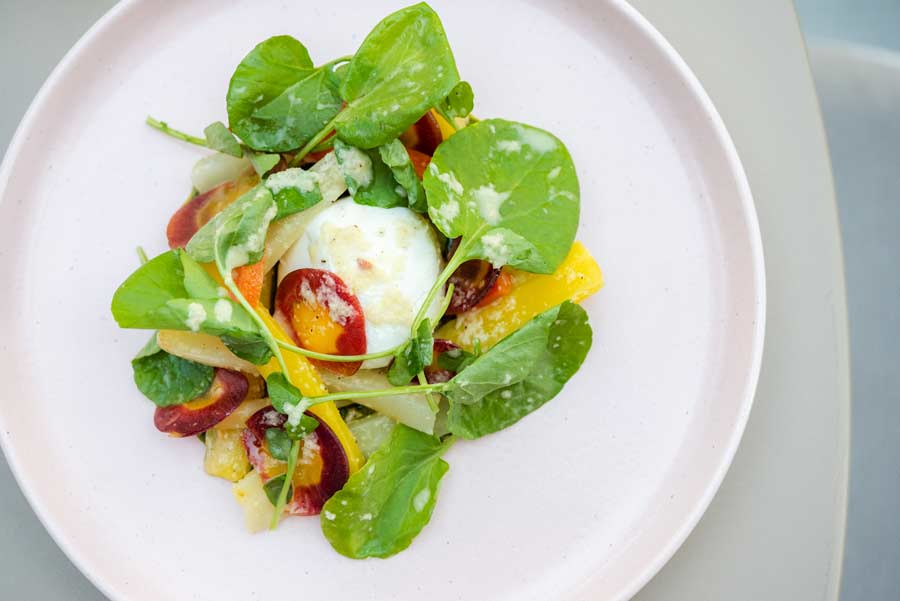 Solstice in Irvine prides itself on farm to table ingredients.
Next, we tried solstice in Irvine's Heirloom Carrot Burrata Salad. This was surprisingly one of my favorite dishes of the evening. It featured fresh burrata, seasonal heirloom carrots with chili care coins, basil pesto, watercress, and a shallot vinaigrette. Though the salad was simple, the dish was wonderfully fresh and flavorful.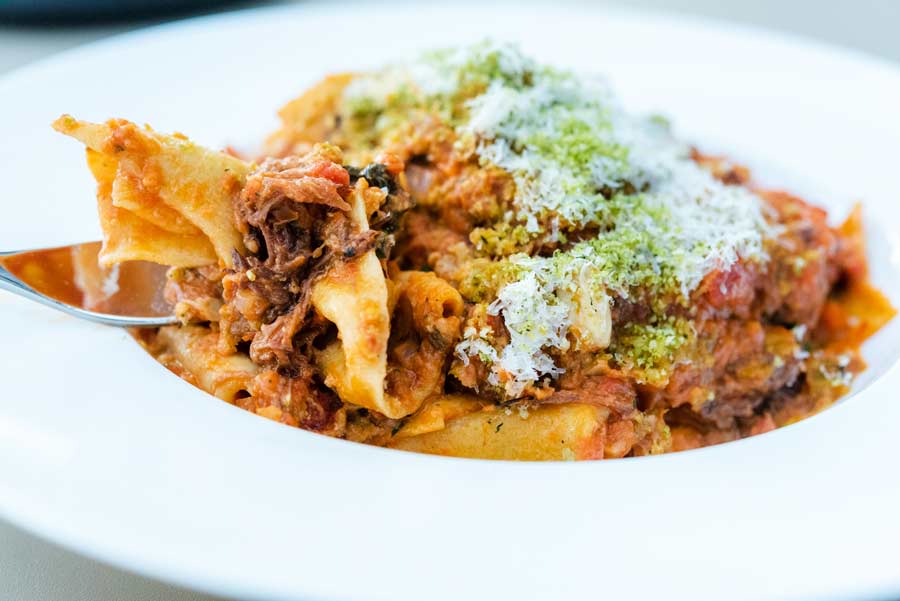 The Entrees at Soliste are a Crowd Favorite, Especially the Handmade Pasta
For our entrées we started with one of Solstice in Irvine's classics, the Braised Wagyu Pappardelle. This entree paired tender short rib ragu with fresh housemade Papperdelle pasta, pomodoro, pecorino, and herb persillade.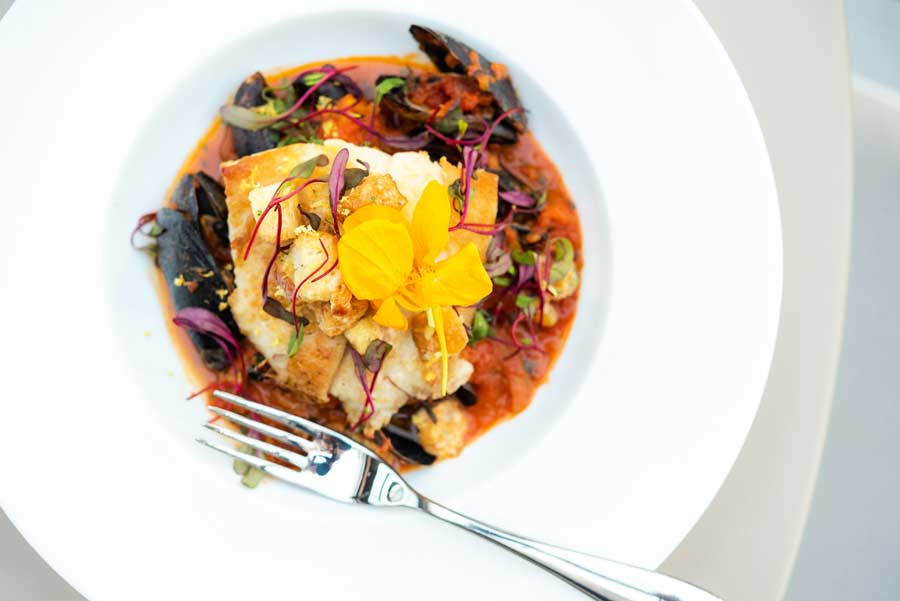 To highlight their new spring entrees we decided to try their Halibut Bouillabaisse which is served with mussels in a rich lobster sauce. The dish is adorned with lobster croutons and a fresh edible flower. Halibut is a subtle delicate white fish that has been gaining popularity again over the last few years.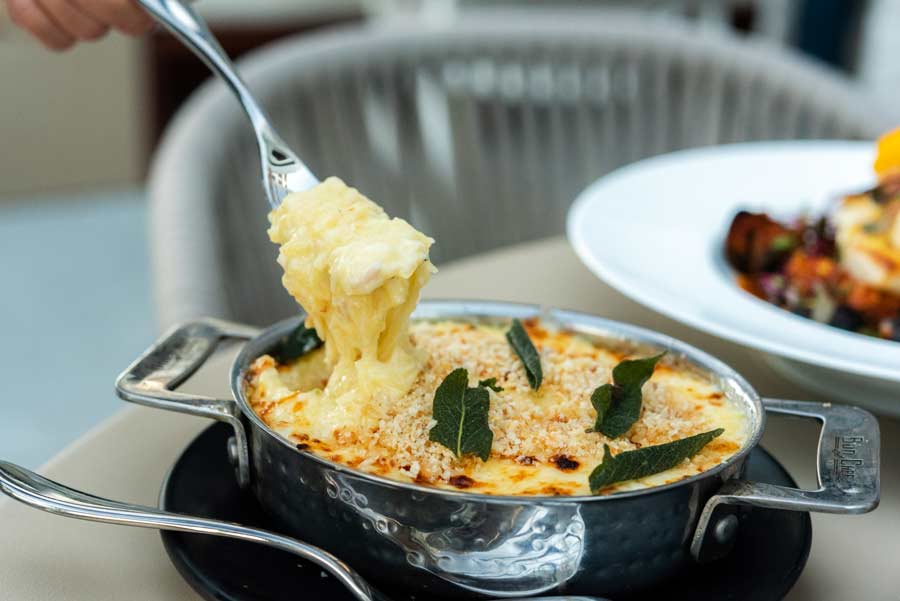 To go with our upcoming entrées, we also shared the Spaghetti Squash Gratin for the table. The Gratin had a creamy bechamel sauce with crispy toasted panko on top. It was the perfect spring potato alternative.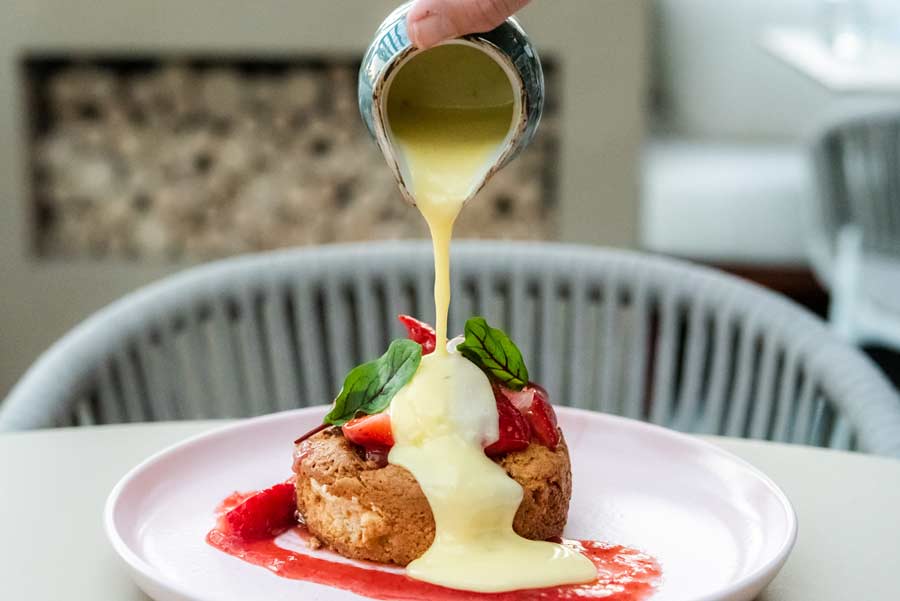 The Yuzu Strawberry Butter Cake gives Mastro's a run for its money!
Finally, for dessert, we had the Brown Butter Fudge Cake and the Strawberry Yuzu Butter Cake. The Strawberry Yuzu Butter Cake comes with yuzu creme Anglaise, strawberry Elderflower jam, and cream gelato. Everyone at the table loved the butter cakes soft buttery center and crisp edges. I personally enjoyed this Strawberry Yuzu Butter Cake much more than the popular Butter Cake served at Mastro's!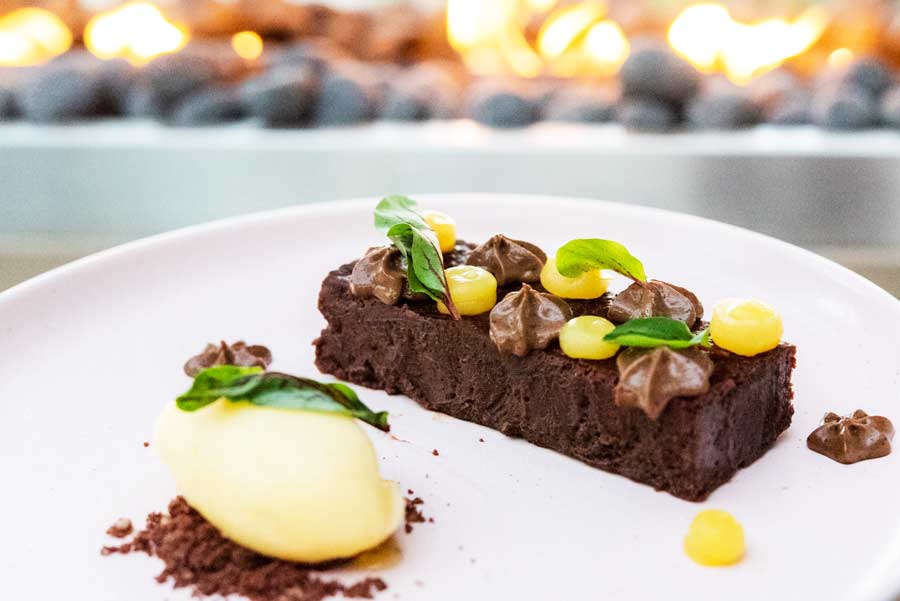 The Brown Butter Fudge Cake had a cacao nib crumble, mocha custard, orange gelee, and an orange-rosemary sorbet on the side. This desert puts a fun spin on a classic fudge cake. The sorbet paired well with the cake and the cacao nib crumbles were a nice compliment to the dessert.
Solstice Seasonal Kitchen and Bar in Irvine just recently opened in The Boardwalk business district! If you crave vibrant seasonal cuisine you will appreciate their new fresh spring menu.
Solstice Seasonal Kitchen and Bar
The Boardwalk, 18555 Jamboree Rd, Irvine, CA 92612
Reservation: (949) 241-7088
Check out these other Orange County restaurants known for their seasonal cuisine.