Andrei's Irvine Happy Hour Menu has plenty of mouth-watering options to satisfy your hunger after a long workday. From tempting kabobs to portobello fries, this happy hour menu is sure to delight any craving. Andrei's Conscious Cuisine has never disappointed with their mix of Modern-American and Mediterranean flavors. I was wonderfully impressed with their variety of happy hour selections, portion sizes, and reasonable pricing. They also have a secret super happy hour with even more discounts!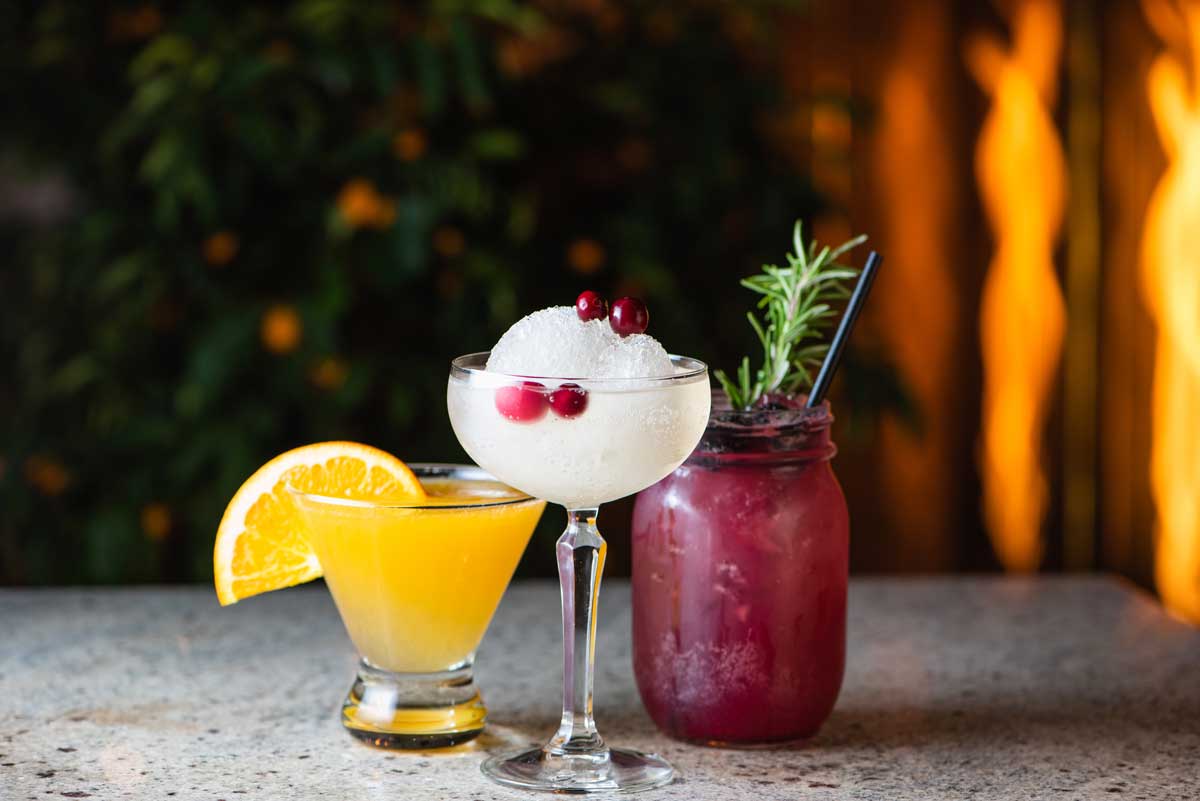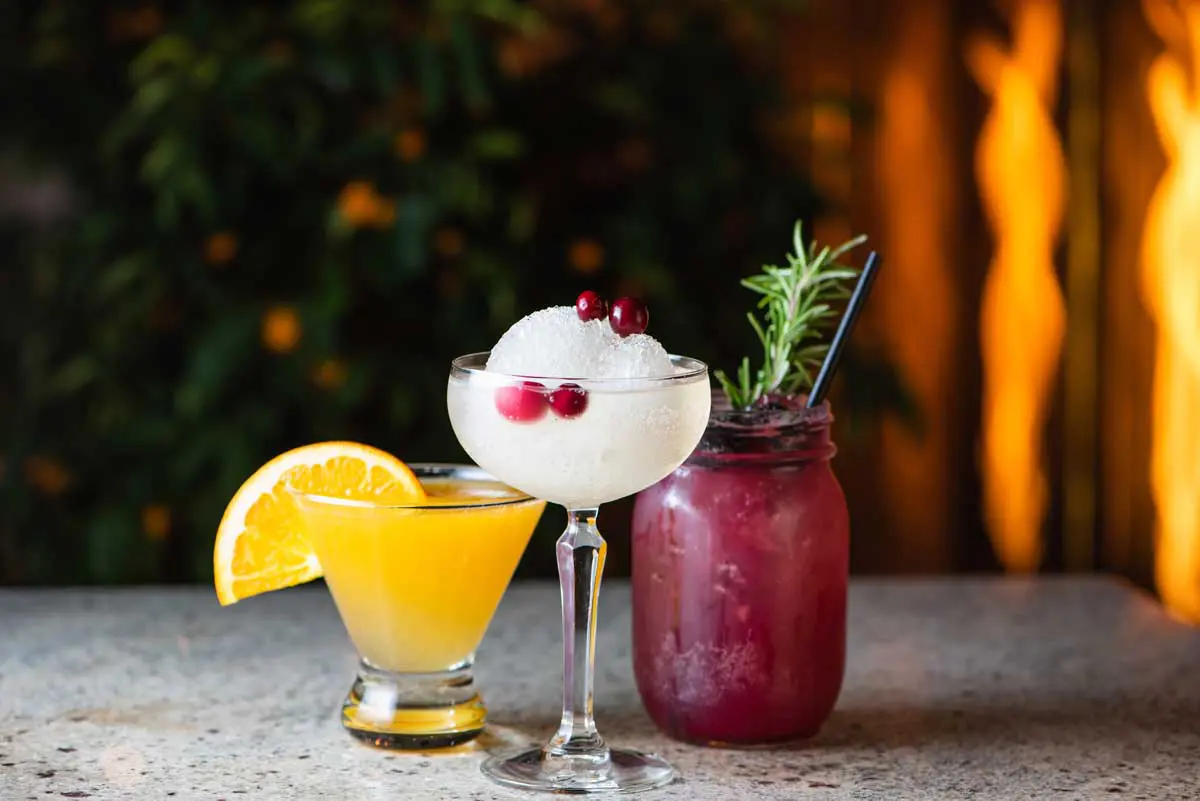 Chilean Spice $8, Cold Snap $7, Gin & Jam $8
First, for cocktails, there are a variety of selections including 3 "Bubbly" champagne crafted cocktails. I love my champagne so I was all over their Cold Snap made with apple, rosemary, cinnamon, lemon and champagne crushed ice. If only all snow cones could be this good. Wine lovers will find a variety of glasses from $7-$9 and if you're into craft beers they are offered from $4-$5.
Andrei's Irvine Happy Hour has a selection of 3 "Bubbly" and 4 Crafted Cocktails as well as several wine & beer selections.
Andrei's Irvine happy hour also offers a selection of 4 crafted cocktails. Pictured above you'll find the Chilean Spice made with Citrus-infused Vodka, orange, house-made sweet & sour and lime. The beautiful Gin & Jam is a new seasonal cocktail with Gin, Elderflower Liqueur, Blackberry Jam, lemon, and seltzer. Andrei's Conscious Cuisine never disappoints with their creative cocktails and I love that they offer several on their happy hour menu.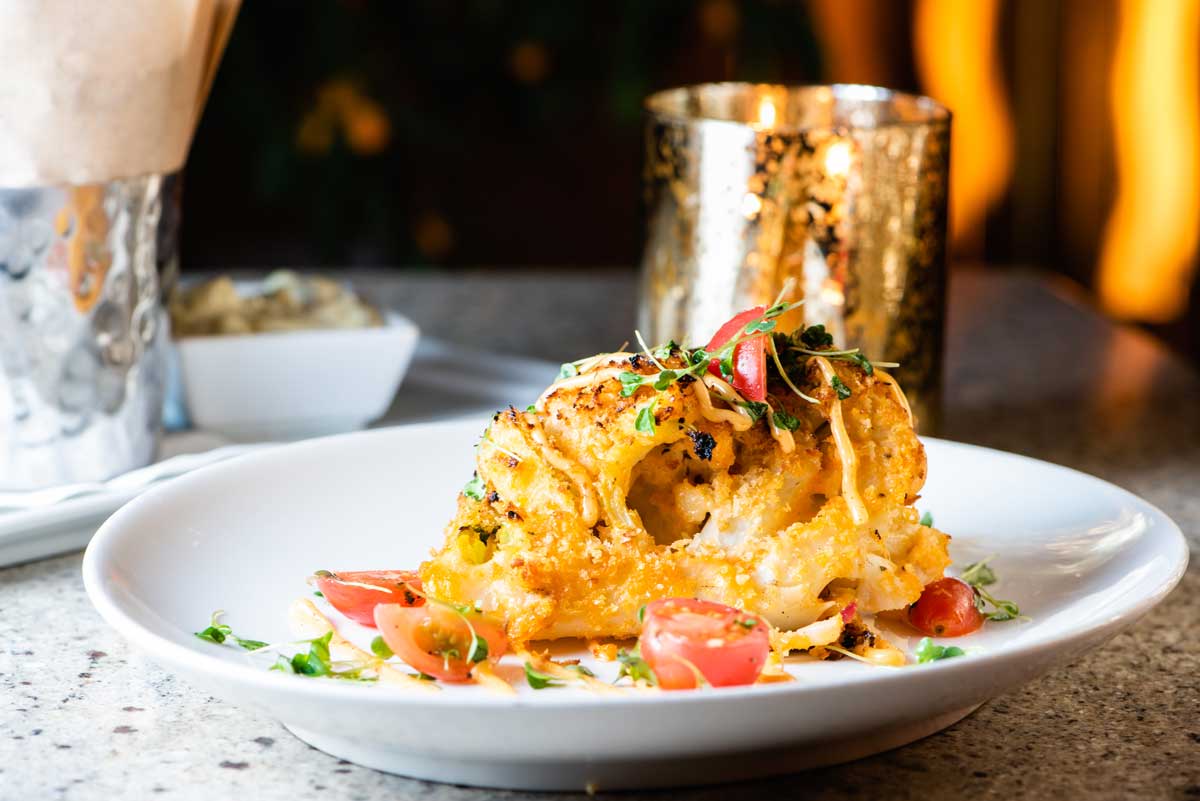 Crispy Cauliflower $9
Next, for appetizers, their Crispy Cauliflower is outstanding and over-roasted a panko bread crumb crust. Not only is their Crispy Cauliflower beautiful, but it is also bursting with flavor thanks to the Harissa aioli.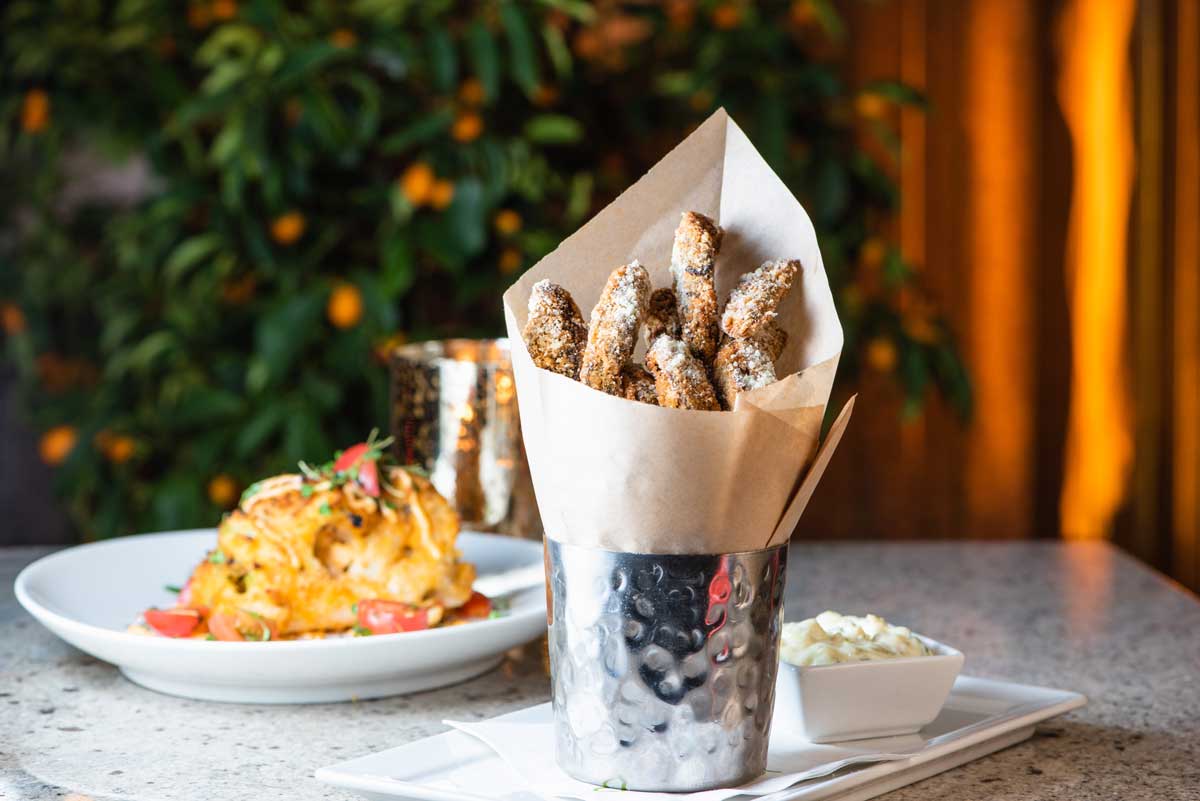 Portobello Steak Fries $9
One of my favorite happy hour bites that always keeps me coming back for more is Andrei's Portobello Steak Fries. If you would have told me that dipping Portobello Mushrooms in tartar sauce was a heavenly flavor combination, I probably wouldn't have believed you. I assure you, however, that these Portobello Steak Fries are life-changing!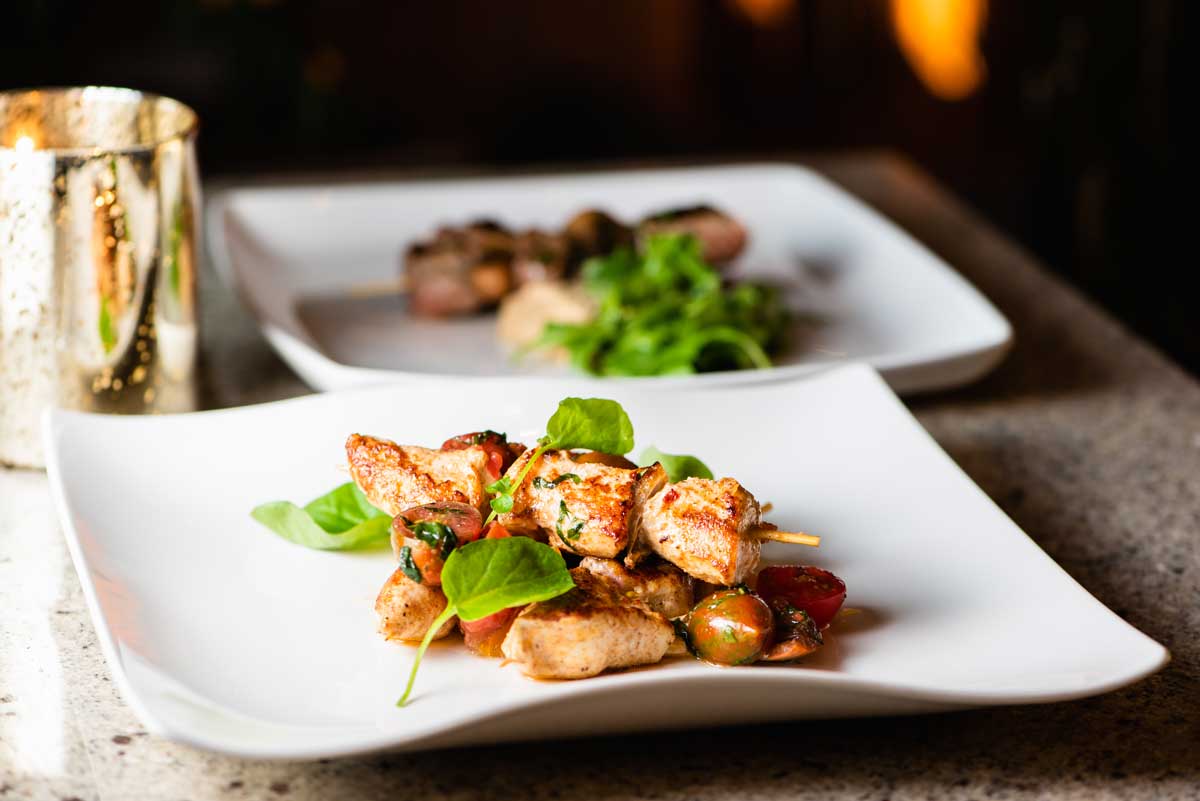 Chicken Kabobs $8
Then, carnivores will rejoice over the juicy tender Chicken and Beef Kabobs. These Andrei's happy hour appetizers are both generous and filling. It would be impossible to choose a favorite so you might as well just get them both. The Chicken Kabobs are served with tomato, mint salad, and Harissa aioli.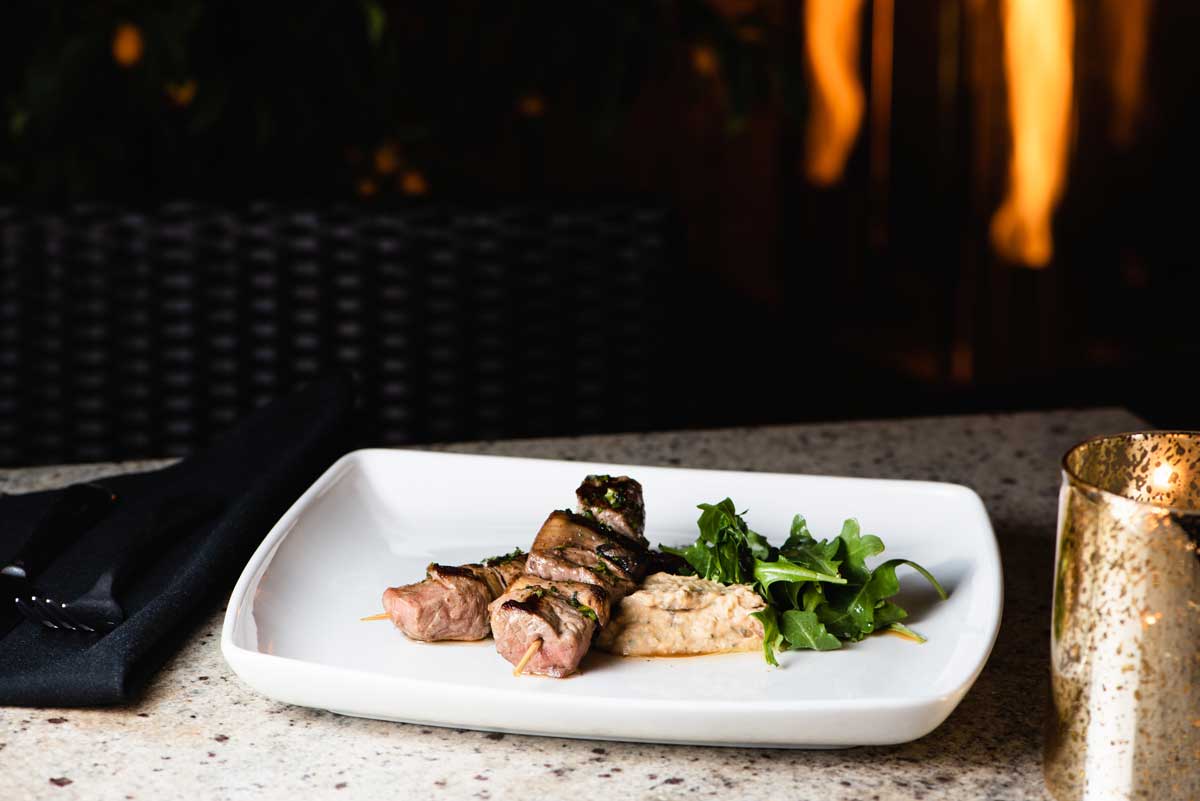 Beef Kabobs $9
The Mediterranean Beef Kabobs are cooked to a perfect medium-rare and accompanied by their signature Braised Onion Hummus and Green Mojo.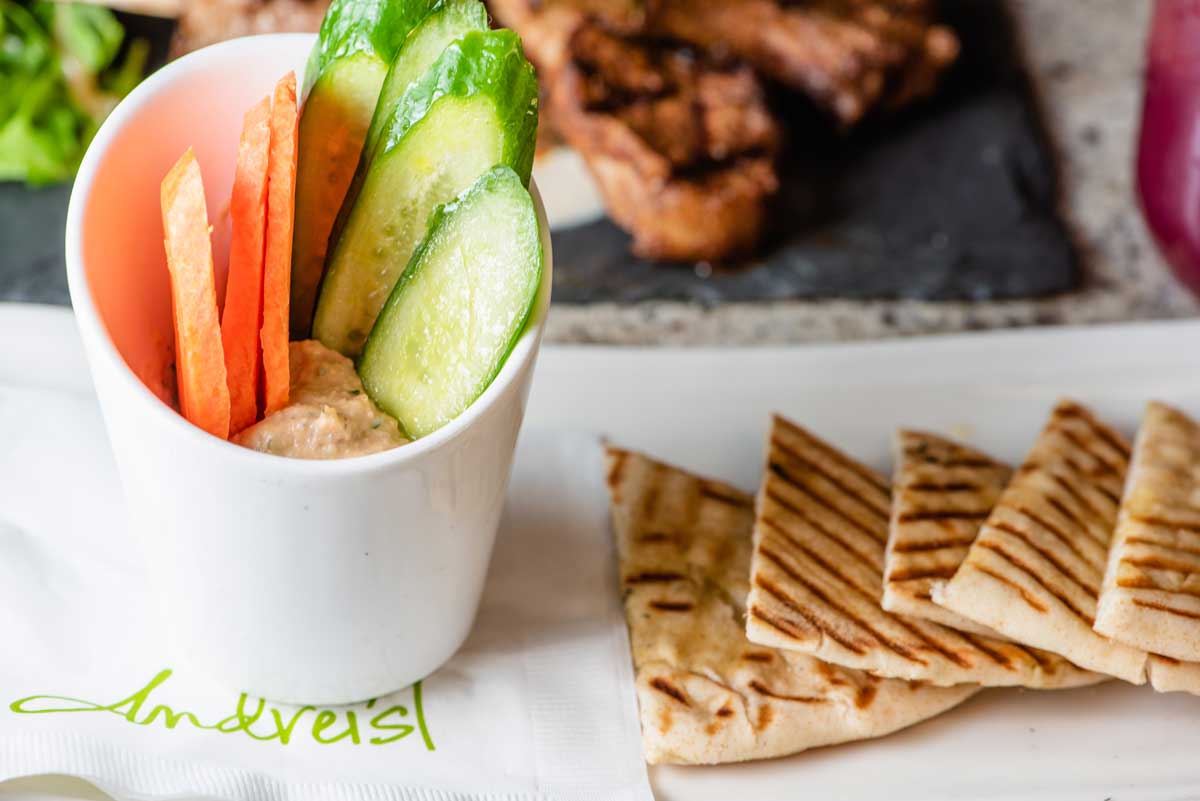 Braised Onion & Thyme Hummus $8
Speaking of Braised Onion Hummus, this hummus is so popular they offer it as an appetizer. The Braised Onion & Thyme Hummus arrives with warm pita bread and is only $8. I assure you there won't be a drop left!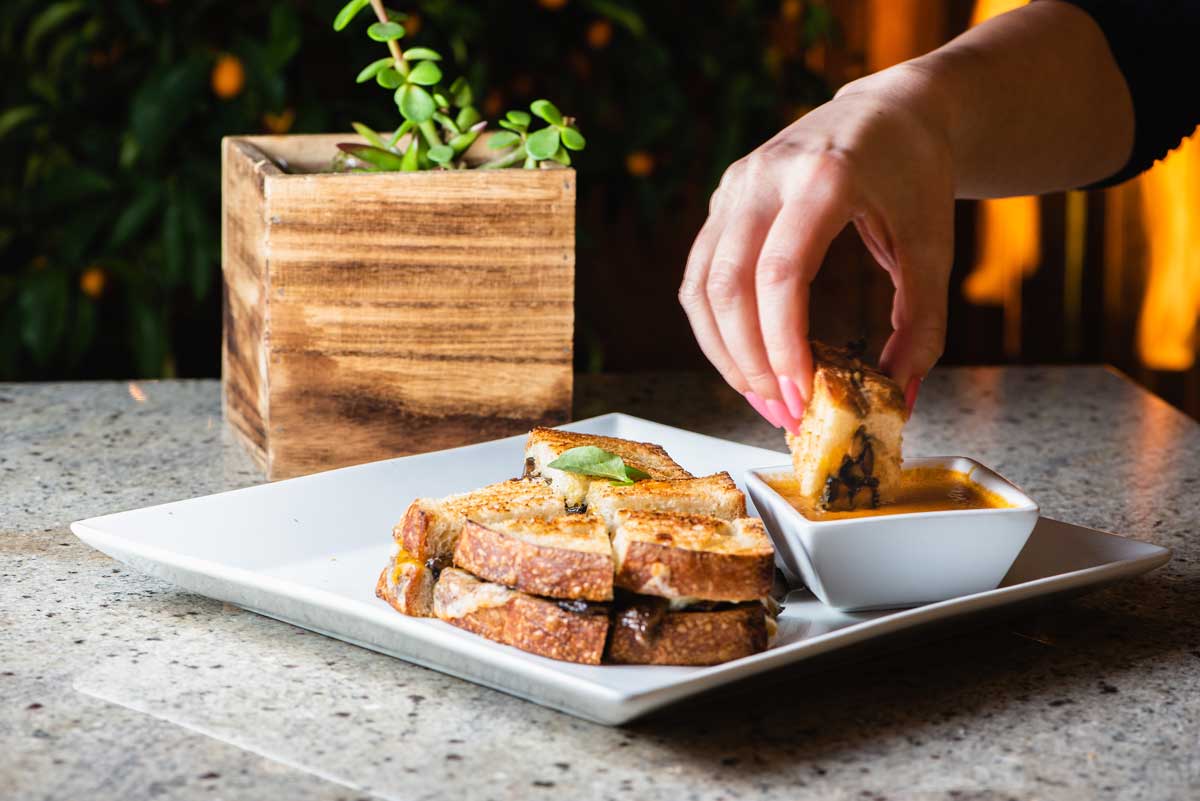 Winter Mushroom Grilled Cheese $8
I also have a special weakness for any restaurant that serves gourmet grilled cheese with tomato soup. The Winter Mushroom Grilled Cheese is only $8 and features cheddar, provolone, and Navratilova cheese with winter mushrooms on perfectly grilled sourdough bread.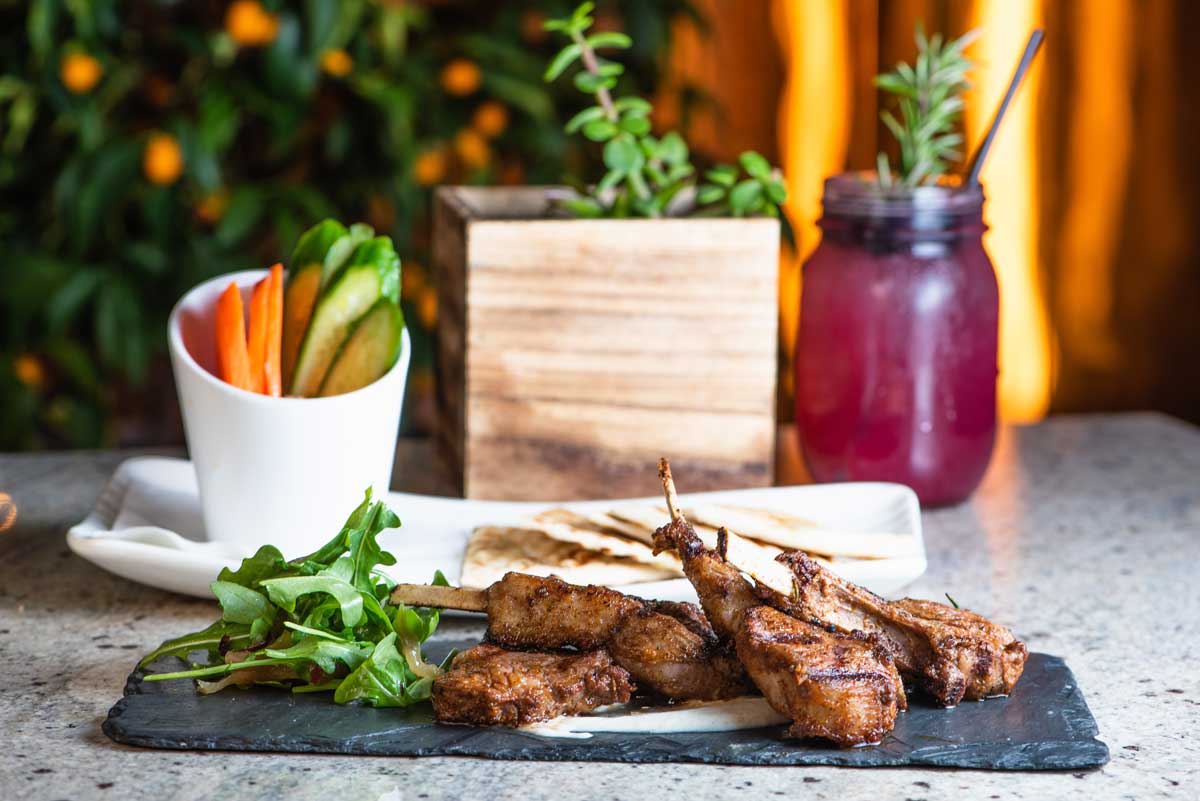 Lamb Lollipops $18
In addition to Andrei's Irvine happy hour menu, they also have delicious "small plates" featuring several popular items like their Lamb Lollipops. These New Zealand Lamb Chops arrive as a generous portion with cumin-coriander yogurt, sweet onion jam, and wild arugula salad. Now, normally when you see arugula on a plate you think of it as a garnish, but Patrick, the restaurant manager, let me know that I should try them all together. Boy was he right! The sweet onion jam and arugula salad is a game-changer and takes their Lamb Lollipops to a whole new level. I only wish there was more.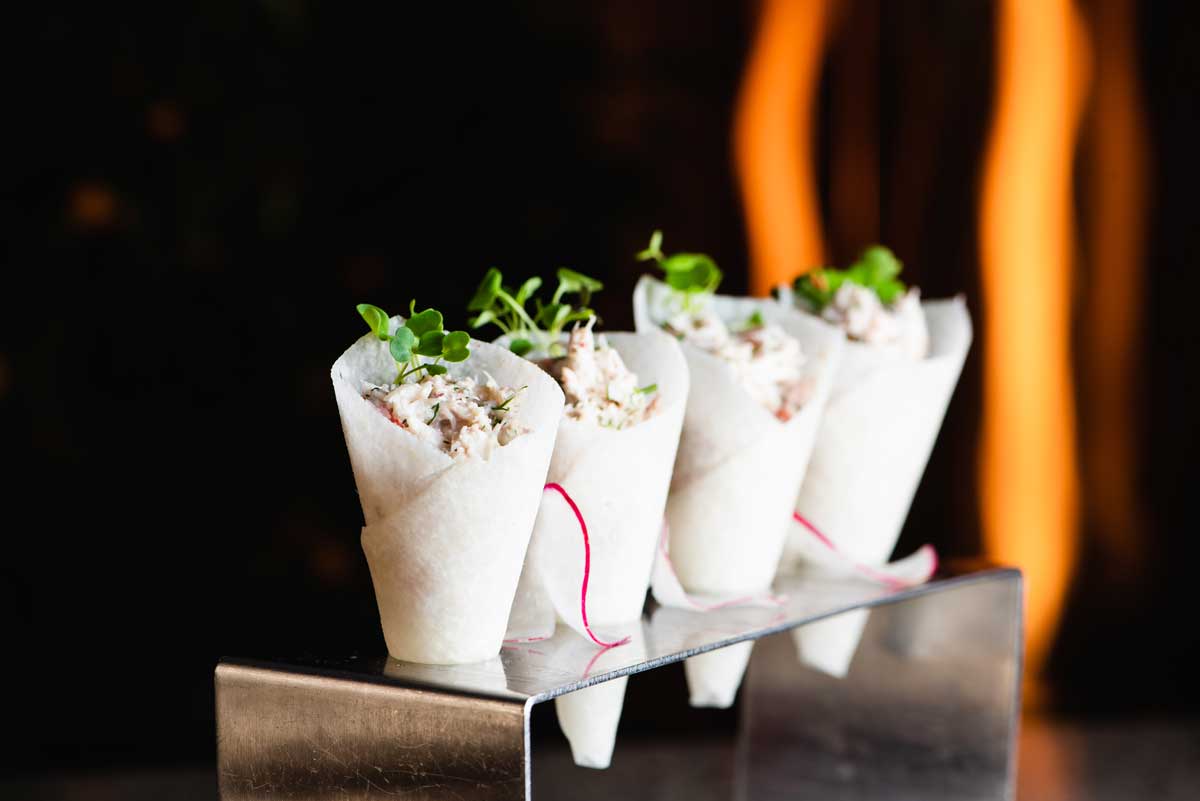 Crab Cones $17
Finally, I couldn't leave without trying the Crab Cones. I have to admit, I like crab even more than lobster so it is definitely a weakness of mine. The Crab Cones are composed of thinly sliced Jicama, stuffed with Alaskan crab salad, lemon oil, and local microgreens. These cones are light, refreshing, and decadent all at the same time!
Other Andrei's Irvine Happy Hour selections include Tempura-Battered Fish Tacos ($10), Black Angus Beef Spring Rolls ($8), Truffle Pommes Frites ($9), Sweet Potato Fries ($9), and the Chefs Daily Pizza ($9). Needless to say, if you plan on heading to Andrei's Happy Hour, be sure to bring your appetite.
Guests might also be surprised to know that Andrei's Irvine also has a SUPER HAPPY HOUR!
Guests might also be surprised to know that Andrei's Irvine also has a SUPER HAPPY HOUR! If you arrive between 3 pm – 4 pm you can enjoy their entire happy hour menu for half off their happy hour prices, including cocktails! This is completely unheard of and one of the only places I know of in Orange County that offers anything like this. I'd hate to be a bad influence and encourage you to leave work early, sorry not sorry!
Andrei's Irvine also has a fantastic brunch!
Andrei's Conscious Cuisine
2607 Main St, Irvine, CA 92614
(949) 387-8887