Posts may contain affiliate links. Read our full disclosure policy here.
The Oak Laguna Beach brunch just got a revamp with delicious food, tempting cocktails, and a new fun party vibe on Sundays. No matter what you're craving, there is something for everyone to enjoy.
I first discovered this brunch when I was looking for a great place to take my mother-in-law for her birthday. Oak Laguna Beach is conveniently located closer to Dana Point which makes it a great location for those driving up from the San Clemente area.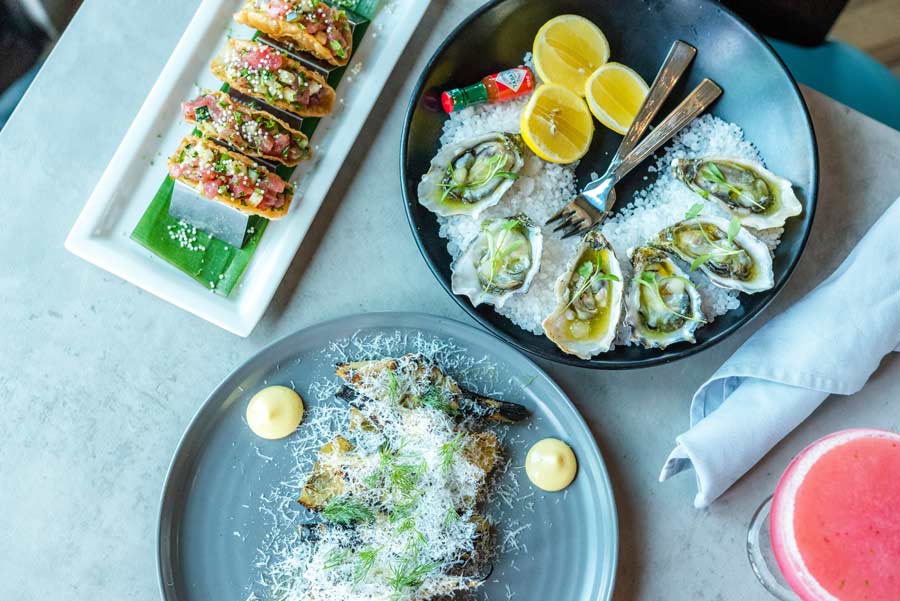 1. Relax for a Classy brunch on Saturdays or party it up for "Brunch and Beats" on Sundays
The Oak Laguna Beach brunch offers a relaxing atmosphere on Saturdays and on Sundays they keep the party going by bringing in a DJ for their new "Brunch and Beats". We, of course, decided to visit on a Sunday and were greeted by groups of brunch-goers singing the words to their favorite pop hits. It was quite a fun and lively crowd. This is the perfect spot for those who enjoy eating amazing food, but also want to have a little extra entertainment on their Sunday afternoons.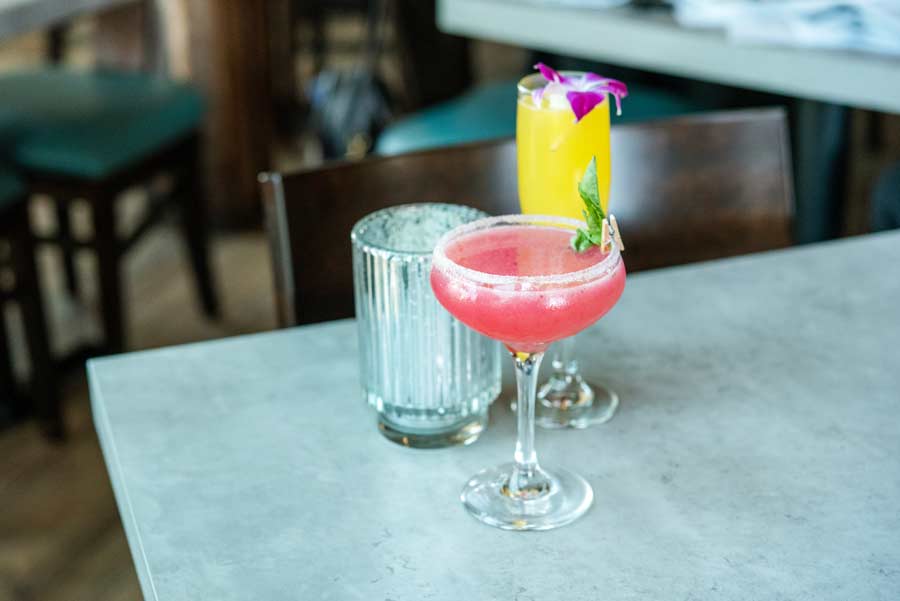 2. The Oak Laguna Beach brunch offers the most amazing cocktails
Oak's Mixologist, Cat, has created an amazing bar menu and the Oak Laguna Beach Brunch offers some spectacular cocktails. Cat infuses all of her own alcohols, makes the purees fresh each morning, and even makes her own syrups. The effort has definitely paid off because their cocktails are amazing and one of a kind.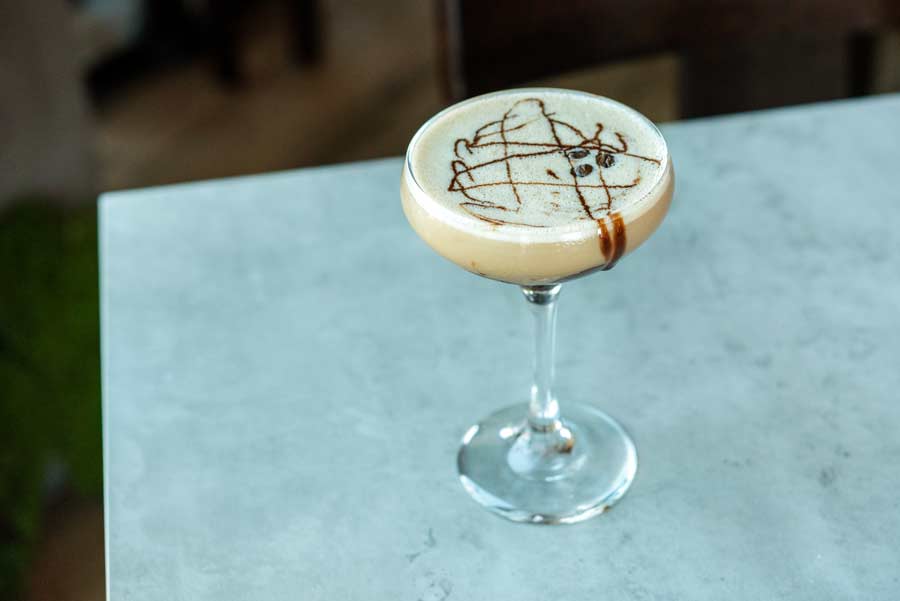 The Chocolate Espresso Martini was on almost every table when we walked in. It was made with Stoli Vanilla Vodka, espresso, Godiva White Chocolate Liqueur Kahlúa, and Crème de Cacao with a drizzle of chocolate and garnish of coffee beans. The flavors were incredibly well balanced being neither too strong in alcohol nor espresso.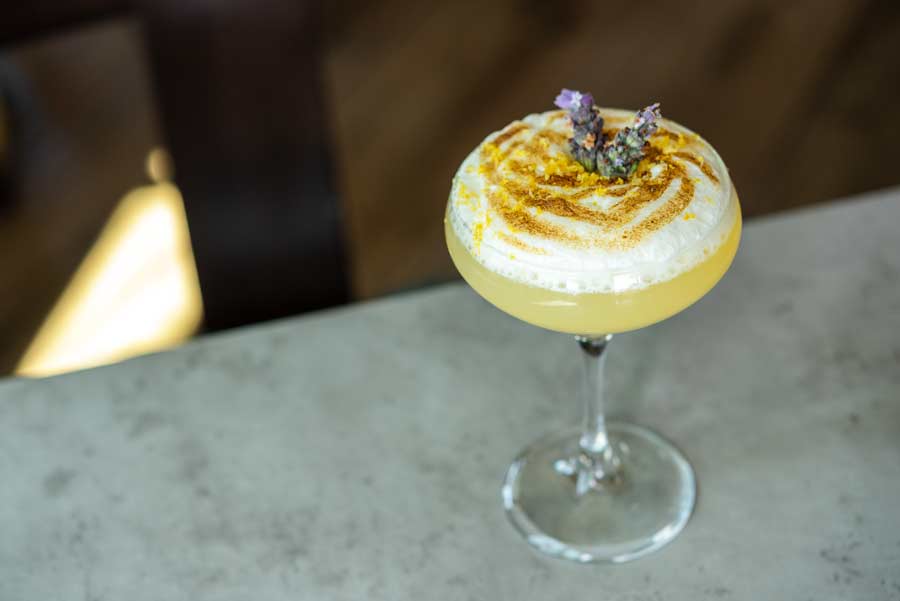 The real star however was the breathtaking Lavendar and Meringue Martini. This cocktail was as delicious as it was eyecatching. In fact, this is easily my choice for the cocktail of the year, maybe even of the century! This martini features EG Organic Lavender and Rosemary Vodka, lemon juice, LicOR 43, and is then topped with torched lemon meringue foam with a sprinkle of lemon zest and fresh lavender sprigs from the garden. Do not leave the Oak Laguna Beach brunch without enjoying this fabulous cocktail!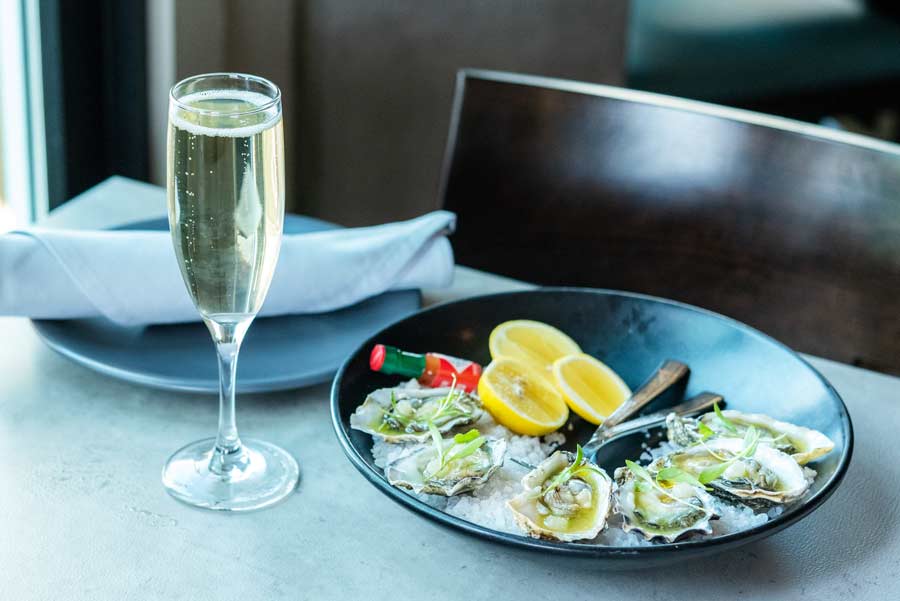 3. Delicious Fresh Oysters and Appetizers
Sometimes when it comes to brunch you want more than your typical fair of eggs benedict and french toast. One dish I always crave at a fantastic brunch is fresh oysters. The Oak Oysters are fresh Kumiai Oysters laid on a bed of salt rocks, garnished with pickled cucumbers, green apple mignonette, and lemon oil. The pickled cucumbers were a pleasant surprise and made these oysters so simple and refreshing.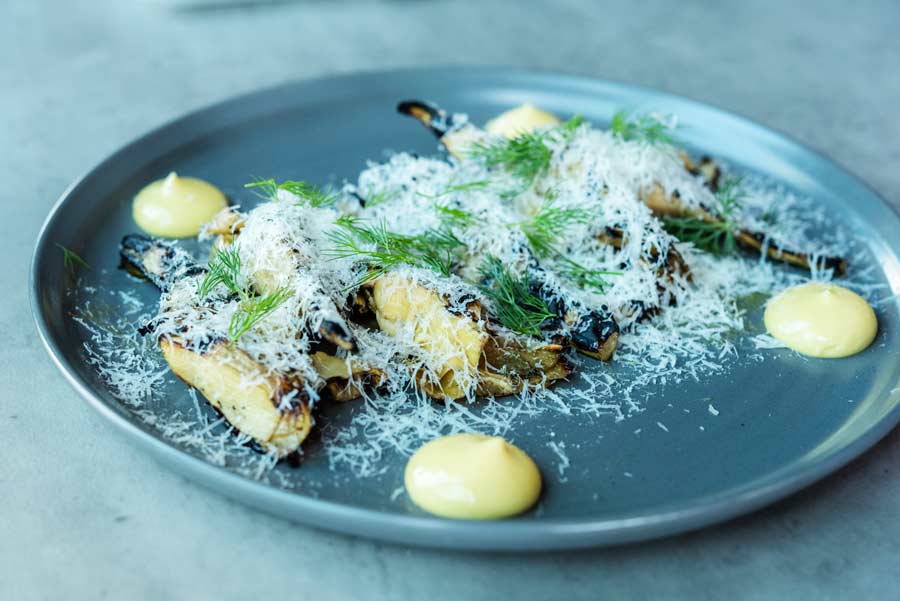 I also thoroughly enjoyed the Grilled Artichokes which arrive with freshly grated Grana Padano Cheese, fresh dill, and a flavorful garlic aïoli. Everyone at the table could not get enough of this, including myself!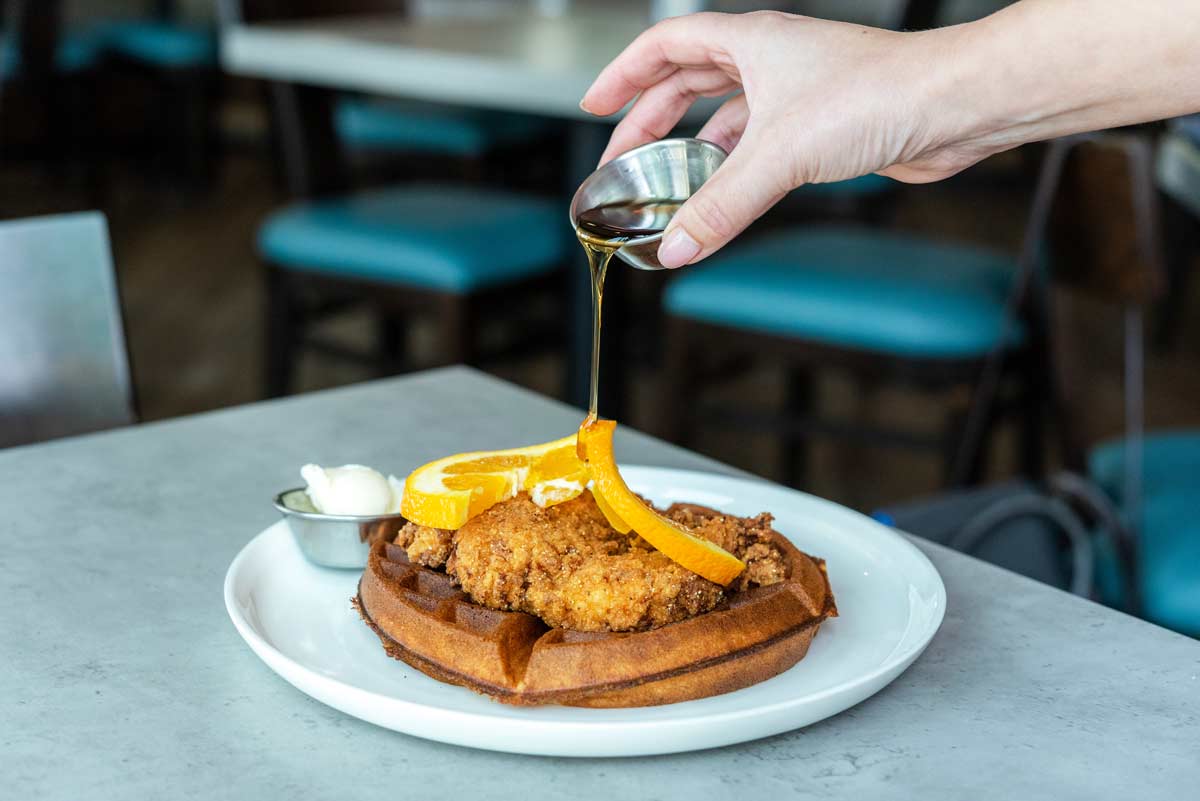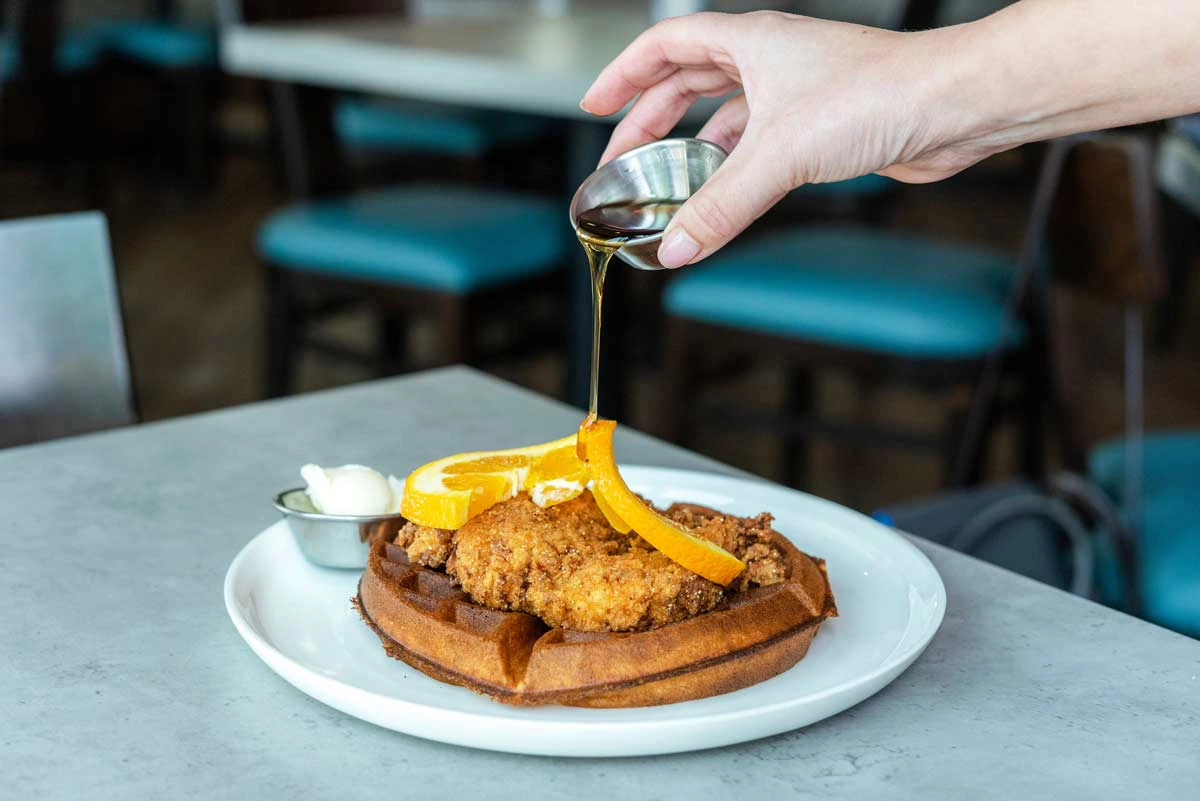 4. Awesome Brunch Entrees
One thing I never order for brunch is an omelet, but what I order every time I see it on the menu is the Chicken and Waffles. My favorite guilty pleasure is fried chicken so maybe I am slightly biased, but there are many ways to completely ruin a piece of fried chicken. Luckily the Fried Chicken and Waffles on the Oak Laguna Beach Brunch menu was fantastic. The chicken was moist, flavorful, and crispy while the waffle remained light, fluffy, and golden brown.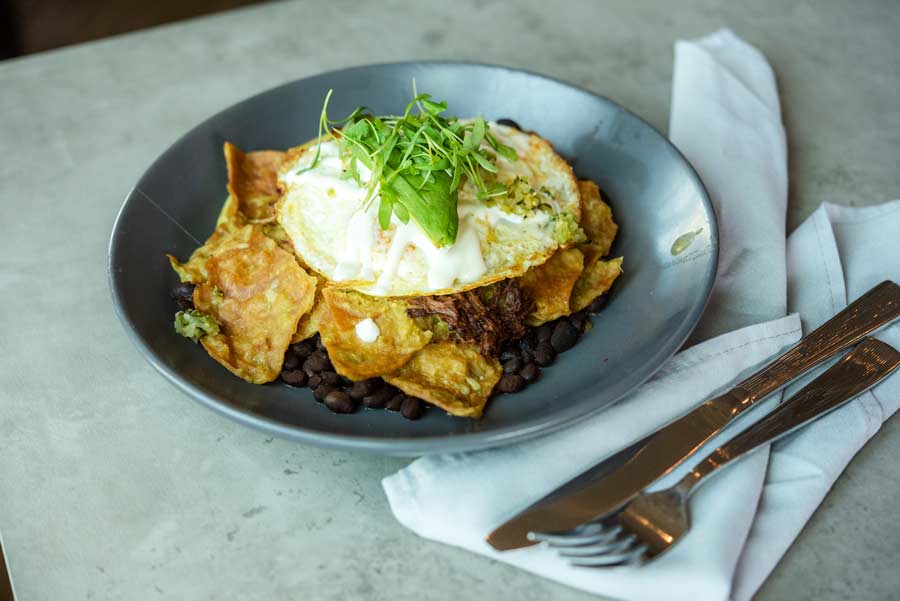 I also enjoyed the Short Ribs Chilaquiles with tomatillo salsa, salsa verde, fresh avocado, black beans, lime crema, and queso fresco. The short ribs were so tender and the fried egg was cooked perfectly with a beautiful, runny yolk. I loved how each component combined on my fork created the perfect bite.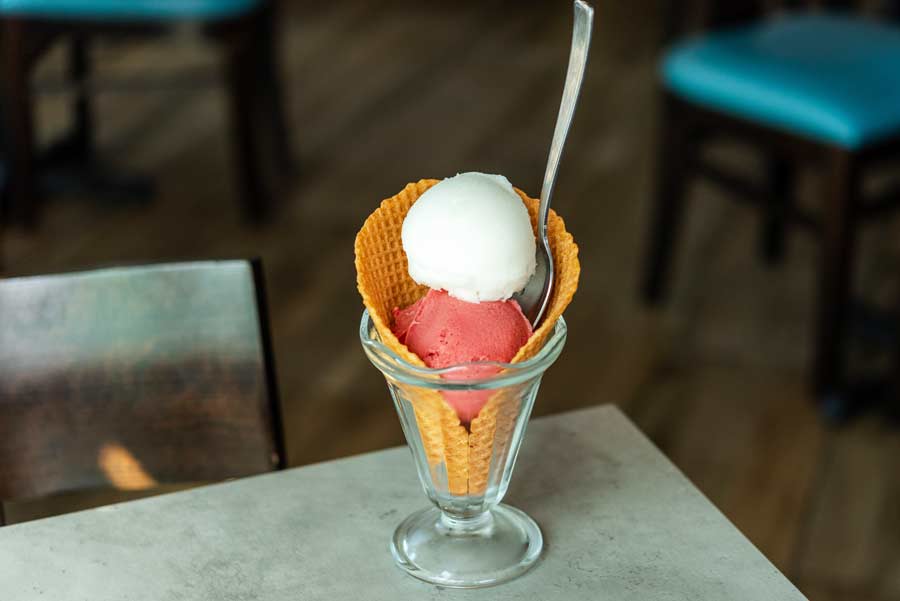 5. Waffle Cones with Homemade Sorbet and Gelato
Finally, let me first preface this by saying I absolutely never order waffle cones and I didn't order this one either. However, their homemade sorbets and gelatos are served in a waffle cone that the chef makes in-house. Of course, as a photographer, I love a good presentation, but I in no way expected to eat the actual waffle cone. I am now a changed woman, however, and this dessert just had me rethink everything I ever thought about waffle cones. The dessert is worth ordering just simply to enjoy this perfectly crispy delicious morsel and I would gladly pay for another to-go.
The sorbet we ordered was so good the waffle cone had no chance of getting soggy. They were both devoured in mere minutes.
Oak Laguna Beach is right off PCH and they have their own underground parking with validation.
1100 S Coast Hwy #202
Laguna Beach, CA 92651
Reservations: 949-940-3010
Enjoy More Laguna Beach Restaurants