Posts may contain affiliate links. Read our full disclosure policy here.
The Bianchi Laguna Beach Tasting Room & Winery has just become my new favorite spot to unwind and enjoy fantastic wines! There are not many wine tasting rooms in OC so Bianchi Laguna Beach is a welcome addition. The Bianchi family has been running the winery for three generations and uses the Central Coast's best grapes. As a wine lover myself, they really do produce high-quality premium wines. If you enjoy all types of wine, a beautiful view, and a great ambiance then this place is for you!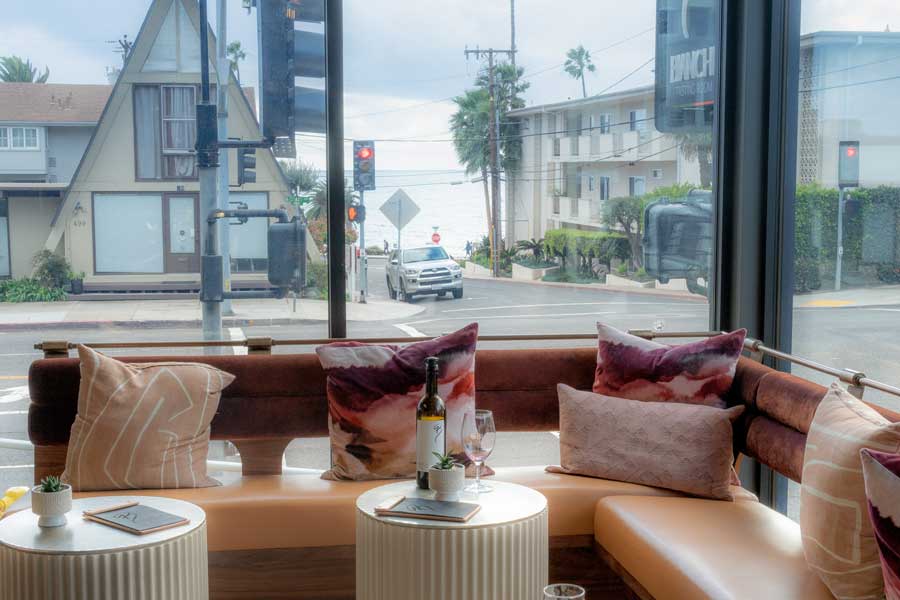 Bianchi Tasting Room has a Welcoming Atmosphere, the Best Views, and a Wide Variety of Wines
When we first got to the lounge of the Bianchi Laguna Beach Tasting Room, the vibe was laid back with fun music. Although it is an upscale winery, the atmosphere was not pretentious at all. This same vibe even carried over in the tasting which made it more enjoyable. There is even a stunning beach view from the tasting room that perfectly sets the mood.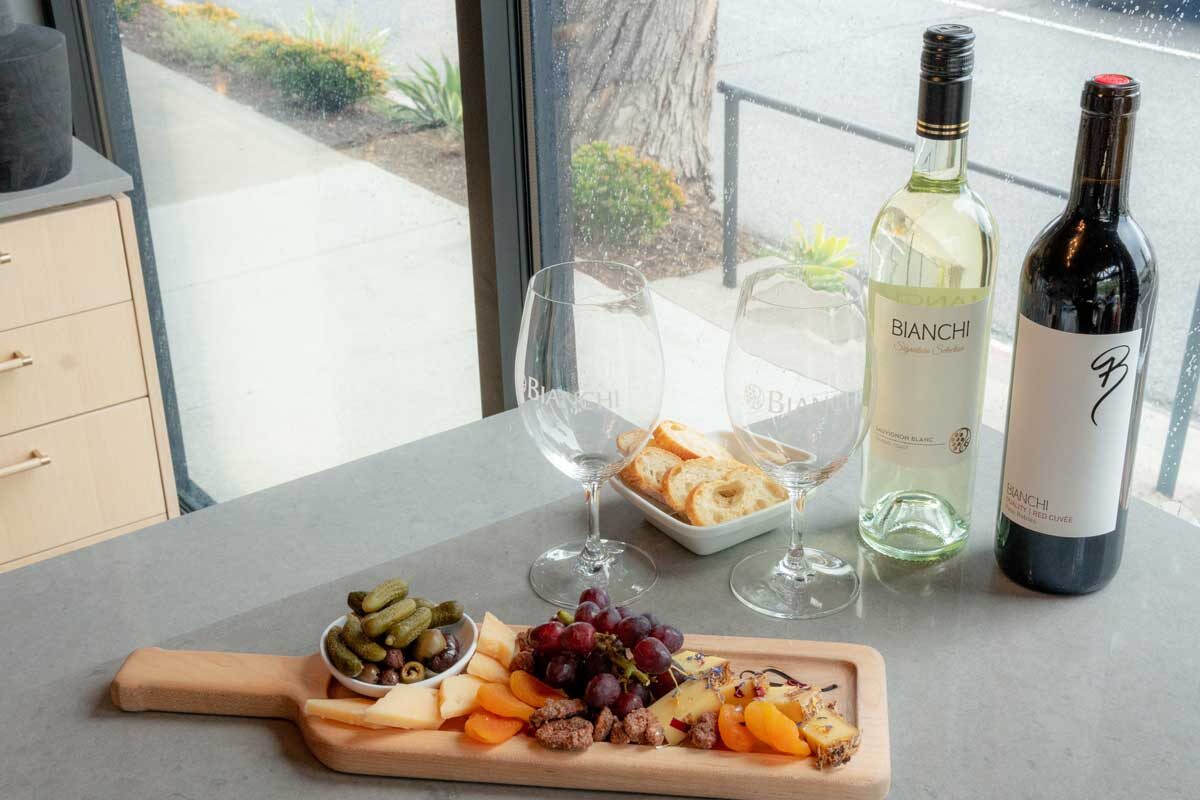 The Bianchi Wine Tasting Room offers a large variety of wines with light bites.
Bianchi Laguna Beach offers Chardonnay, Sauvignon Blanc, Pinot Grigio, Cabernet Sauvignon, Pinot Noir, Merlot, and Petite Sirah. However, if you want to enjoy their famous Zinfandel, it is only at their Paso Robles location. My favorite wine of the evening was the Petite Syrah which was compared to Elvira due to its full-bodied, velvety, but fun finish.
Bianchi Laguna Beach offers two different wine tasting options. In the first option, you can pick 2 of their Signature Selection wines and 1 Reserve wine. The second option lets you choose 3 of their Signature Selection wines and 2 Reserve wines. If you work up an appetite during your visit, Bianchi Laguna Beach also offers noshes including their cheese board and fabulous flavored popcorn. Both snack options are from locally owned businesses in Orange County.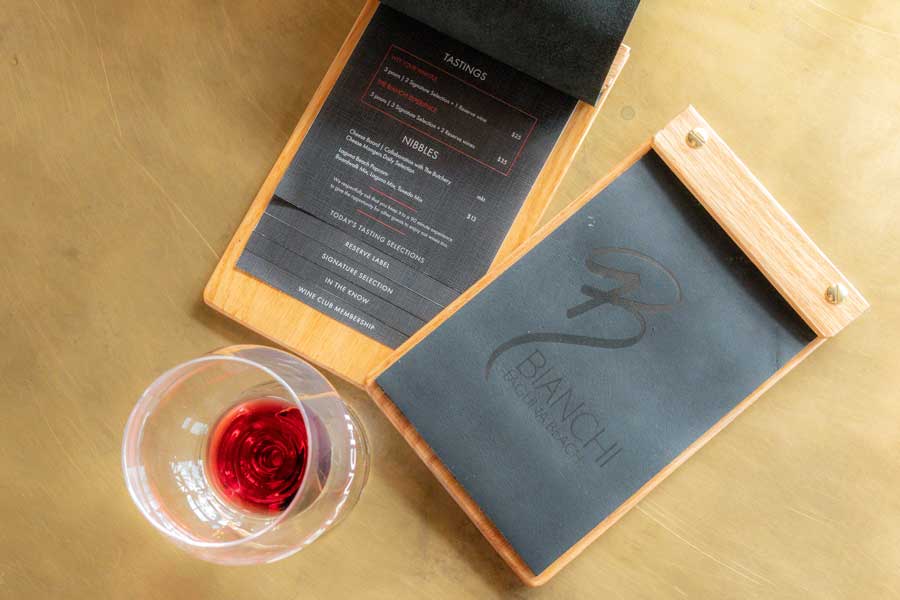 Their Membership is Perfect for Wine Lovers and Includes Great Benefits
Bianchi offers a Bianchi Lakeside Wine Club Membership where members would receive two shipments of wine in the year. These shipments come every Spring and Fall. You can also choose if you want red wines, white wines, or both! For wine lovers, a shipment of 6 bottles would be $195/shipment. Although, for wine connoisseurs, a shipment of 12 bottles of wine would be $385/shipment. There are other endless perks to their membership which include discounts to events, wine reorders, and plenty more!
In my opinion, the best perk of the membership is that you can purchase wine at a reduced price! Bianchi Laguna Beach offers their club members discounted prices for their wines by the glass and by the bottle. All of their wines are so tasteful and high-quality that you would definitely want to take advantage of this membership benefit to enjoy them all!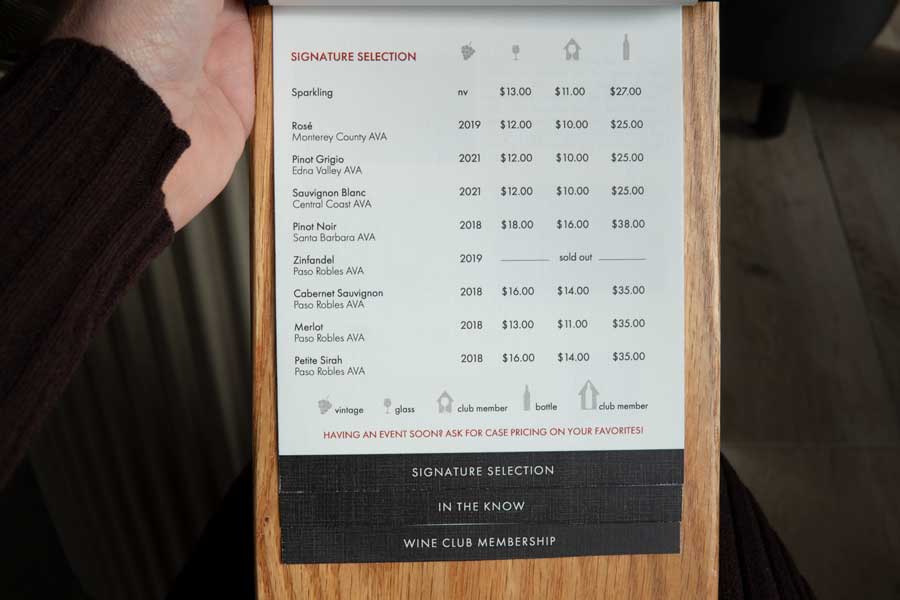 Stay Tuned for Bianchi Wine Pairing Dinner Collaborations!
Now that they are finally in their hometown, Bianchi Laguna Beach has plenty more in store for the OC area. Soon, the Bianchi Laguna Beach Tasting Room will be collaborating with other OC restaurants to create fun dinner and wine pairing experiences. Stay tuned for more details…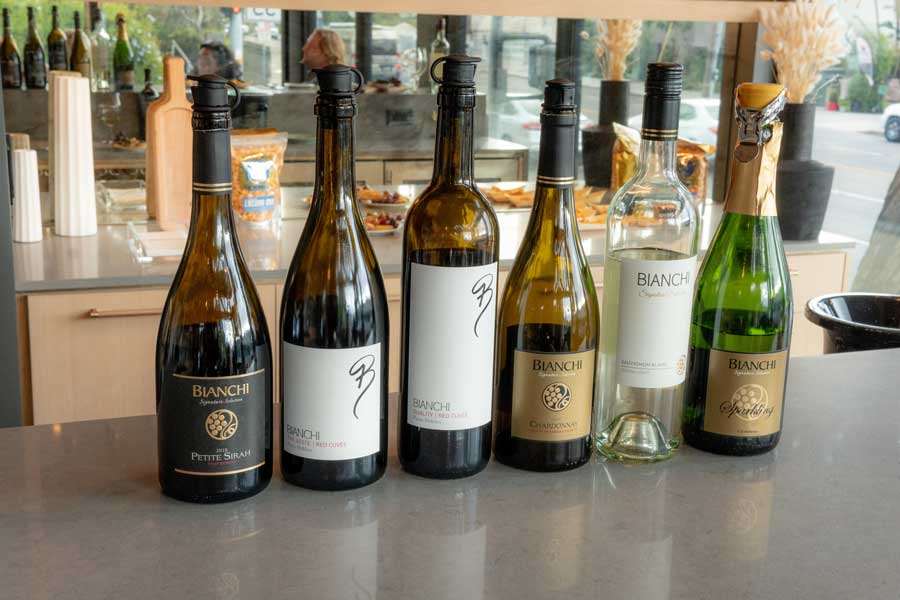 Bianchi Laguna Beach Is Open 6 Days of the Week and during the Afternoon and Evenings
If you want to experience the same wine tasting I did, Bianchi Laguna Beach is located beach-side at 496 N Coast Highway. On Monday, Wednesday, and Thursday they open from 4 pm-8 pm, while they are closed on Tuesday. For the weekend, they open Friday from 4 pm-9 pm, Saturday from 1 pm-9 pm, and then Sunday from 1 pm-6 pm. No reservations are needed to visit Bianchi Laguna Beach, and walk-ins are welcomed!
If you want to make visiting Laguna Beach a day trip, make sure to check out our favorite brunch spot at Sapphire Laguna Beach before your wine tasting. I highly recommend their mouth-watering Pork Belly Benedict!