Nirvana in Laguna Beach is a hidden gem that most locals have seen, but may not have tried, as was the case with me. During OC Restaurant Week I always try to discover at least two restaurants I've never visited before. This year I was instantly drawn to the fabulous menu at Nirvana with their spectacular 3-course dinner featuring items like Wild Mushroom Ravioli, Grilled Sea Bass, and 5-hour Braised Short Rib. After viewing our wonderful visit, I'm certain you'll be dropping in die a visit too!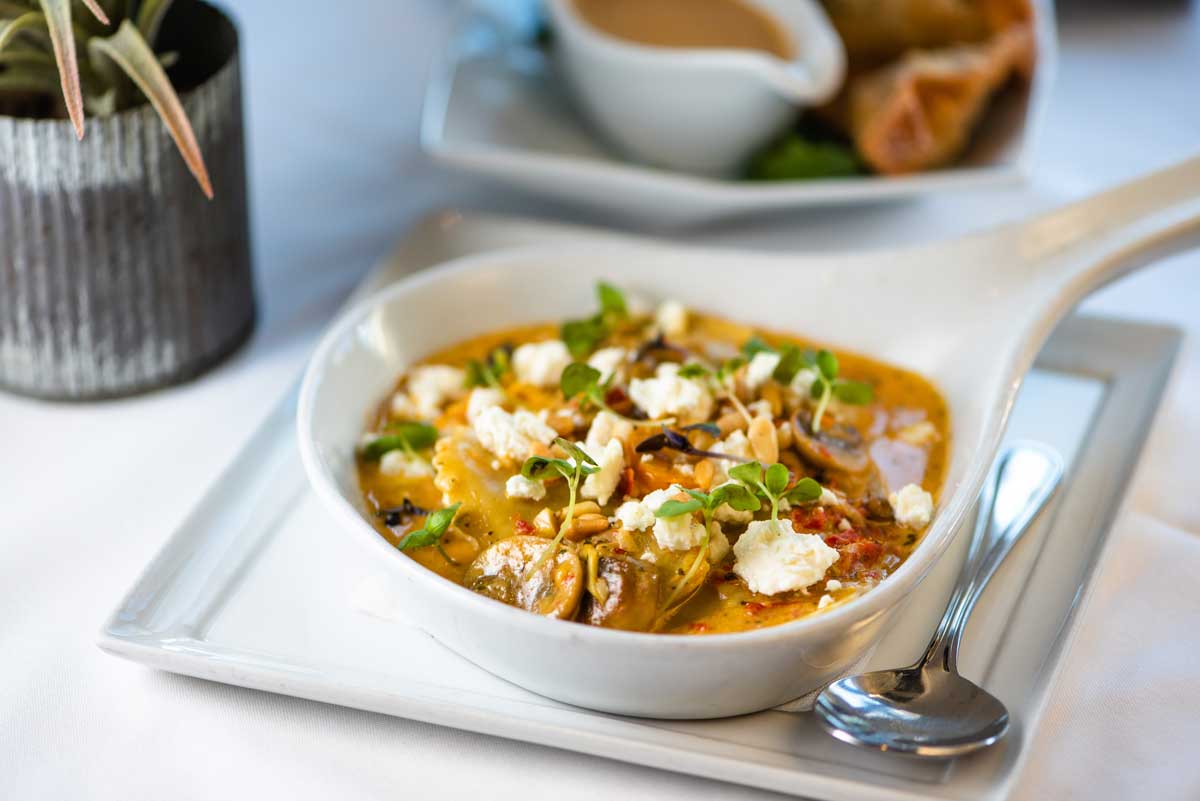 Nirvana's Wild Mushroom Ravioli & Chicken fried Wontons are both available as appetizers on the $30 OC Restaurant Week Menu
If you're looking for an OC Restaurant Week menu that offers an excellent representation of the restaurant, Nirvana in Laguna Beach features many of their most popular dishes. The first appetizer I had to try was their Wild Mushroom Ravioli. This ravioli is served in a light and flavorful artichoke cream sauce with sun-dried tomatoes, pinenuts, goat cheese, and basil. The sauce has a refreshing zip of lemon that made this one of the best ravioli dishes I've had. This is one of those dishes that sounds simple but is so flavorful it will keep you returning time and time again.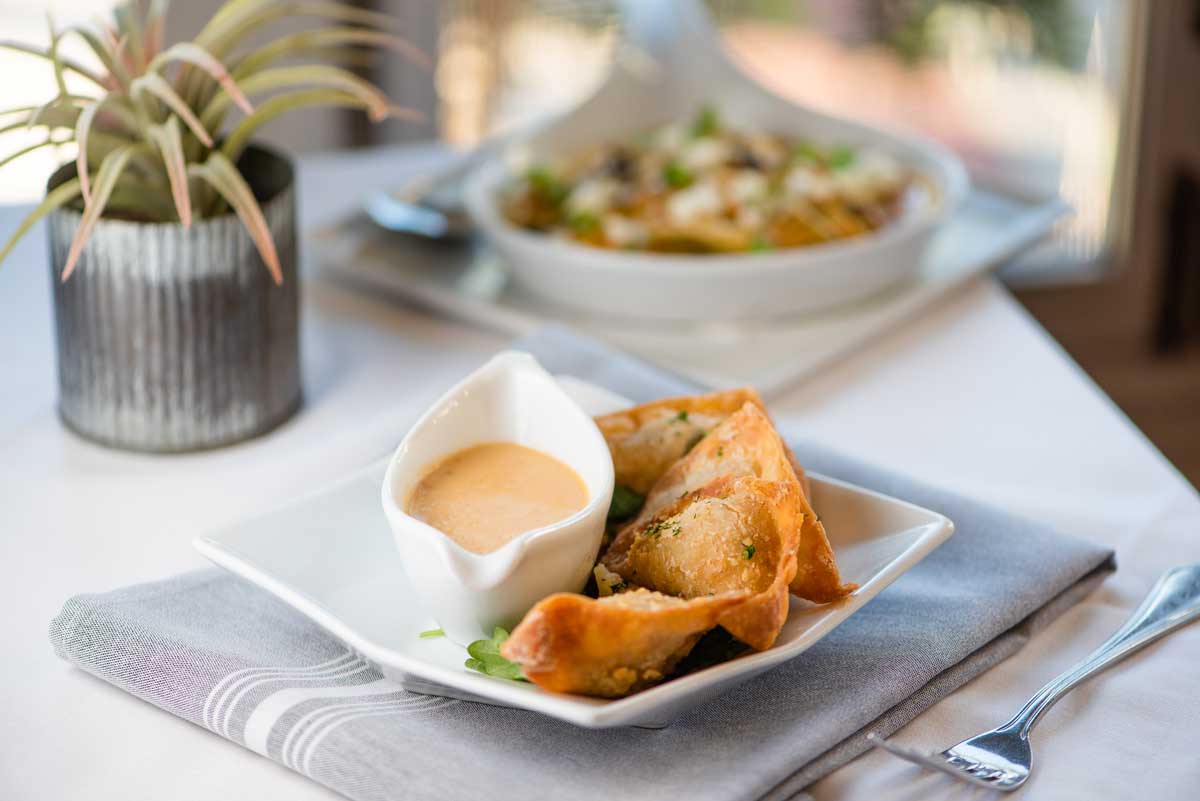 Next, I couldn't resist their Chicken Fried Wontons. I'll be honest, I love fried wonton so when I saw these on the menu, I was like Yes! Say no more! We all have our favorites and I'll order fried wontons whenever I see them in a menu. The chicken fried wontons at Nirvana are especially delicious. They had this perfectly light and Crispy crunch and the chicken filling was full of flavor. Both the fried ravioli and mushroom ravioli are appetizers available on their $30 dinner menu which is such an amazing deal.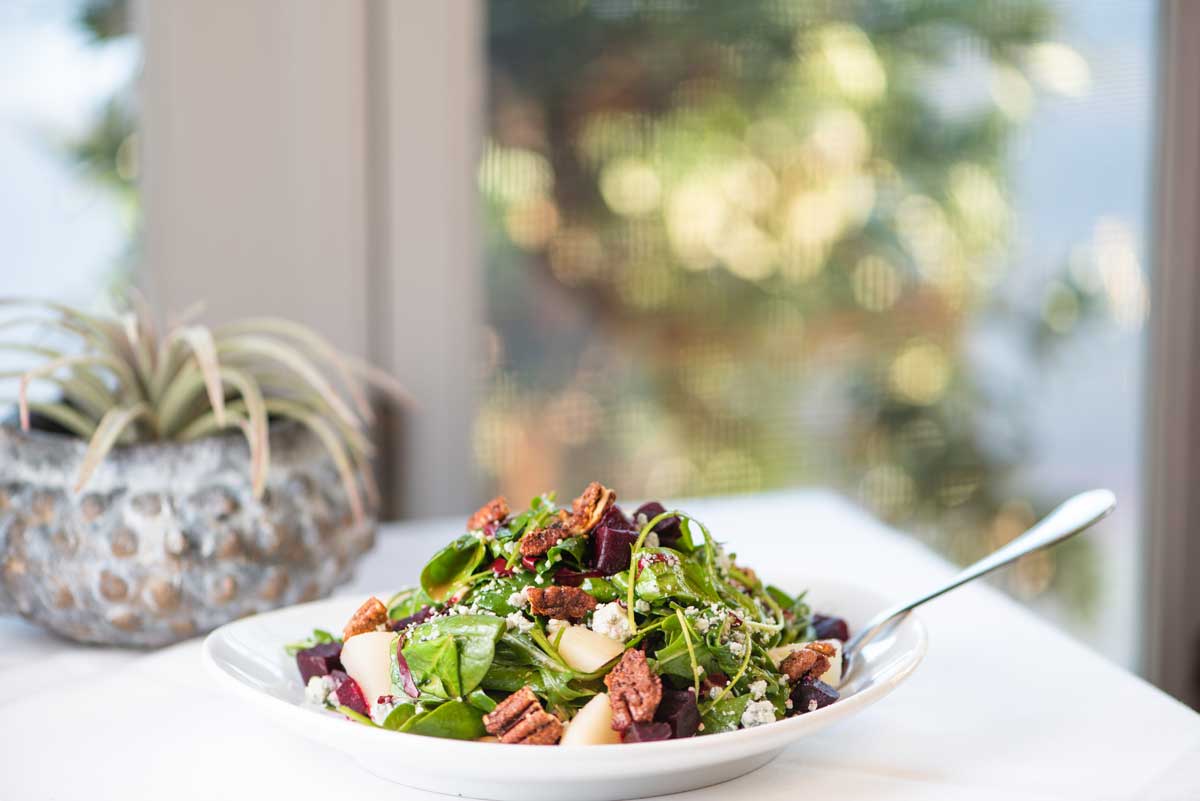 Available on their $50 dinner menu is the Trio of Greens Salad with spinach, wild arugula, endive, poached pear, roasted beets, candied pecans, blue cheese, and balsamic lemon vinaigrette.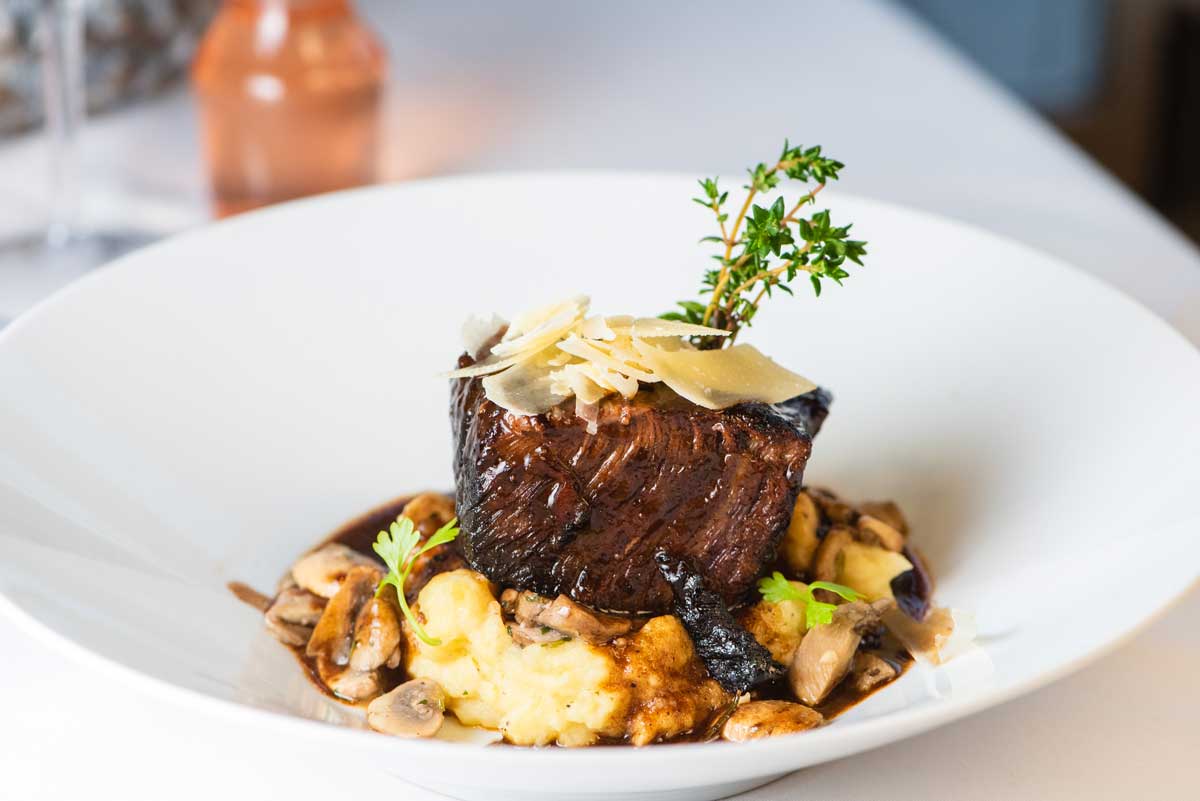 The 5oz Shortrib at Nirvana is incredibly tender and braised for over 5hrs in a red wine reduction.
For entrées, I wanted to showcase their amazing 5oz all-natural Beef Short Rib which is marinated for an entire day and then braised for 5 hours. There is not one ounce of fat left on the meat and it is incredibly flavorful, tender, and decadent. The short ribs are served with beef reduction, shaved parmesan, mushrooms, and a creamy parmesan & herb polenta. You'll be able to try this on their $30 OC Restaurant Week menu.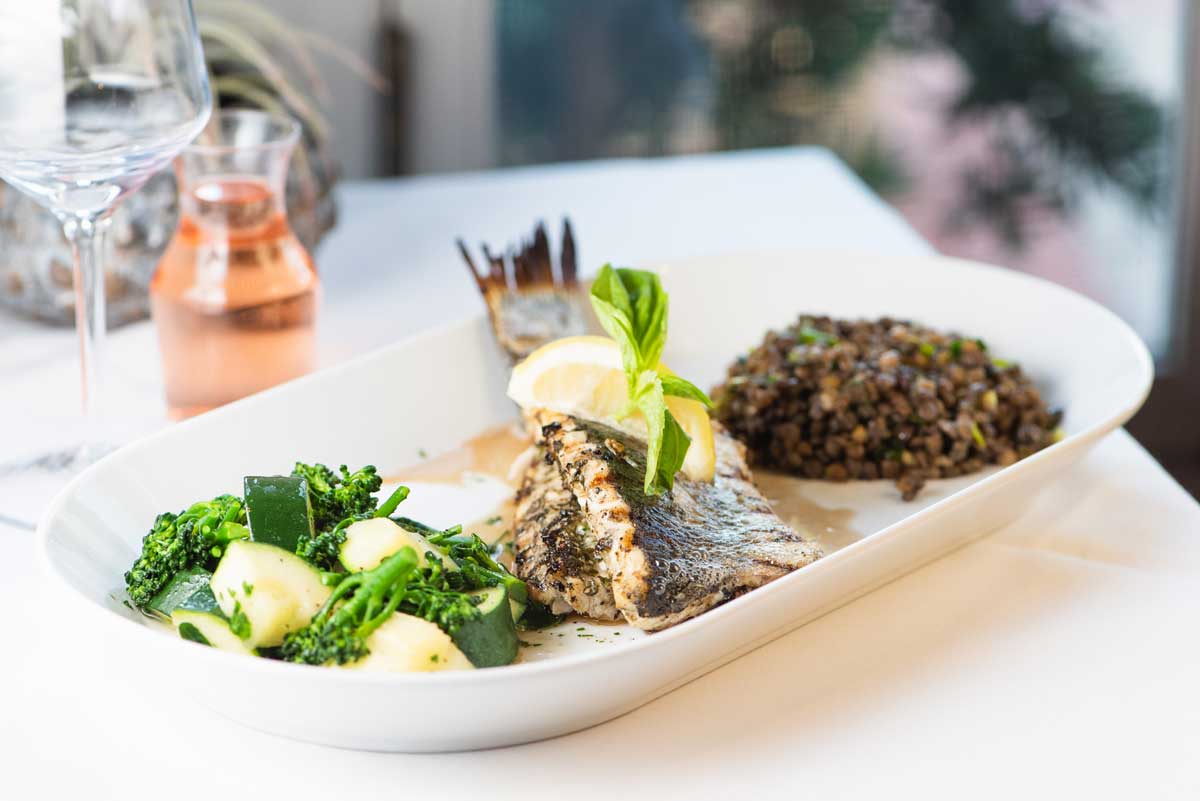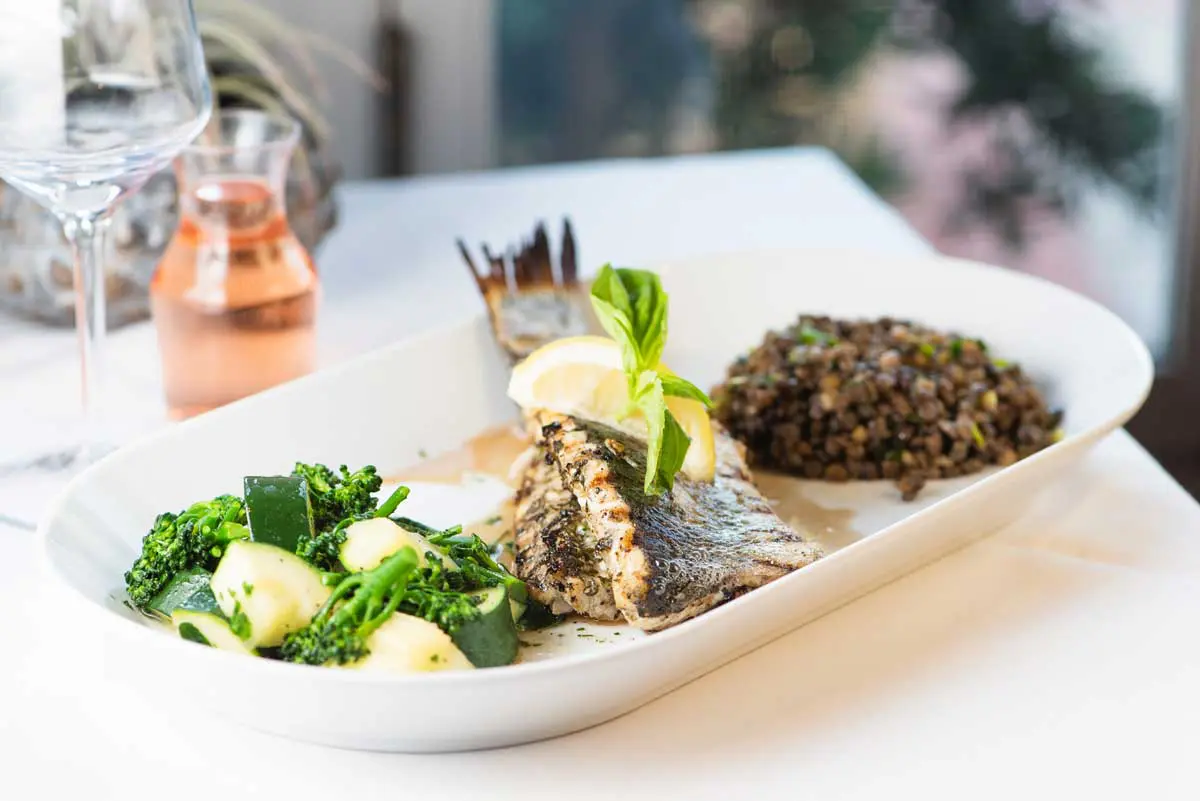 This beautiful Sea Bass is both delicate and delicious. It can also be found on Nirvana's $50 OC Restaurant Week Menu.
If you're really looking to spoil yourself then the Grilled "Loup de Mer" Mediterranean Sea Bass is a must-try. This simple grilled Sea Bass will melt in your mouth with flavors of garlic & herbs, browned butter, and lemon. It is accompanied by a mixed vegetable medley with parsley butter and sautéed French lentils. This item is available on their $50 OC Restaurant Week menu and is absolutely to die for.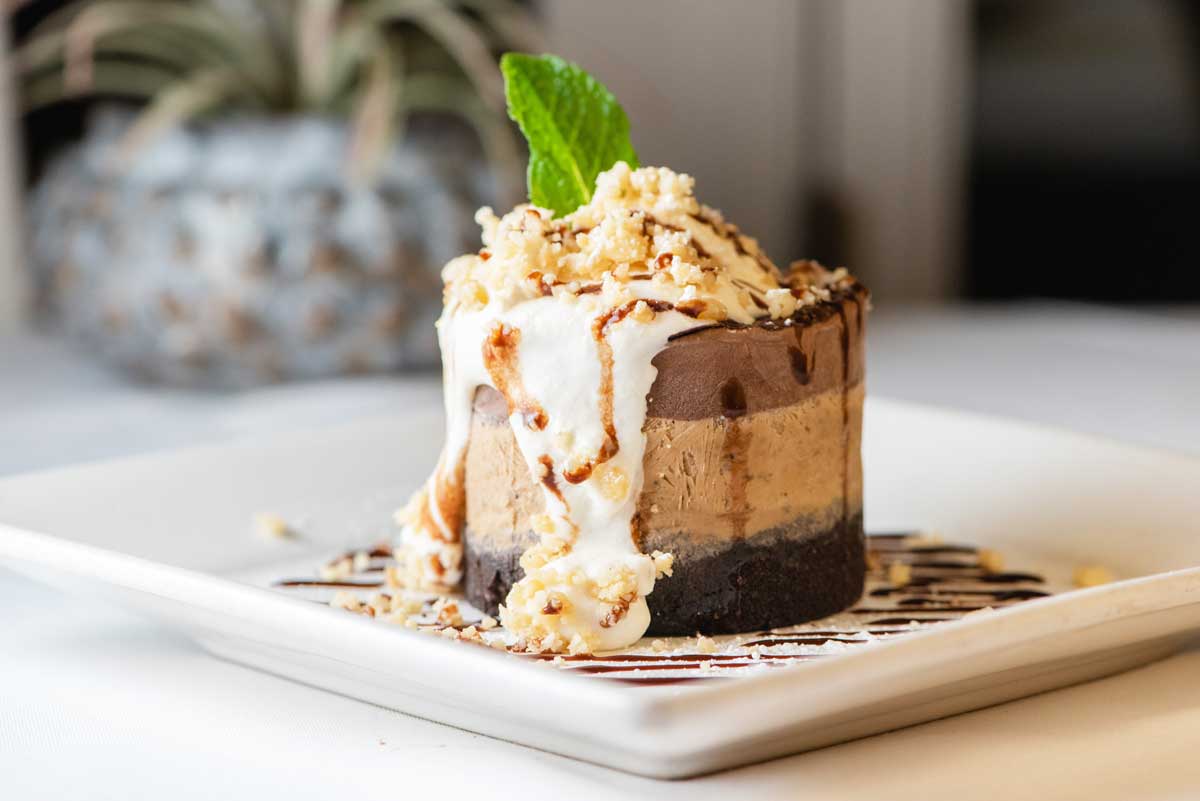 Finally, for dessert, I decided to go rogue and order one of their specialties. My foodie radar overheard a two guests several tables away talking about a dessert with coffee icecream and an oreo cookie crust. I immediately knew it must be a mud pie which is my all-time favorite dessert. There was no way I could leave without trying this and it exceeded all my expectations. They actually compose this dessert, with all those decadent layers, in-house! I am a woman who loves her dessert so you better believe I am already planning my next visit.
Nirvana in Laguna Beach is owned and operated by chef Lindsay Smith-Rosalas who was inspired to become a chef at an early age by her mother. She describes her cuisine as "contemporary clean California cuisine". They have been in business for 12yrs and continue to be a favorite of local Orange County epicureans. Once you visit it will easily become one of your favorite regular restaurants to dine.
View the entire OC Restaurant Week Menu from Nirvana in Laguna Beach
303 Broadway Street Suite 101
Laguna Beach, Ca 92651
949.497.0027
Events & Catering 949.637.4708​
Website | Reservations
Dinner $30
Starter
choice of
WILD MUSHROOM RAVIOLI
sun dried tomato & artichoke cream sauce, goat cheese, parmesan, basil, pine nuts
CHICKEN WONTONS
organic chicken, manchego, sweet corn, shallots, cilantro, chipotle cream sauce
GRILLED ROMAINE CAESAR SALAD *
roasted heirloom tomatoes, applewood smoked bacon, croutons,
shaved parmesan, kalamata olive caesar dressing
GRANDPA MICHAEL'S KITCHEN SINK *^
red leaf lettuce, shredded raw beets, shredded raw carrots, celery, heirloom tomatoes, goat cheese,
raw sunflower seeds, dried cranberries, candied pecans, raspberry balsamic vinaigrette
Entrée
choice of
BASIL AIOLI ROASTED STEELHEAD SALMON *
farro risotto, rainbow chard, shallot, hearts of chard, parmesan & cream risotto, basil oil, micro basil
5oz BRAISED ALL NATURAL BEEF SHORT RIBS *
beef reduction, creamy parmesan & herb polenta, shaved parmesan
ORGANIC POTATO GNOCCHI
shallots, leeks, mushrooms, tarragon, chives, parsley, roasted garlic cream sauce,
shaved parmesan, basil oil, hazelnuts, micro basil
Dessert
choice of
MASON JAR POT DE CRÈME*
whipped cream, salted caramel, raspberries
GLAZED APPLE & GOAT CHEESE ICE CREAM *
brandy, cinnamon & vanilla sugar glazed fuji apples
atop house-made goat cheese maple ice cream
Dinner $50
Starter
choice of
POBLANO CHILE *
stuffed with fresh spinach, artichoke hearts, shallots, cream, & parmesan cheese,
cream cheese garlic toast
RACLETTE *
melted raclette cheese, prosciutto di parma, boiled potatoes, blanched green beans,
cornichon, dijon grain mustard
BURRATA & ORGANIC HEIRLOOM TOMATO SALAD *
wild arugula, basil pesto, balsamic reduction, kalamata olives, micro basil
TRIO OF GREENS SALAD *^
spinach, wild arugula, endive, poached pear, roasted beets, candied pecans,
blue cheese, balsamic lemon vinaigrette
Entrée
choice of
GRILLED 'LOUP DE MER' MEDITERRANEAN SEA BASS *
garlic & herb grilled, browned butter, lemon, mixed vegetable medley
with parsley butter, sautéed French lentils
BLACKENED SCALLOPS
beurre blanc, sage browned butter, roasted kobacha & butternut squash,
shallot & parmesan risotto, roasted brussels sprouts
GRILLED FILET MIGNON *
maitre'd herb butter, green peppercorn bourbon sauce, black truffle salt, roasted garlic mashed
yukon gold potatoes, roasted brussels sprouts with bacon & cambazola
Dessert
choice of
AFFOGATO *
sea salted caramel gelato, nitro-cold brew coffee, organic tequila & vodka
coffee liquor, shaved chocolate, fresh whipped cream
DECOMPOSED TRIFFLE
vanilla cake, macerated berries with mint & grand marnier, graham crumble,
lemon curd cream, house-made goat cheese maple ice cream
ADD TO ANY ENTRÉE- CHOICE OF HERB, BLACKENED OR GRILLED
1/2 Loup de Mer Sea Bass 14 4oz Steelhead Salmon 9 3 Scallops 12 4oz Albacore 13
4oz Tofu 8 6oz Chicken Breast 9 4oz Filet Mignon 14 1/4 Rack of Lamb 16
Restaurant Week Wine Special
(when ordering either menu)
$6 Select House Wine By the Glass
$9 Select Premium Wine By the Glass