Situated inside the historic Hotel Figueroa, Veranda Restaurant encaptures the classic elegance of the hotel while adding a Spanish twist. The chic restaurant offers a Coastal Mediterranean-inspired fare that includes seasonal dishes created by celebrity chef Casey Lane. With the beautiful pool as a backdrop, Veranda feels more like a hidden oasis amongst the hustle and bustle of Downtown Los Angeles. Diners can expect a one-of-a-kind, al fresco dining experience.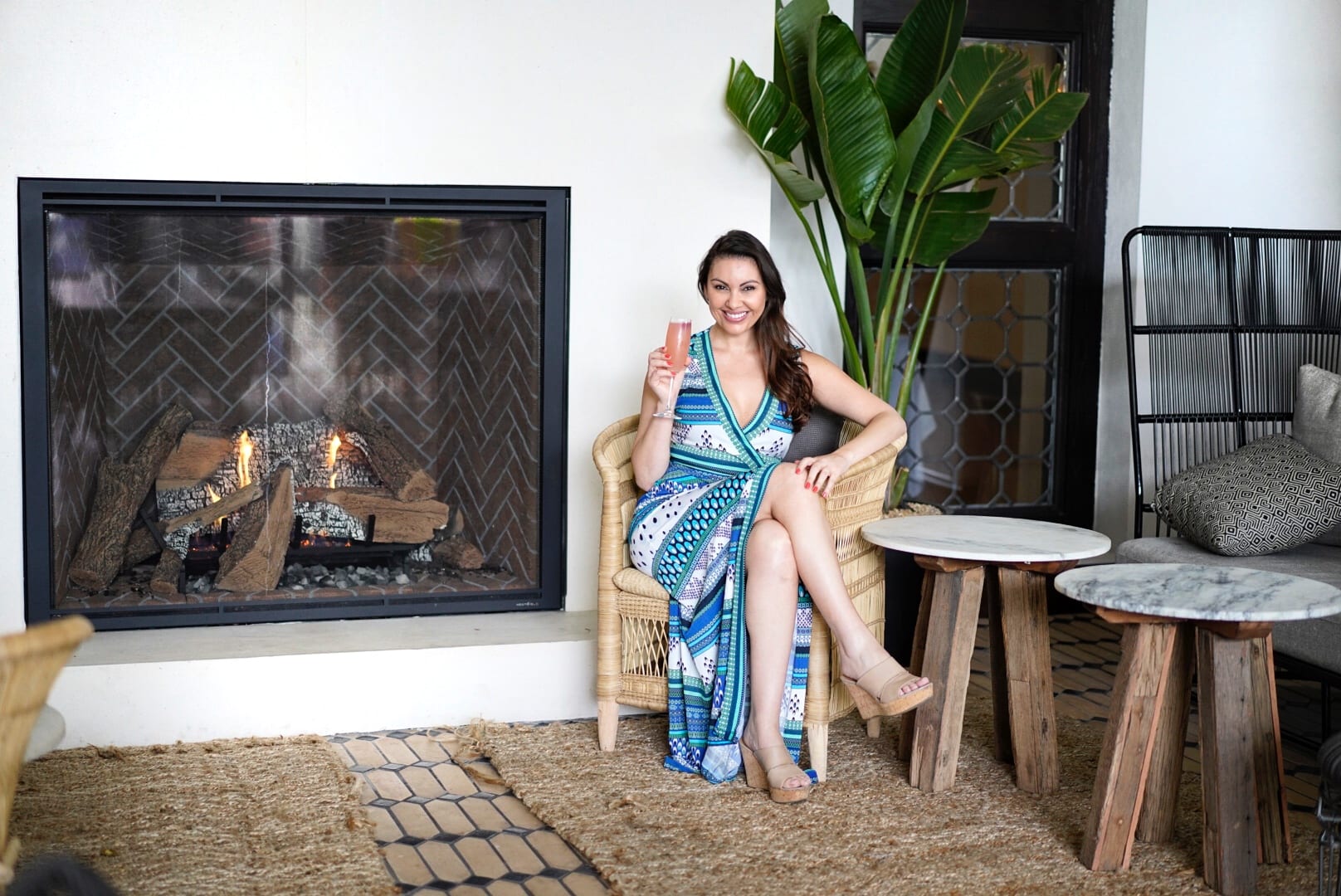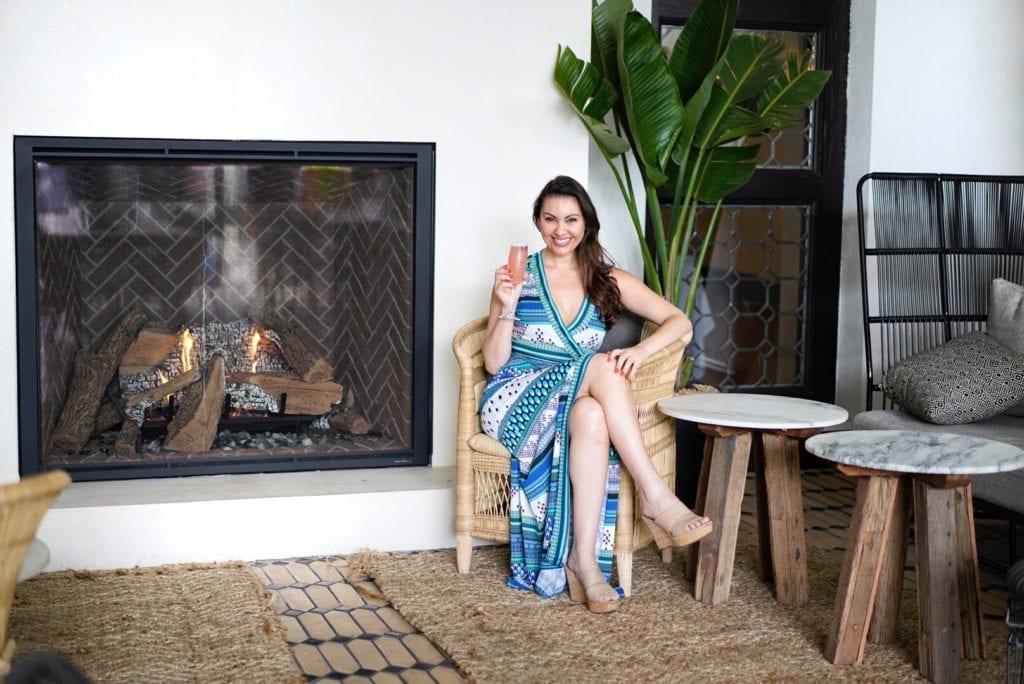 Hotel Figueroa stands in the heart of Downtown Los Angeles and is within walking distance from a number of popular destinations, such as the Staples Center, L.A. Live, and the Los Angeles Convention Center. The hotel recently underwent a two-year-renovation which still maintains the classic Spanish Colonial splendor as it was constructed in 1926. It is viewed as a prominent fixture in Los Angeles culture. Hotel Figueroa not only represents a unique experience, but also the history, culture, and personality of Downtown L.A.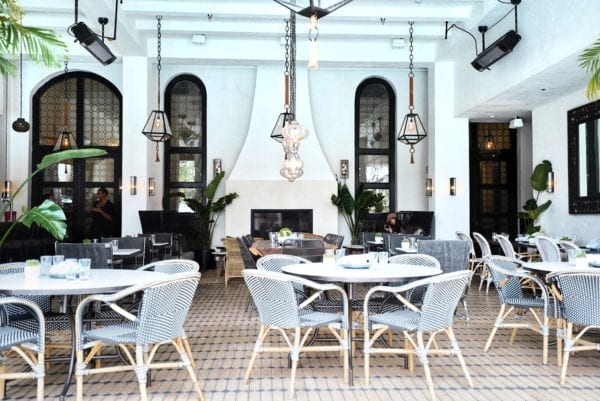 Veranda restaurant at Hotel Figueroa is located in a semi-enclosed space that provides access to the pool while providing guests with natural light and a refreshing breeze.
The lush greenery around the restaurant and pool contributes to the feel of a vibrant oasis. Hotel Figueroa's historic fireplace adds a main focal point where guests can sit next to the fire while enjoying a wonderful cocktail or delicious appetizer. The fireplace was recently renovated and still maintains it's 1920's Spanish Colonial splendor. Cream and charcoal Spanish tiles intricately line the dining floor. One of my favorite features is the splendid chandeliers and pendants which hang from the ceiling, while black bulb fixtures line the white walls.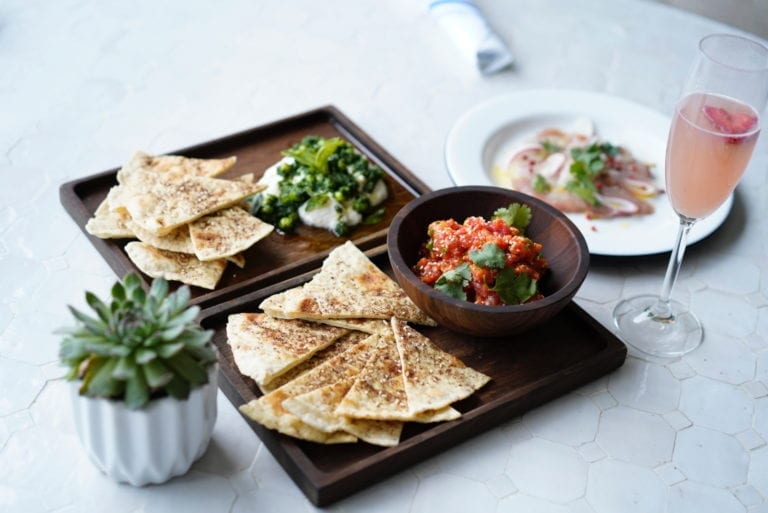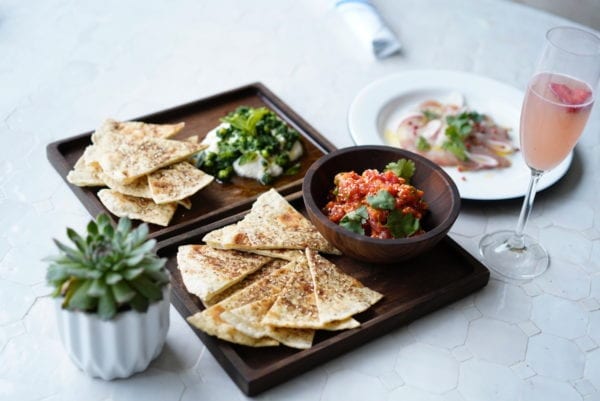 James Beard-nominated chef Casey Lane from Tasting Kitchen heads the kitchen at Veranda Restaurant using only the finest ingredients received locally from California purveyors.
Chef Lane creates seasonal menus exclusive to Veranda based on the local produce he is able to obtain at the time. Thus, guaranteeing a regularly unique dining experience. Prior to this, Chef Lane spent an extensive amount of time traveling around Spain and France. During his travels, he was able to explore the local Mediterranean cuisine which he uses as inspiration to create traditional coastal fares, while incorporating his own modern touches.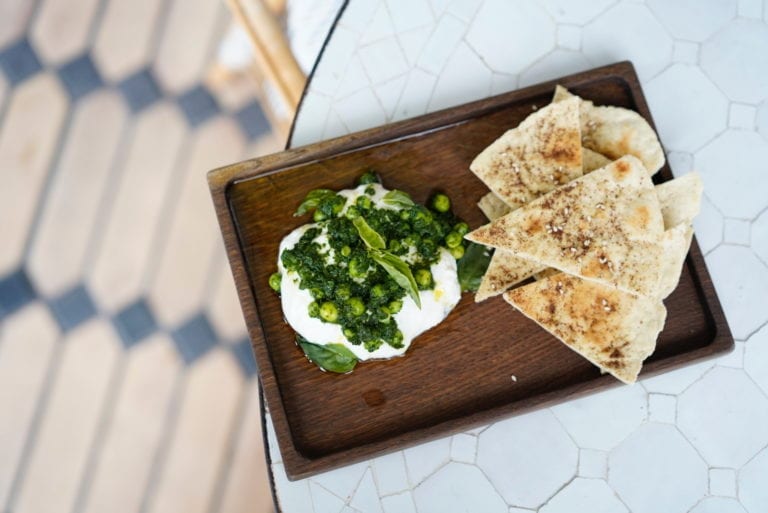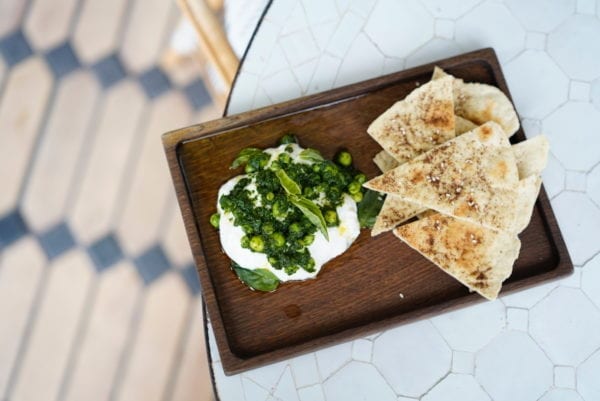 The Burrata was the perfect seasonal spring dish with colorful English Peas and a zesty salsa verde.
First, we began our brunch with a light strawberry mimosa topped with a fresh strawberry slice. The mimosa rendered a much needed and refreshing cool down for the sunny Los Angeles day. While sipping our mimosas we ordered the Burrata served with English peas and topped with homemade salsa verde. This dish was especially seasonal, refreshing, and bursting with flavor. The accompanying naan bread is made fresh in their wood-burning oven which also produces many of their delicious flatbreads.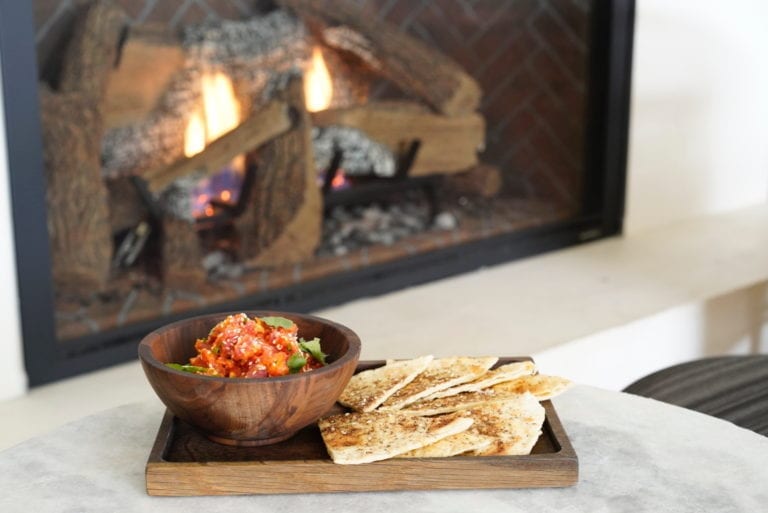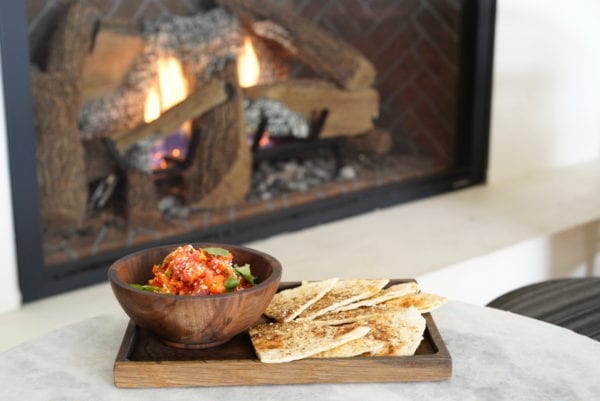 For our final appetizer of the day, we chose the Steak Tartare with fresh naan
Once we finished the Burrata we turned our attention to an order of Yellowtail Crudo topped with Citron vinegar and chopped cilantro. The citron vinegar added the perfect amount of citrus to complement this fantastic dish. Lastly, for our final appetizer of the day, we chose the Steak Tartare. Fresh naan from their wood-burning oven also accompanied this dish. Each individual appetizer was perfect for sharing and we couldn't help but admire the rustic wooden bowls and plating.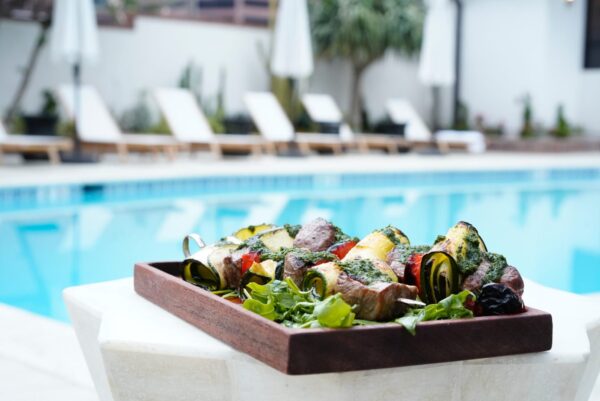 Served with roasted zucchini, peppadew peppers, and completed with a tangy salsa verde drizzled on top, the skewers were a unique twist on a timeless dish.
In addition to the appetizers, we also ordered the Dry Aged Beef Skewers. Their dry aged ribeye is a signature ingredient at several of Hotel Figueroa's restaurants. It was the perfect opportunity to try this delicious cut of meat; a must try when you are visiting Veranda for lunch by the pool.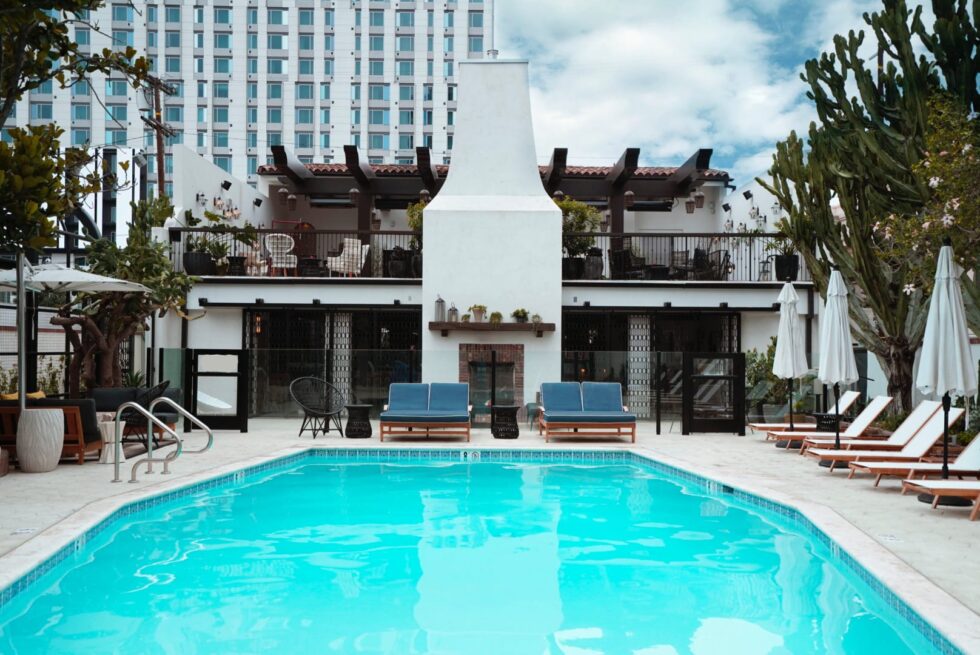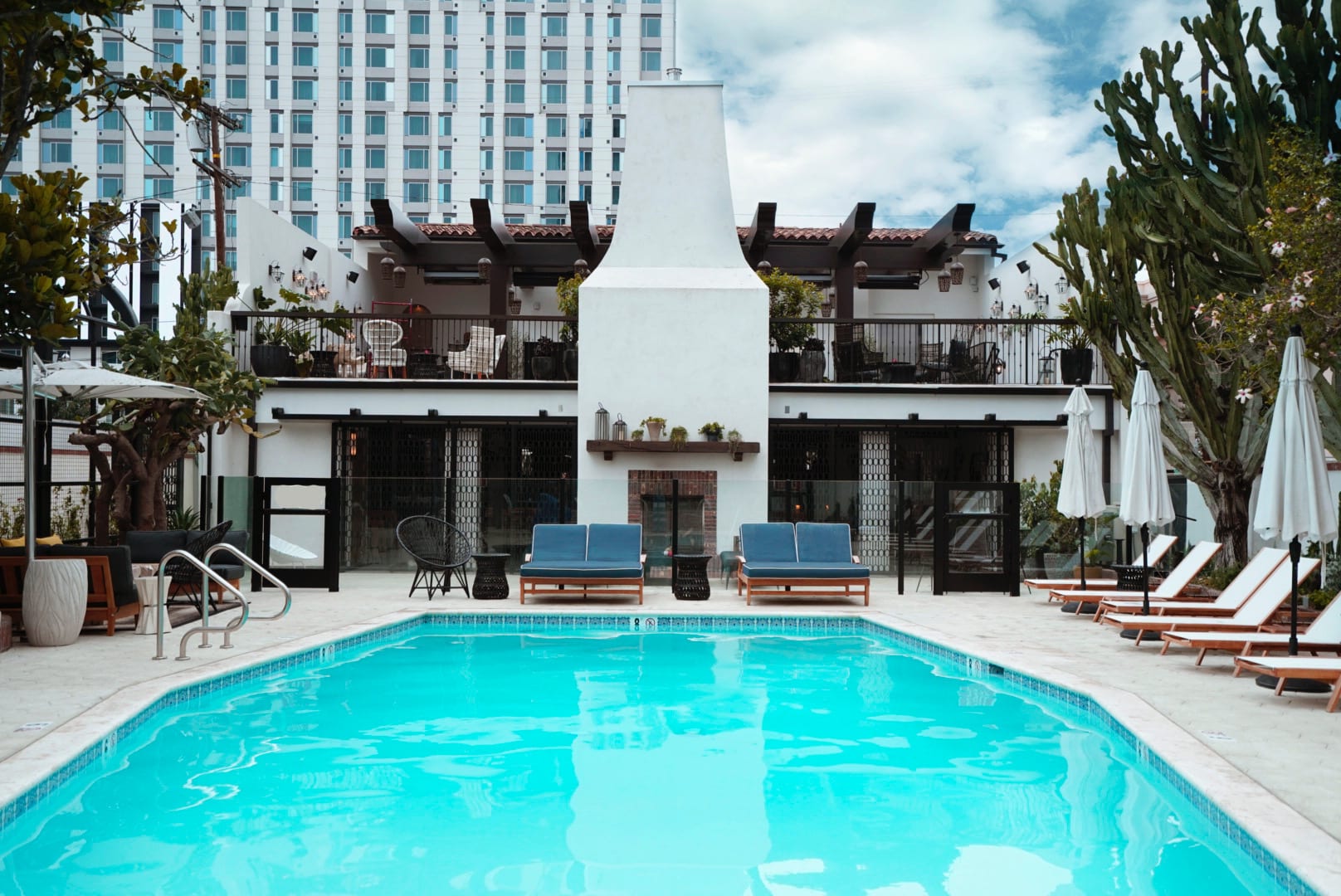 Guests at Veranda restaurant are able to surround themselves in a beautiful oasis of historic and modern Spanish architecture. It is the ideal place to go if you're searching for a relaxing environment with deliciously elevated Mediterranean cuisine.
Veranda Restaurant
Poolside at Hotel Figueroa
939 S Figueroa St, Suite 500
Los Angeles, CA 90015
RESERVATIONS AND CONTACT:
(213) 660-3032