Celebrity Chef Casey Lane of the famed restaurant Tasting Kitchen is bringing his stellar dishes to Breva in Downtown LA. Located at the historic Hotel Figueroa, Breva is the perfect dining destination for locals and visitors alike. Located only 2 blocks from L.A. Live, Breva serves guests looking for a delicious meal after a game or those seeking a unique destination.
There is truly no other accommodations like Hotel Figueroa with its historic charm and modern luxurious decor. The hotel boasts six different bars and restaurants including their main attraction, Breva. Diners can expect Western Mediterranean influence with the essence of California and the Los Angeles community. Chef Casey Lane explores the diversity of flavor profiles across the region while using fresh and local ingredients.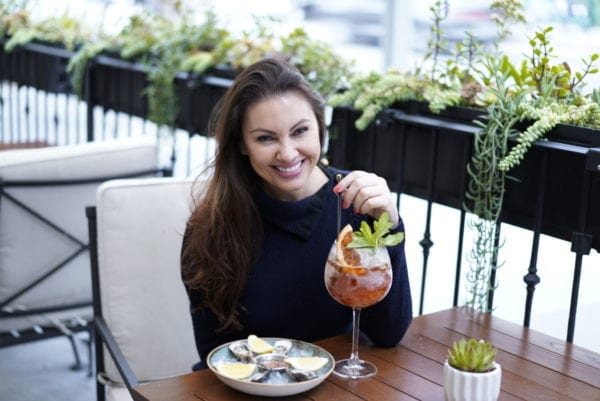 While visiting friends we decided to visit the recently opened Breva in Downtown LA. This was also the perfect excuse to enjoy a little staycation at the newly remodeled Hotel Figueroa. Chef Casey Lane never disappoints. The Tasting Kitchen has always been a favorite of mine and we couldn't wait to try his new restaurant.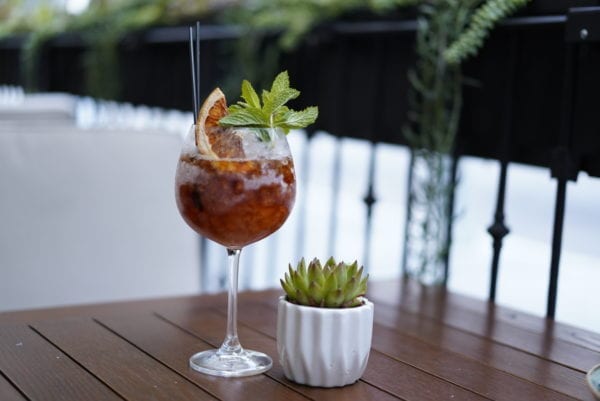 First, we began with some delicious oysters and a signature cocktail called the Paloma Quemada. The Paloma Quemada was a mix of tapatio tequila blanco, grapefruit cordial, lime, grapefruit soda, and chile lime. The oysters were absolutely fabulous and a perfect precursor to our fabulous dinner that awaited.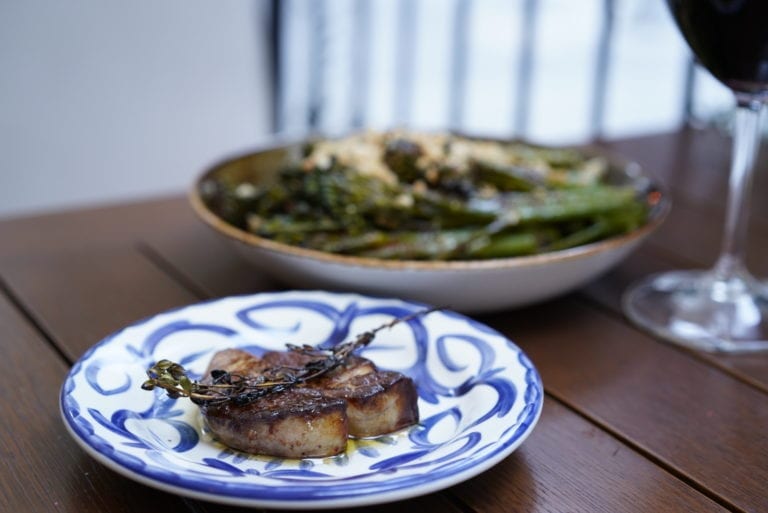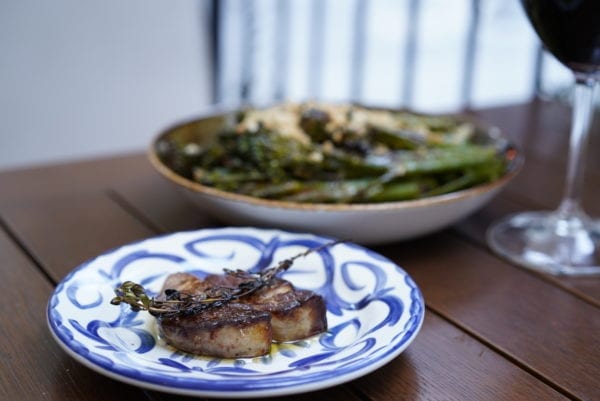 Breva in Downtown LA features numerous small plates. They offer an amazing Foie Gras that can be paired with several different selections. We decided to enjoy our Foie Gras paired with their Brocollini which I greatly enjoyed. Chef Lane prepares his Brocollini exactly how I do at home, always adding vinegarette. Although, his preparation is far fancier including chili vinegar, harissa, and bone marrow breadcrumbs.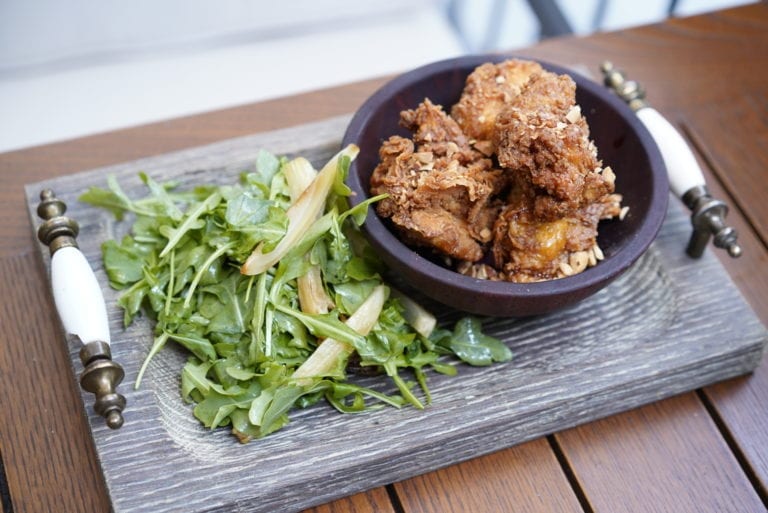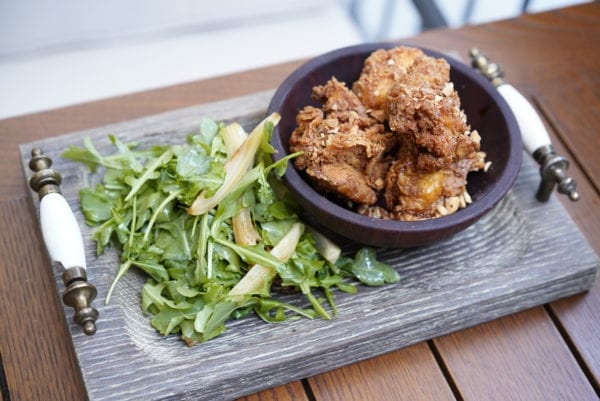 Next, my guest was insistent on trying the Sweetbreads, which I have to admit are not commonly found on menus in Southern California. For those who are not familiar, sweetbreads are an organ meat from the thymus gland and pancreas. Sweetbreads are typically fried and have a firm yet tender texture which provides an excellent contrast to their crispy counterpart. Though they are an organ meat, they do not have the type of gaminess typically associated with this type of ingredient. The sweetbreads arrived glazed in a very light honey sauce adding an even more welcome flavor to this unique dish. They were also accompanied by an arugula salad in a light citrus vinegarette which really complimented the sweetbreads and made this a standout dish.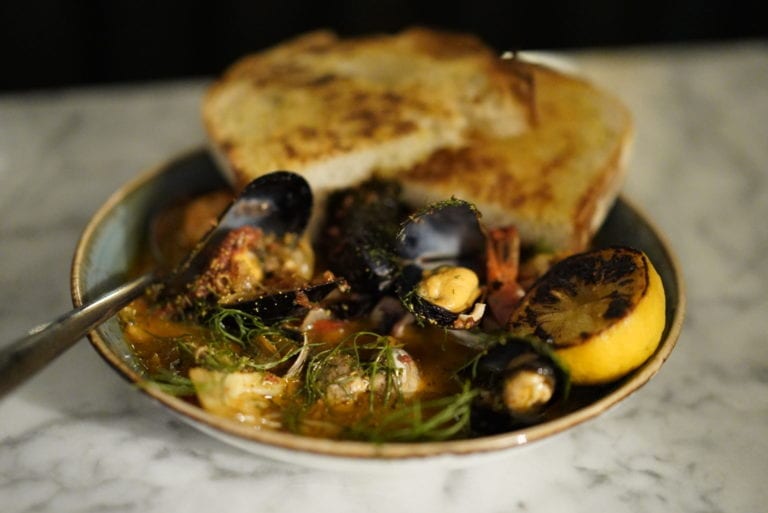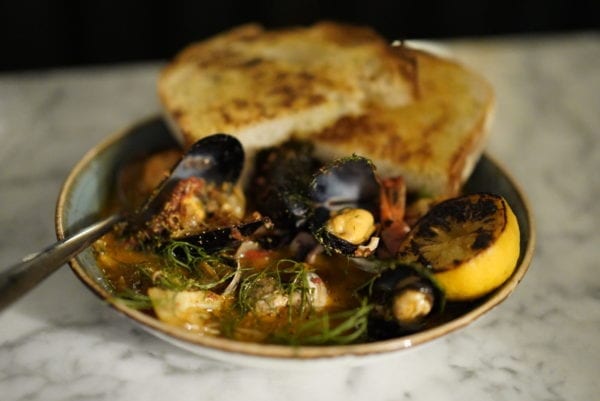 Finally, for entrees, I absolutely had to indulge in their Shellfish of clams and mussels with an amazing saffron broth. This was by far my favorite dish of the evening. The broth was to die for. Not one drop was left as it was completely soaked up by the accompanying bread. We also ordered their Branzino which was perfectly paired with a decadent butter sauce and french green beans. Branzino has always been one of my favorite dishes and this one did not disappoint.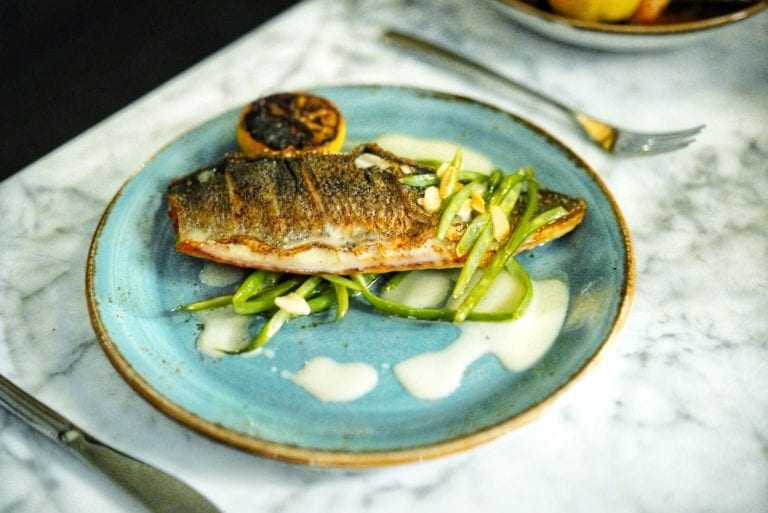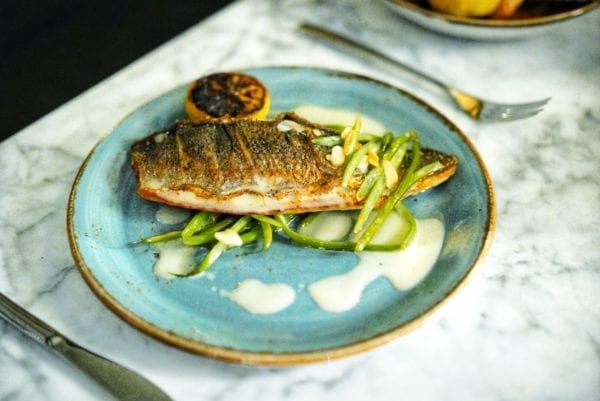 If you plan on visiting LA or if you're looking for an amazing new dining destination, Breva in Downtown LA absolutely delivers!