Posts may contain affiliate links. Read our full disclosure policy here.
If you're searching for the best Vietnamese restaurant in Orange County then look no further than Brodard Chateau in Garden Grove. Locals in the Asian community have long known about Brodard since they opened their Fountain Valley location at a small strip mall in 1996.
The authentic Vietnamese cuisine created by the Nguyen-Dang family has led their restaurant empire to become one of the most successful independently owned franchises in Orange County including the popular Bamboo Bistro in CDM. If you still don't know about Brodard, it's about time you found out!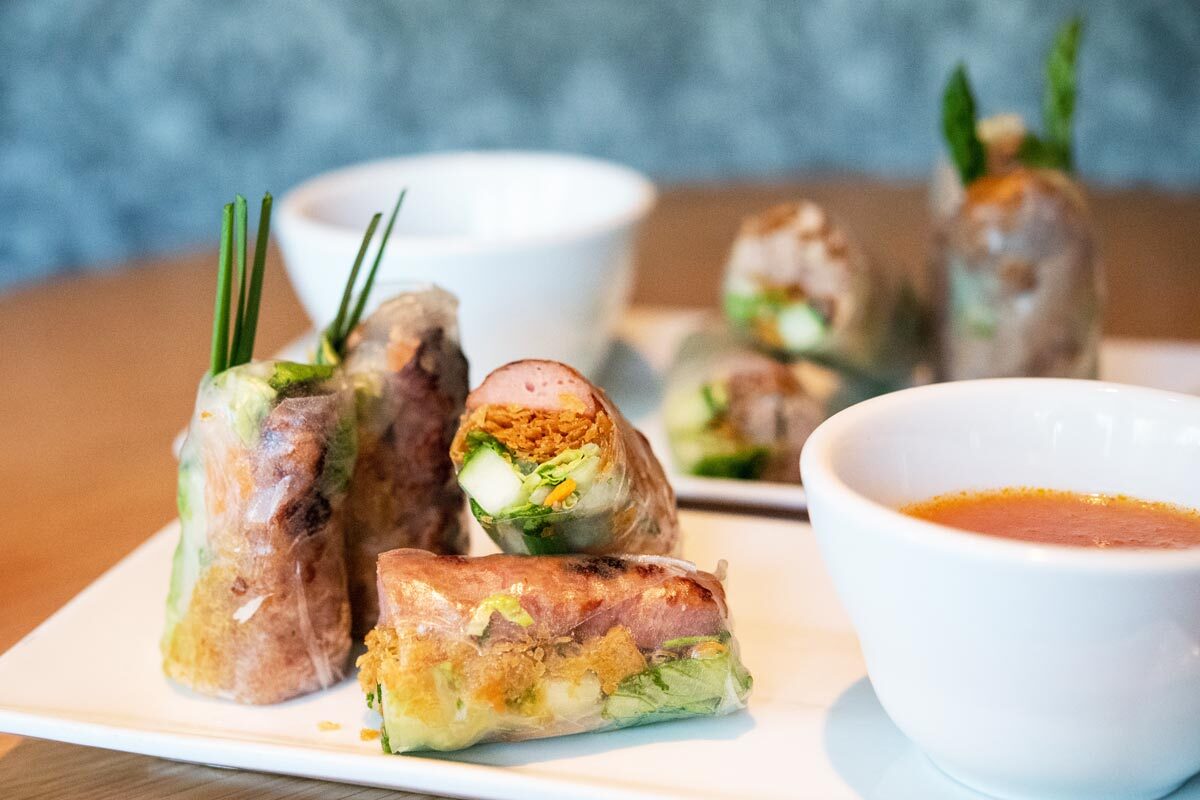 The Best Vietnamese Restaurant in Orange County known for its Nem Nuong
Brodard Chateau opened in 2006 as a beautifully designed and expanded version of their other Brodard restaurant. Its presence opened the door for a new culinary audience to discover their delicious Vietnamese cuisine. Their most popular dish is their famous Nem Nuong, or Vietnamese Spring Rolls, which are available at all locations including Bamboo Bistro in CDM.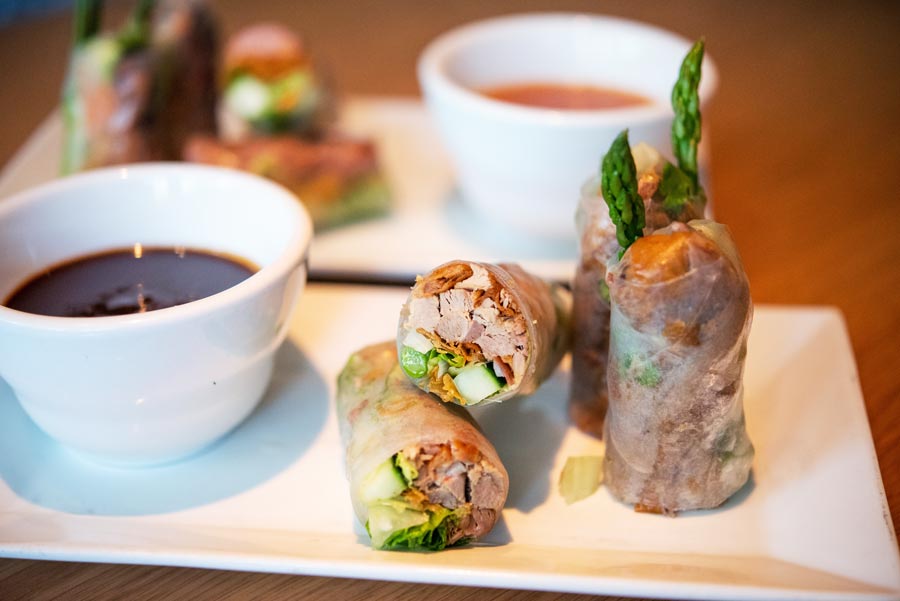 Roasted Duck Spring Rolls
Their Nem Nuong has become widely known for their unique addition of fried wontons which add the perfect crunch in every bite. They are available in a wide variety of variations including grilled pork, roasted duck, ahi, shrimp, shrimp cake, cured beef, soft shell crab, and rib eye.
Each plate of Nem Nuong also arrives with its own unique dipping sauce. Diners rave about the chef's special sauce that is served with the grilled pork spring rolls. The recipe for this sauce is so secret that the owners, Lisa Dand and her mother, bring the sauce to the restaurant and do not teach the recipe to their other chefs.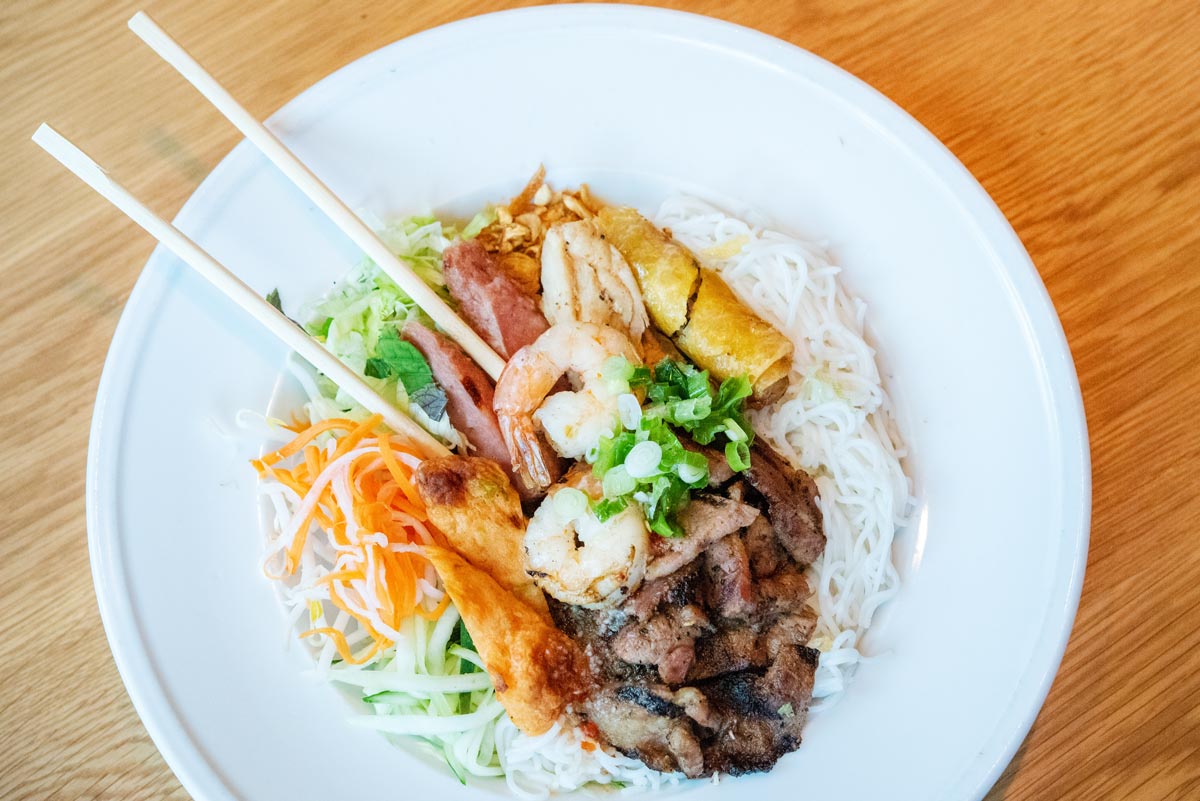 Standout Favorite, The Vermicelli
Before our visit to the best Vietnamese restaurant in Orange County, we did some additional research on Yelp to find the most popular dishes. The Vermicelli was a standout favorite which was no surprise.
This traditional cold noodle dish was overflowing with Charbroiled shrimps, tender BBQ pork, lump pieces of chicken, egg roll, and shrimp cake with Asian greens & limed-fish sauce. The flavors were light and refreshing with an abundance of meat and seafood.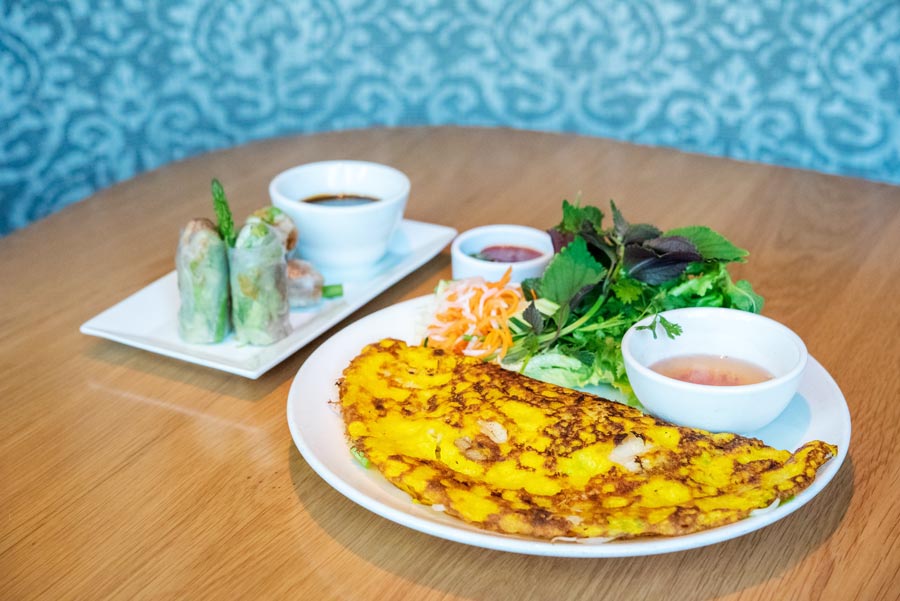 How to eat Vietnamese Crepe
Another traditional dish I recommend is the Vietnamese Crepe. At first glance, you might think this crepe is made with egg, but the yellowing coloring is actually from Tumeric, a popular spice used in many Vietnamese dishes. Each crepe is incredibly delicate with a perfectly crisp exterior while the inside is stuffed with shrimp, pork, onion, mushroom, mung beans & bean sprouts.
When you eat a Vietnamese crepe, you're supposed to take a piece of lettuce, topped with a slice of crepe along with a sprig of mint, and Asian vegetables. Then roll the lettuce and dip it into their delicious lime chili fish sauce. I even posted a little demonstration video on my Instagram.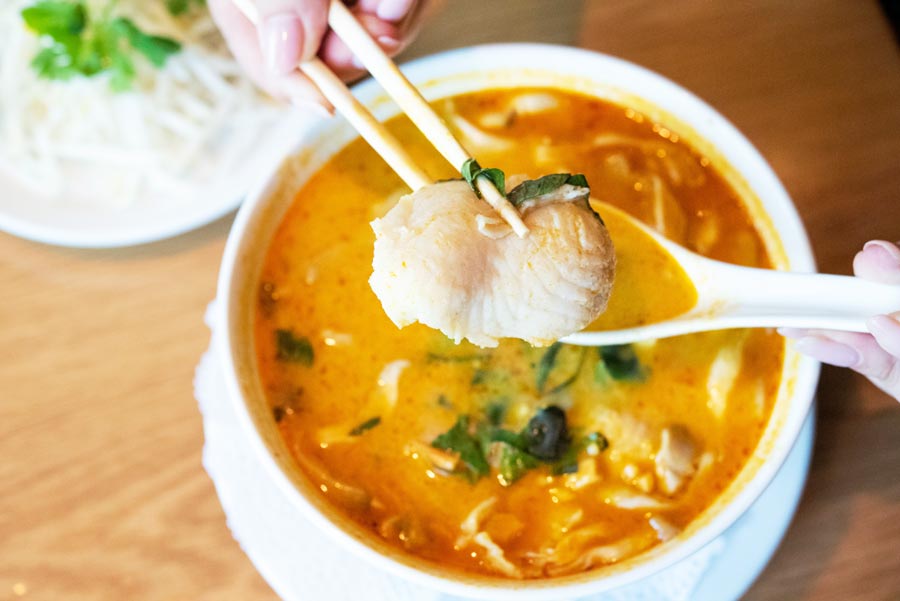 Phuket Style Seafood Noodle Soup
Though not a traditional Vietnamese soup, yelpers were also big fans of the Phuket Style Seafood Noodle Soup which features a rich creamy coconut broth with a hint of spice, generous chunks of sole, calamari, shrimp, fish cake, and rice noodles. The soup is then topped with cilantro and crushed peanuts. This soup is so flavorful and comforting, it could be 100 degrees out and I would still order it!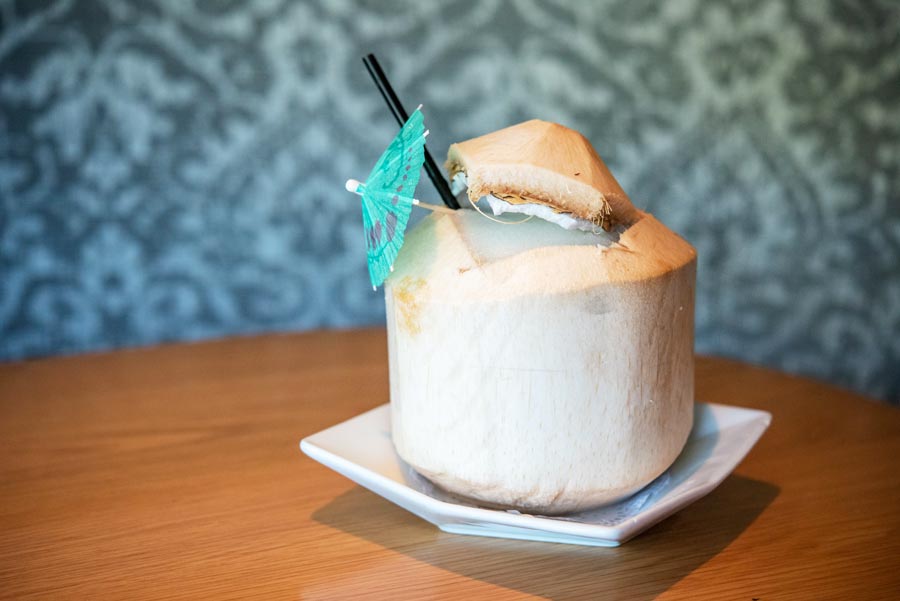 Brodard Chateau Cocktails
In addition to all of the fantastic Vietnamese cuisine, Brodard Chateau also offers a wonderful menu of cocktails in their more upscale location. The Chi-Chi in a Coconut Shell is very Insta-worthy and is a tropical blend of Coco Lopez, Bacardí Pineapple Rum, Kaffir lime, and pineapple juice served in a coconut shell.
The Passion Fruit Martini is a beautiful blend of Tito's Handmade Vodka, freshly squeezed orange juice, and fresh passion fruit. They also offer the passion fruit orange juice as a stand-alone drink.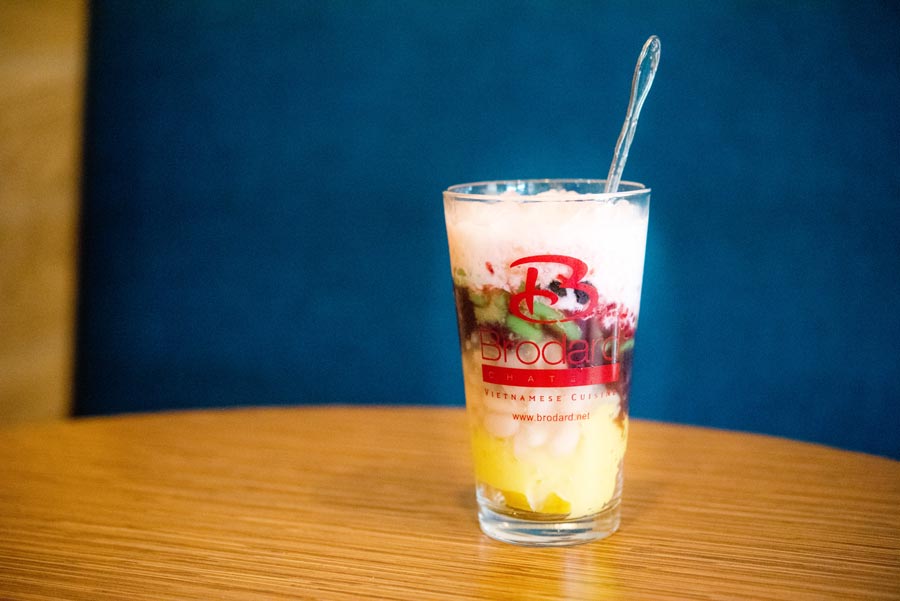 Traditional Vietnamese Dessert Chè Ba Màu
If you're searching for a traditional Vietnamese dessert, you'll find the Chè Ba Màu, a glass layered with burgundy jumbo beans, sweet yellow beans & green boba morsels in coconut sauce topped with shaved ice. They also have the Chè Khuc Bach which is my personal favorite. This glass is filled with Vietnamese Jello, housemade Agar Jelly, lychee, and chia seeds with shaved ice in light lychee juice.
The menu at Brodard Chateau is vast and perfect for a large group who doesn't mind sharing. Not only do they serve traditional Vietnamese favorites, but the menu also includes elevated options like Chateaubriand, Sizzling Fresh Sole, and New Zealand Rack of Lamb.
It is no wonder the Nguyen-Dang family has created the best Vietnamese restaurant in Orange County. No matter if you live in the area or beachside Newport Beach, every foodie should take a trip to Garden Grove to experience this exceptional cuisine.
Discover More Cultural Cuisine in Orange County