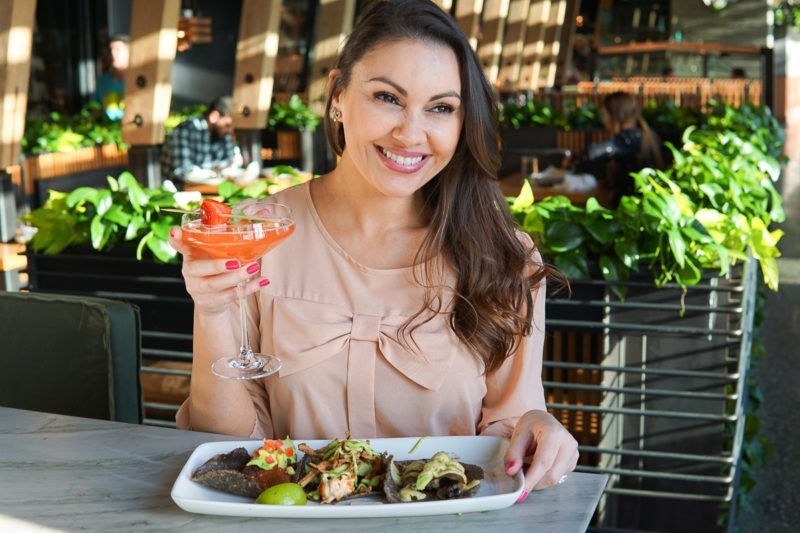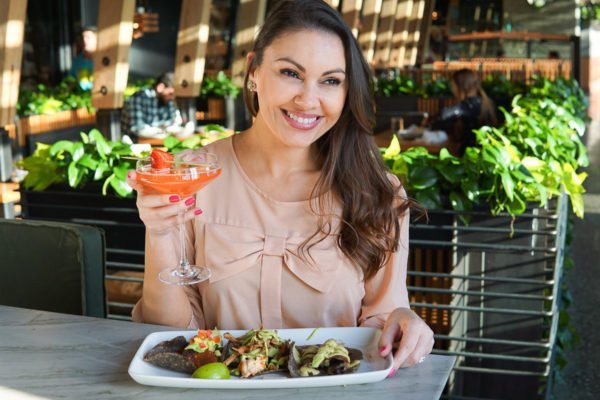 It's no surprise that one of the biggest restaurant openings this year has been the new Puesto Irvine location. Let's be honest, Californian's love their tacos. They are basically our state food and are to Californian's what hot dogs are to New Yorkers. Puesto is easily taking over as the King of this magnificent food staple and has become a beloved high-class taqueria with locations all over Southern California. This restaurant began simply with a family & their love for taco's coming together in San Diego to open their first location. Chef Luisteen has seen great success since then due to his celebration of innovative Latin flavors.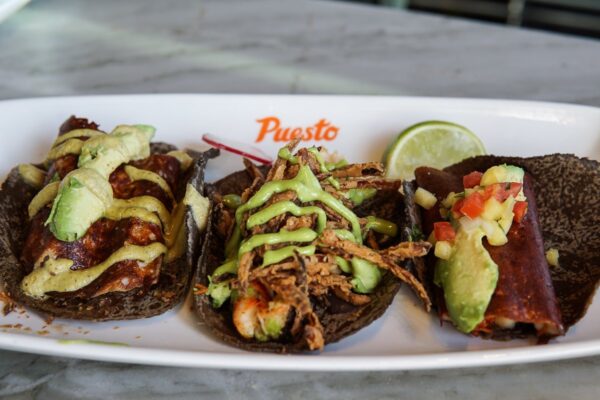 Puesto Irvine is famous for their delicious and unique taco flavors.
Each of their tacos presents elevated authentic Mexican street food flavors. Puesto Irvine chefs couple these amazing traditional flavors with some international flare. At Puesto Irvine, come "Mix, Match, and Enjoy" where you can sample all of these decadent flavor combinations for yourself. A great flavor combination was the chicken el pastor which was adorned with crispy melted cheese, hibiscus & chipotle tinga, avocado, and a piña habanero pico. In addition, one of my personal favorites was the filet mignon taco which also had crispy melted cheese and avocado. What made the filet mignon taco especially unique was the pistachio serrano salsa on top.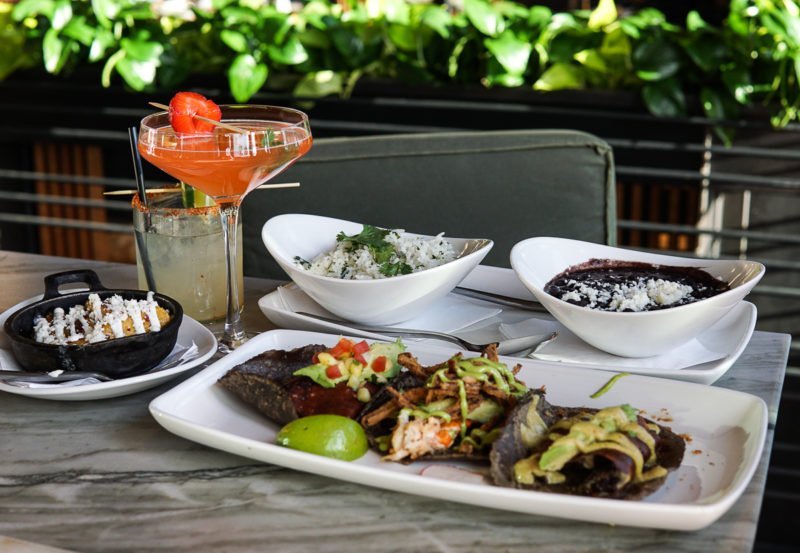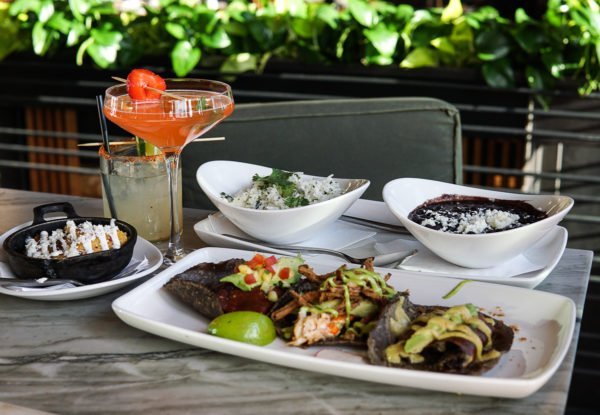 Puesto Irvine also makes delicious Main Lobster Tacos which come accompanied by crispy onions, avocado, creme de cilantro, and a jalapeno pico de gallo. The crunch of the onions provided a fabulous contrast to the creamy cilantro and the spice of the jalapeno. In fact, crispy onions are one of my all-time favorite toppings.
Once you've decided on your taco there are plenty of sides served family style like the classic black beans, cilantro white rice, and my personal favorite, plantains! I am obsessed with plantains and there are so few places in Orange County who actually serve them. I love having Puesto so close to home so I can get my taco and plantain fix any day of the week.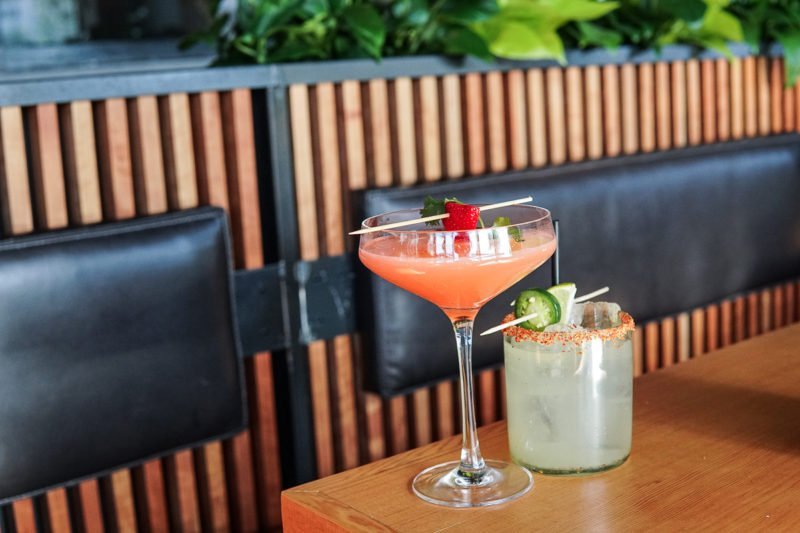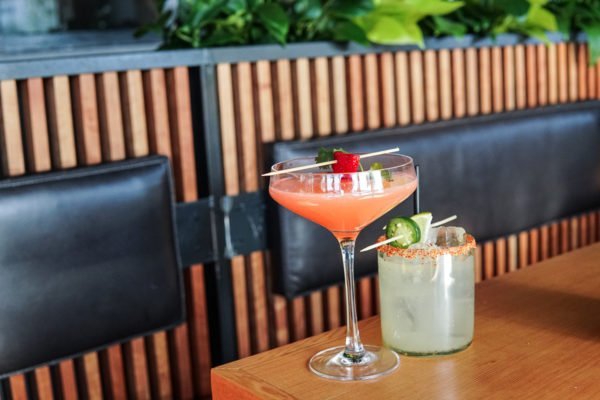 Now, no taco is complete without a refreshing cocktail.
The Spicy Margarita is a favorite among diners and features blue agave repository tequila, freshly squeezed lime juice, and agave nectar.  In addition, it is topped with a lime, jalapeño, and Tajin rim. The Tajin rim really made this margarita perfect by adding a nice little kick with every sip.
If you are not the biggest fan of spice, then I would definitely try the La Rosita cocktail. Puesto Irvine puts a special twist on the traditional daiquiri with this beverage. The La Rosita highlights house-made strawberry-cilantro infused vodka, lemon and just a dash of cane sugar. The flavor of the homemade vodka really makes all the difference and creates such an amazingly fresh flavor.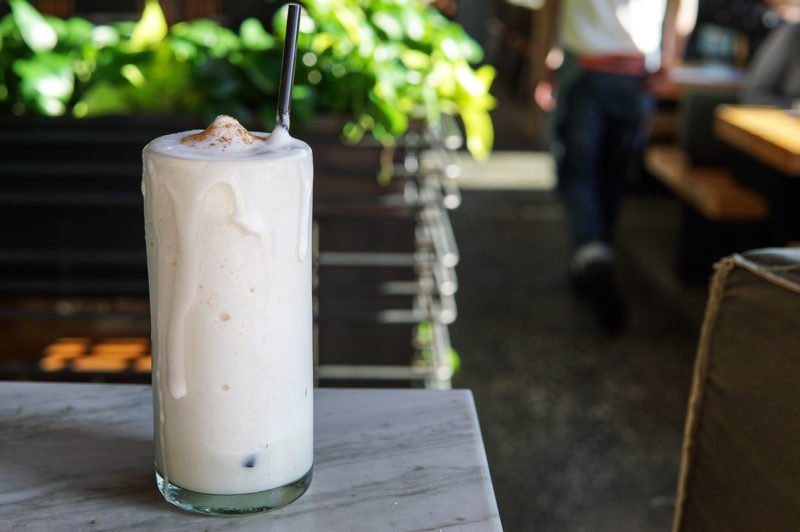 Since Puesto Irvine specializes in elevating traditional Mexican street food which is highlighted by their delicious spin on Horchata. The Horchata Loca blends together classic frozen horchata and cinnamon, with Malahat's San Diego white rum. If you love horchata, the Horchata Loca will be your new favorite cocktail. The bright, tang of  rum combined with the classic creamy cinnamon flavor of horchata is perfect.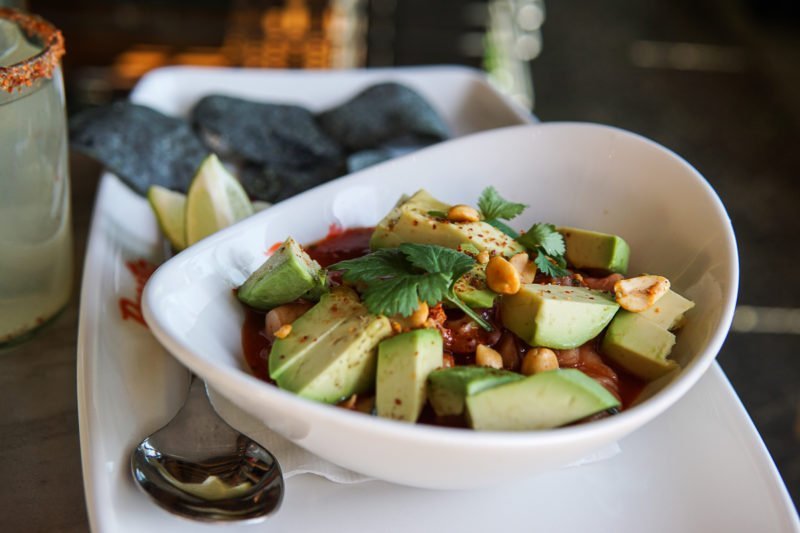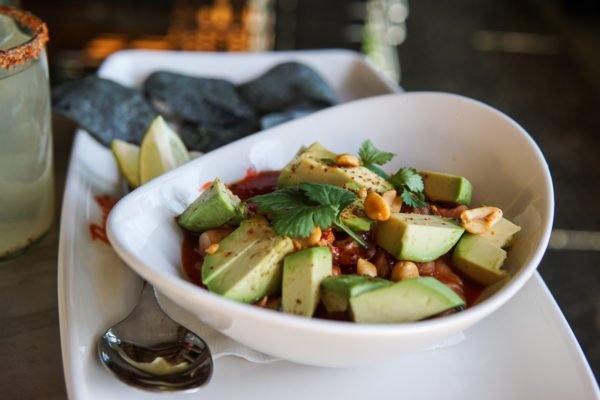 While Puesto Irvine is famous for their tacos, the restaurant also has some fantastic menu items that accompany their unique taco flavors.
The Cóctel campechana ceviche, served tostada style, comes topped with market fresh fish, shrimp, pulpo, avocado, salsa campechana, and tajin roasted peanuts. These crunchy peanuts coupled with house-made blue corn tortilla chips provide the most amazing texture. The tortilla chips get their unique flavor from a habanero hash. Puesto Irvine chefs cook this hash low and slow until it is almost in a carbonized form. Then they blend it into a powder which gives the chips a great spice and earthy flavor.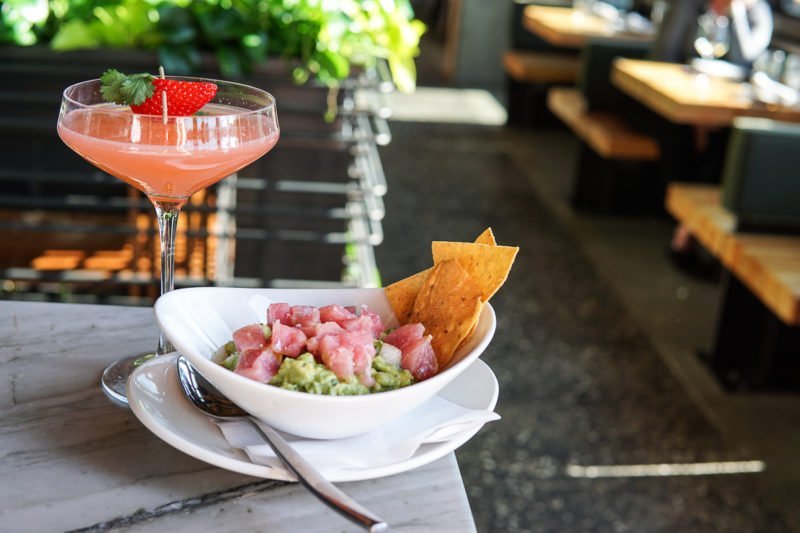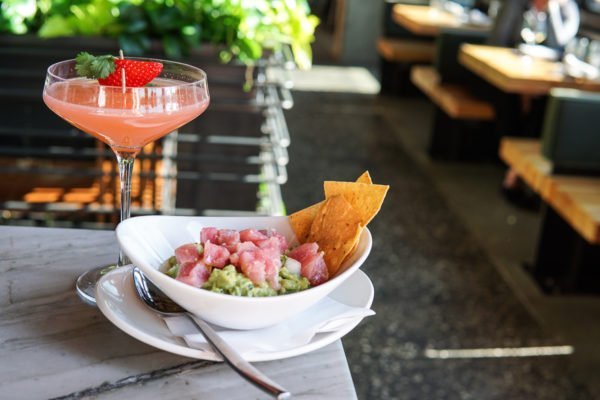 In addition, you"ll definitely want to try the latest addition to their menu, the delicious chunky guacamole topped with fresh Ahi Tuna. Guests were ordering this new appetizer left and right. I cannot say I blame them, beautiful chunks of ahi on anything makes me happy, especially when its fresh guacomole.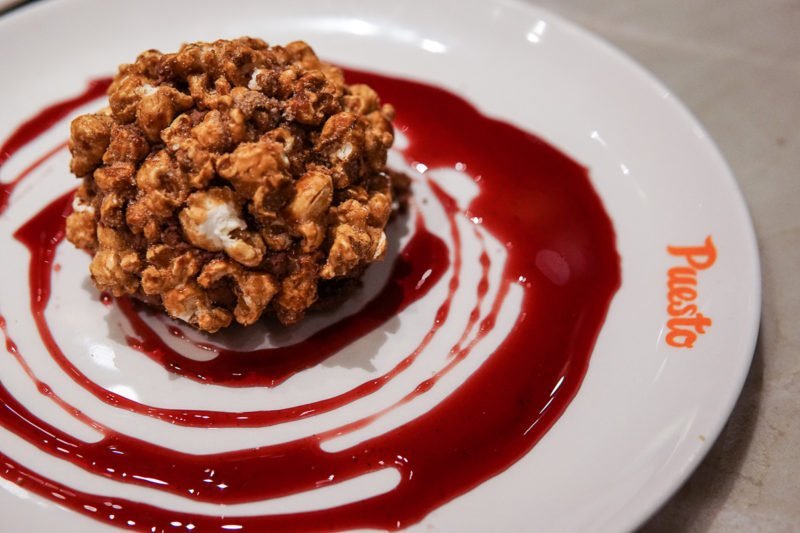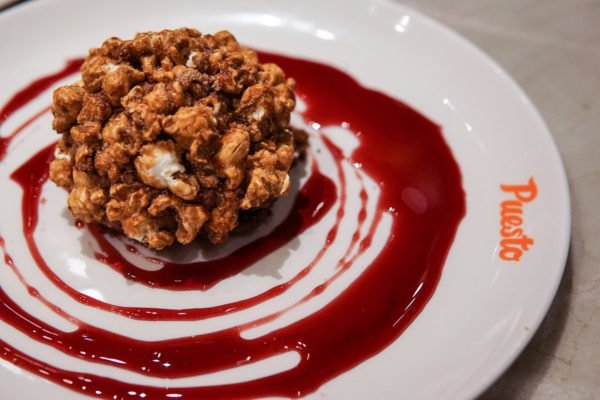 To finish off your meal, pastry chef Jessica Scott provides fabulous combinations of sweet treats.
Now, if you thought Puesto Irvine only specialized in decadent savory flavors, then you have not met their pastry chef Jessica Scott. Scott, a champion of Food Network's Dessert Games, served the most amazing sweet treats to finish off our meal. While every dessert Jessica makes is heavenly, everyone working at Puesto Irvine recommended the Aztec Gold. This is known as one of their best desserts and we totally agree. The Aztec Gold featured Churro caramel corn, horchata gelato, chocolate almond mousse, all settling atop a chocolate almond cookie. When you eat it, it feels like you keep discovering something new with every bite. On top of all this flavor, the decorated cookie is surrounded by a tart and sweet pomegranate chili drizzle. The pomegranate provides the perfect pop of freshness for this dessert.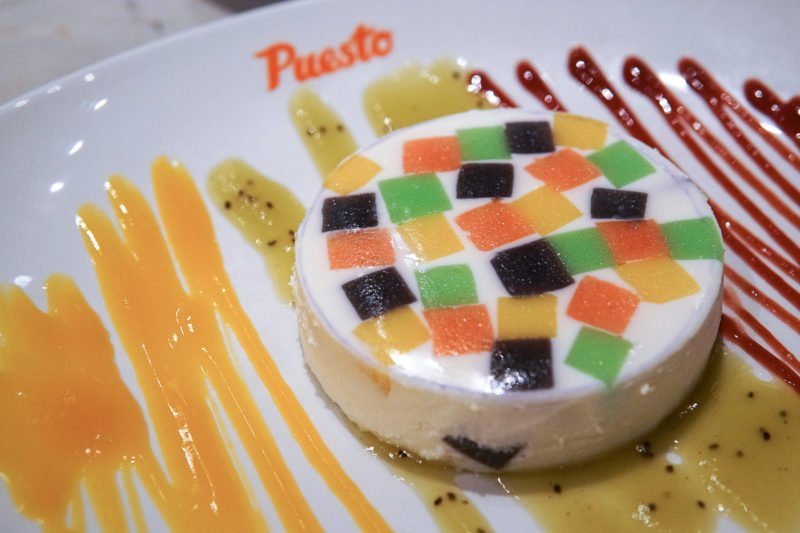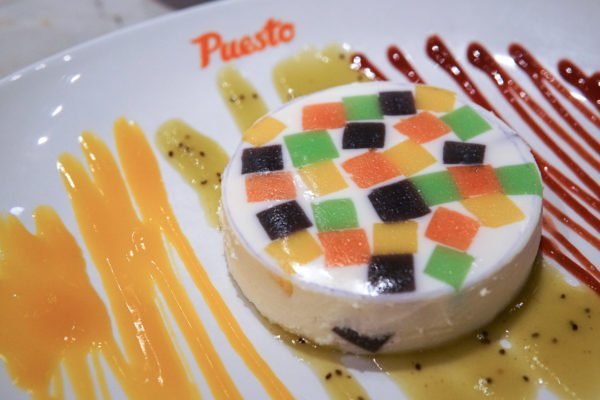 If you are more of a fruit lover (I won't pass judgment on the nonchocolate lovers), then you must try the heavenly Panna Cotta Mosaico.
Puesto Irvine makes their Panna Cotta with a traditional Mexican cream base. Chef Scott then adorns it with passion fruit, guava, lime zest, and blueberries. This beautiful dessert is not only delicious but also amazing to look at. The fresh fruit blended with gelatin creates this amazing stained glass window effect on top of the Panna Cotta. After trying Jessica Scott's wonderful desserts, it is no wonder she sparked national attention on Food Network.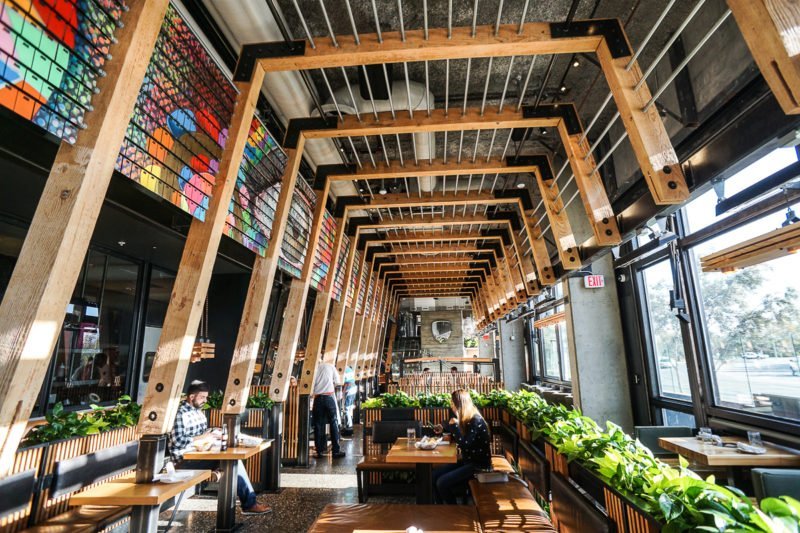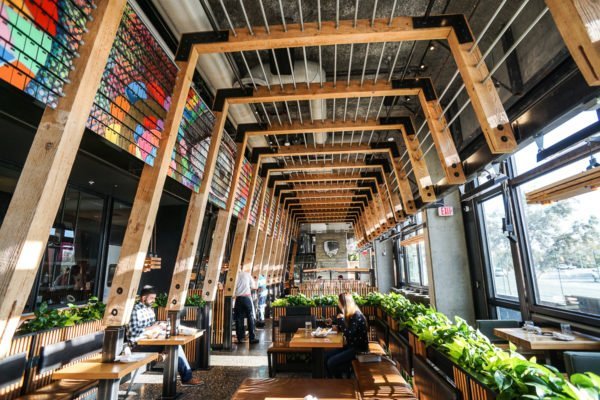 Puesto's latest location is fantastic with its breezy opened floor to ceiling windows, colorful murals, and cozy outdoor seating. Puesto Irvine is adjoined to the AC Marriot Hotel in Park Place which has quickly turned into an Irvine hot spot. I highly recommend heading on over to enjoy some wonderfully authentic & unique flavors that will constantly keep you coming back for more.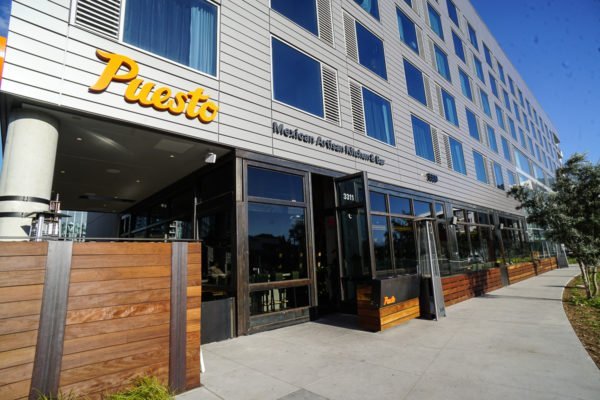 Puesto
3311 Michelson Dr
Irvine, CA 92612
(949) 608-7272