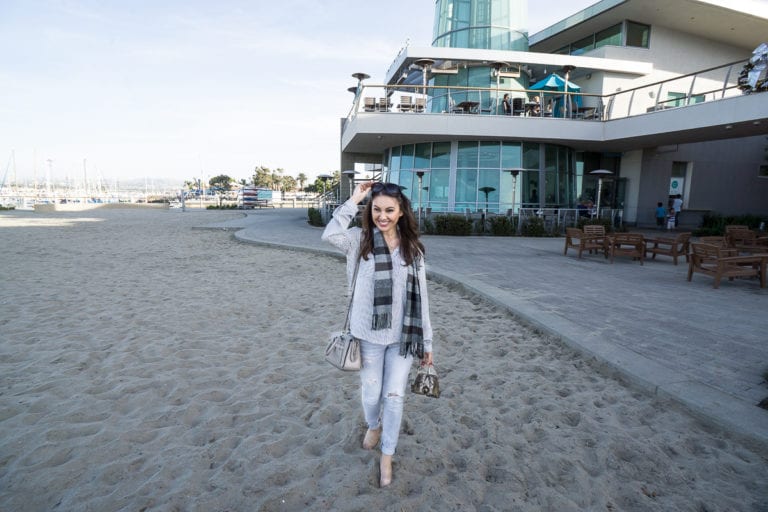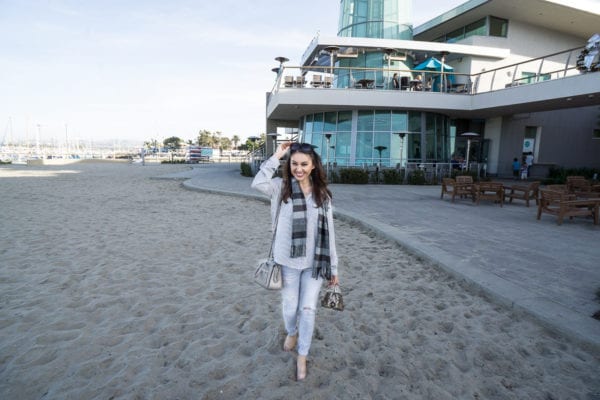 Newport Beach provides a great experience for foodies and ocean lovers to Dock and Dine at their favorite restaurant. Locals can enjoy beautiful views and cool ocean breezes as they make their way to dock at amazing restaurants like the Lighthouse Bayview Cafe. Then you can either head to the restaurant while your boat is safely docked or enjoy your order delivered right to your boat.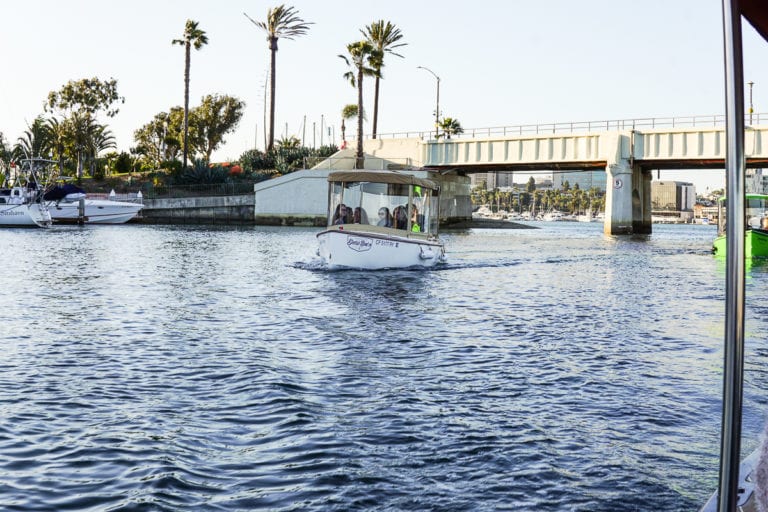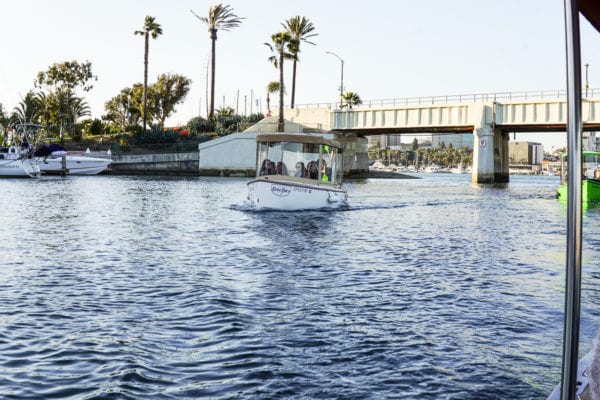 If you already own a boat, then you are ready to set sail and begin your dining adventure. However, if you are in need of a boat to Dock and Dine, there are electric boat rentals available from Lido Marina Village in Newport.
Lido Marina Village, EBoatsRental, offers the most adorable Canadian electric boats. They come complete with a table in the center to enjoy all your food and cocktails. Each boat is incredibly comfortable and even features wind guards for those breezy California days. These rentals definitely offer a better look than your standard Duffy. While they don't generally offer drivers, they do give you a tutorial on how to drive the boats and let's be honest, driving is part of the fun!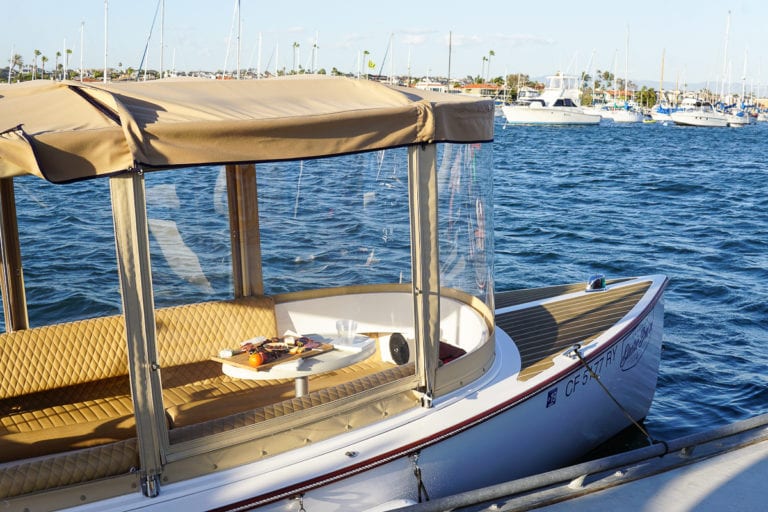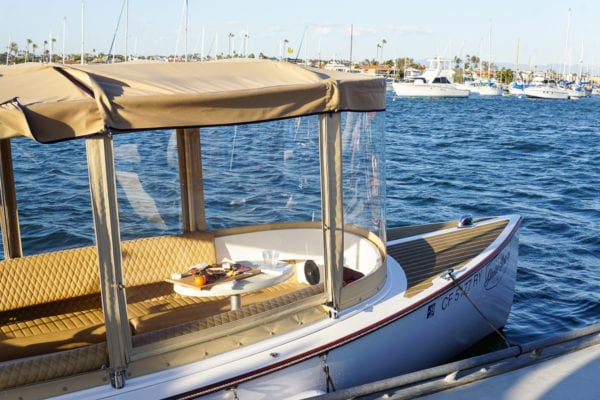 Boat rental is $95 an hour for 2 hours or more and is easily available if you call in advance.
This is my go-to place when we want to cruise the Newport Beach harbor. Whether you are just taking in the beautiful scenery or heading to an amazing restaurant, these boats are such a fun experience that everyone should enjoy. Click here to learn more about these boat rentals available from Lido Marina Village.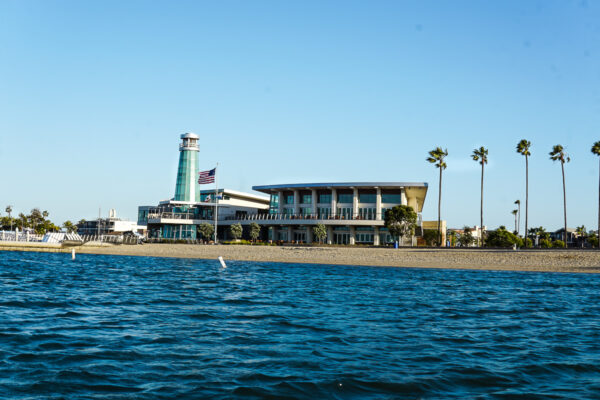 Newport Beach restaurants, like the Lighthouse Bayview Cafe, have docks that are welcoming the marina community. These docks allow boaters to pull up and enjoy a great dining experience.
The Lighthouse Bayview Cafe is our favorite restaurant to dock and dine as you may already know from some of our previous articles. They consistently have a show-stopping menu and are well known for their excellent brunch and seasonal menu. In addition, Lighthouse Bayview Cafe is the only place where you can place an order and have it brought out to your boat. During a recent dock and dine adventure we enjoyed partaking in their latest fresh spring menu with several new seasonal cocktails. Their location is also stunning as you are cruising up to the restaurant with their scenic lighthouse towering over the ocean.
Our favorite cocktails on the Lighthouse Cafe menu are the Eastern Standard and the Mad Madhattan.
Once docked, we headed inside and got started with some of their amazing new cocktails. The Eastern Standard is fantastic and includes Absolut Elyx Vodka, lime juice, simple syrup, cucumber, mint. The beverage is simple, crisp, and delicious. This cocktail has an amazing tartness that is so enjoyable when you are parched after a day of boating in the sun. If you are looking for a sweet treat, I would definitely try the Mad Manhattan. This beverage consists of Jameson IPA Whiskey, sweet vermouth, lemon juice, bitters, garnish lemon twist,  and a Lazaro cherry. The Lighthouse Bayview Cafe also has an amazing wine list that would taste even better on the water.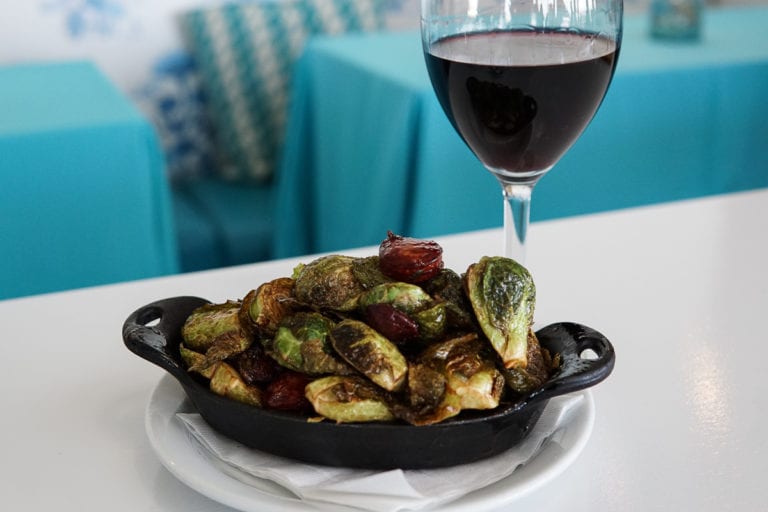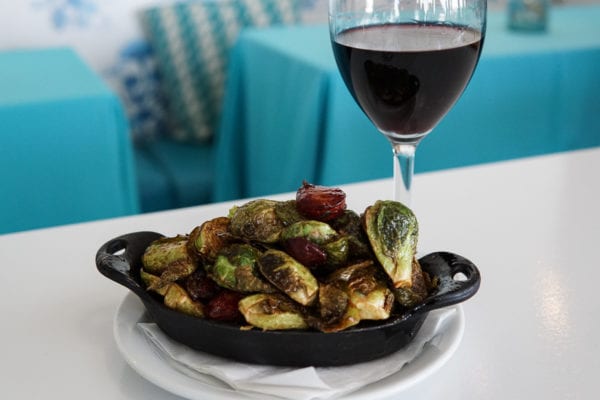 No boat party is complete without some delicious appetizers.
Lighthouse Bayview Cafe has incredible, perfectly crisped brussel sprouts with Spanish chorizo and balsamic vinaigrette. These are one of my favorite appetizers and always make me feel like I'm eating something healthy and naughty at the same time. It's better than chips or fries, right? Another great appetizer to enjoy during your Dock and Dine party would be Lighthouse Bayview Cafe's Slow Roasted Garlic Hummus. It is a classic hummus and pita including chickpeas, olive oil, smoked paprika, and chives. This wonderfully refreshing dish pairs perfectly for a day on the boat.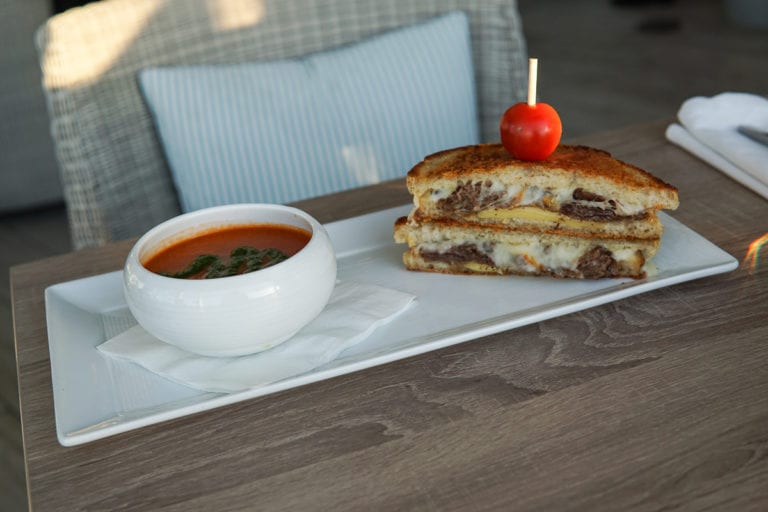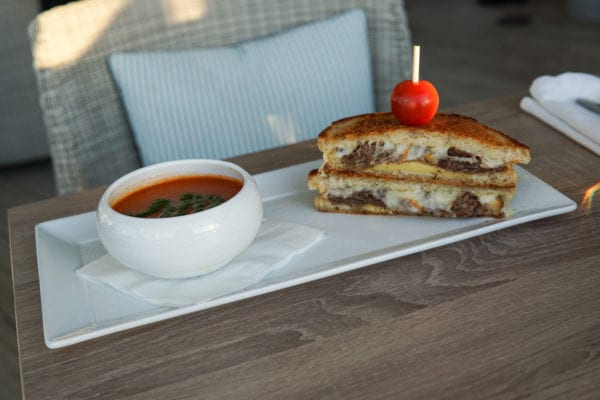 Dock and Dine provides delectable cuisine to boaters for any dining occasion. The Lighthouse Bayview Cafe has some incredible savory dishes perfect for lunch and dinner on the water.
For Lunch, we recommend the braised short rib grilled cheese with tomato basil soup. This grilled cheese includes muenster cheese, smoked gouda, and house braised short ribs. As if this dish is not cheesy enough, it also comes on parmesan sourdough. We really love how the parmesan is baked into the sourdough. It provides a great crunch and is perfect for this incredibly cheesy and meaty sandwich. Additionally, no cheesy grilled sandwich would be complete without a delicious bowl of creamy tomato basil soup perfect for dunking.

For dinner the new spring menu's Seared Hokkaido Scallops are outstanding.
The Seared Hokkaido Scallops come with a cauliflower purée, sweet corn relish, and baby zucchini. This dish really embodies the fresh ingredients of spring and the scallops are perfect for a dining adventure out at sea. The cauliflower purée was a nice addition and healthy alternative.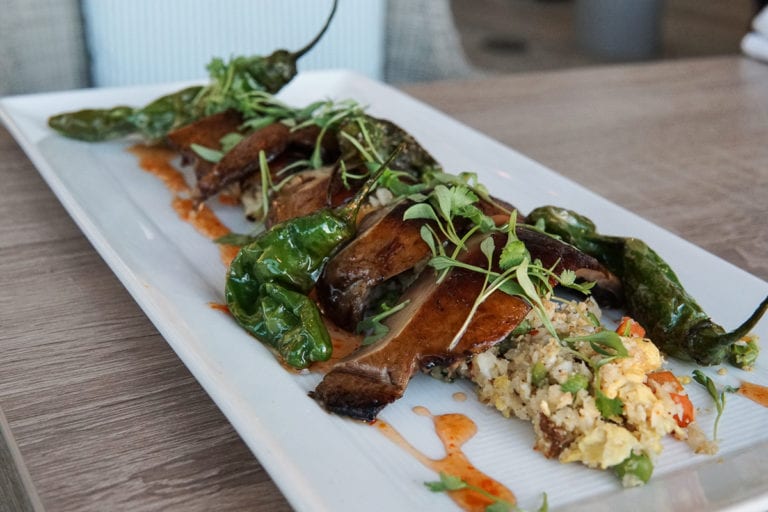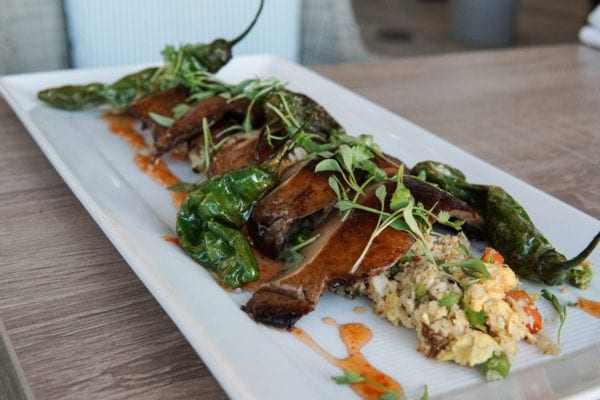 The Grilled Marinated Portobella Mushrooms are a fantastic new vegan option added to their spring menu. They also serve as a great side dish to the scallops. This new menu item includes cauliflower "fried rice", peas, carrots, sweet chili sesame sauce, and shishito peppers. I was pleasantly surprised how much I enjoyed this dish even though I am a die-hard meat lover. The cauliflower "fried rice" was prepared perfectly and had a very pleasant texture.
Dock and Dine is such a fun adventure. We cannot wait to see you out on the water and at Lighthouse Bayview Cafe!
Save
Save
Save
Save
SaveSave
SaveSave
Below is a viewing of The Lighthouse Bayview Cafe's entire new spring menu.
1600 W. Balboa Blvd.,
Newport Beach, CA 92663
Reservation (949) 933-1001
lighthousenb.com
Breakfast
King's Hawaiian French Toast
Mango compote, whipped cream, maple syrup
Blueberry Mascarpone Pancakes
Blueberry coulis, vanilla mascarpone sauce, maple syrup
Lobster Thermidor Omelet
Creamy lobster mixture, Swiss cheese, chives
Lunch
Achiote Chicken Breast Club
Guacamole, lettuce, tomato, pepper bacon, chili mayo
Balsamic Portobello Mushrooms Sandwich
Provolone, roasted tomatoes, arugula, pesto mayo
Chile de Arbor Seafood Pasta
Clams, mussels, shrimp, spaghetti, spicy tomato sauce
Grilled Skirt Steak
Cilantro scented white rice, guacamole, pico de gallo, black beans, chimichurri sauce
Dinner
Steamed Manilla Clams & Bacon
Confit tomato, wine butter sauce, crusty bread
Thyme braised Bone-in Chicken
Summer succotash, corn pudding, roasted chicken jus
Grilled Marinated Portobello Mushrooms
Cauliflower 'fried rice,' peas, carrots, sweet chili sesame vinaigrette, shishito peppers