Posts may contain affiliate links. Read our full disclosure policy here.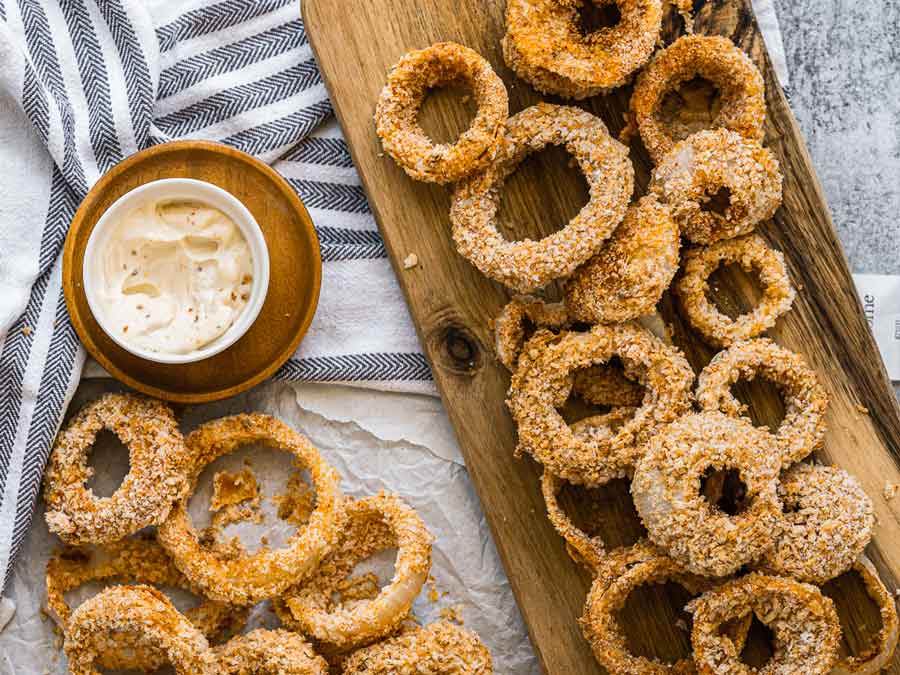 These vegan air fryer onion rings use no egg and are even better than regular onion rings. The use of chickpea flour and corn starch creates an extra crispy and delicious coating.
---
I have the best secret to making the crispiest homemade onion rings, make vegan air fryer onion rings! Vegan air fryer onion rings use a mixture of chickpea flour, cornstarch, and water as an egg substitute, but here is the secret. This egg substitute makes the most amazing, thick, and flavorful batter for your onion rings that taste so much better than using regular eggs. Trust me, you'll thank me later for this neat little trick.
I always try to find a healthier alternative to all my comfort food recipes. This often leads me to experimenting with different types of flours and methods of cooking. Vegans have discovered some great alternatives that sometimes make the recipes taste even better. This vegan air fryer onion rings recipe is the perfect example. Chickpeas are a staple in vegan cooking and you can use them for making everything from healthier brownies to whipped cream (aquafaba).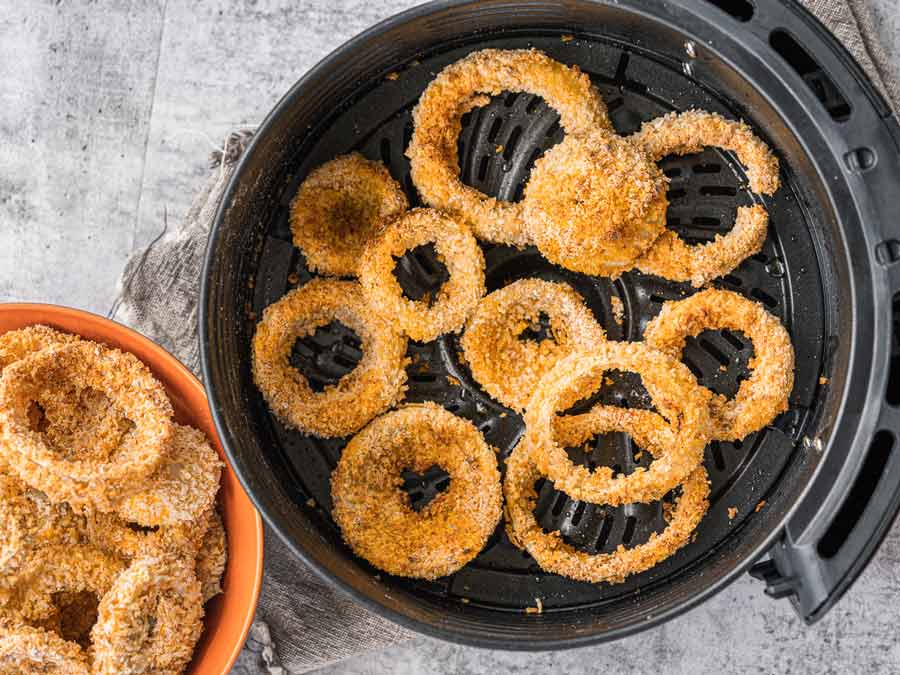 What Is The Best Air Fryer?
By now most of us know how amazing air fryers are for making normally fried foods, perfectly crispy without the oil. There are so many great air fryers on the market including air fryer ovens and even an air fryer lid for the Instant Pot. I use my toaster oven all the time for reheating food and toasting bagels, so purchasing an air fryer oven made the most sense for my family. A few of the best air fryers that have excellent reviews are the Breville Smart Oven, Cuisunart, Instant Pot, and Ninja. You can even get an air fryer attachment for your older Instant Pot!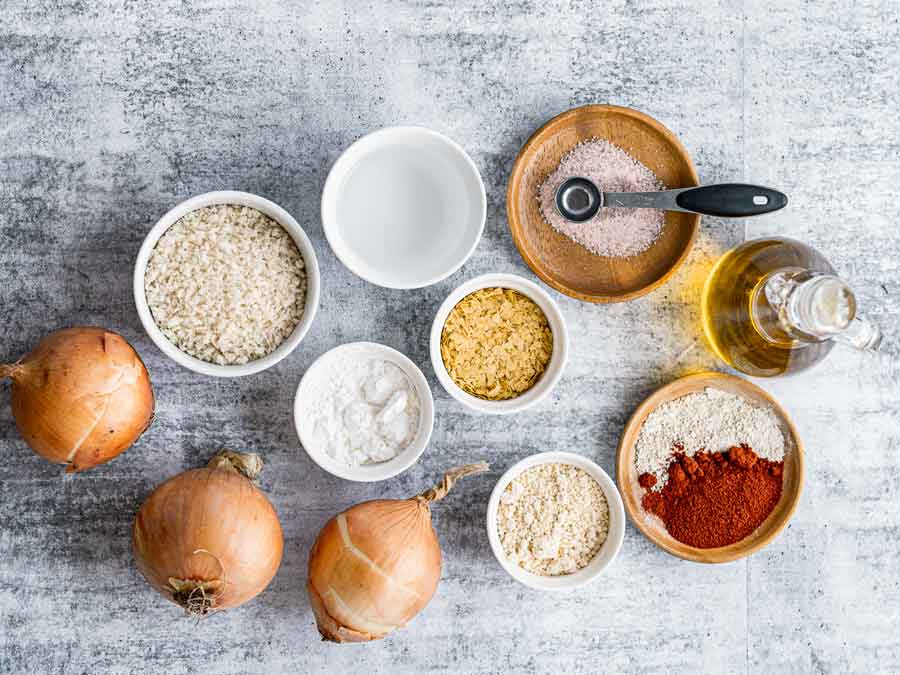 What Ingredients Will I Need to Make My Air Fryer Onion Rings Vegan?
To make vegan air fryer onion rings you will need panko bread crumbs, corn starch, chickpea flour, and seasonings. I like to add paprika and garlic salt. Another great ingredient used in this recipe is nutritional yeast.
If you've never heard of nutritional yeast, it is a fabulous ingredient full of nutritional benefits. As a bonus it also adds a tasty cheesy flavor and is popular to sprinkle on foods like popcorn. Just one tablespoon of nutritional yeast provides 2g of protein, all the essential amino acids, vitamin B12, and antioxidents.
Special Dietary Notes and Substitutions
This recipe is vegan and dairy free. If you want to make this recipe non-vegan you can substitute the chickpea flour and water for 2 regular eggs. If you want to make vegan gluten free onion rings, you can substitute the panko bread crumbs for gluten free panko bread crumbs. You can also make vegan onion rings without bread crumbs by substituting with almond flour which would make this recipe gluten-free, low carb, and keto.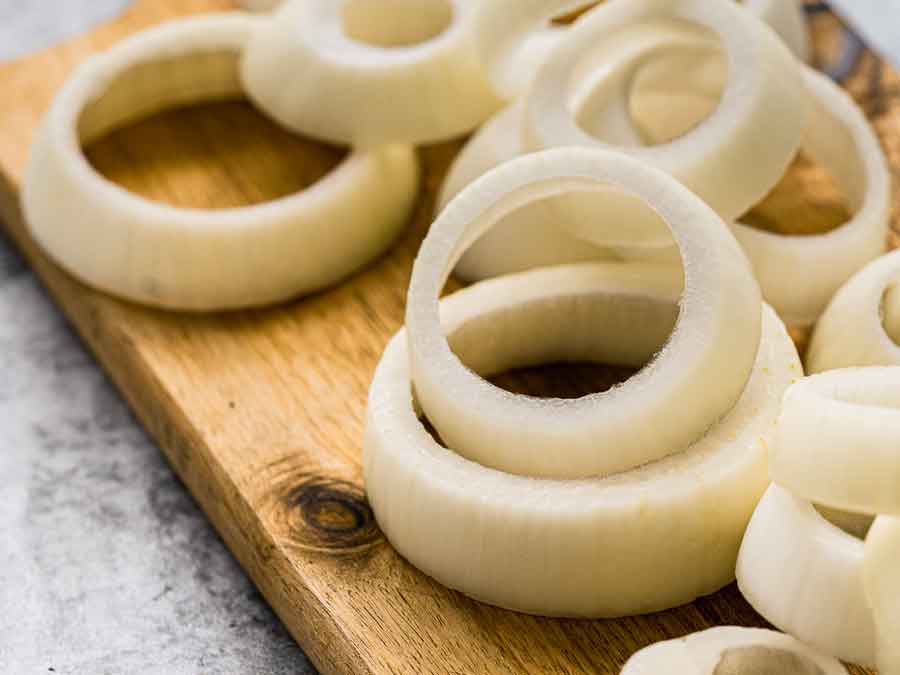 What are the best onions to use when making onion rings?
The best onions for making flavorful onion rings are sweet white onions. These onions have a delicious very light sweetness do them that make onions rings very flavorful. Regular yellow onions would also work. I have seen people use purple onions, but if you are looking for restaurant quality flavor, you should avoid using red onions for your onion rings as they are a little too pungant.
How do I make vegan air fryer onion rings?
To make these eggless onion rings you will first cut your onions into thick 1 inch slices. If a few are too thin, you can keep them together. Next you'll prepare your vegan egg substitute by combining the chickpea flour with water, two tablespoons of cornstarch, and your seasonings of salt, garlic salt, paprika, and nutritional yeast. Be sure to whisk everything well to avoid any clumps.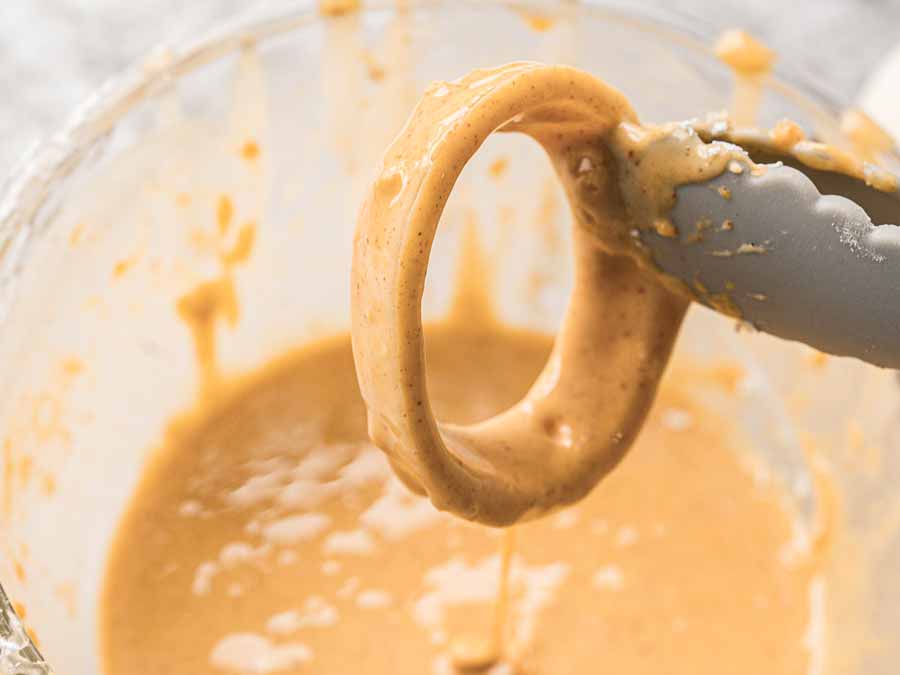 This should result in a thick batter. If your batter still seems too thin, you can add an extra teaspoon of cornstarch until you reach a thicker consistency.
While you can of course use regular eggs, I really encourage everyone to try the vegan recipe as the use of chickpea flour with corn starch makes these onion rings extra flavorful and crispy. I prefer this recipe over traditional eggs with all purpose flour.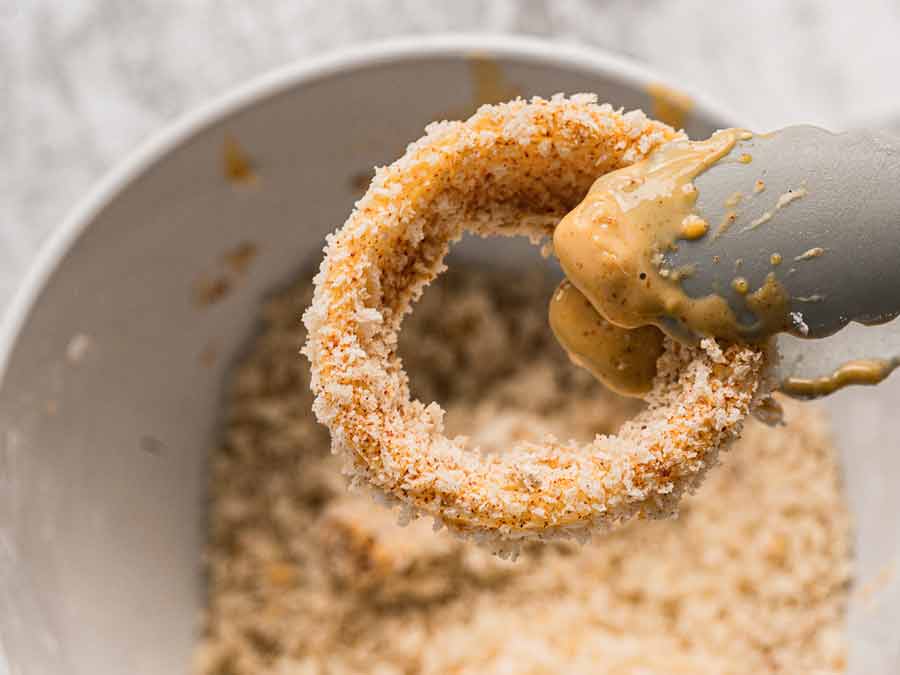 Then, you're going to place the rest of your corn starch in a small bowl and in another small bowl add your panko bread crumbs. Using a pair of tongs, take each onion ring and first dip it into the cornstarch. Give it a shake to remove any excess. Next dip your ring into the chickpea egg mixture and finally dip it into the panko bread crumbs so its nice and coated.
Place your onion rings in a mesh air fryer baking sheet or wire basket and cook at 400 degrees for 8-10 minutes. All air fryers can cook at different types so keep your eyes on your onion rings so you can perfect the timing of this recipe to work best with your air fryer. Also make sure to place your onion rings so they are not touching and do them in small batches.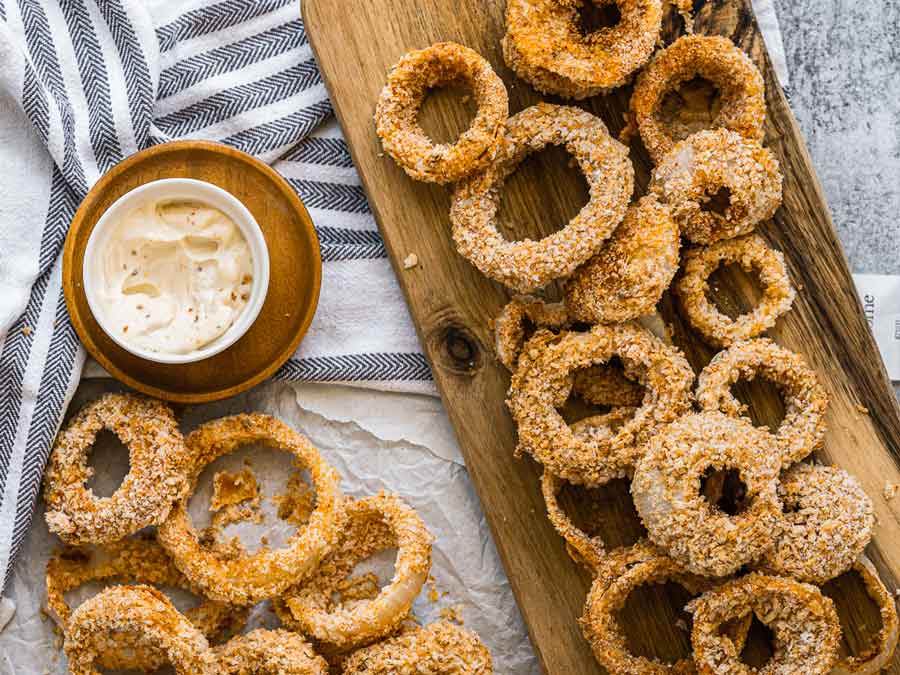 Recommended Sauces to Pair With Onion Rings
Once finish you should have beautiful golden brown air fried onion rings. You can place them on a piece of parchment paper as they finish and serve them with an array of sauces. Trader Joes just released their Magnificent Sauce which I love with these air fryer onion rings. I also really enjoy their Jalapeno Sauce, Aoli Garlic Mustard, Siracha and Roasted Garlic BBQ Sauce, and Organic Ketchup mixed with a little Black Truffle Seasoning.
Looking for more delicious vegan recipes? Enjoy a few of our favorites below.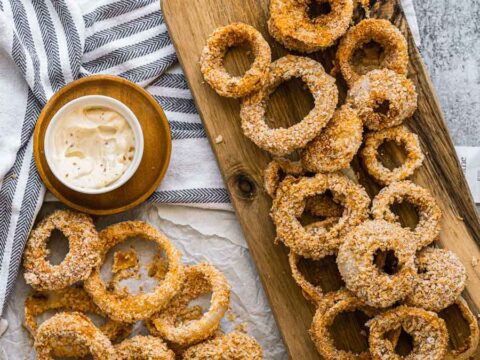 Crispy Vegan Air Fryer Onion Rings
These vegan air fryer onion rings use no egg and are even better than regular onion rings. The use of chickpea flour and corn starch creates an extra crispy and delicious coating.
Diets: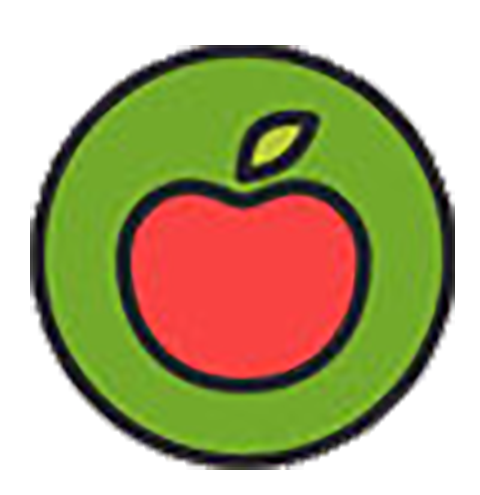 Low Calorie

,

Vegan

,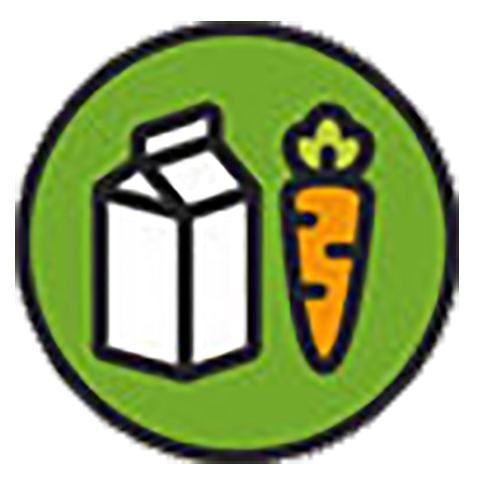 Vegetarian
Ingredients
2

cups

panko bread crumbs

3

sweet onions

large

½

cup

corn starch
Batter
¾

cup

chickpea flour

2

tbsp

corn starch

½

cup

water

1

tbsp

nutritional yeast

1

tsp

paprika

1

tsp

garlic powder

1

tsp

sea salt

pink himalayan
Instructions
First Slice your sweet onions into thick slices. This is about 4-5 slices per onion. Press through the center to seperate each ring. If some rings are too thin, make them thicker by keeping two together.

Next, prepare your eggless chickpea batter by combining the water, chickpea flour, 2 tbsp corn starch, nutritional yeast, salt, paprika, and garlic powder in a medium size bowl. This should create a thick batter, if its too thin you can add another tablespoon of cornstarch.

Grab two additional medium size bowls and put the 1/2 cup of corn starch in one and your panko bread crumbs in the other. Begin coating your onion ring by first dipping the onion in corn starch. Give it a shake to remove any excess.

Next dip your onion ring into the batter and then the panko bread brumbs.

Place your onion rings in the air fryer without over lapping, cooking in batches at 400 degrees for 8-10 minutes.
Notes
Substitutions:
For gluten-free and low carb you can use almond flour instead of panko bread crumbs.
you can make this same recipe non-vegan by using 2 regular eggs instead of the chickpea, cornstarch, and water
 
Nutrition
Serving:
5
onion rings
|
Calories:
146
kcal
|
Carbohydrates:
24
g
|
Protein:
5
g
|
Fat:
1
g
|
Saturated Fat:
1
g
|
Sodium:
364
mg
|
Potassium:
137
mg
|
Fiber:
2
g
|
Sugar:
2
g
|
Vitamin A:
114
IU
|
Vitamin C:
1
mg
|
Calcium:
30
mg
|
Iron:
1
mg
If you're not vegan and just looking to lose weight or live a healthier lifestyle, check out some of these recipes.