Posts may contain affiliate links. Read our full disclosure policy here.
If you're looking for some delicious and healthy breakfast ideas then put this Black Forest Chocolate Chia Pudding at the top of your list. Chia seed pudding is one of my favorite make-ahead breakfast recipes. I can stock several in the fridge and have a quick mason jar breakfast ready for when I'm in a rush or on the go. The best part is chia seed pudding is incredibly healthy and perfect for anyone who is trying to lose weight or live a healthy lifestyle.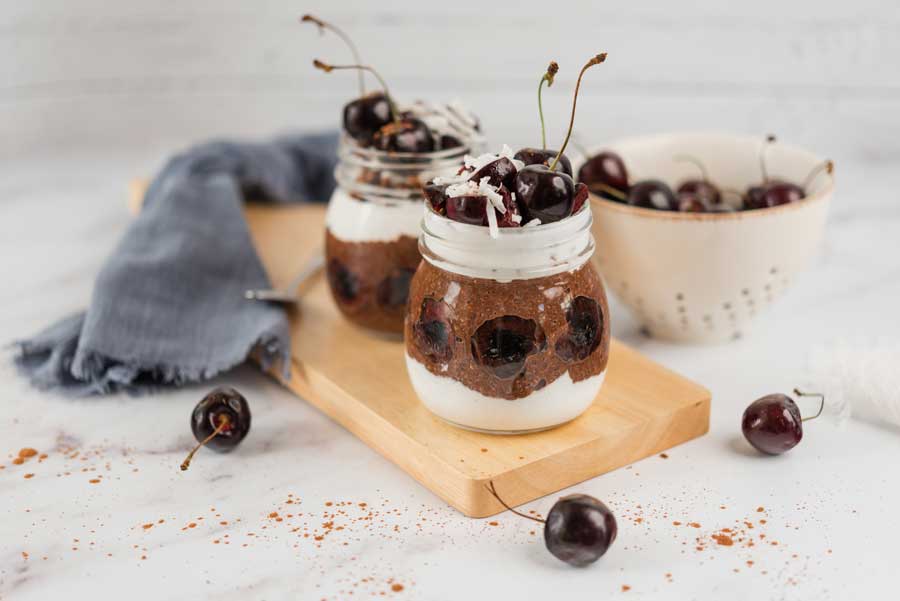 Our chocolate chia pudding is perfect for satisfying those chocolate cravings and is full of protein and fiber. We make our chia pudding in mason jars with beautiful layers of fresh cherries for an easy and quick breakfast on-the-go.
You might already be familiar with my awesome Peanut Butter Parfait Chia Seed Pudding or my Chia Seed Aloha Bowl. This Black Forest Chocolate Chia Pudding is what I make when I'm feeling the need for chocolate in my life and don't want to splurge on candy. This recipe is a great way to curb those chocolate cravings and it is oh-so-good when fresh cherries are in season.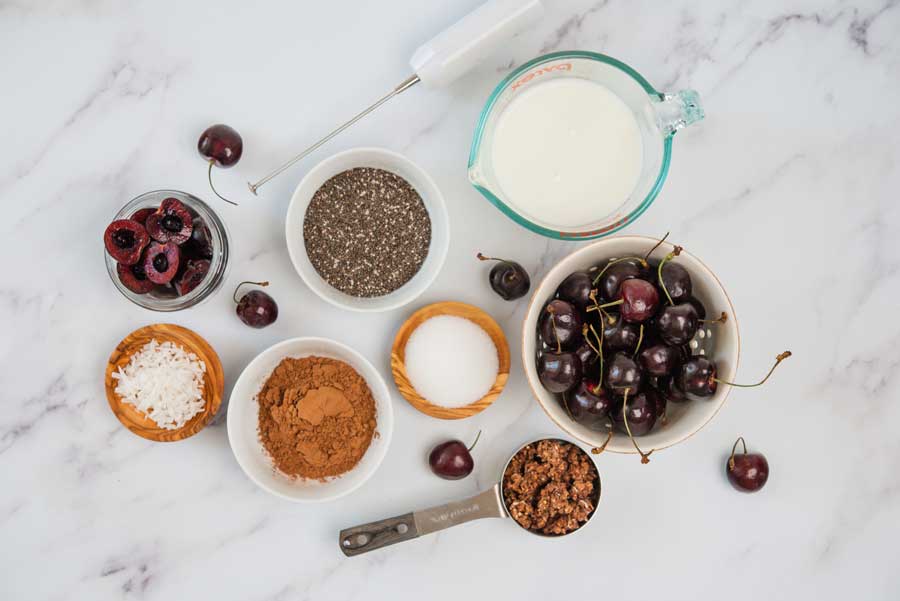 Easy chia seed pudding substitutions
First, let's go over a list of easy chia seed pudding substitutions so you can customize this recipe to meet your dietary needs. This is such a simple recipe and chia pudding is naturally gluten-free, but you can also make this recipe dairy-free, keto, low carb, sugar-free, low calorie, and high in protein.
How to make keto chia pudding
To make keto chia pudding you have to eliminate as much sugar as possible. Chia seeds themselves are only 6g of carb per tablespoon and our recipe uses 1 tablespoon per mason jar. The majority of carbohydrates in chia seed pudding come from milk which is why it is important to not use regular milk which is actually full of sugar. Instead, I recommend using unsweetened Almond Breeze which has zero carbs or Atkins Vanilla Protein Shakes which only has 2g of carbs and also adds protein and a little sweetness. I actually find the Atkins shakes to be the best tasting shakes on the market.
Additionally, there are many new low-carb yogurts on the market. Ratio Keto Yogurt only has 2g of net carbs and is a perfect substitute to use in our black forest chocolate chia pudding recipe. Finally, for your fruit topping, cherries only have 9g of net carbs per 1/2 cup. It is recommended to stick to low-carb fruits such as cherries, strawberries, raspberries, and blueberries. In total these keto chia pudding substitutions will only have 10g – 12g of carbs per serving.
How to make dairy free chia pudding
to make your chia pudding dairy free you can substitute regular milk for coconut milk, soy milk, almond milk, ripple, hemp milk, or any other milk substitute you prefer at the exact same ratio. Instead of regular yogurt, you can add coconut yogurt or cashew yogurt which both have a great flavor profile.
How to make low sugar chia pudding
You'll find that many chia pudding recipes call for using honey or agave as a sweetener. I have several tricks for not using any added sweetener at all. My first trick is to use the Atkins Vanilla Protein Shakes as your milk substitute. These shakes are delicious, creamy, and taste naturally sweet. There is no funky aftertaste at all.
My second suggestion is to use a sugar-free vanilla yogurt so there is a hint of sweetness without the addition of any added sugars. Finally, if you find you still need a bit more sweetness, you can add a bit of monk fruit sweetener. When monk fruit sweetener is mixed with other sweeteners it is practically undetectable. I use this in so many of my recipes to cut calories and make desserts low carb and my guests never notice.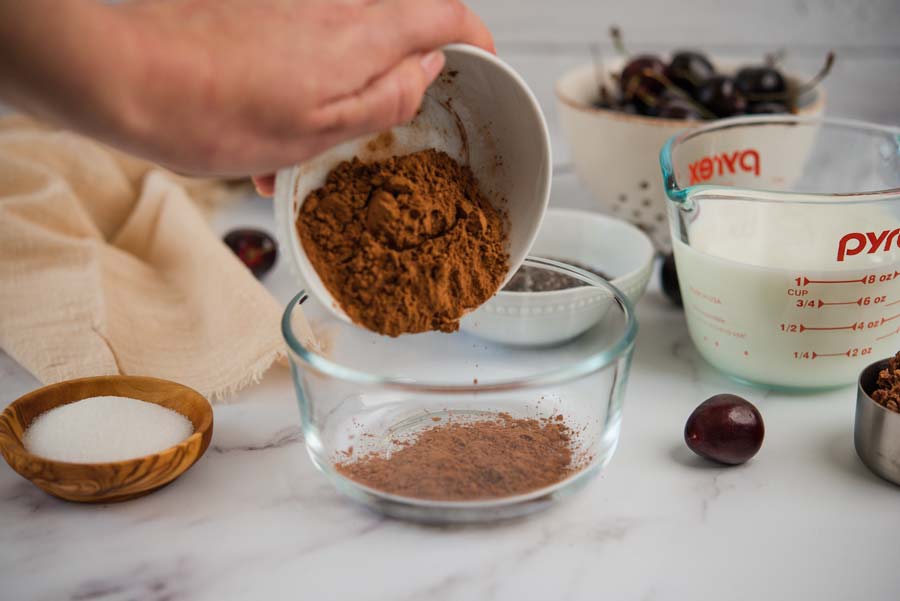 Instructions for Making Black Forest Chocolate Chia Pudding
I begin this recipe by first making chocolate chia seed pudding in a separate container. I do this so I can layer in the chocolate chia pudding and the fresh sliced cherries. To begin, in a separate Tupperware container, you'll add the cocoa powder and monk fruit sweetener.
Then, add your preferred milk. I use 1% low-fat milk because I like the extra protein, but you can also use almond milk or coconut milk. Next, I use a small milk frother hand mixer to mix all the ingredients well. This is great for eliminating any lumps and I always keep one of these little milk frothers in my kitchen. They are great little devices. I use them all the time to incorporate powders with fluids when I am only making a single serving and using a large hand mixer is too big. They even make them with multiple attachments.
Once all your ingredients are combined, add in your chia seeds, stir with a spoon, and place in the fridge for two hours or overnight. Once the chia seeds have expanded you can take out a single-serve mason jar and spoon half of your chocolate chia pudding into the jar. Then layer fresh sliced cherries around the jar and add a second layer.
Top the final layer with your choice of yogurt. I use Icelandic Yogurt which is much higher in protein. If you are making keto chia pudding, then you should add keto yogurt. Finally, top the yogurt with fresh cherries and a sprinkle of dried coconut.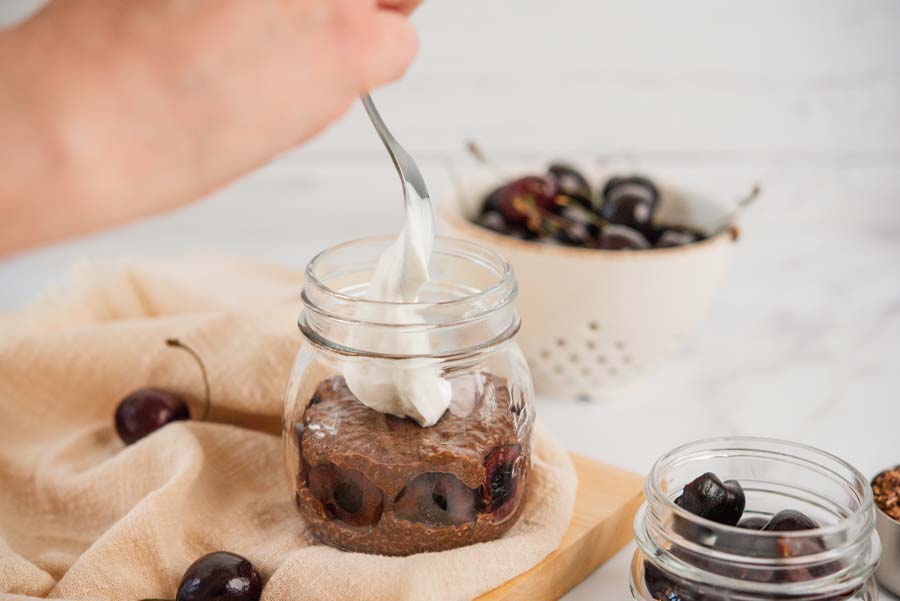 Storage Suggestions
This chia pudding can be made in advance and stored in the refrigerator for up to 5 days. You can pre-make the chocolate chia pudding and put together the mason jar in the morning. Alternatively, you can completely pre-make the entire black forest chia pudding in a mason jar, seal it, and enjoy the next day. I typically make the chocolate chia pudding, wait two hours, and then compose the entire jar.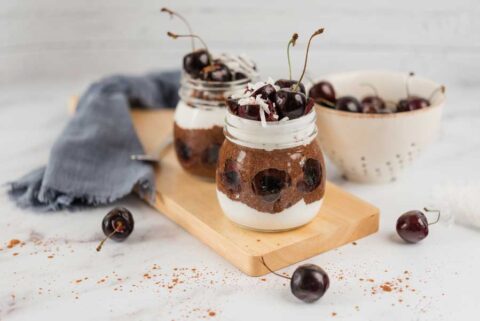 Black Forest Chocolate Chia Pudding
Our chocolate chia pudding is perfect for satisfying those chocolate cravings and is full of protein and fiber. We make our chia pudding in mason jars with beautiful layers of fresh cherries for an easy and quick breakfast on-the-go.
Diets:

Gluten Free

,

Vegan

,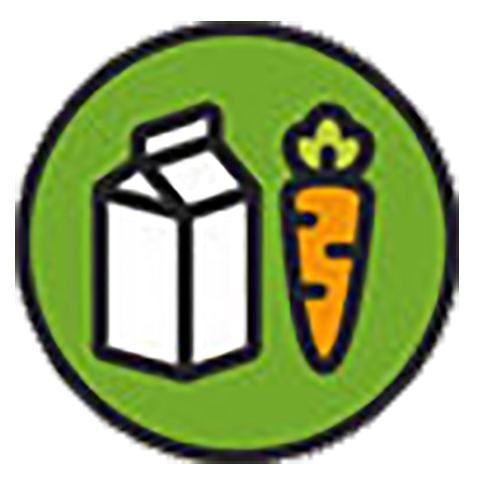 Vegetarian
Ingredients
¾

cup

almond milk

or coconut milk

½

tbsp

cocoa powder

2

tsp

monk fruit sweetener

2

tbsp

chia seeds

1

cup

cherries

cut in halfs and in fourths

1

tbsp

shredded coconut

½

cup

coconut yogurt

icelandic, cashew, or coconut
Instructions
in a small bowl add cocoa powder and sugar. Then add milk and blend with a small hand held mixer/milk frother until combines.

1/2 tbsp cocoa powder,

2 tsp monk fruit sweetener,

3/4 cup almond milk

Next, add the chia seeds and refrigerate for 2 hours or over night.

take out a 10oz mason jar and add a spoonful of the chocolate chia pudding to the bottom of the jar. Then add a layer of sliced cherries around the jar.

Add another spoonful of chocolate chia pudding and top with yogurt, more sliced cherries, and a sprinkle of dried coconut.
Notes
For a vegan and low carb alternative use almond or coconut milk and coconut or cashew yogurt.
if you do not want to use monk fruit sweetener, you can add 2 teaspoons of honey or agave
Nutrition
Serving:
2
jars
|
Calories:
215
kcal
|
Carbohydrates:
29
g
|
Protein:
4
g
|
Fat:
11
g
|
Saturated Fat:
2
g
|
Polyunsaturated Fat:
3
g
|
Monounsaturated Fat:
1
g
|
Trans Fat:
1
g
|
Sodium:
134
mg
|
Potassium:
234
mg
|
Fiber:
6
g
|
Sugar:
20
g
|
Vitamin A:
51
IU
|
Vitamin C:
5
mg
|
Calcium:
199
mg
|
Iron:
1
mg
|
Net Carbohydrates:
12
g
Enjoy some of my other healthy breakfast recipes!